Simple, light and fresh, Greek Salad Dressing is perfect on any Greek-inspired salad. It's an easy recipe to mix up, requiring just 4 ingredients and a few minutes of your time.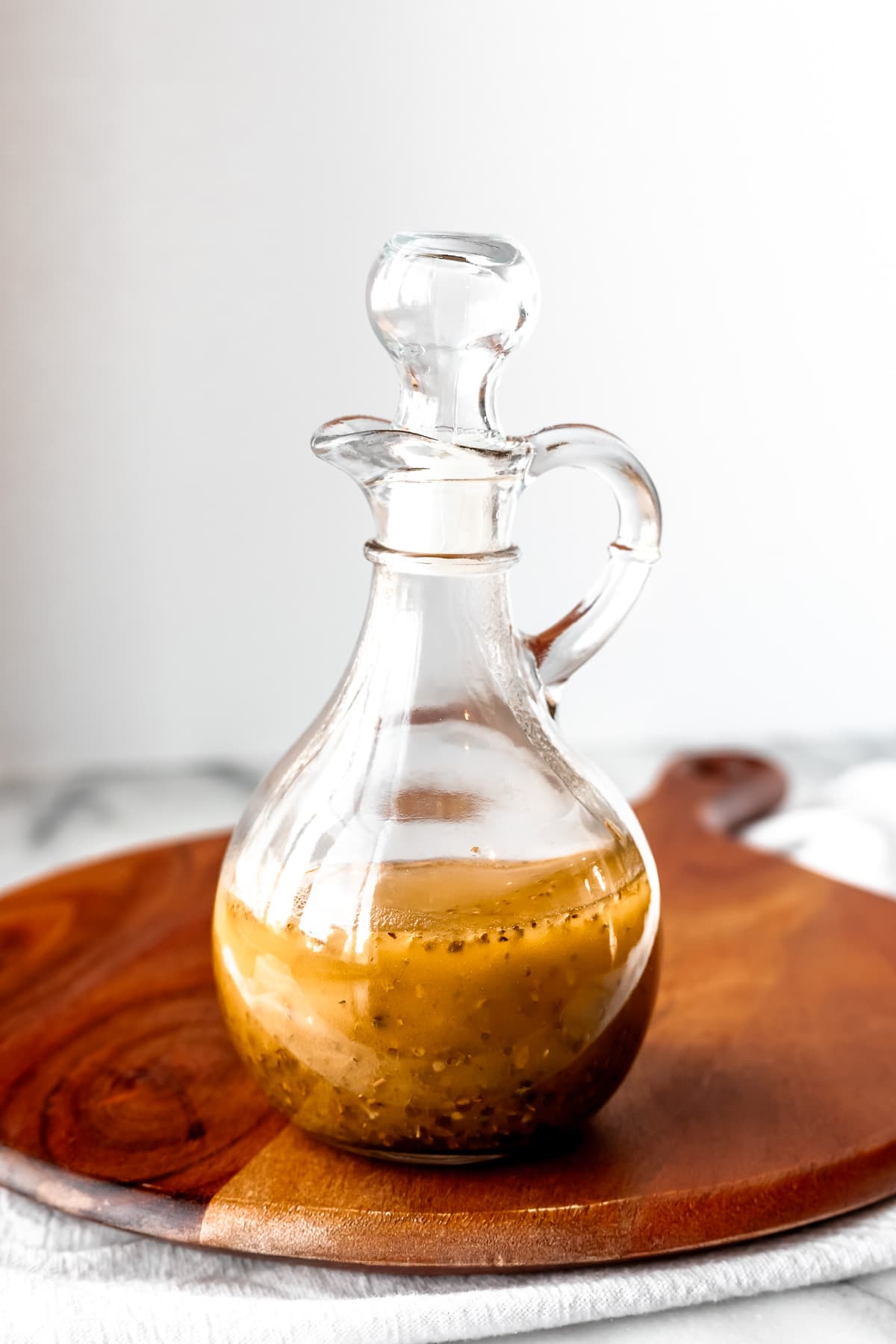 This post contains affiliate links. See our Disclosure Statement for more information.
Greek food tends to be very simple, yet very flavorful, and this Greek Salad Dressing is exactly that. It's light and fresh and has a delicate flavor that accentuates anything it is added to beautifully.
Sure, you can use it on Greek Salad, but it's also delicious as a marinade for chicken, or spooned over veggies or roasted potatoes too.
Why This Recipe Works
Making your own salad dressing is very quick and easy. This recipe requires just 4 ingredients that you likely already have in your pantry.
This is a great make ahead recipe. You can make it once and use it for up to 2 weeks.
All salad dressings are very versatile. You can add a squeeze of lemon or a little garlic to this one if you want to amp up the flavor a bit more.
Step-By-Step Instructions
Ingredients
1/3 cup red wine vinegar
2 teaspoons dried oregano
salt (to taste): I usually use about 1/4 teaspoon
1/2 cup extra virgin olive oil
The entire recipe and instructions can also be found in the recipe card at the bottom of this post. You can also print the recipe from the card, if needed.
Prep!
There is no prep work for this recipe.
Create!
Add the red wine vinegar, oregano and salt to a medium bowl.
Slowly drizzle the olive oil into the bowl while whisking vigorously until it is fully emulsified.
Present!
Transfer to a cruet, if preferred, and use as desired.
Tips and Techniques
You can keep this vinaigrette simple, or amp it up a bit more with a squeeze of fresh lemon juice, or add some garlic.
Store leftovers in an airtight container in the refrigerator. Consume within 2 weeks. The dressing may solidify some when cold. If this happens, allow it to sit out at room temperature until it liquifies again.
FAQ's
Can You Make Greek Salad Dressing Ahead of Time?
Yes, you can make Greek Salad Dressing ahead of time. Store it in the fridge for up to 2 weeks.
Is Greek Salad Dressing Keto?
All of the ingredients in Greek Salad Dressing are keto friendly.
More Greek Recipes
Love this Greek Salad Dressing recipe? Follow me on Pinterest, Instagram, and Facebook for more!
If you try this recipe, I would really appreciate it if you would please leave a comment and star rating. Thanks!