Meet Lauren
Hi there, and welcome!  I'm Lauren, the recipe developer, photographer, and writer behind the scenes here at Delicious Little Bites.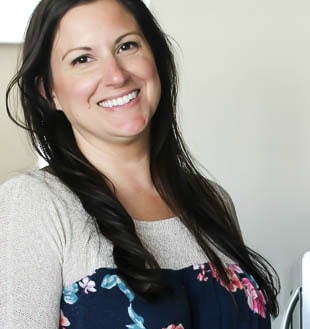 I was born, raised, and currently reside in Delaware. I have also lived in Utah and Colorado for a few years each. As much as I love the beach, I still miss the mountains. My partner, Daryl, and I are raising 2 boys, Jaxon and Benjamin.
I grew up in an Italian family with a grandmother and mom who both loved to cook. However, I didn't inherit their natural ability to make amazing food. I pretty much ruined everything that I touched.
After Jaxon was born, I decided that I really needed to learn how to cook. I bought tons of cookbooks and watched cooking shows on TV any free moment that I got. Over the years, I have really grown to love experimenting with flavors and new ideas. I definitely believe that if I can make food that tastes great, so can you!
After 15+ years as a dental hygienist, I am now a stay-at-home mom and full time food blogger.
I currently read and study as many cooking and baking books as possible. I love learning about the chemistry behind the recipes and am fascinated by how the smallest change, such as the order of ingredients, can make a big difference. And, as much as possible, I also take one-off cooking classes at a local school.
As of January 2020, I am currently enrolled in Culinary Arts school and can't wait to share all that I am learning with you!!
Delicious Little Bites
Delicious Little Bites started out as a mom-blog in 2015 under the name Our Little Everything. I quickly realized that I wanted to keep my kids lives more private and that I really had a passion for developing and sharing recipes.
After a little re-branding, Delicious Little Bites was born. You will see my kids pop up here and there occasionally (more so in behind-the-scenes stories on Instagram) and can still read some of the older posts about them, including how we learned that our youngest son has Achondroplasia, a form of dwarfism.
The Recipes
You will find all types of recipes on Delicious Little Bites, with a lot of them being low carb or keto-friendly because that is how I am supposed to eat (doctors orders) and vegetarian recipes because I spent 10 years as a vegetarian and love the food so much.
My fiancé has a gluten sensitivity and my boys are healthy, rambunctious children who can eat anything they want. Well, except for the fact my little guy is allergic to eggs, beef, pork, and tree nuts.
All of us have a serious sweet tooth and I do believe that sometimes you just have to treat yourself! So, needless to say, there are plenty of dessert recipes to check out as well.
See, there really is something for everyone here.
If you're navigating a multi-diet household or follow one of the specific diets listed above, you will find tons of recipes to help you and your family enjoy delicious meals regularly.
I break down my recipes into 3 parts:
Prep:  This part is written out in the blog post and is included for novice cooks to help the recipe process flow smoother. It includes the tasks that you should do before you begin cooking, such as chopping and dicing vegetables or setting butter out to come to room temperature.
Create:  This is where the actual cooking and baking happens! Here you will find step-by-step instructions with images to show you exactly how to make each recipe. I also include any tips and techniques to help you make the recipe perfectly every time.
Present: This section includes tips, styling techniques, and garnish ideas for those who want to make the dish look picture-worthy! This is totally optional, of course.
My recipes include nutritional information that is calculated using software that pulls information from a national database. This information is an estimate and will vary depending on brands and any changes that you may choose to make to the recipe.
While the main focus of this blog is centered around food and recipes, I will also post occasionally about travel and women's lifestyle topics.
Where to Start
If you are new to Delicious Little Bites, the best place to start is the Recipe Index. Here you will find recipes broken down by category. So, if you are following a low carb diet, start with the low carb category. If you have chicken in your fridge and aren't sure what to do with it, check out the chicken category.
Looking for something specific? Just type whatever it is that you are looking for into the search function at the top left and any recipes or posts that I have that meet that request will pop up.
I sincerely hope that you find the content on Delicious Little Bites interesting and helpful! Please feel free to contact me anytime with any questions, concerns, or suggestions.
Press
Below is just a snippet of where Delicious Little Bites has been featured. I've have also been featured in Delaware Today magazine and have appeared on WBOC in Salisbury, MD. I am excited to continue to connect and work with more local businesses in the future.
Work With Me
If you are a brand, business, or fellow blogger interested in working together, please feel free to contact me at L[email protected]. I'd love to hear from you!