Kolokithokeftedes, also referred to as Greek zucchini fritters or zucchini balls, are a delicious appetizer, snack, side or addition to a Greek mezze platter. Made with fresh ingredients like zucchini, mint, scallions and feta cheese, it's impossible to just eat one – especially when dipped into creamy tzatziki!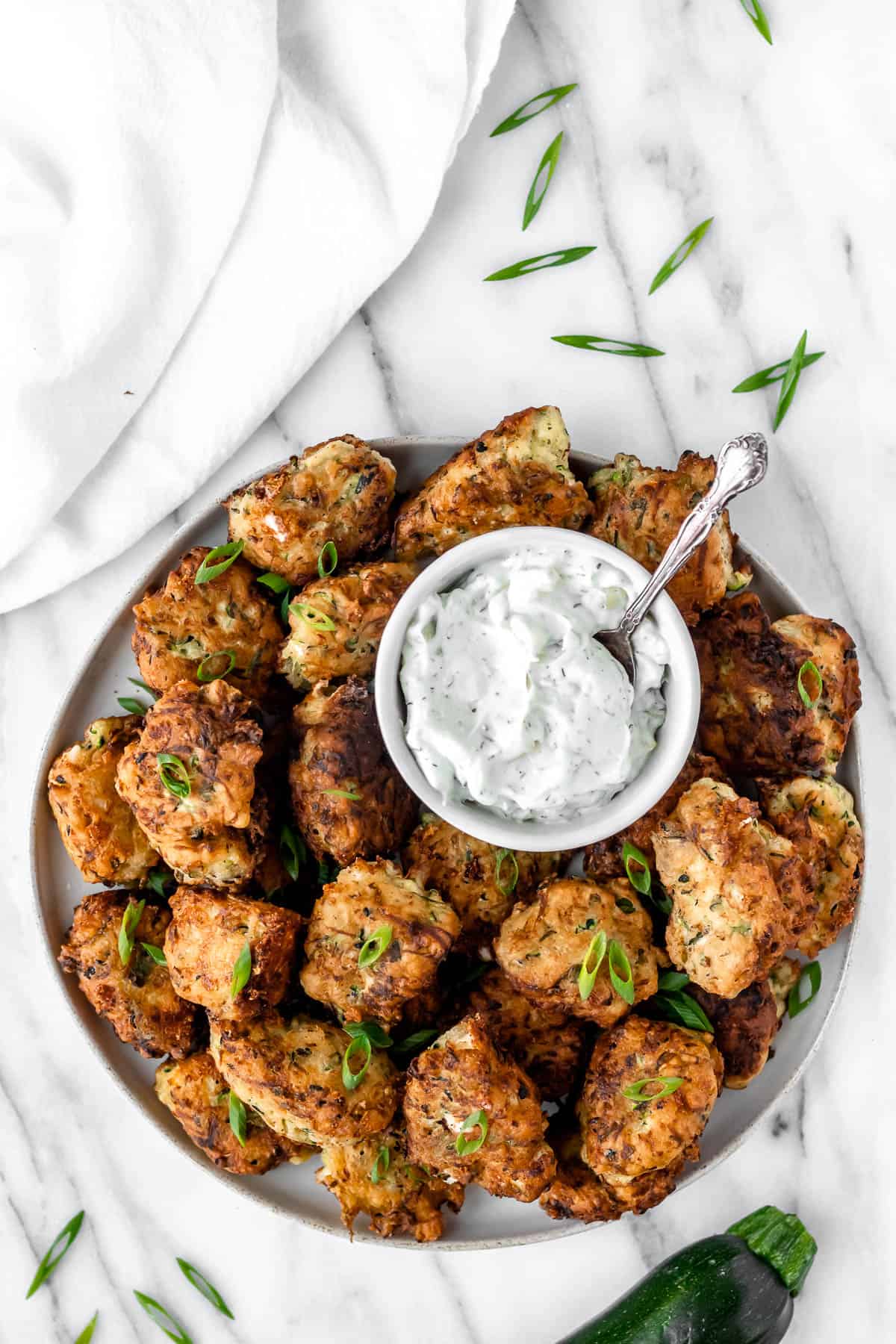 This post contains affiliate links. See our Disclosure Statement for more information.
Kolokithokeftedes were the most raved about recipe the day I had to cook for my International Cuisine final exam in Culinary Arts school. Literally, every group that got to taste test the recipe mentioned they were their favorite, including my instructor. I served these as the appetizer portion of my menu with tzatziki dipping sauce.
I can't even tell you how many times I was asked to pronounce "kolokithokeftedes" that day (thankfully I had practiced enough for a presentation that I also had to do!), but you can simply refer to them as Greek zucchini fritters or zucchini balls.
They are made up of zucchini, mint, scallions, feta cheese and flour. The final result is crisp on the outside with a soft, fluffy texture on the inside. The flavor is savory with notes of onion and mint and tanginess with a bit of saltiness from the feta cheese.
Serve these fritters as an appetizer, snack, side dish or as a vegetarian meal! They also make an amazing addition to a mezze platter, or full spread of Greek foods.
The remainder of my recipes that day are just as easy and delicious. If you love Greek or Mediterranean food, definitely try this Braised Greek Chicken recipe and these Roasted Greek Potatoes (coming soon!).
Why This Recipe Works
Even though this recipe isn't quite as light as a lot of Greek-inspired recipes tend to be, it still uses mostly fresh, whole ingredients that authentic Greek cooking is notorious for.
These fritters are incredibly flavorful. They can be enjoyed on their own, but a little dip in tzatziki sauce is the perfect complement.
They are super versatile and can be served as a starter, main dish, or snack.
Step-By-Step Instructions
Ingredients
5 cups zucchini (grated): from about 2 medium zucchini. It's okay if it's slightly less or more.
1 tablespoon kosher salt
2 eggs
6 ounces feta cheese (crumbled)
1/4 cup scallions (sliced thin)
1/4 cup fresh mint (minced)
1/4 teaspoon pepper
1 1/2 cups all purpose flour: you may need slightly more or less
2 1/4 teaspoons baking powder
1/4 teaspoon salt
oil for frying
The entire recipe and instructions can also be found in the recipe card at the bottom of this post. You can also print the recipe from the card, if needed.
Prep!
Cut the ends off of the zucchini and grate using the larger holes of a box grater. Place in a colander in the sink or over a bowl and add 1 tablespoon of salt. Mix well and allow to sit for about 20 minutes.
While the zucchini is sitting, slice the onion, mince the mint and crumble the feta, if needed.
Combine the flour, baking powder and salt in a small bowl. Set aside.
If you are using a deep fryer, you may want to preheat it to 350°F now, as well. If you are going to be frying the fritters in a skillet, wait to preheat the oil.
Create!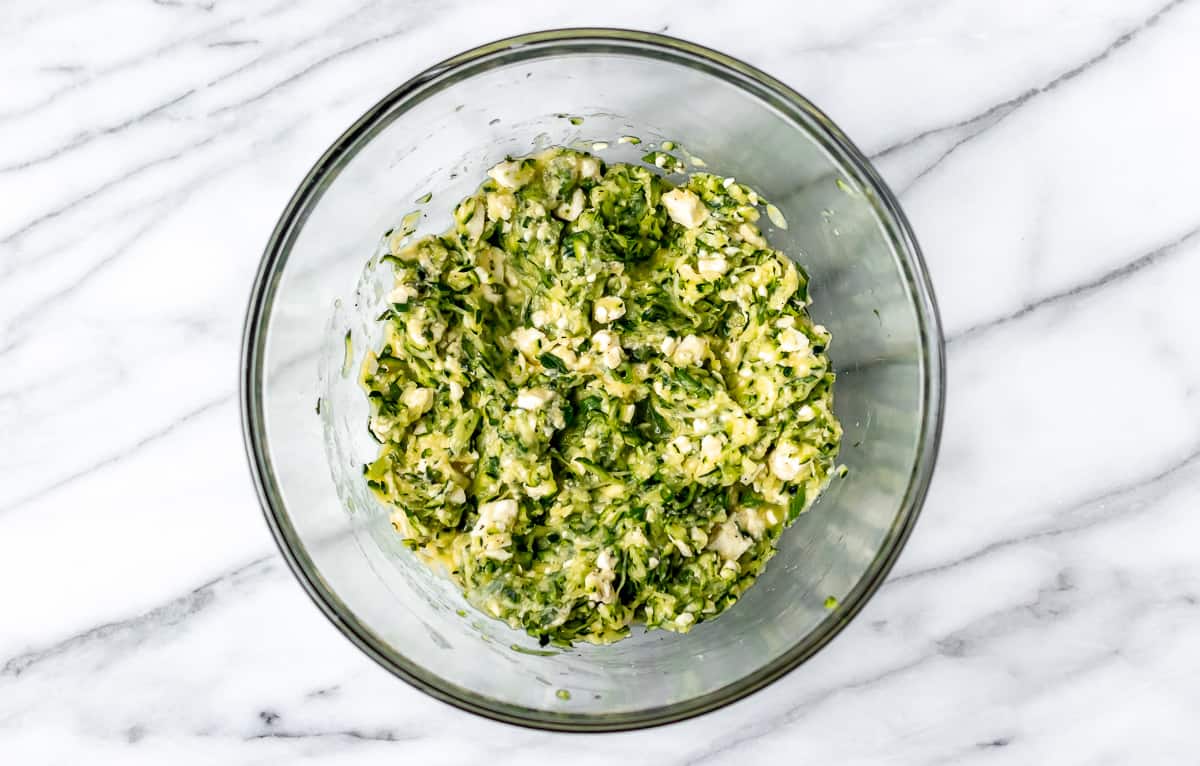 Once the zucchini has sat for at least 20 minutes, press and squeeze it with your hands to remove as much of the moisture as possible. The zucchini will still be wet, but should not be dripping when you squeeze or press it.
In a large bowl, whisk together the eggs, feta cheese, scallions, mint and pepper. Stir in the zucchini.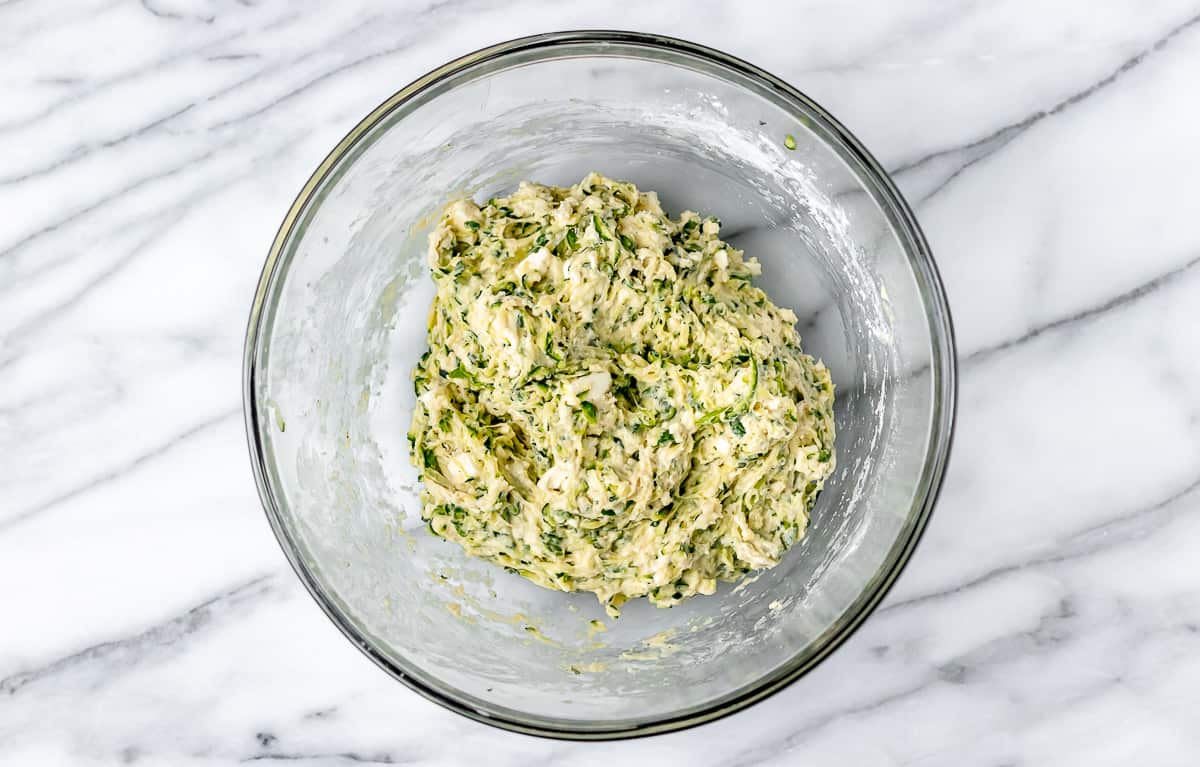 Gradually mix in the flour mixture until a dough forms that is only slightly sticky.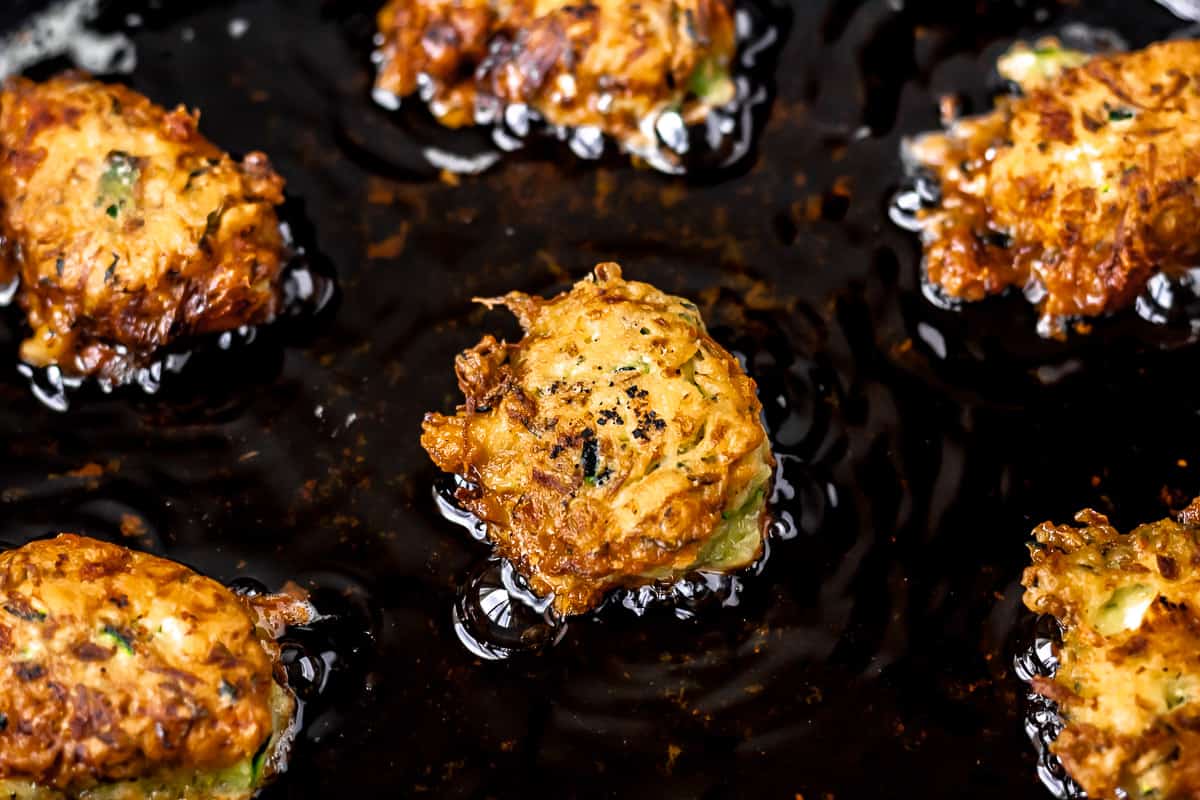 If you are frying the fritters in a skillet, add oil until it reaches about 1/2-inch up the sides of the pan. Turn the heat onto medium. Once it is hot and glistening, but not smoking, it is ready.
Drop the dough, about a tablespoon at a time, into the hot oil. Be mindful not to crowd the pan or deep fryer. You will need to work in batches.
Fry in a deep fryer for about 2-3 minutes, flipping if needed. Fry in a skillet for about 2 minutes per side or until golden brown.
Using a slotted spoon, if necessary, transfer to a paper-towel lined plate and repeat with the remaining dough.
Present!
Serve as is or with a side of tzatziki dipping sauce.
Tips and Techniques
Be sure to squeeze out as much excess liquid from the zucchini as possible. It will still be wet, but should no longer drip when you squeeze it.
Do not add the fritters to the oil until it is fully heated. Adding them too soon may result in soggy fritters.
Store leftovers tightly covered in the refrigerator. Consume within 5-7 days.
FAQ's
Why Are My Zucchini Fritters Soggy?
There are a couple of reasons why zucchini fritters turn out soggy. First, be sure to squeeze out as much extra liquid from the zucchini as possible. If it's too wet when you go to form and cook the fritters, they may turn out soggy.
Another reason fritters can get soggy is that the oil was not hot enough when the fritter batter was added to it. Because it will take longer for the outer edges to brown, the batter will absorb more of the oil and lead to soggy final results.
Is Zucchini Good For You?
Yes, zucchini is a great option to include as part of a healthy diet. It's low in calories and carbohydrates and contains vitamins and minerals including vitamin c, potassium and magnesium.
How Do You Reheat Zucchini Fritters?
Reheat fritters in an oven or toaster oven. Place fritters in a single layer on a baking sheet. Heat at 350°F until hot, about 10 minutes.
More Zucchini Recipes
Love this Kolokithokeftedes recipe? Follow me on Pinterest, Instagram, and Facebook for more!
If you try this recipe, I would really appreciate it if you would please leave a comment and star rating. Thanks!