Braised Greek Chicken Breasts is an easy recipe that pairs beautifully with just about any side dishes you can imagine. It's made with simple, flavorful ingredients, like lemon, garlic and oregano, and is sure to be a family favorite.
This post contains affiliate links. See our Disclosure Statement for more information.
Braised Greek chicken is one of the recipes that I created for my International Cuisine final exam in culinary arts school. I was assigned Greece as my country of study, which I was thrilled with considering my family is mostly from the Mediterranean area of the world.
Greek food is often made with light and fresh ingredients and is generally considered a fairly healthy cuisine. Chicken was not native to Greece, but today it is cook with regularly.
This recipe is basically a Greek lemon chicken that is marinated in freshly squeezed lemon juice, oregano, olive oil and garlic for a short time before being seared to golden brown perfection. It is finished by braising it in the remaining marinade in the oven to keep it moist.
Along with this chicken recipe, I also made recipes for Greek Potatoes and Greek Zucchini Balls (or fritters) that I will be sharing very soon, as well.
Why This Recipe Works
Greek chicken is a very quick and easy recipe to prepare. It only requires 30 minutes minimum to marinate.
It is a super flavorful dish made with simple ingredients that Greek cooking is notorious for.
This is a healthier recipe. It is naturally low carb, keto friendly and gluten free.
Step-By-Step Instructions
Ingredients
3 tablespoons extra virgin olive oil (divided)
1 lemon (zested and juiced)
4 cloves garlic (minced)
1 teaspoon dried oregano
1 pound boneless chicken breasts
salt
pepper
1 lemon (cut into slices with seeds removed)
Chef's Tip: this recipe can be made with any cut of chicken, though cook times may vary slightly. Skin can be left on the chicken, if preferred.
The entire recipe and instructions can also be found in the recipe card at the bottom of this post. You can also print the recipe from the card, if needed.
Prep!
Zest and juice one lemon and cut the other into enough slices so that you have one for each piece of chicken.
Mince the garlic.
Because there is a short marinating time for this recipe, you won't need to preheat your oven right away.
Create!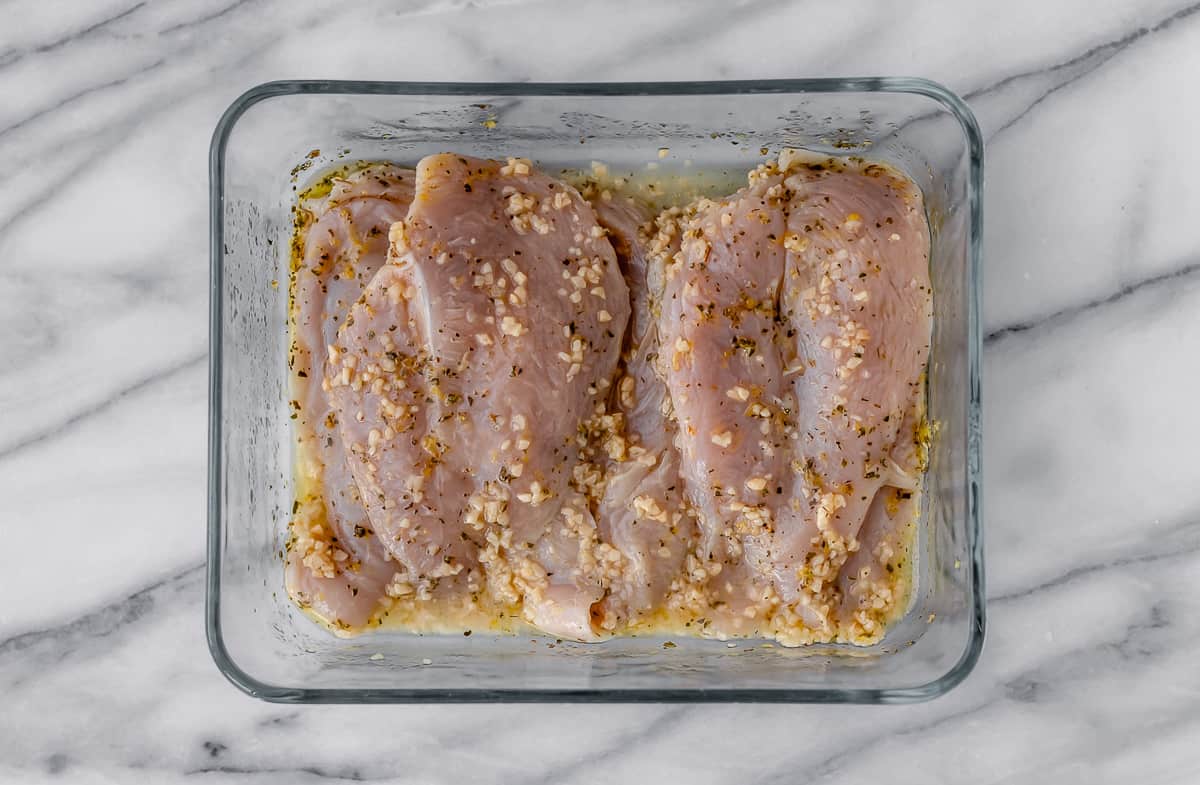 Combine 2 tablespoons of the olive oil, lemon juice, lemon zest, garlic and oregano in a large bowl or deep dish. Whisk until well combined.
Add the chicken and allow to marinate for at least 30 minutes or up to 2 hours.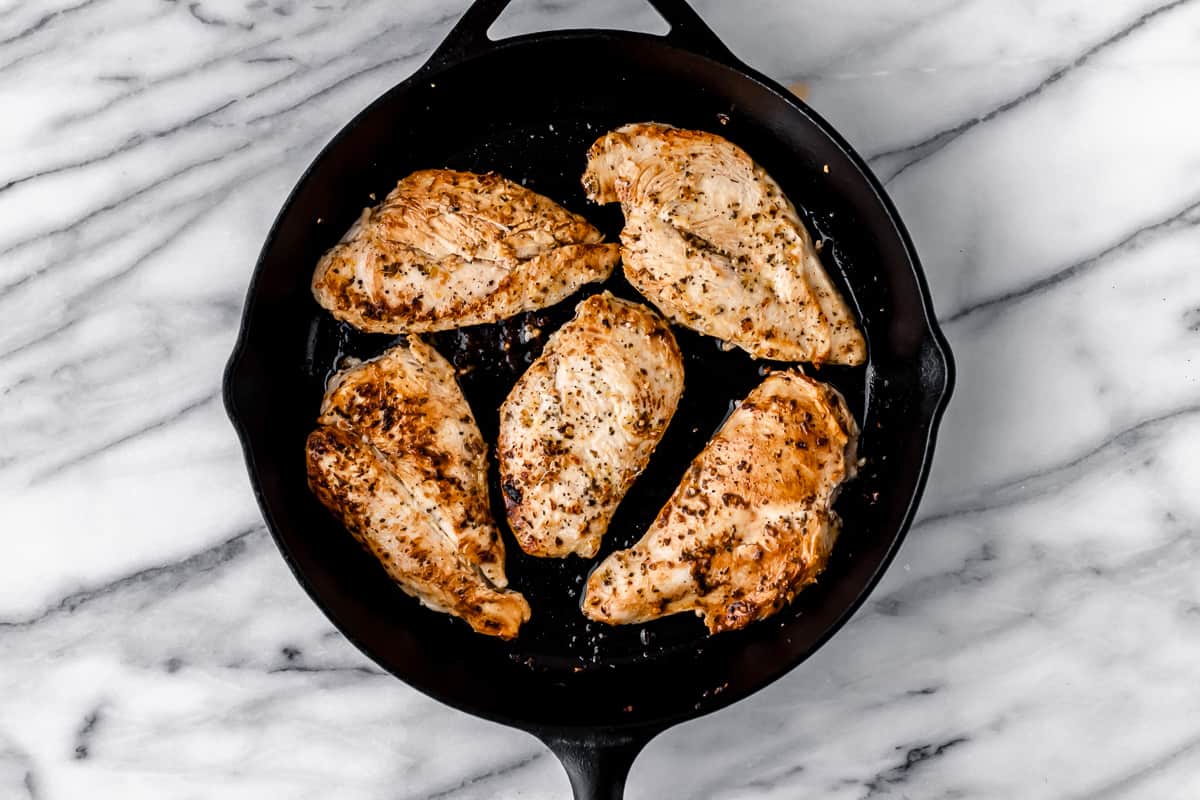 When you are ready to begin cooking, preheat your oven to 375°F.
Add the remaining 1 tablespoon of olive oil to a large, deep, oven-proof skillet over medium-high heat.
Season one side of the chicken with salt and pepper and add to the skillet, seasoned side down. Season the opposite side of the chicken while the first side cooks. Reserve the marinade.
Sear until golden brown, about 3-4 minutes. Flip. You may need to work in batches.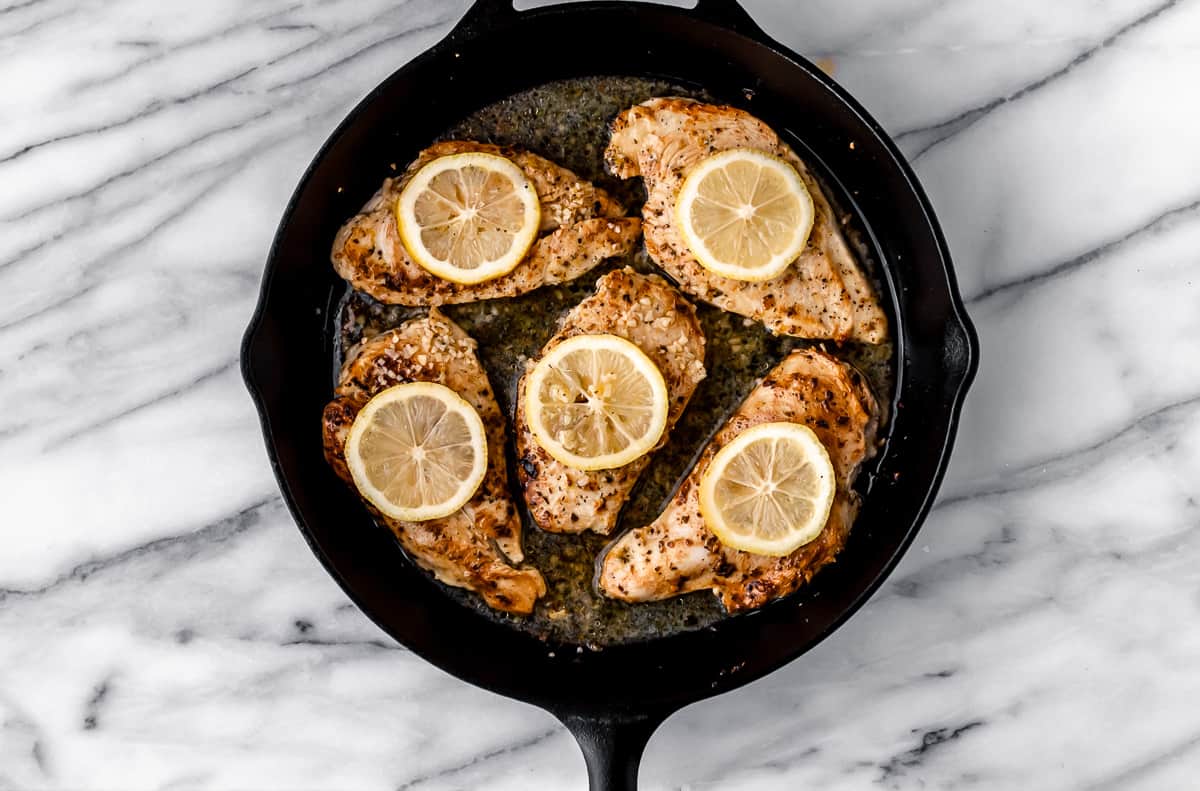 Pour the remaining marinade around the chicken and top each piece of chicken with a slice of lemon.
Transfer the skillet to the oven and roast until the chicken is cooked through. The internal temperature of the chicken should reach 165°F on a food thermometer inserted into the center of the thickest portion.
Present!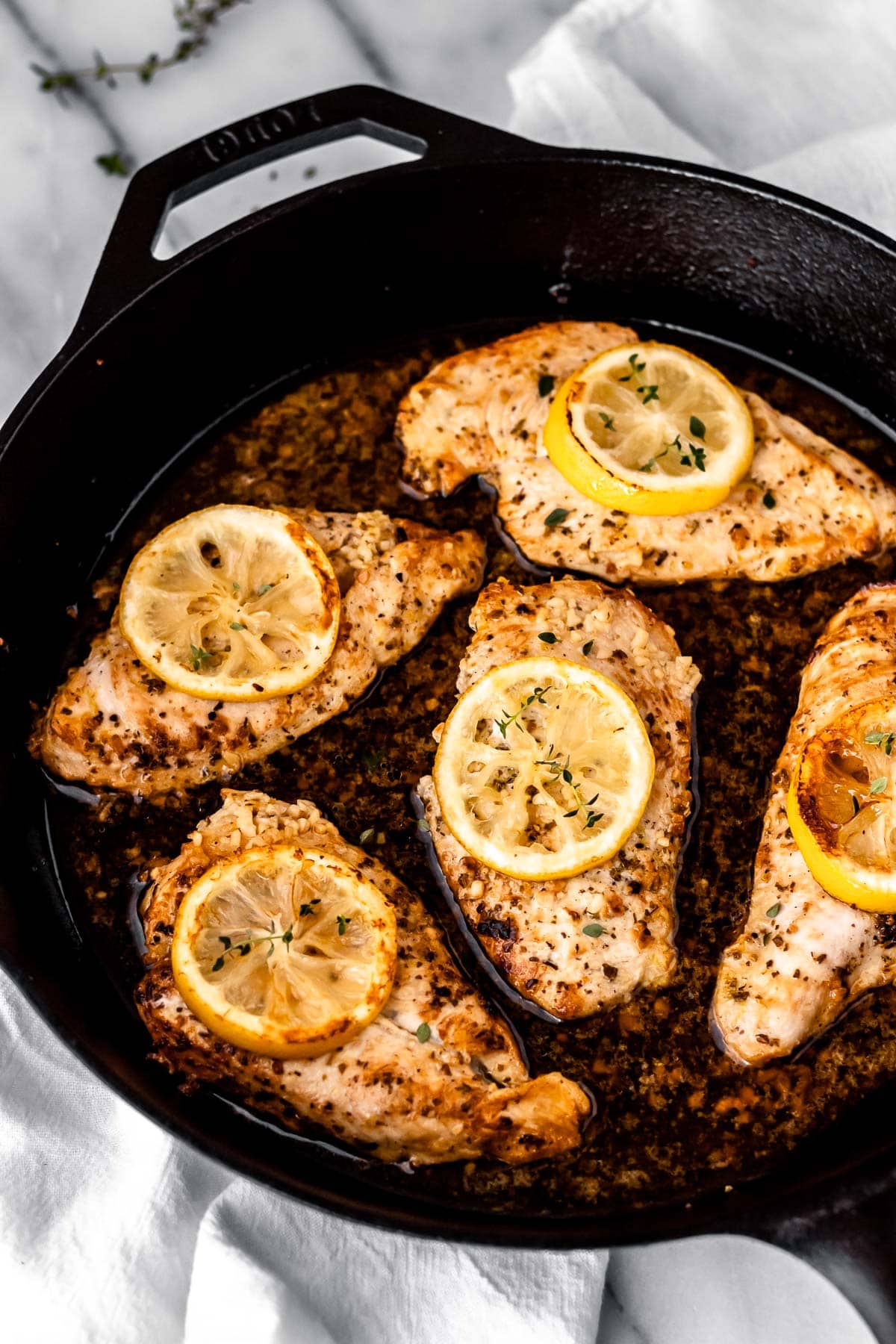 Garnish with fresh oregano, if desired.
Tips and Techniques
This recipe can be made with any cut of chicken, though cook times may vary slightly. Skin can be left on the chicken, if preferred.
The chicken and marinade can be transferred to a baking dish after searing it, if you don't have an oven-proof skillet.
Store leftovers in an airtight container in the refrigerator. Consume within 3 days.
FAQ's
What Do You Serve With Greek Chicken?
Because Greek Chicken is a simple main dish, it can be paired with a huge variety of side dishes. Try it with rice, orzo pasta, or potatoes. Green vegetables that pair well with this dish include broccoli, zucchini, asparagus, and Brussels sprouts.
How Do You Know When Chicken Is Done Cooking?
Chicken is done cooking when it reaches an internal temperature of 165°F and is no longer pink in the center. You can use a food thermometer inserted into the center of the thickest part of the chicken to check the temperature.
More Lemon Chicken Recipes
Love this Braised Greek Style Chicken recipe? Follow me on Pinterest, Instagram, and Facebook for more!
If you try this recipe, I would really appreciate it if you would please leave a comment and star rating. Thanks!