Roasted Greek Potatoes are made with simple, flavorful ingredients including lemon, oregano and garlic. They bake up crispy on the outside and tender in the center. The perfect side dish for any night of the week!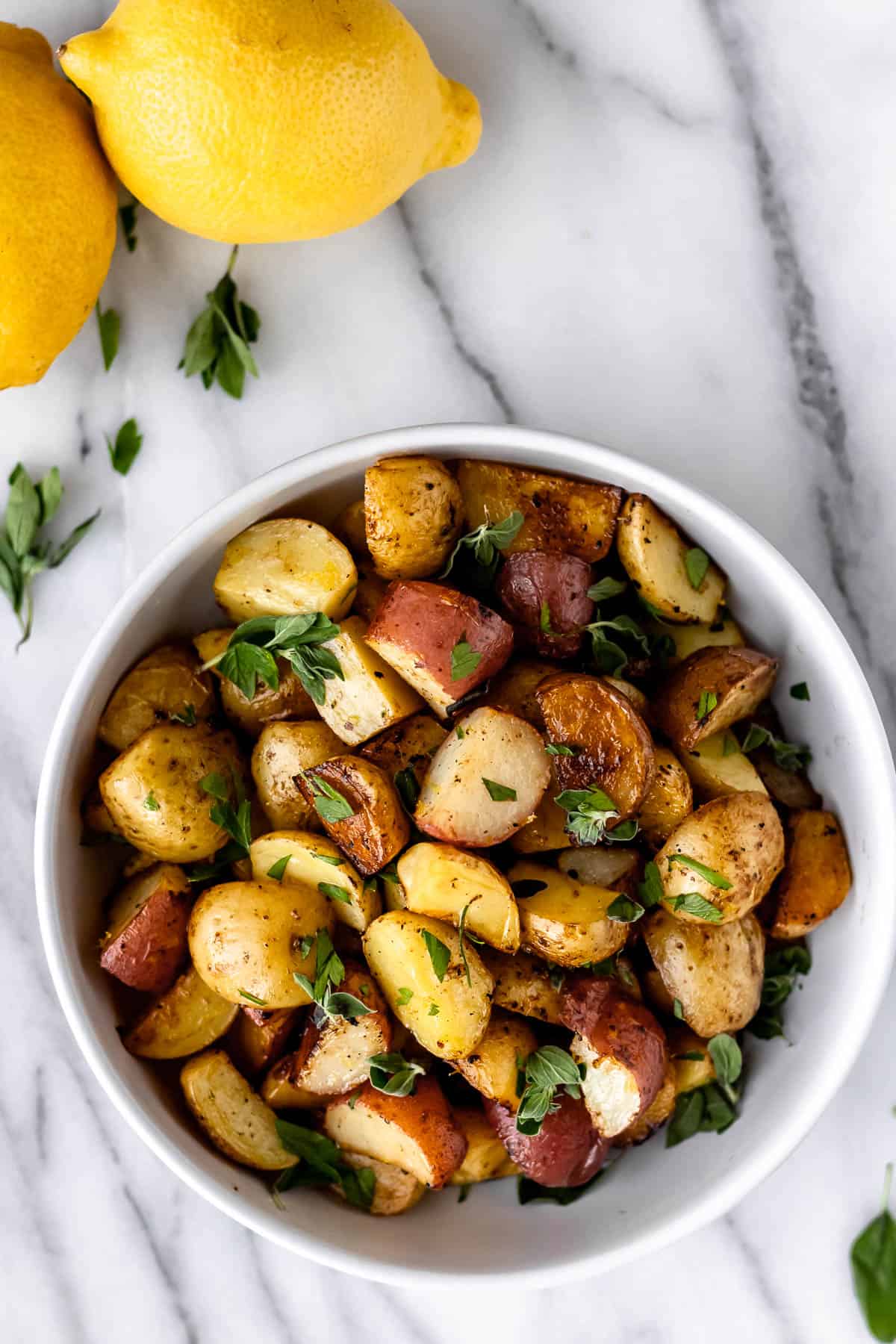 This post contains affiliate links. See our Disclosure Statement for more information.
Roasted Greek Potatoes is one of the three recipes that I made for my International Cuisine final exam in Culinary Arts school and they were a huge hit with the judges.
I was assigned Greece as my country of study. Being that my family is mostly from Mediterranean countries, and the fact that I absolutely love Greek food, I was thrilled to get to explore this cuisine even more.
I made these potatoes to pair with Braised Greek Chicken. You really can't go wrong with the combination of chicken and potatoes. The ingredients are all simple and mostly fresh, which is how authentic Greek cooking is done.
After roasting, the flavor of the potatoes is zesty from the lemon and herbaceous from the use of both fresh parsley and oregano.
The last of the three recipes that I created for my final was for Zucchini Balls (or fritters). These are often served as an appetizer and ended up being the favorite recipe of the entire day.
Why This Recipe Works
This is an easy recipe to prepare. It takes only minutes to prep and about 30 minutes to cook.
It's made with simple, fresh ingredients that give the potatoes the most wonderful flavor.
Roasted potatoes are very versatile and can be served alongside of many main dishes. They are a family-friendly recipe – both kids and adults love them.
Step-By-Step Instructions
Ingredients
1 1/2 pounds potatoes: red skin, Yukon gold or a combination of the two types of potatoes works great in this recipe.
1/4 cup chicken stock: or you can use vegetable stock to keep the recipe vegetarian.
2 tablespoons extra virgin olive oil
1 lemon: zested and juiced
1/2 teaspoon salt
1/2 teaspoon garlic powder
1/4 teaspoon black pepper
2 teaspoons fresh oregano: whole leaves or minced
2 tablespoons fresh parsley: minced
The entire recipe and instructions can also be found in the recipe card at the bottom of this post. You can print the recipe from the card, if needed.
Prep!
Preheat your oven to 425°F.
Cut the potatoes into 1-inch pieces and mince the oregano and parsley. Zest and juice the lemon.
Create!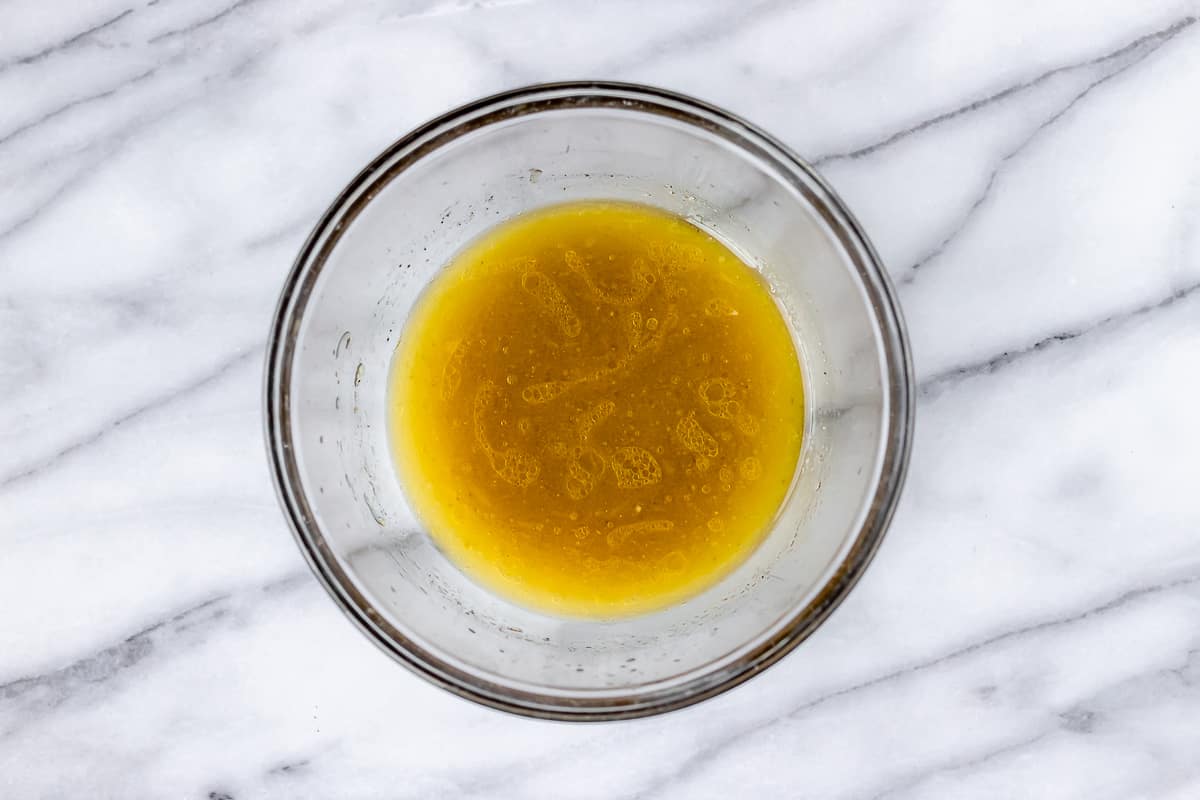 Whisk together the chicken stock, olive oil, lemon juice (reserve the zest), salt, garlic powder and pepper in a medium bowl.
Add the potatoes and toss to coat well.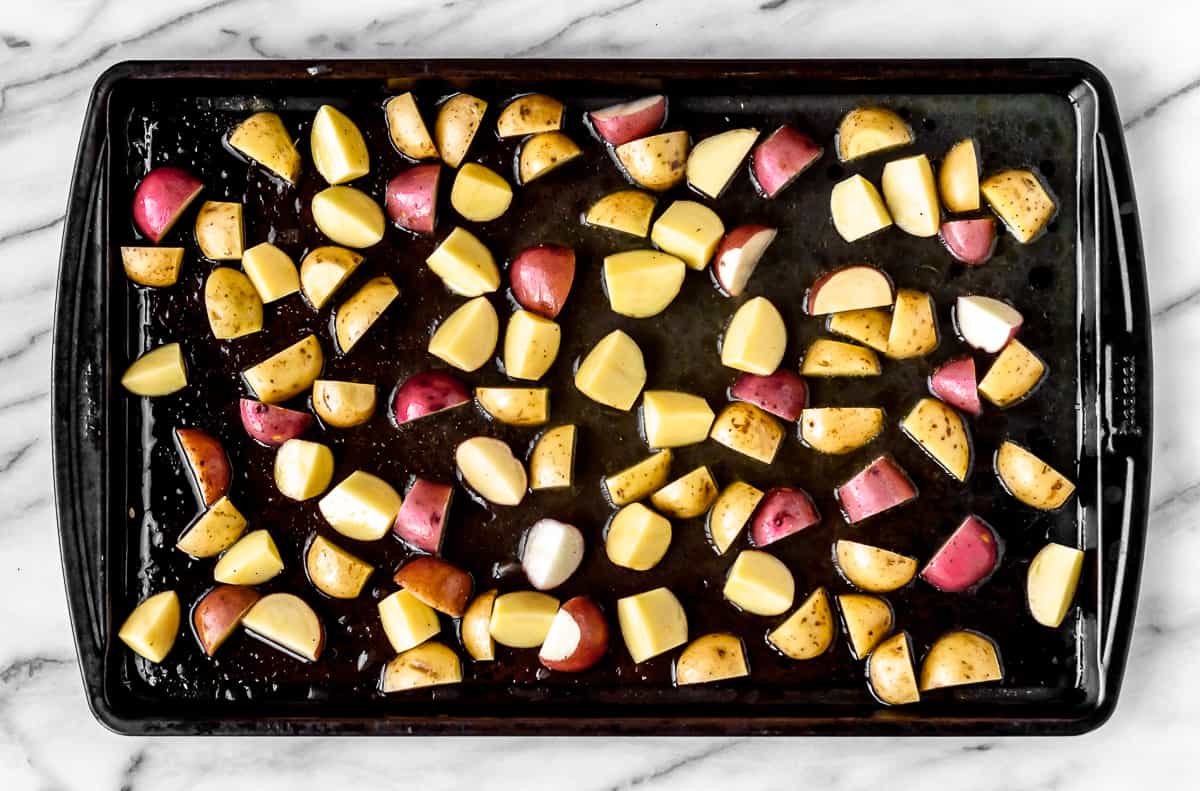 Spread the potatoes and any liquid from the bowl out onto a rimmed baking sheet.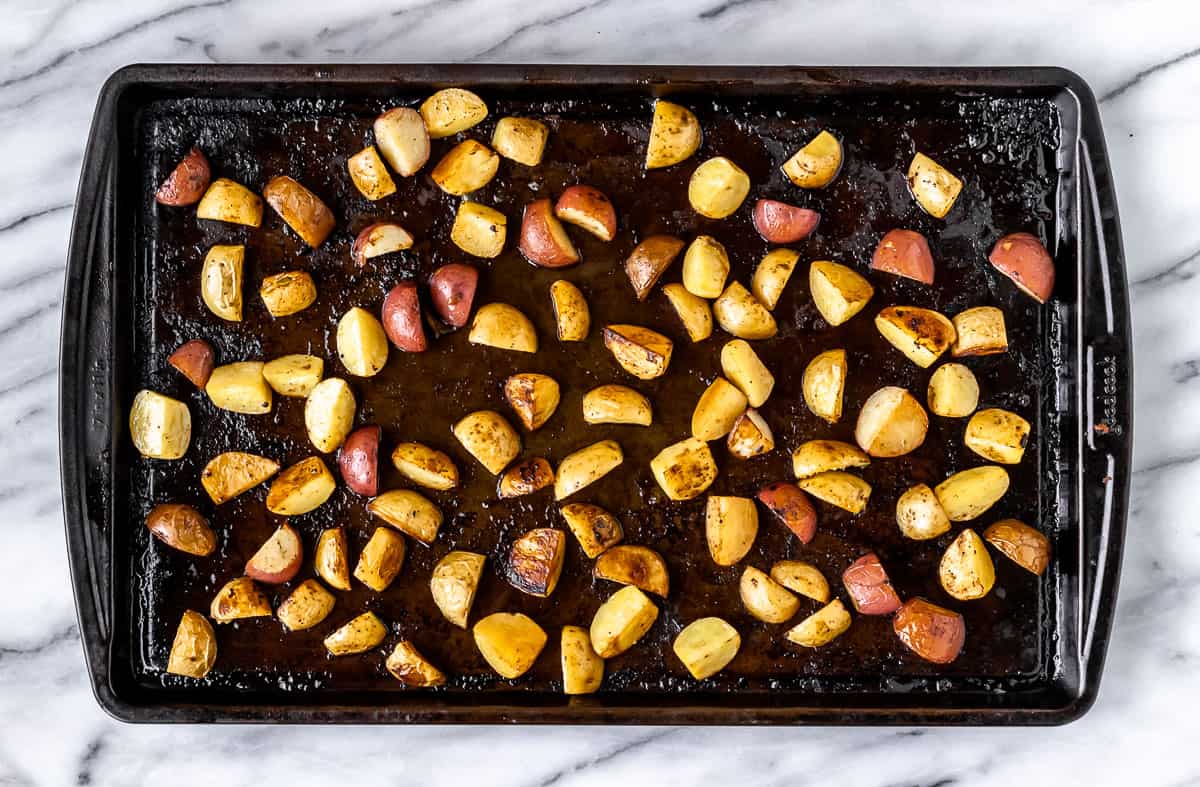 Roast for 30 minutes, tossing halfway, or until the potatoes are fork-tender.
Present!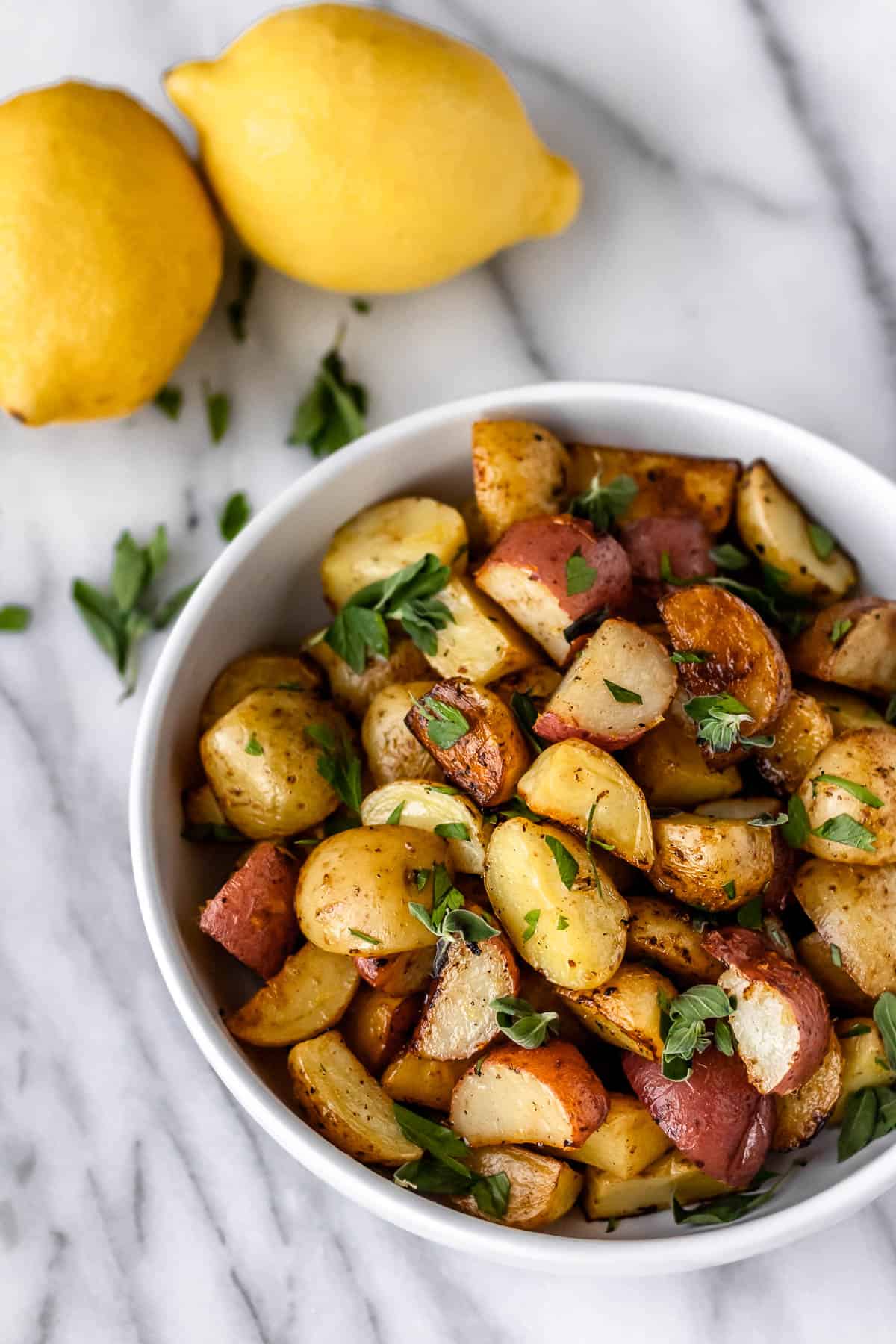 Toss with the reserved lemon zest, oregano and parsley.
Tips and Techniques
Use Yukon Gold, red or russet potatoes for the best results. Although all potatoes can be roasted, not all get crispy or have the same results.
Make sure to cut your potatoes approximately the same size for even cooking.
Store leftovers in an airtight container in the refrigerator. Use within 3-5 days. You can also freeze roasted potatoes for up to year, although there may be some slight changes in texture.
FAQ's
What Are The Best Potatoes For Roasting?
Yukon gold potatoes are the perfect potato for roasting. When roasted they have a crisp exterior and creamy center. Other easy-to-find varieties that roast well are red skin or russet.
Should You Boil Potatoes Before Roasting Them?
You don't have to boil potatoes before roasting them. It does reduce the time you have to roast them and may help make the skins crispier.
Why Are My Roasted Potatoes Sticking?
There are a couple reasons that roasted potatoes may stick to the baking sheet. The first cause may be not tossing the potatoes with enough oil before popping them in the oven. The second may be turning them too soon. You want to check one or two to make sure they have crisped up enough that they won't stick before turning them all.
More Potato Side Dish Recipes
Love this Roasted Greek Potatoes recipe? Follow me on Pinterest, Instagram, and Facebook for more!
If you try this recipe, I would really appreciate it if you would please leave a comment and star rating. Thanks!
1