Spanakopita is a very popular, classic Greek recipe. It is a savory pie made with layers of crispy phyllo dough and filled with spinach and feta cheese. This comforting dish can be enjoyed as a vegetarian meal or as a side dish.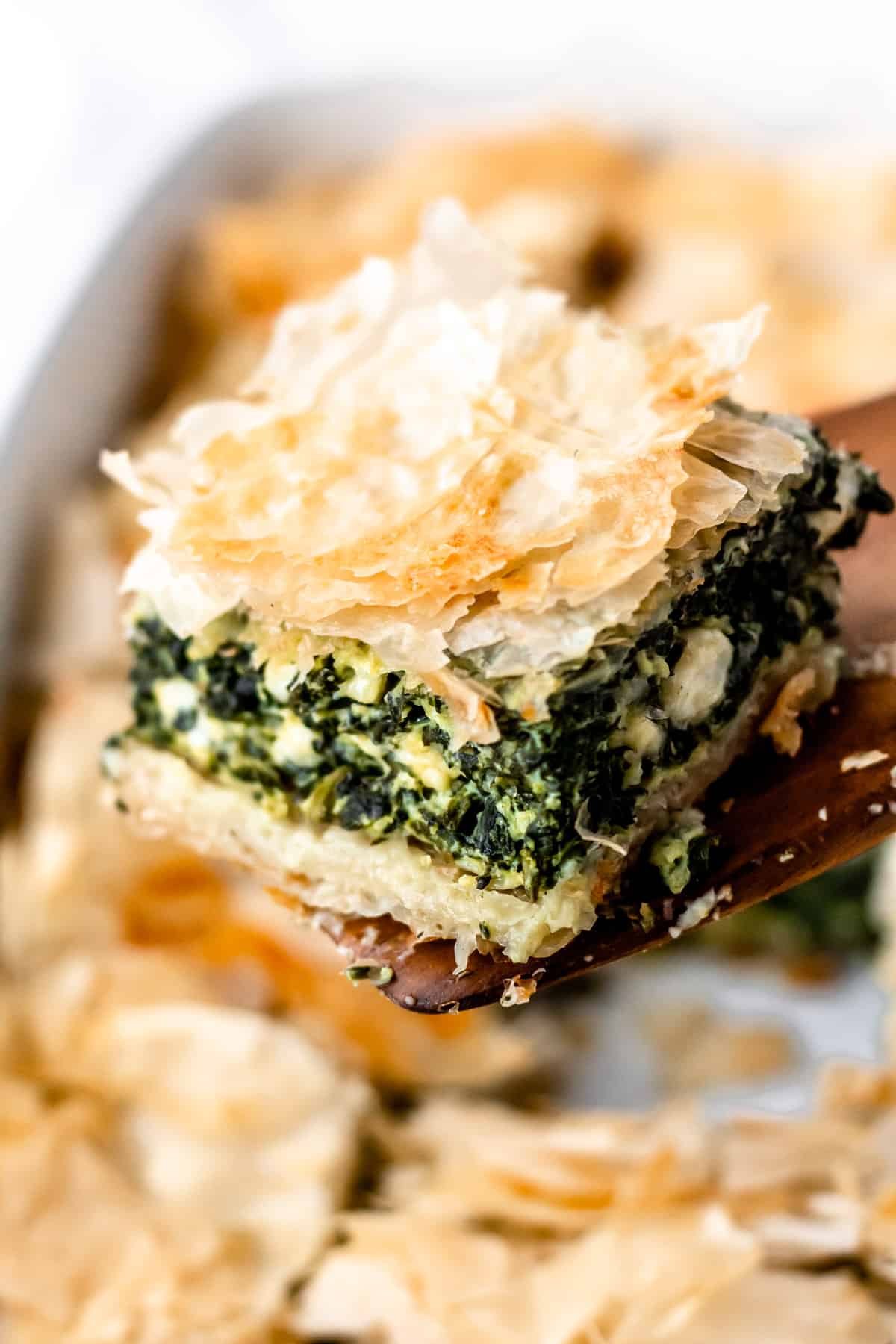 This post contains affiliate links. See our Disclosure Statement for more information.
Spanakopita is a rich and savory spinach pie that originated in Greece. In fact, the word "spanakopita" actually means "spinach pie" in Greek.
It is traditionally made with buttery, flaky layers of phyllo dough with a spinach and feta cheese filling that is baked in the oven.
Phyllo dough has a reputation of being a little tricky to work with, however, there is plenty of room for imperfection with this recipe so even the most novice cook can make a delicious, authentic spanakopita dish.
Spanakopita would be delicious as a side dish during holidays like Thanksgiving and Christmas, or with more simple meals like Easy Garlic Chicken, Pan-Fried Cod, or Pork Piccata.
Why This Recipe Works
Making spanakopita is actually a fairly easy dish to prepare.
Spanakopita can be served as a very filling vegetarian main dish or as a side dish.
This dish is loaded with loaded with healthy vegetables such as spinach and onion.
How To Make Spanakopita
Ingredients
2 tablespoons extra virgin olive oil
1 medium onion, finely diced
2 pounds fresh spinach (rinsed, stems removed, chopped)
2 teaspoons dried dill
1/4 cup fresh parsley, minced
lemon zest from 1 lemon
salt and pepper
10 ounces feta cheese, crumbled
6 eggs, lightly beaten
16 ounce box phyllo dough, thawed
5 tablespoons butter, melted
The entire recipe and instructions can also be found in the recipe card at the bottom of this post. You can also print the recipe from the card, if needed.
Prep!
Allow the unopened package of phyllo dough to thaw prior to use.
Prepare the vegetables by dicing the onion and roughly chopping the spinach after washing it and removing any large stems. Mince the parsley and zest the lemon.
Preheat your oven to 325°F.
Create!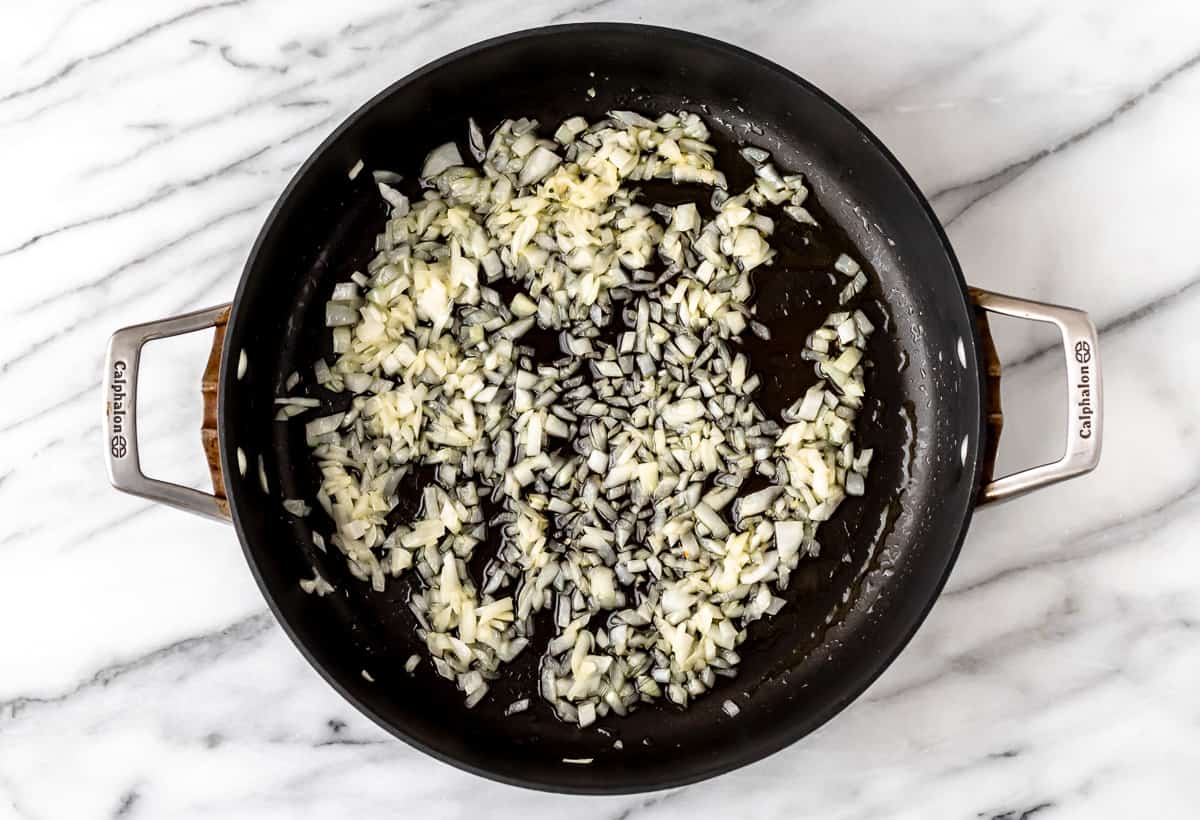 Heat the olive oil in a large, deep skillet over medium heat. Once hot, add the onion and cook until softened and starting to just lightly brown, about 3-5 minutes.
Stir in the spinach and cook until wilted.
Drain the spinach and onion mixture in a colander over the sink. Press the spinach to get as much of the liquid out of it as possible.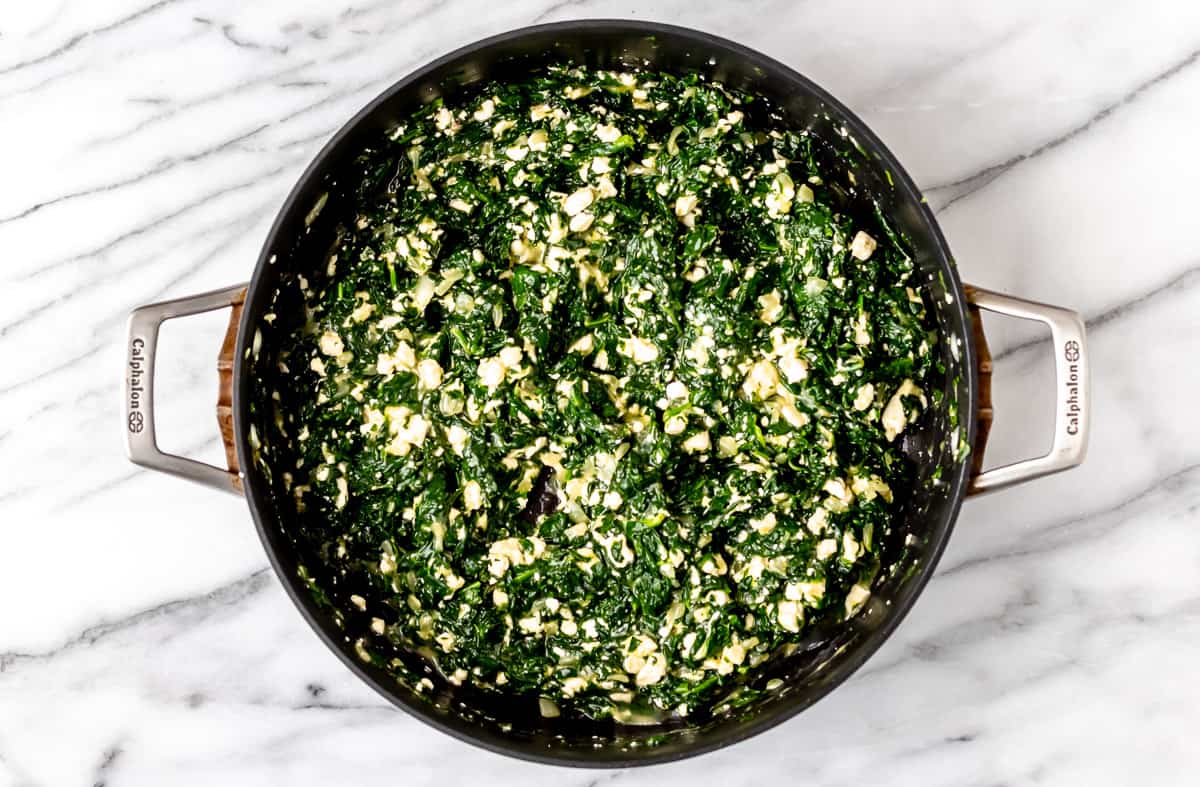 Return the spinach to the skillet and add the dill, parsley and lemon zest. Season with salt and pepper.
Cook until most of the liquid is gone, then stir in the feta cheese and eggs.
Remove the skillet from the heat and set aside.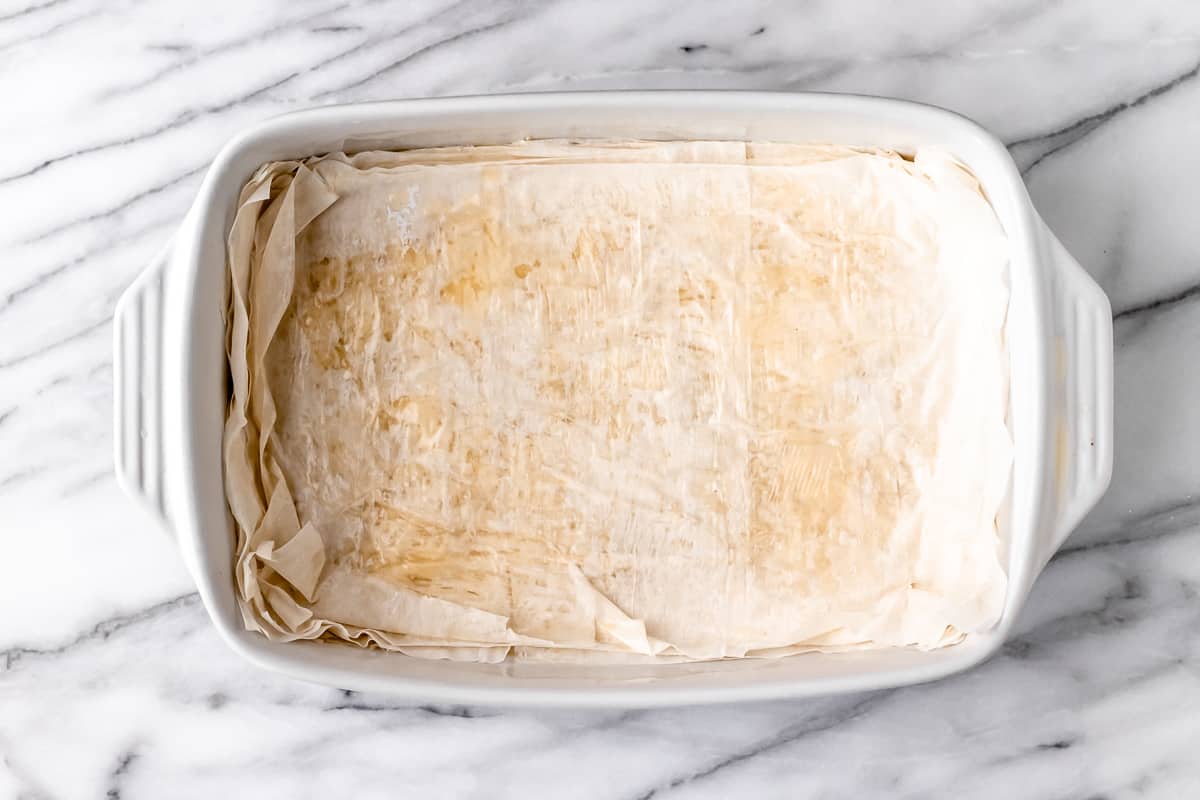 Open the pack of phyllo dough and lay it out on a countertop or sheet pan. Cover with a damp towel.
Melt the butter.
Brush a very thin layer of butter onto the bottom and sides of a 9×13-inch baking dish.
Place one sheet of phyllo dough into the bottom of the pan. Brush with a very thin layer of the melted butter.
Repeat this process until approximately 3/4ths of the dough is used.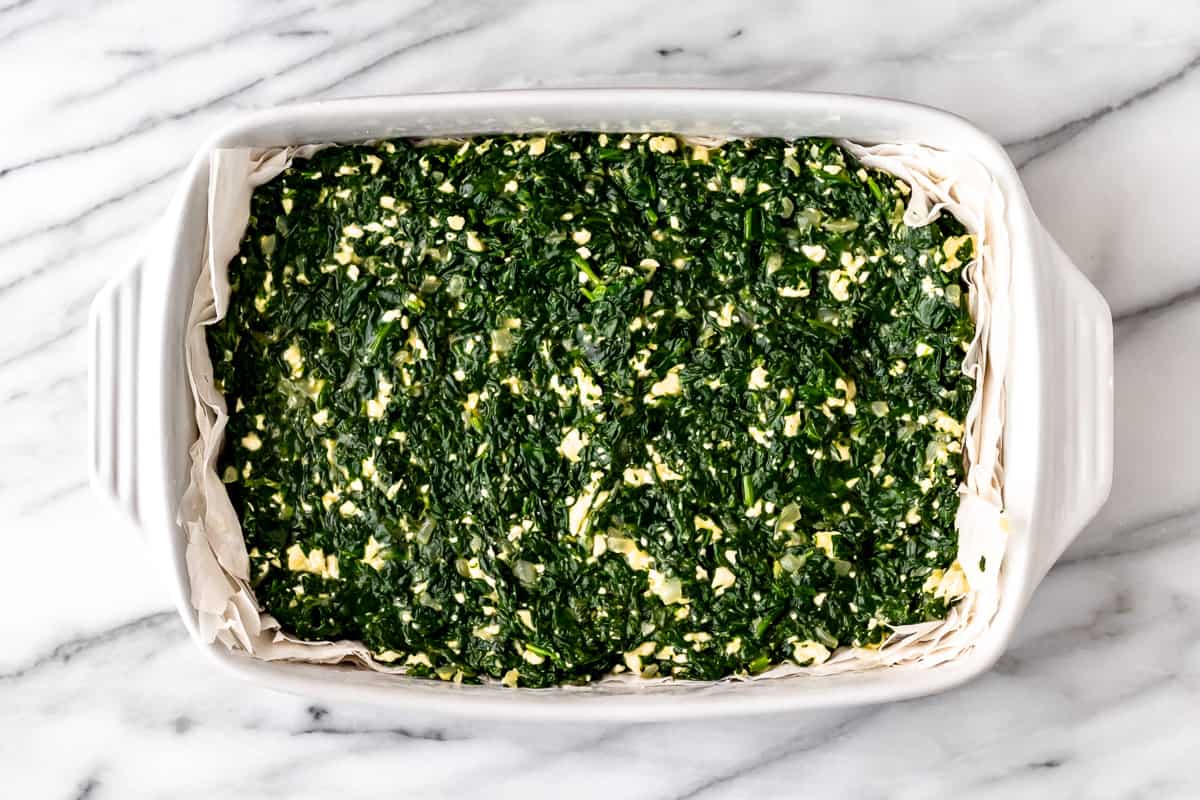 Evenly spread all of the spanakopita filling over the phyllo dough in the baking dish.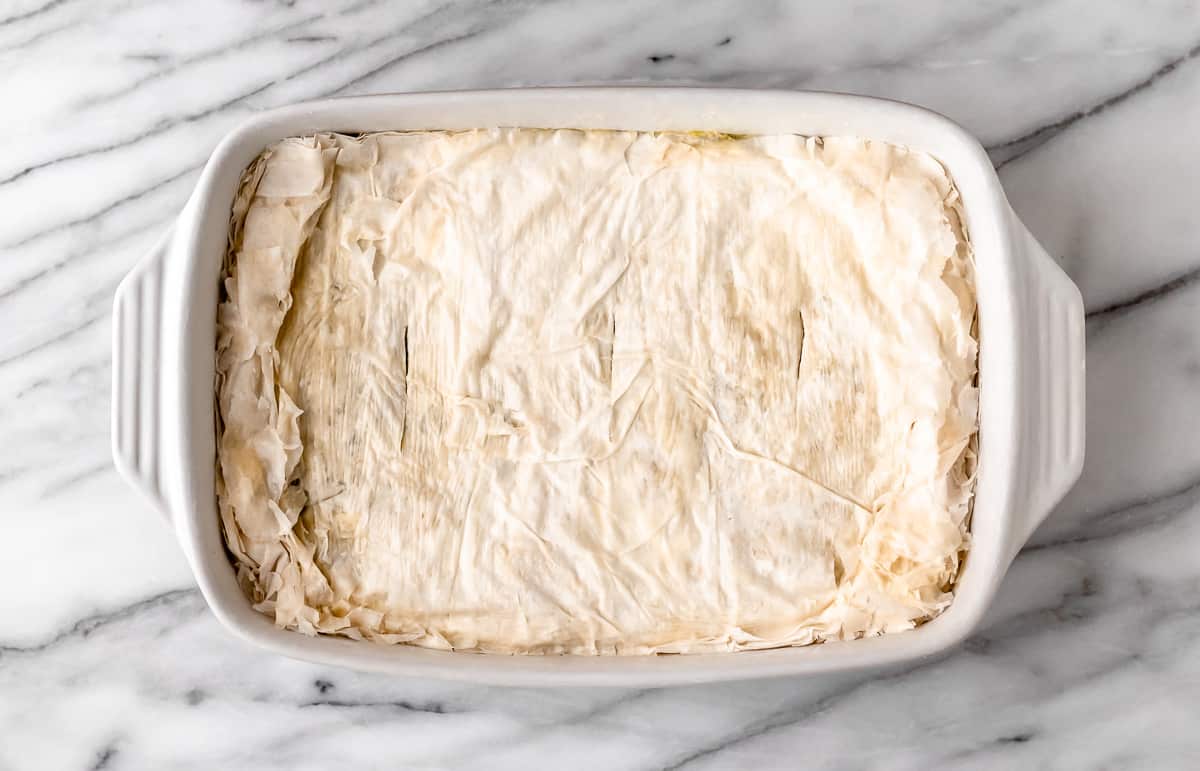 Layer the remaining phyllo dough over the top of the filling, using the same method of brushing each piece with a thin layer of butter until all of the dough is used.
Fold any excess dough under.
Brush the top of the pie with butter and cut three slits to allow steam to escape while baking.
Bake for approximately 1 hour or until the dough is golden brown and the filling is hot.
Present!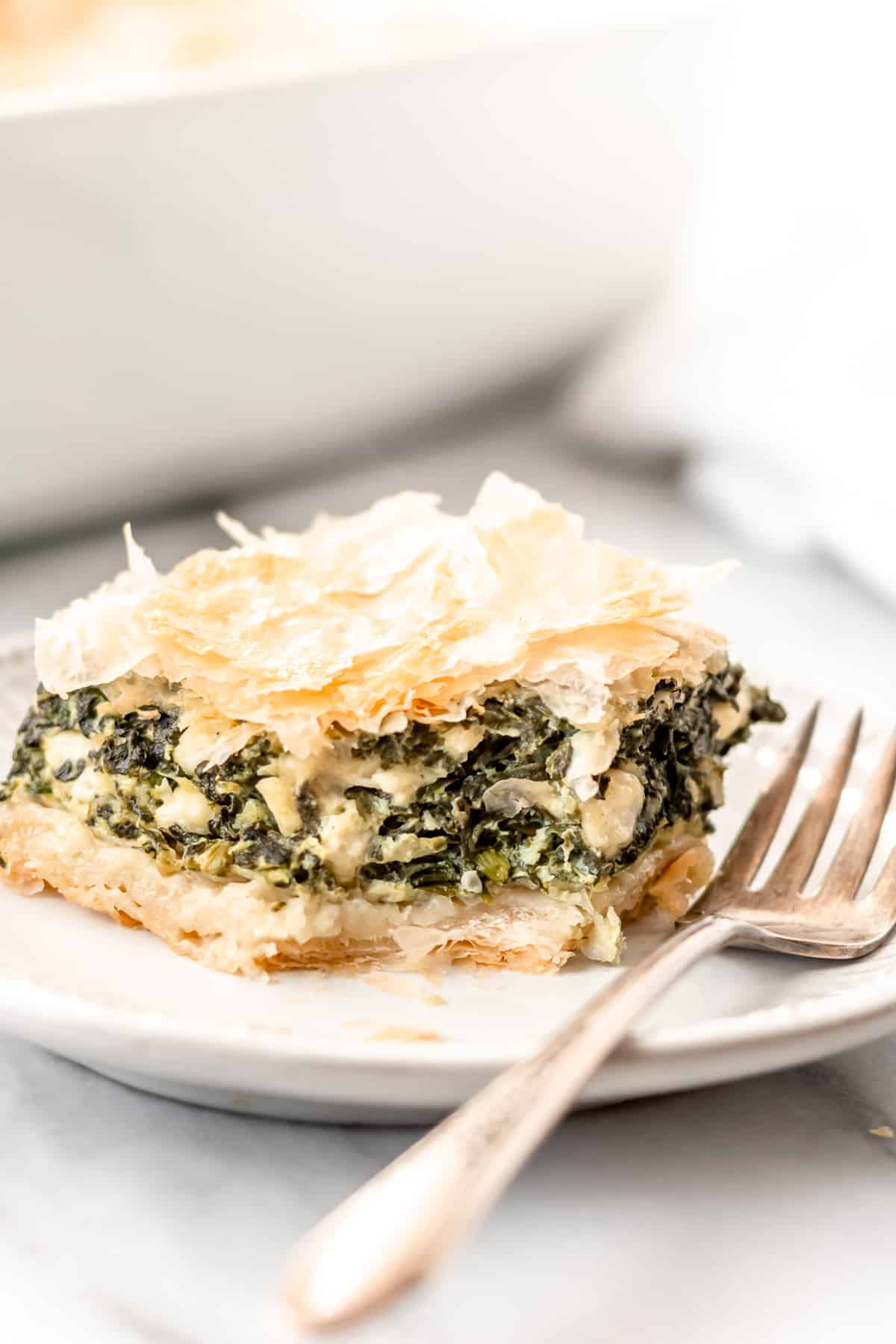 Cut into 12 squares and serve.
Tips and Techniques
Traditional spanakopita is made with phyllo dough, however, pie crust can be used or even puff pastry. To use puff pastry roll the dough out into a large rectangle on a sheet pan. Place the spanakopita filling vertically down the center and fold the dough over. You can braid it to make it fancier. Bake according to the directions on the package of puff pastry.
For a low carb, keto friendly version, omit the phyllo dough.
Store leftover spanakopita in an airtight container in the refrigerator. Consume within 2-3 days for best results.
FAQ's
Is Spanakopita Healthy?
Spanakopita, which is loaded with spinach and onion, has many healthy benefits. Spinach is rich in Vitamin A, Vitamin C, Vitamin, E, Vitamin K, potassium, magnesium, iron and folate. Onion is rich in antioxidants and can help with inflammation.
In one generous serving of spanakopita there is approximately 293 calories, 17 grams of fat, 11 grams of protein and 25 grams of carbohydrates, including 3 grams of fiber.
Can You Freeze Spanakopita?
You can freeze spanakopita either before or after baking, though freezing it before baking is the better option. The texture of the filling may change if you freeze it after baking. Consume within 1-2 months for best results.
More Spinach Recipes
Love this Spanakopita recipe? Follow us on Pinterest, Instagram, and Facebook for more!
If you try this recipe, I would really appreciate it if you would please leave a comment and star rating. Thanks!