This easy breakfast casserole recipe uses warm spices such as cinnamon, sweet brown sugar, and yummy vanilla to provide plenty of flavor in each delicious bite. French Toast Casserole is the perfect breakfast to serve to a crowd or even picky children.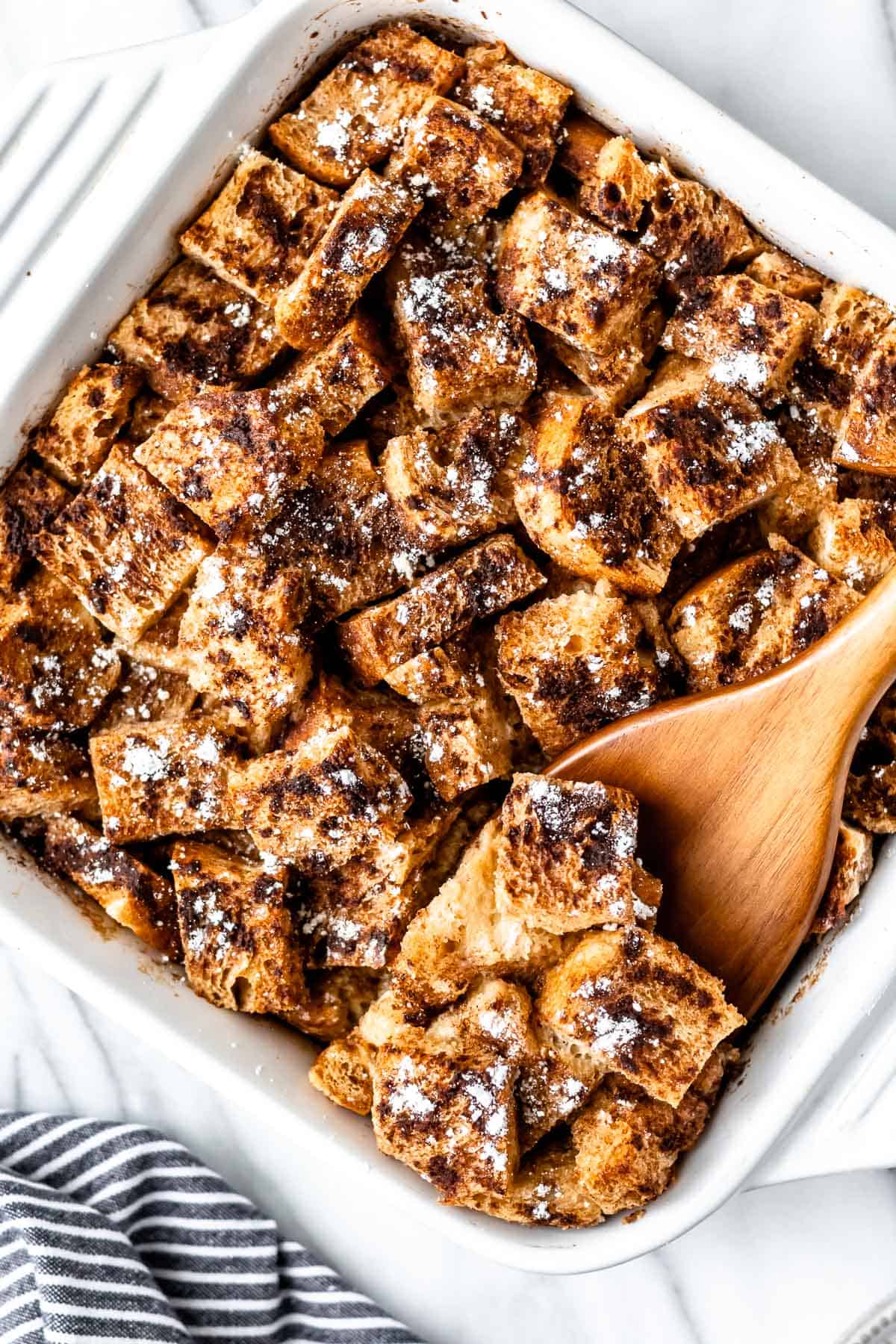 This post contains affiliate links. See our Disclosure Statement for more information.
This easy recipe for French Toast Casserole with Cinnamon and Vanilla can be served for breakfast, brunch, dinner, or even dessert. This dish is sweetened with brown sugar and vanilla and uses warm spices to add more flavor in the form of a light dusting of cinnamon.
It's the perfect breakfast casserole, which can even be prepared ahead of time, stored in the refrigerator overnight, and quickly heated in the oven for about a half hour before breakfast time. However, if baked right away, the top will be slightly crisp with a moist center.
If you choose to prepare it the night before, the casserole is more likely to be moist throughout; you can decide what to do based on your textural preferences and time constraints.
If you love french toast, try this recipe for Apple Stuffed French Toast or Cinnamon Vanilla French Toast. For more delicious breakfast casseroles, check out these recipes for Easy Breakfast Casserole with Sausage and Potatoes and Keto Breakfast Casserole.
Why This Recipe Works
French Toast Casserole is easy to make. You'll only need a few pantry staples to make it too.
This dish is flavorful, warm, and spicy thanks to the cinnamon on top; all the qualities you could hope for in a special breakfast treat.
You can prepare this casserole ahead of time to be heated later; so, feel free to make it the night before.
Step-By-Step Instructions
Ingredients
10 ounces bread: cut into 1-inch cubes. You can use any bread that you like. Day old sourdough, brioche and French breads all work great in this recipe.
1 1/2 cups whole milk
1/2 cup melted butter
5 eggs
3/4 cup packed brown sugar
2 teaspoons cinnamon
2 teaspoons pure vanilla extract (not pictured)
The entire recipe and instructions can also be found in the recipe card at the bottom of this post. You can also print the recipe from the card, if needed.
Prep!
Preheat your oven to 350°F.
Cut the bread into approximately 1-inch squares and melt the butter (allow it cool some before using).
Grease, butter, or spray with non-stick cooking spray, the inside of a 9×13-inch (or equivalent) casserole dish.
Create!
Evenly spread the cubes of bread into the casserole dish.
Whisk together the milk, melted butter, brown sugar, eggs, 1 1/2 teaspoons of the cinnamon and the vanilla until well combined.
Pour evenly over the bread cubes until all of the bread is moistened.
Sprinkle the remaining 1/2 teaspoon of cinnamon evenly over the top of the casserole.
Bake for approximately 35 minutes or until the internal temperature reaches 160°F on a food thermometer inserted into the center (be careful to not push it all the way to the bottom of the pan).
This casserole is baked at a lower temperature to allow it to fully cook without the sugar burning to the bottom or the top becoming too crisp. The center will be moist.
Present!
Serve as is or top with maple or fruit syrup and/or powdered sugar.
Tips and Techniques
You can use any type of bread that you like. Day old bread works best.
This casserole can be prepared the night before and stored in the refrigerator, tightly covered, until morning.
Store leftovers tightly covered in the refrigerator. Consume within 3 days.
FAQ's
Is French Toast From France?
Nope! While French toast was not created in France, the French do have their own version which they call "pain perdu," which means "lost bread." Versions of French toast date back as far as the Roman Empire.
Can You Make A French Toast Casserole Ahead Of Time?
This French Toast Casserole can be prepared the night before and stored, tightly covered, in the refrigerator until morning.
What Side Dishes Go With French Toast Casserole?
Some side dish ideas for French Toast Casserole are:
Breakfast meats like bacon, sausage, Canadian bacon or scrapple.
Eggs cooked in any style you prefer.
Fruits like bananas, berries and peaches.
More Breakfast Recipes
Love this recipe for French Toast Casserole? Follow me on Pinterest, Instagram, and Facebook for more!
If you try this recipe, I would really appreciate it if you would please leave a comment and star rating. Thanks!