Sweet Peach Syrup is a wonderful way to preserve the fresh flavor of summer. This recipe is super easy to prepare, requiring only 3 ingredients to produce a homemade fruit-based simple syrup. The result is delicious and will surely be enjoyed over desserts, breakfast, or stirred into your favorite iced tea.
This post contains affiliate links. See our Disclosure Statement for more information.
Homemade Peach Syrup is a summer delight. This recipe yields a natural, brightly colored simple syrup which is perfect for drizzling on almost any dessert or sweet breakfast porridge.
You can also reserve the cooked down fruit to top waffles or Baked Cheesecake.
Fresh peaches are abundant during the summertime and this recipe makes good use of the bounty. Other fruit-based sauces are just as easy to make and great for using up excess fruit, especially if you find your fruits going soft faster than you can eat them.
Try similar recipes such as Blueberry Sauce, unique barbecue sauces made with mangos or raspberries, Sweet Mango Dipping Sauce, or Savory Cheese Puffs with Raspberry Sauce.
Peach Syrup is an easy addition to make basic dishes more delectable. This recipe allows you to skip peeling the peaches too, which is a huge timesaver.
The fresh peach flavor is concentrated in this sunny-hued syrup, thanks to a low and slow cook with the whole fruit, brightly colored peach skins and all. You may also choose to puree the cooked peaches or save them to enjoy over oatmeal.
Why This Recipe Works
You will only need 3 ingredients to make this easy and delicious fresh Peach Syrup.
This is a great recipe to use up extra peaches during the bountiful summer months. It's the perfect use for slightly overripe or bruised peaches, which you can sometimes buy discounted at your local farmer's market.
There are many ways to enjoy Peach Syrup. It's so versatile you can use it from breakfast to dessert or in a special beverage. Try it drizzled over pancakes in place of maple syrup, atop scoops of vanilla ice cream, or add a bit to your favorite iced drink, such as lemonade.
How To Make Peach Syrup
Ingredients
Peaches: use fresh peaches. You want to use ripe peaches that give a little when gently squeezed.
Sugar
Water
The entire recipe and instructions can also be found in the recipe card at the bottom of this post. You can also print the recipe from the card, if needed.
Prep!
Slice the peaches about 1/4-inch thick. Discard the pits.
Note: you don't need to peel the peaches, however, if you plan to purée the cooked peaches with the syrup you may want to remove the skin.
Create!
Bring peaches, sugar and water to a boil in a saucepan over medium heat. Cook 2-3 minutes.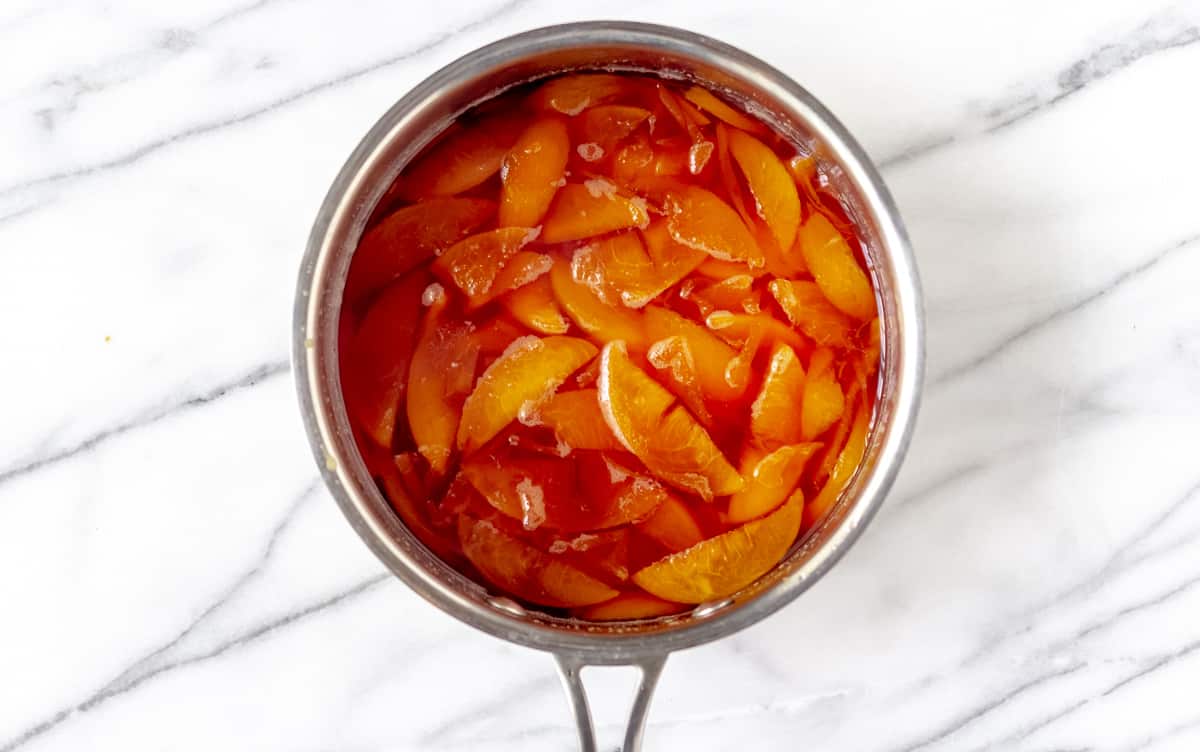 Turn off heat, cover and let cool for 1-2 hours.
Strain through a fine-mesh colander or sieve into a jar or container with a lid. The color of your syrup will depend mostly on the color of the peach skin.
Chef's Tip: if you want a thicker syrup, you can purée some or all of the peaches with the syrup. You can also leave the peaches in the syrup or use them to top pancakes or waffles.
Present!
Refrigerate for up to 3-4 weeks.
Tips and Techniques
There is no need to peel the peaches, but you may want to remove the skin if planning to purée them with the syrup.
For a thicker syrup, you can purée some or all of the peaches with the syrup. You can also leave the peaches in the syrup or use them to top pancakes or waffles.
Store syrup in an airtight container in the refrigerator. Consume within 3-4 weeks.
FAQ's
What Do You Eat Peach Syrup With?
There are many different ways to use peach syrup. Here are some suggestions:
pancakes
waffles
crepes
lemonade
iced tea
cocktails
mocktails
oatmeal
cheesecake
ice cream
More Peach Recipes
Love this Peach Syrup Recipe? Follow me on Pinterest, Instagram, and Facebook for more!
If you try this recipe, please leave a comment and star rating. I would really appreciate it!