This recipe for Potato Hash with Bacon and Eggs is incredibly versatile and full of flavor. Crispy fried eggs and bacon, pillowy potatoes, and savory additions of onion and peppers makes this dish an irresistible skillet meal. It may be served for breakfast and brunch, but also lunch or dinner too, and is one of the best one pan meals.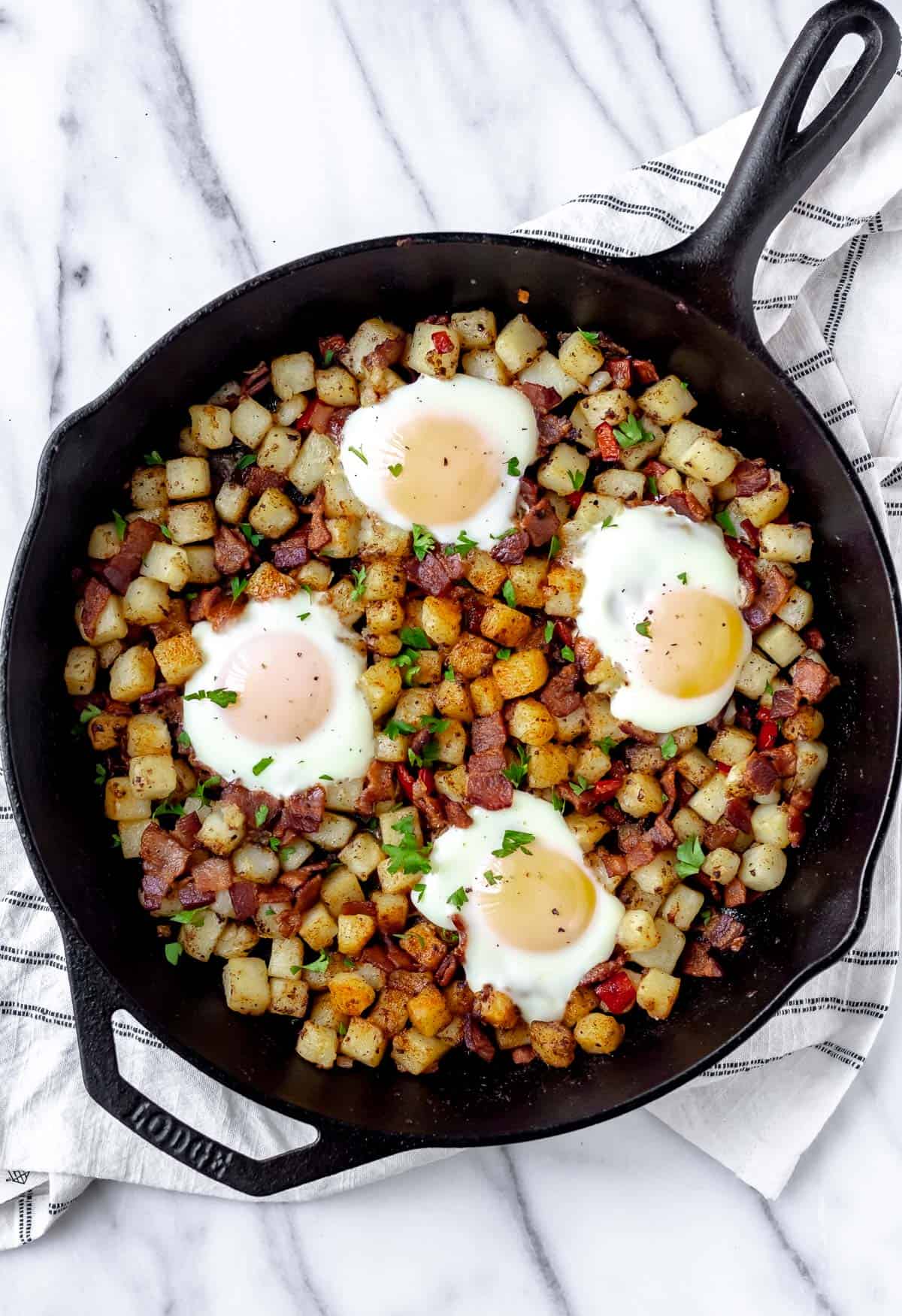 This post contains affiliate links. See our Disclosure Statement for more information.
Potato Hash with Bacon and Eggs is a solid recipe to prepare for family and friends any time of day. It's a great breakfast dish to serve to your family because it is hearty, delicious, and comforting. This dish is even nourishing and filling enough to serve for lunch and dinner too, thanks to the addition of crispy fried eggs.
Potato Hash is also one of the best options to serve at brunch. If you find yourself searching for something easy to prepare, which includes every component of a great breakfast, meat, eggs, carbohydrates, and vegetables, then make this recipe. Choose this dish if you are short on prep time, since it's a one skillet meal, clean-up will also be a breeze.
A similar quick and easy recipe with a bit of a sweet touch is Maple Bacon Sweet Potato Hash, which may also be made with sausage, if you prefer!
Potato Hash with Bacon and Eggs is crispy, savory, and smokey. It's sure to please almost every breakfast lover and the chef too, as it is super simple to prepare, but also a pleasure to eat.
Why This Recipe Works
Potato hash is one of the easiest meals to prepare. Plus, it's a one pan meal, so clean up is quick and easy too.
This dish can be enjoyed any time of day. Obviously, it's a great breakfast, but everyone loves breakfast for dinner or lunch too.
Potato Hash with Bacon and Eggs is a hearty and filling meal. There is plenty of protein from the meat and eggs, but also carbohydrates and vegetables to keep you satiated throughout the day or to replenish at night.
How To Make Potato Hash
Ingredients
Potatoes: russet potatoes work great in this recipe.
Bacon: or sausage. If you use sausage, you will need to add oil or butter to cook the vegetables.
Red Bell Pepper: you need about a half of a bell pepper. You can use a green bell pepper, if preferred or a mix of the two.
Onion: again, you need about a half of a small onion. Sweet onions, like Vidalia, work great in this dish.
Eggs
Spices: salt, pepper and paprika.
The entire recipe and instructions can also be found in the recipe card at the bottom of this post. You can also print the recipe from the card, if needed.
Prep!
Cut the potatoes into a medium dice or about 1/2-inch cubes. Try to cut the cubes as evenly as possible so that they all cook at the same rate.
Cut the pepper and onion in a small dice, or about 1/4-inch pieces.
Chef's Tip: to make the dicing even easier, you can use a vegetable chopper. Most have different size grates for small, medium and large cuts.
Dice the bacon into 1/2-inch pieces.
Chef's Tip: bacon is easiest to chop when it's stacked. To do this, simply open the package of bacon and remove it all as one big piece. Then, cut it, all at once, into 1/2-inch slices.
Preheat oven to 400°F.
Create!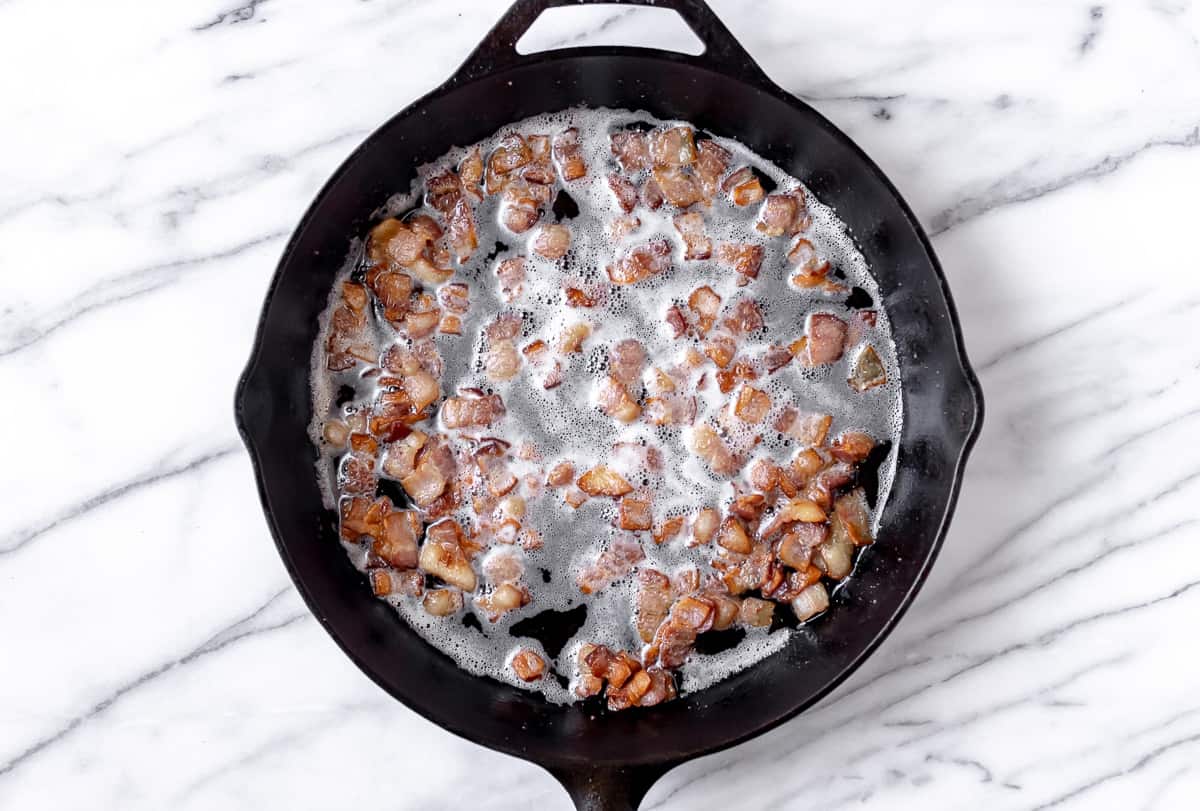 Add the diced bacon to a large, oven-proof skillet or cast iron pan. Turn the heat onto medium.
Cook, stirring often, until the bacon is just crisp, about 7-10 minutes. Remove with a slotted spoon to a paper-towel-lined plate and set aside.
Carefully drain all but 2 tablespoons of the bacon grease from the pan and return the pan to the stove. Increase the heat to medium-high.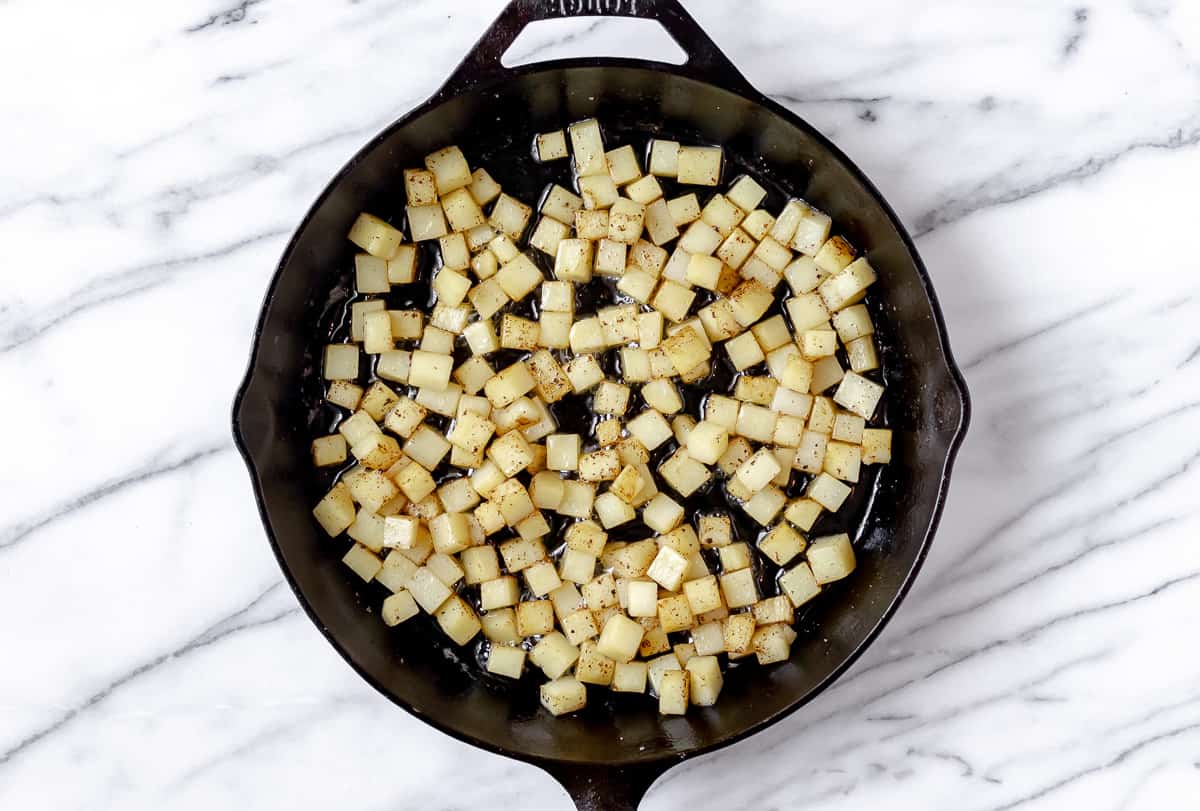 Add the potatoes and cook 2-3 minutes, stirring occasionally.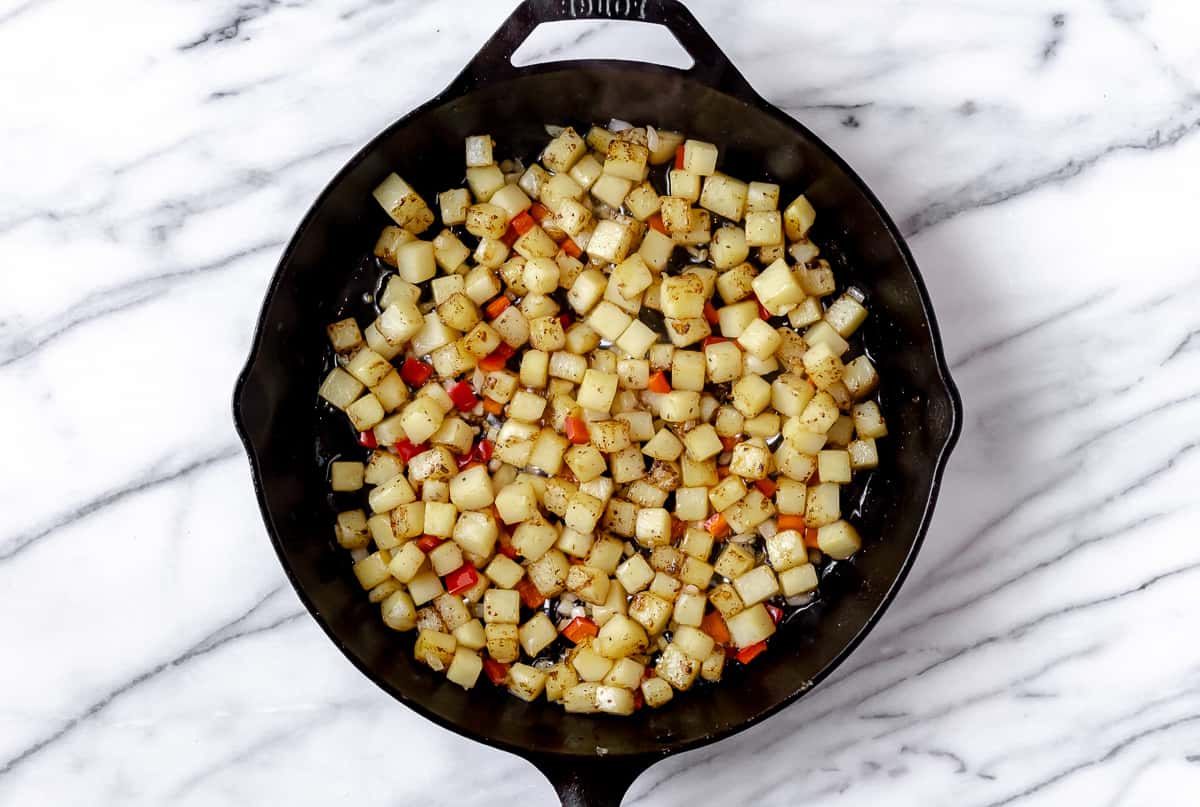 Stir in the bell pepper and onion and continue cook an additional 2-3 minutes. The vegetables should be crisp-tender, and will finish cooking in the oven.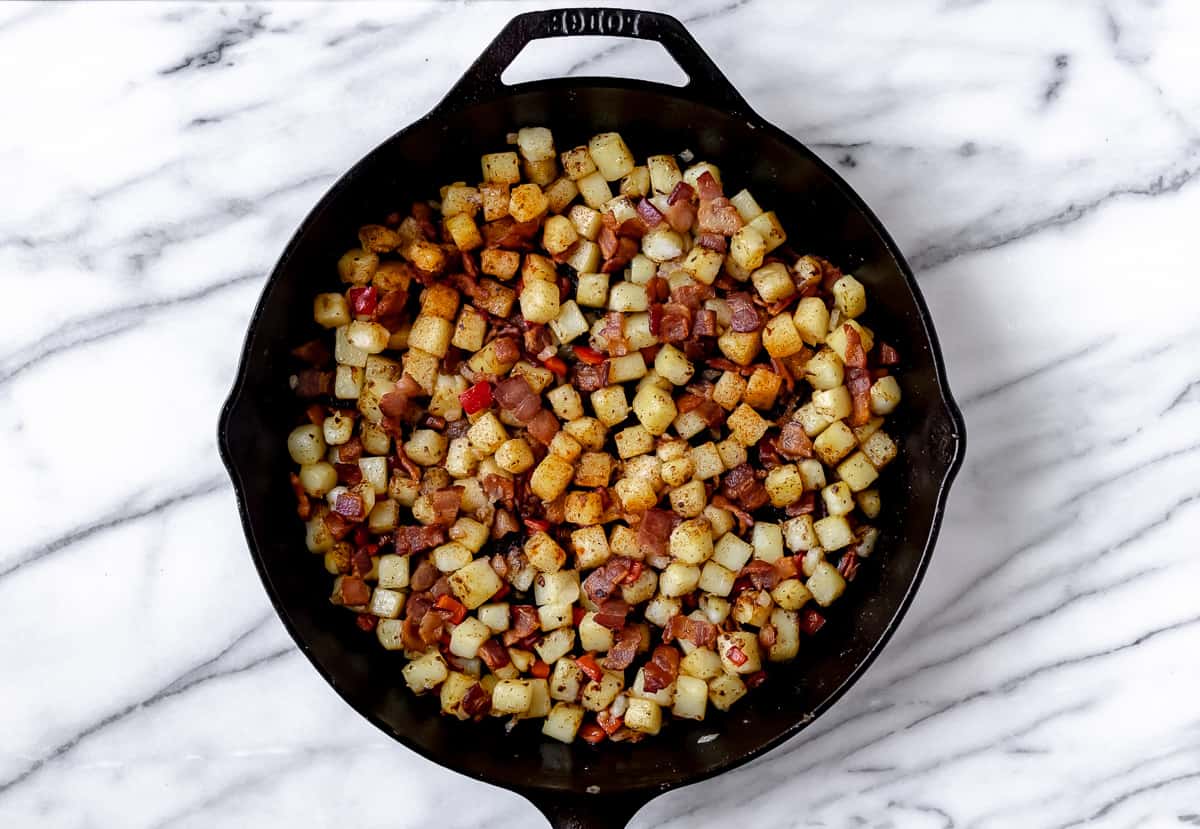 Stir in the paprika and bacon.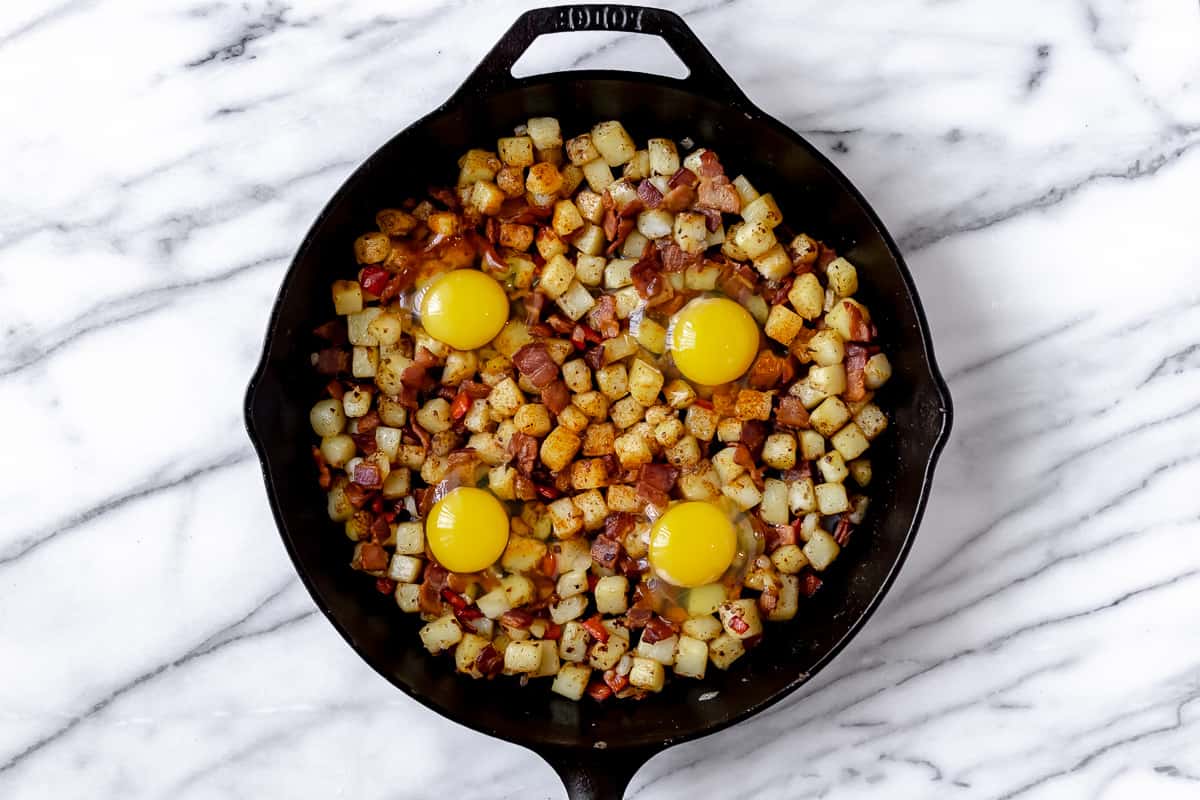 Spread the hash out evenly in the pan. Make 4 wells or indents into the hash.
Crack an egg into each of the 4 indents.
Transfer the pan to the oven and cook until the white of the egg is set and the yolk is still runny, about 10-12 minutes.
Present!
Garnish with fresh, minced parsley, if desired.
Tips and Techniques
You can use red or green bell pepper or a combination of the two.
Try to cut your potatoes into as evenly-sized pieces as possible. This will help them all cook at the same rate so that you don't end up with mushy and/or hard pieces of potato.
Cut the bacon all at once by placing it in one large stack. To do this, simply open the package of bacon and remove the slices as one big piece. Then, cut through every piece, all at once, into 1/2-inch slices.
Bacon will crisp up more as it cools so be careful not to overcook it. Remove it from the skillet when it is just starting to look as if it's getting crispy.
You can substitute sausage for the bacon. If you decide to use sausage, you will need to add oil or butter to cook the vegetables in.
Store any leftover hash in an airtight container in the refrigerator. Consume within 4-5 days.
FAQ's
What Are The Best Potatoes For Frying?
The best potatoes for frying are Russet or Yukon Gold potatoes.
Should You Dry Potatoes Before Frying Them?
Yes, you should allow your potatoes to air dry before cooking or pat them dry with paper towels. Adding wet potatoes to a pan of hot oil will lower the temperature of the oil. This will cause the potatoes to take longer to cook, soak up more of the oil and lead to soggy potatoes.
Can You Freeze Potato Hash?
While you can freeze leftover potato hash without the eggs, the quality of it after being reheated may not be the same. It's best to make it fresh, when possible.
More Breakfast Recipes
Love this Potato Hash recipe? Follow me on Pinterest, Instagram, and Facebook for more!
If you try this recipe, I would really appreciate it if you would please leave a comment and star rating. Thanks!