This easy stuffed French toast recipe tastes like having apple pie for breakfast- truly indulgent and delectable! Made with buttery, soft brioche bread, cinnamon apples, vanilla and maple syrup, Apple Stuffed French Toast is the ultimate comfort food. Try this delicious recipe for breakfast, brunch or even dinner!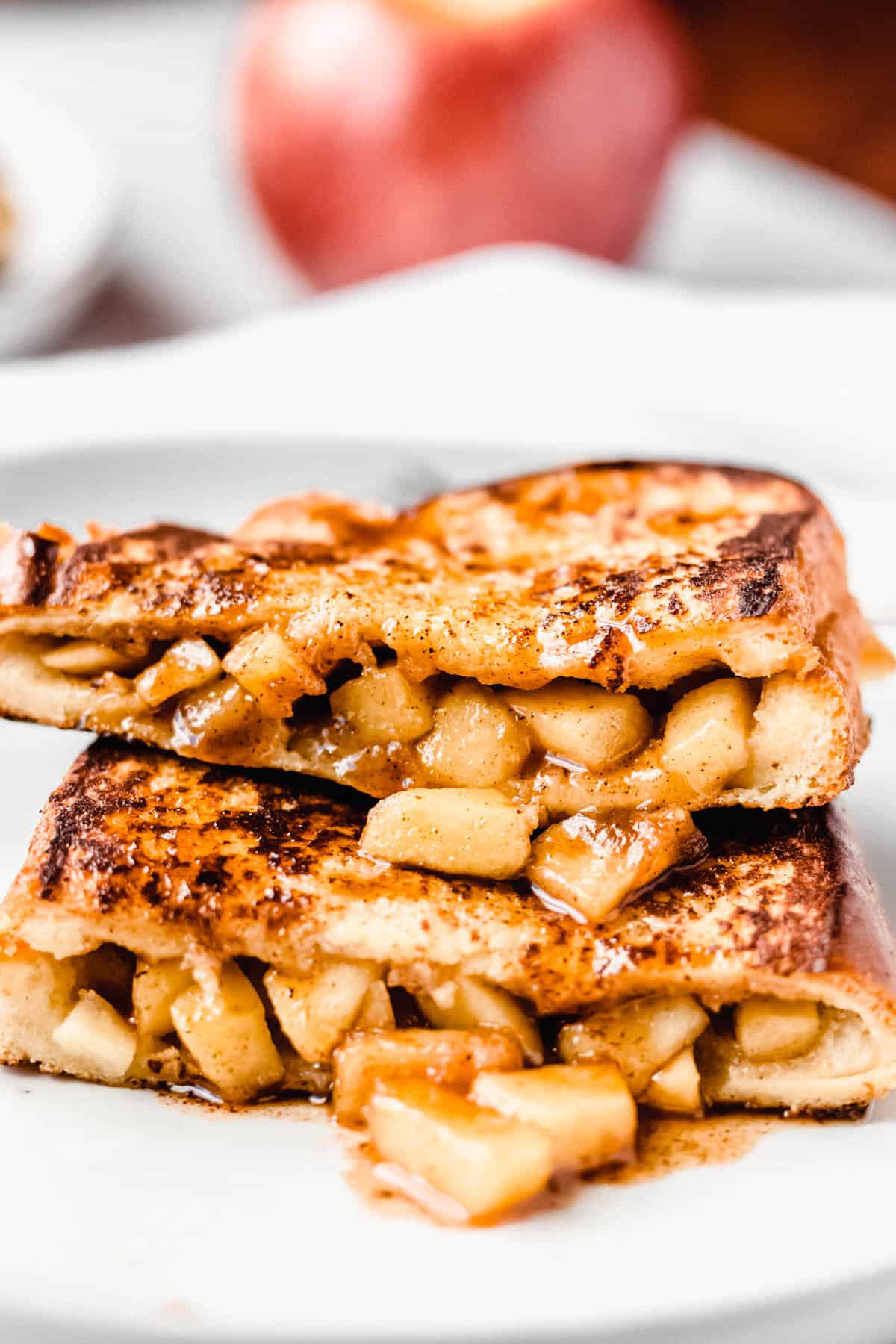 This post contains affiliate links. See our Disclosure Statement for more information.
This easy recipe for Apple Stuffed French Toast can be served for breakfast, brunch, and dinner – it's like eating a warm slice of home-made apple pie!
The delicious scent of warming spices used to highlight the flavors in this dish will sweep you away in a cloud of cinnamon-infused delight.
Classic maple syrup, tender brioche, spiced apples, and vanilla lend a delicately balanced, sweet aroma to the dish. Stuffed French toast is a definite crowd pleaser and the perfect meal for those with a bit of a sweet tooth.
For an even simpler, sweet French toast, try this recipe for Cinnamon Vanilla French Toast. If you find yourself craving more apple pie flavored breakfasts, I suggest this recipe for Apple Pie Overnight Oats.
Why This Recipe Works
This surprisingly easy French toast recipe uses mostly pantry staples, which you will already have in your cupboards and refrigerator more than likely.
The aromatic warm, spicy flavors of fall are comforting, tasty and permeate this dish. Nutmeg, cinnamon, and molasses brown sugar combine to create a divine, irresistible scent.
Apple Stuffed French Toast is the perfect dish to serve to a crowd. It is simple, but delicious and impressive, enough to serve at a fancy brunch or even as dessert after a decadent dinner.
How To Make Stuffed French Toast
Ingredients
Brioche Bread: brioche holds up really well for French toast, and some would argue that it's the best bread for French toast, but you can use any bread you like. If you can find really thick slices of bread, even better!
Cinnamon Apples: apples, cinnamon, nutmeg, brown sugar and butter.
French Toast Batter: eggs, milk and vanilla extract.
The entire recipe and instructions can also be found in the recipe card at the bottom of this post. You can also print the recipe from the card, if needed.
Prep!
Peel and dice the apples somewhat small.
Create!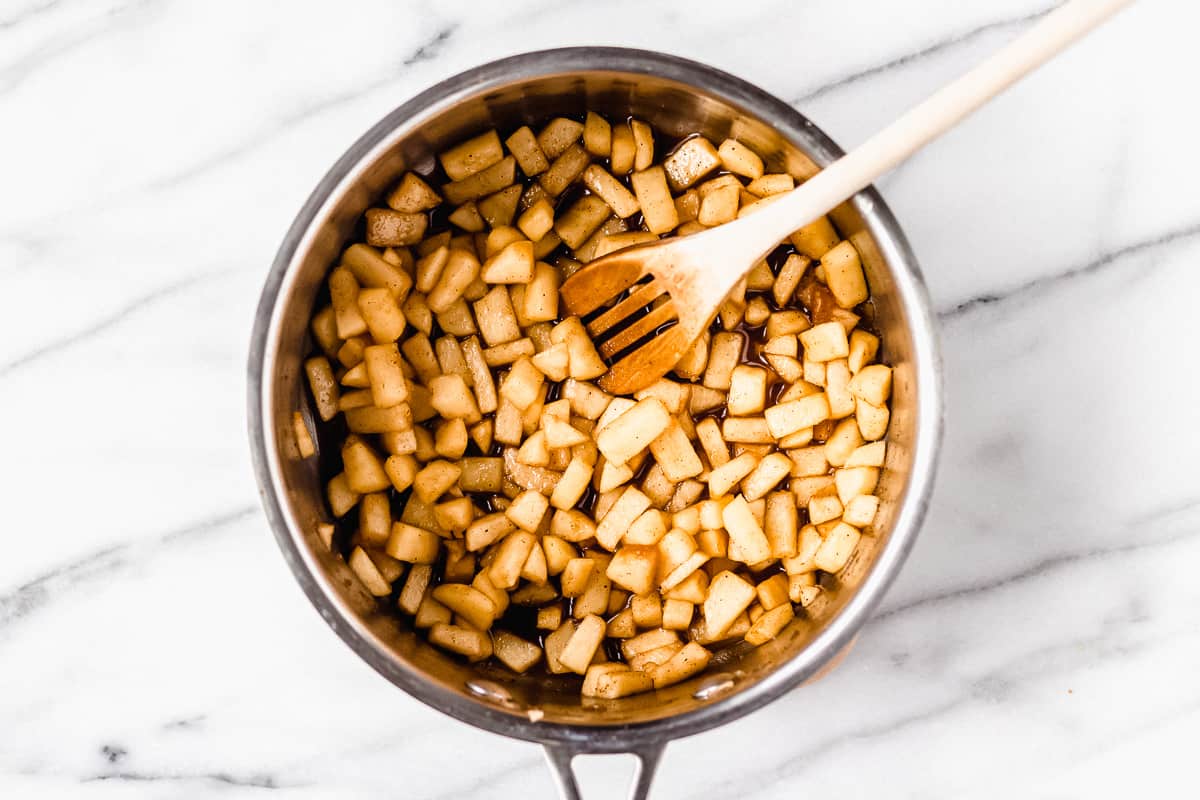 Melt the butter in a medium saucepan over medium heat.
Once melted and hot, add the apples, brown sugar, cinnamon and nutmeg. Stir to combine and cook until just fork-tender, about 5 minutes. Let cool a few minutes so that any sauce that develops in the bottom of the pan can thicken up a little.
Top 4 slices of the brioche bread evenly with the cooked apples. Place a second slice of bread on top and press down to somewhat seal the two pieces together.
Chef's Tip: if you are using very thick brioche bread, instead of using 2 pieces, cut a pocket into the side of the bread and stuff the apples inside.
Whisk together the eggs, milk and vanilla in a medium bowl.
Heat a large skillet over medium-high heat or a griddle to 350°F. Coat with butter or cooking spray.
Dip each "sandwich" into the egg mixture and allow it to soak up the batter for a minute or two, let the excess drip off and place onto the hot skillet.
If desired, sprinkle extra cinnamon on top.
Cook 1-2 minutes per side or until golden brown. Flip and repeat.
Present!
Serve topped with maple syrup, chopped pecans or walnuts, or powdered sugar. You can even use any extra syrup still in the pan from the apples to drizzle over the French toast before serving.
Tips and Techniques
If using very thick bread, you can cut a pocket into one side of the crust and stuff the apple mixture inside, rather than make a "sandwich."
Store leftovers in an airtight container in the refrigerator. Consume within a day or two at the most, for best results.
FAQ's
Is French Toast From France?
Nope! While French toast was not created in France, the French do have their own version which they call "pain perdu," which means "lost bread." Versions of French toast date back as far as the Roman Empire.
Can You Freeze French Toast?
Yes. Lay out the slices of French toast on a baking sheet and place in the freezer. Once frozen, transfer to an airtight container or freezer bag. Use within 3 months for best results.
How Do You Reheat French Toast?
You can reheat French toast in the microwave on 20-second intervals until hot or on a baking sheet in an oven preheated to 350°F for just a couple of minutes. Some people even like to reheat single slices of French toast in the toaster.
If your French toast is frozen, you will need to add a little extra cooking time.
More Breakfast Recipes
Love this recipe for Apple Stuffed French Toast? Follow me on Pinterest, Instagram, and Facebook for more!
If you try this recipe, I would really appreciate it if you would please leave a comment and star rating. Thanks!