Fresh ingredients such as herbs and cucumber are used to prepare this recipe for Cucumber Tea Sandwiches. These delightful miniature sandwiches are easy to make, snack-able, and perfect for serving to a crowd.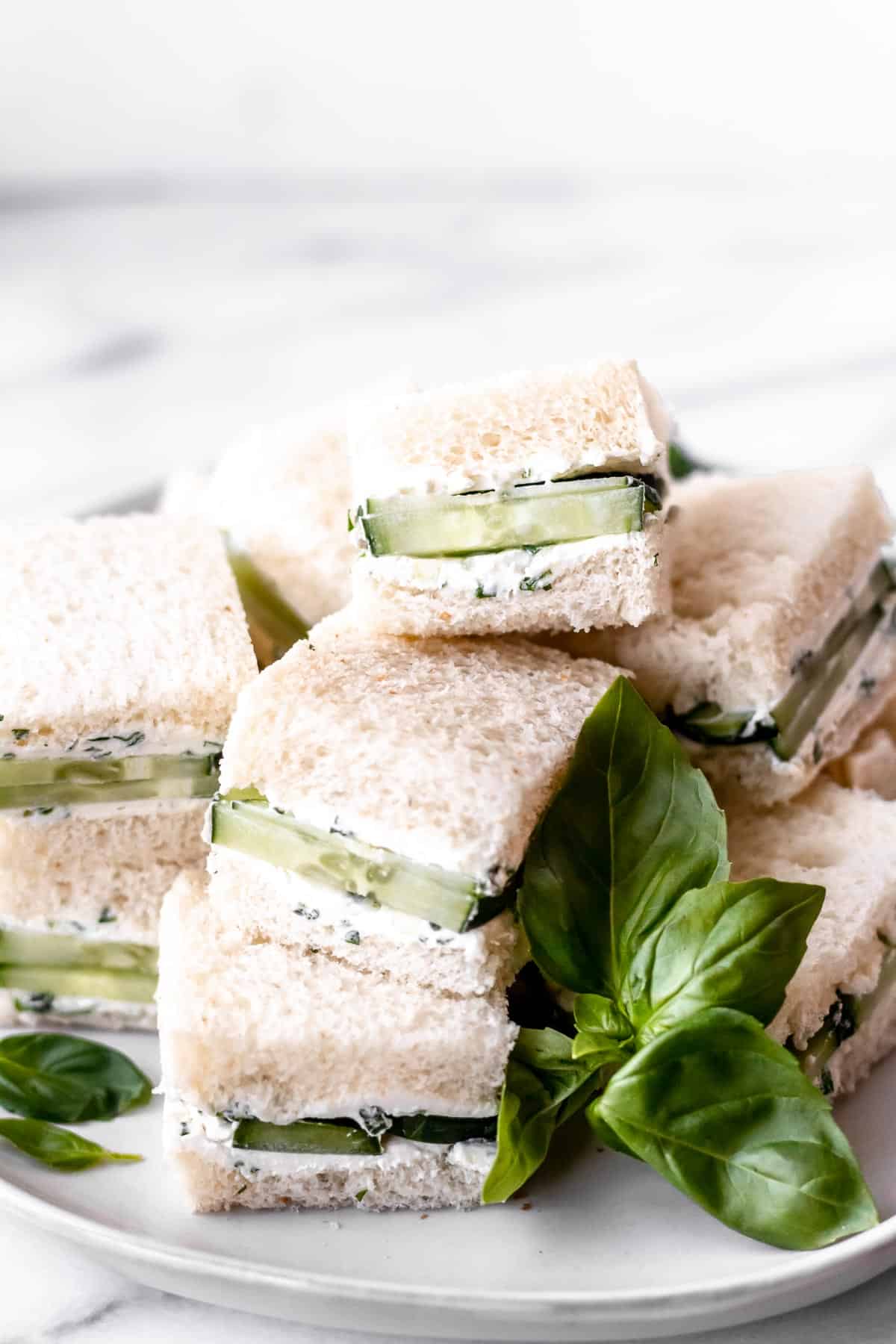 This post contains affiliate links. See our Disclosure Statement for more information.
Cucumber Tea Sandwiches are a classic British snack, which are meant to be served during afternoon tea in order to hold off hunger before dinner. They are often served at parties, showers, and other celebrations in the United States today.
These small sandwiches are the quintessential tea sandwich, which were originally made with butter rather than cream cheese.
These sandwiches are often mini size, so they are more snack-able and perfect for entertaining. Cucumber Tea Sandwiches are made with fresh herbs, cream cheese, and sliced cucumbers on white crustless bread. The fresh vegetables used in this dish make it the perfect spring recipe. Try it out the next time you head out for a picnic on a warm day.
For a similar, low carb option, try these Cucumber Cream Cheese Bites. If you're looking for regular sandwich recipes, check out this Vegetarian Spinach Sandwich and Grilled Turkey BLT.
Why This Recipe Works
Making Cucumber Tea Sandwiches is very easy. All you need to do is make a quick herbed cream cheese and layer it with sliced cucumbers on bread.
This recipe uses fresh ingredients such as herbs and cucumbers. Cucumber sandwiches are a light snack option, perfect for spring and summertime.
These little tea sandwiches are great for entertaining. You can serve a variety of tea sandwiches to suite different tastes. You can even use egg salad or Chicken Salad to make tea sandwiches.
Step-By-Step Instructions
Ingredients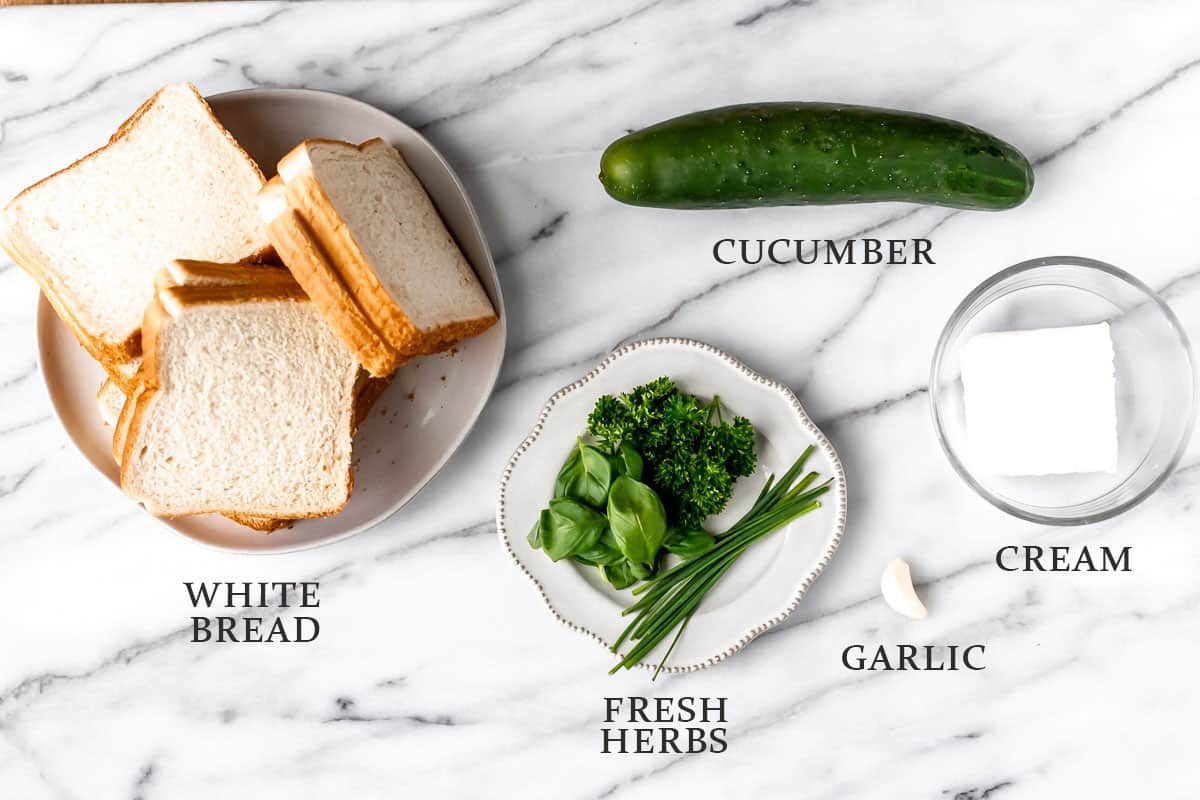 10 slices of white bread
4 ounces cream cheese
1 teaspoon fresh parsley
1 teaspoon fresh basil
1 teaspoon fresh chives
1 clove garlic
1 small cucumber
The entire recipe and instructions can be found in the recipe card at the bottom of this post. You can also print the recipe from the card, if needed.
Chef's Tip: you can use any combination of herbs that you like. You could also purchase herbed cream cheese if you'd rather not make your own.
Prep!
Set the cream cheese out ahead of time so that it can come to room temperature before you begin.
Slice the cucumber into 1/8-inch thick slices.
Mince the chives, basil, parsley and garlic.
Create!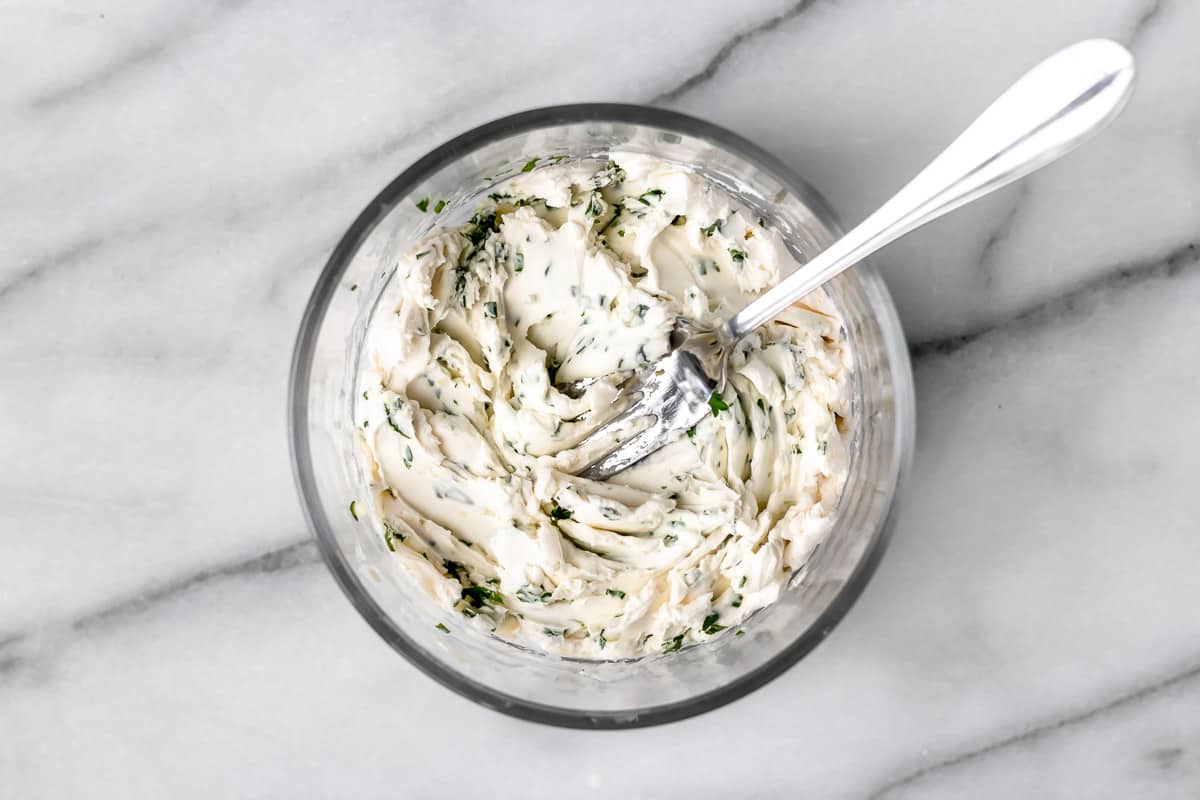 Combine the cream cheese, minced herbs, and garlic in a small bowl. Smash everything together with a fork until it's evenly blended.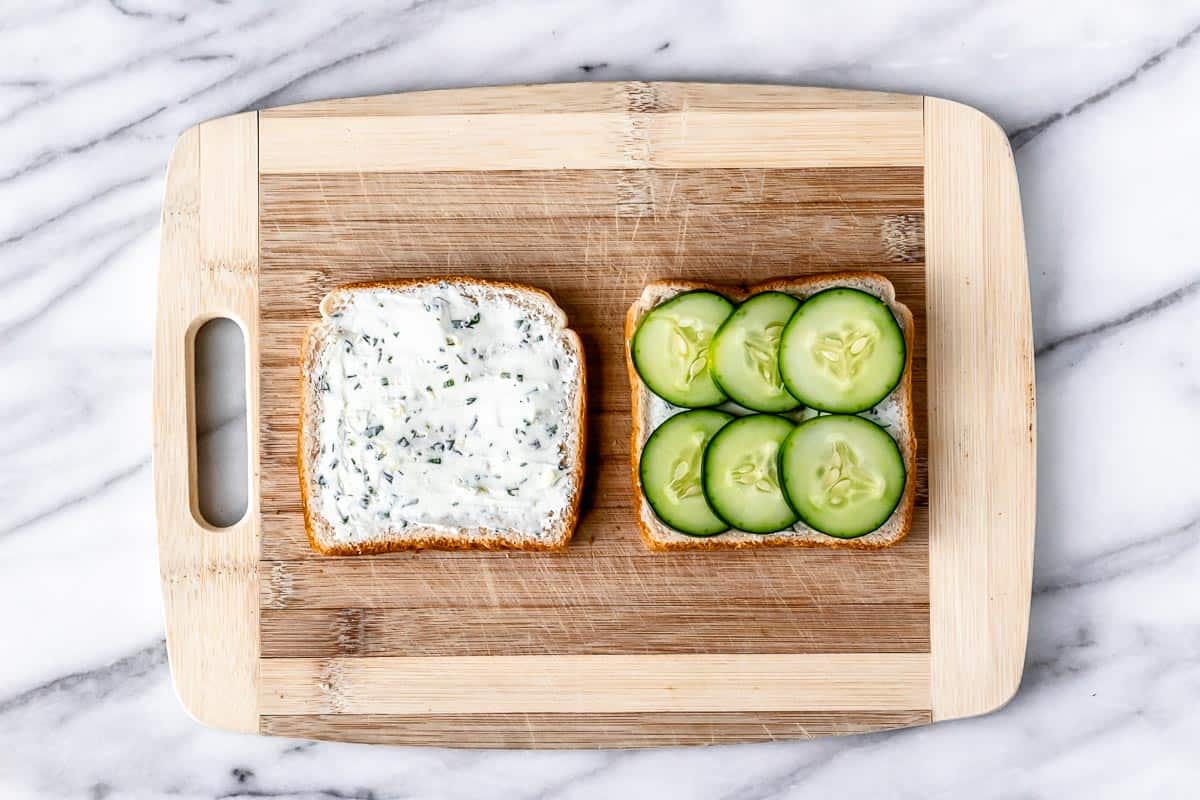 Spread a thin layer of the cream cheese mixture onto each of the slices of bread.
Add a layer of cucumbers to one slice of bread, then top with a second slice of bread.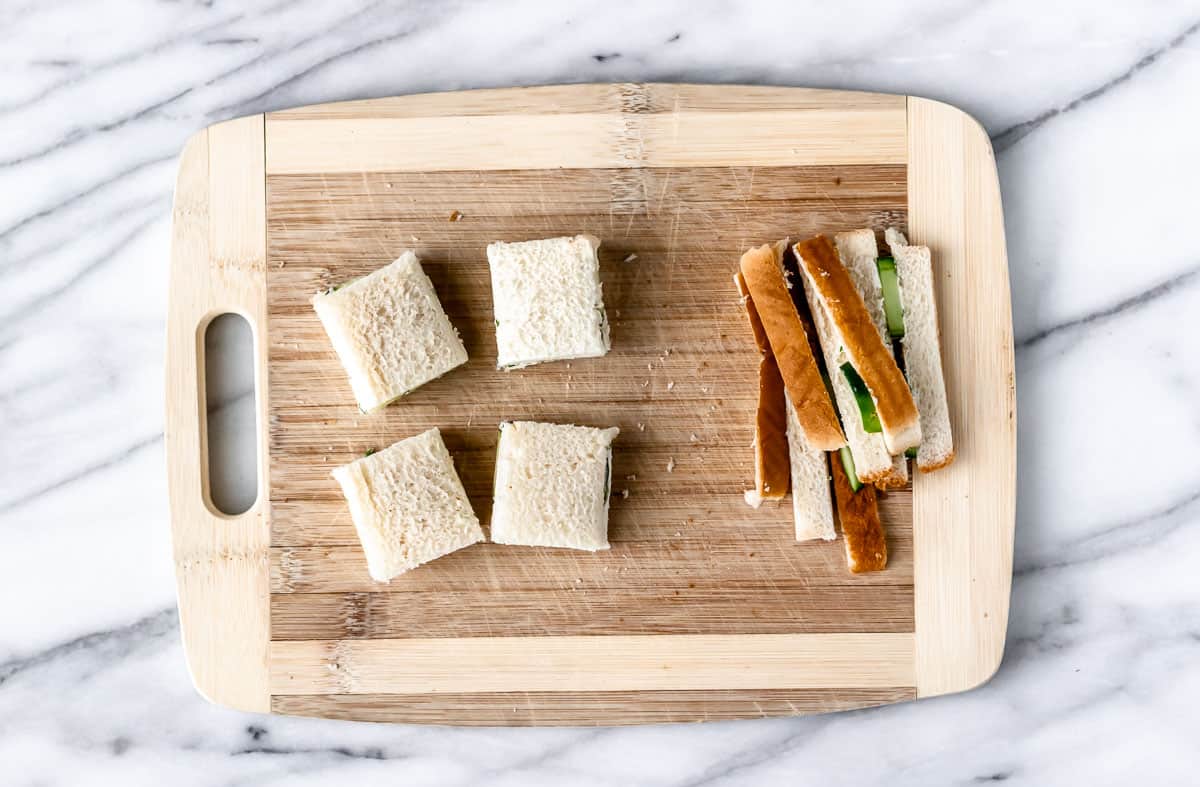 Using a very sharp knife and light pressure, cut the crust off of each sandwich, then cut each sandwich into half, then half again so that you have four small sandwiches.
Present!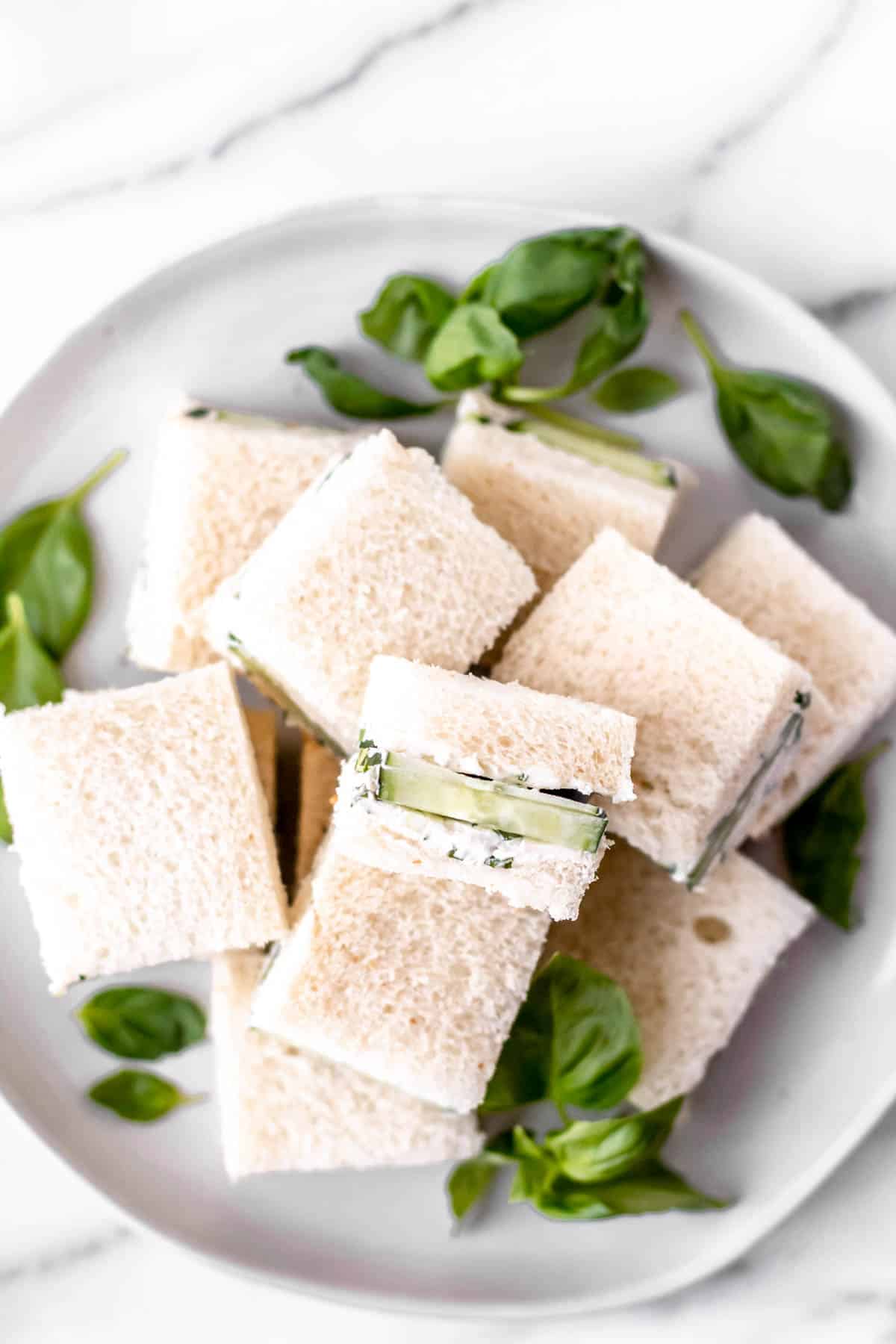 You can keep tea sandwiches simple or get a little creative by adding fancy toothpicks or by using cookie cutters to cut the sandwiches into different shapes.
Tips and Techniques
You can use any combination of herbs that you like. You could also purchase pre-made herbed cream cheese if you'd rather not make your own.
If you are making these sandwiches ahead of time, consider using a less "watery" cucumber like an English cucumber to keep the bread from getting soggy.
Store sandwiches covered with plastic to prevent the bread from drying out.
FAQ's
Why Is It Called A Tea Sandwich?
Tea sandwiches are originally a British food and were made to be served with afternoon tea, hence their name.
What Cucumbers Are Best For Tea Sandwiches?
You can use any type of cucumber for tea sandwiches. If you are making tea sandwiches ahead of time, a less watery cucumber variety, like English cucumbers, are best.
More Sandwich Recipes
Love this Cucumber Tea Sandwich recipe? Follow me on Pinterest, Instagram, and Facebook for more!
If you try this recipe, I would really appreciate it if you would please leave a comment and star rating. Thanks!
This recipe was originally posted on February 8, 2018. It was updated with new images, step-by-step instructions, tips, techniques and FAQ's in March 2021.