Samosas are a popular vegetarian Indian appetizer. This delicious Vegetable Samosa recipe is made with potatoes, peas and spices stuffed into a traditional samosa dough pocket. They are sure to become a favorite starter dish to all of your favorite Indian cuisines!
This post contains affiliate links. See our Disclosure Statement for more information.
Vegetable samosas are hands-down my favorite appetizer. There has never been an occasion where I have ordered Indian takeout and not gotten samosas.
Just like with my popular Butter Chicken recipe, I really wanted to learn how to make them on my own so that they taste as close to my favorite Indian takeout restaurant as possible. And, so that I could enjoy them more often, of course!
While making homemade vegetable samosas is a bit of a labor of love, it's so worth it! I've made the recipe and the instructions as simple as possible.
If you want to save time, you could use spring or egg roll wrappers, but the traditional samosa dough is one of the easiest doughs to make. It's definitely a dough that a cook of any skill level can make.
I always eat samosas with Mango Chutney, but you can also serve them with Green Chutney or a Raita (yogurt dip).
Why This Recipe Works
This recipe teaches you how to make 100% homemade vegetable samosas in this most simplified way possible.
It uses authentic ingredients and flavors. You may need to visit a local ethnic grocer or purchase harder to find ingredients online.
You can serve samosas as an appetizer, snack or even as a vegetarian main dish.
How To Make Samosas
Ingredients
Pastry
3 cups all purpose flour: we highly recommend using high-quality baking products like King Arthur brand for the best results.
1 1/2 teaspoons ajwain seeds
1 1/2 teaspoons salt
9-10 tablespoons ghee
10-12 tablespoons water
Filling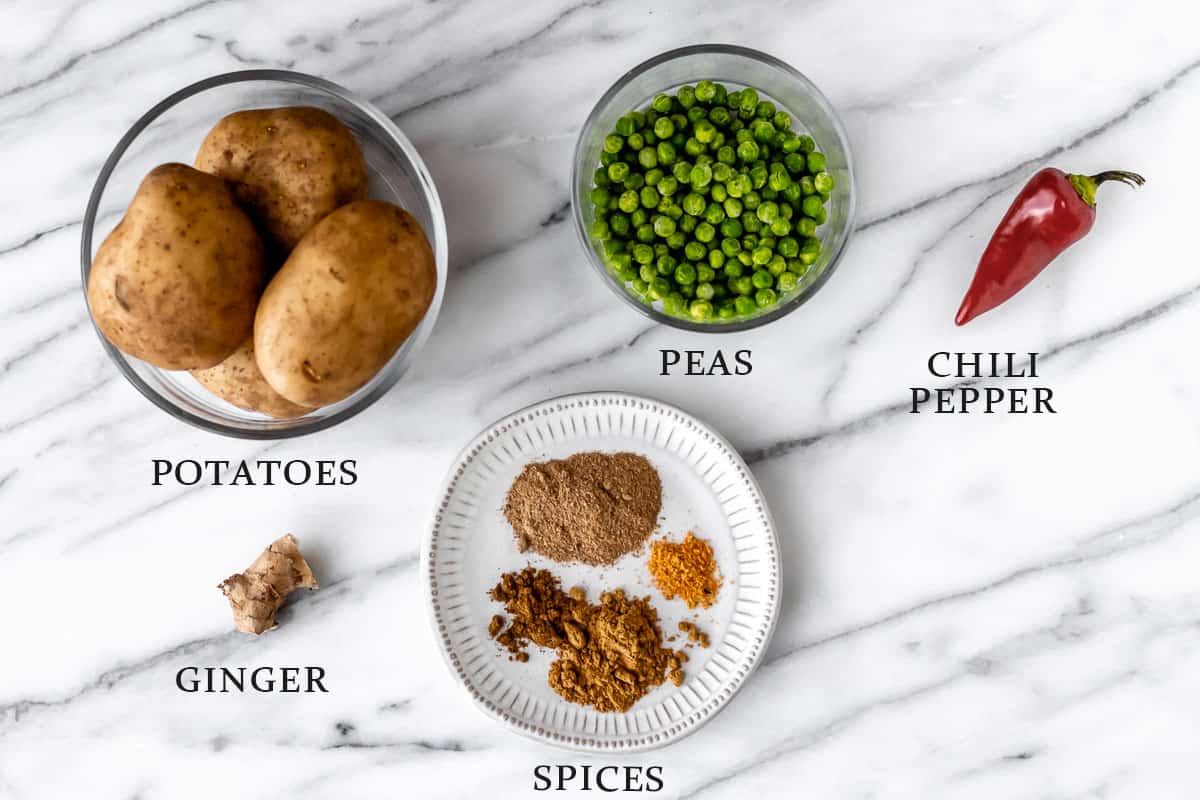 1 1/2 pounds potatoes (about 4 medium potatoes)
1 tablespoon vegetable oil
1 inch piece of fresh ginger, peeled and grated (can use 1/2 teaspoon ground ginger instead)
2 red chilies, seeded and minced (can use 1/2 teaspoon cayenne instead)
1 teaspoon ground coriander
1/4 teaspoon ground cumin
1/8 teaspoon asofoetida
2 teaspoons amchur
3/4 cup peas
1/4 cup fresh cilantro, minced (not shown in the photo)
The entire recipe and instructions can also be found in the recipe card at the bottom of this post. You can also print the recipe from the card, if needed.
Prep!
Peel and grate the ginger and seed and mince the chili peppers. Mince the cilantro and set aside.
Scrub the potatoes under running water, but do not peel or cut them. They will be boiled whole.
Create!
Make the pastry first.
Combine the flour, ajwain seeds and salt in a medium bowl.
Add the ghee and use your fingers to blend it into the flour mixture to create crumbs that stick together when pressed.
Add the water, 1 tablespoon at a time, until the dough is firm, but moist.
Cover with a damp paper towel and set aside for at least 30 minutes.
While the dough is resting, make the samosa filling.
Fill a large pot with cold salted water and add the whole potatoes. The water should come to about an inch above the potatoes.
Chef's Tip: boiling whole potatoes in their skins helps to lock in nutrients and adds more flavor and texture, as well.
Bring to a boil and cook until fork-tender, about 20-25 minutes.
Allow the potatoes to cool to the point that you can handle them without getting burned, then peel and roughly mash with a potato masher or fork. Set aside.
Heat the oil in a large skillet over medium heat.
Add the ginger, chilies, coriander and cumin. Cook for 1-2 minutes, stirring frequently.
Mix in the potatoes, asofoetida, amchur and peas. Cook 2-3 minutes longer, then taste and adjust the seasoning as needed.
Stir in the cilantro.
The next step is to fill the samosas.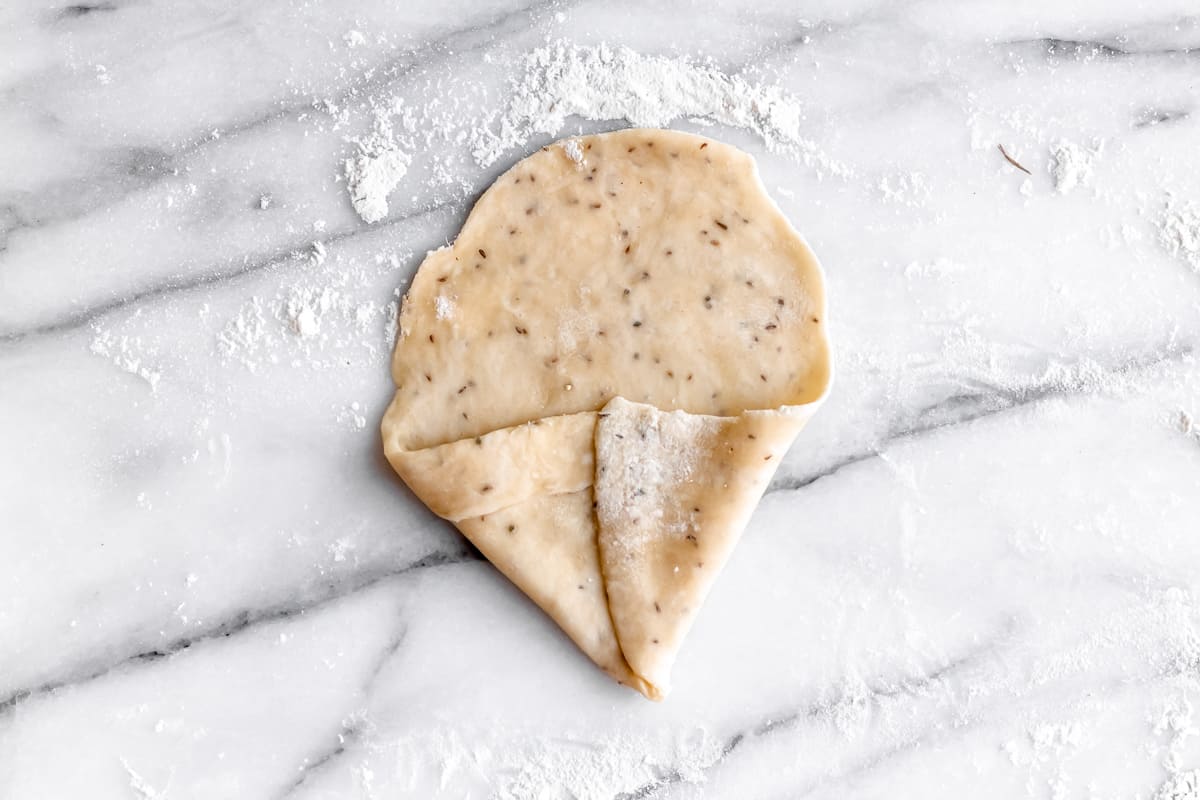 Divide the dough into 9 equal pieces and roll each one into a tight ball.
Roll the ball of dough out into a long oval shape, approximately 5×7-inches long and cut in half horizontally.
Place the dough with the curved edge facing away from you. Using your finger or a small brush, lightly dampen a vertical line down the center of the dough.
Fold the bottom two corners up to the center and press lightly where the dough has been dampened.
Carefully pick up the dough and open the pocket that you just created.
Add approximately 2 tablespoons of the samosa filling into the pocket.
Dampen the top piece of dough and fold one side over, then the other and pinch closed. This part can be tricky. As long as the dough is closed and sealed, your samosas will be good!
It is now time to cook the samosas.
Fill a deep skillet or a pot about 1/3 full with vegetable oil. Heat on medium-high.
Once hot, add the samosas, Fry for 3-4 minutes or until golden brown, then flip and cook on each side for an additional 3-4 minutes or until completely golden brown. You may have to work in batches.
Transfer to a paper tower-lined plate.
Chef's Tip: you can also fry samosas in a deep fryer set at 350°F for about 4-5 minutes or until golden brown.
Present!
Tips and Techniques
If you'd rather not make your own dough, you can use spring or egg roll wrappers instead.
Boiling potatoes whole helps lock in nutrients and flavor. If you are short on time, you can peel and dice the potatoes before boiling.
Store leftover samosas in an airtight container in the refrigerator. Consume within 2-3 days for best results. The best way to reheat samosas is in an oven set at 350°F for about 5-10 minutes.
FAQ's
Can You Bake Vegetable Samosas?
Yes. Vegetable Samosas can be baked in an oven set to 350°F for 20-25 minutes or until golden brown and crisp.
Can You Air Fry Vegetable Samosas?
Yes, vegetable samosas can be air fried. Set your air fryer to 380°F. Either brush the samosas with a light coating of oil or spray the air fryer basket with non-stick spray. Place the samosas in the basket so that they are not touching. Air fry for 12-15 minutes or until lightly browned and crisp.
Can You Freeze Vegetable Samosas?
Uncooked vegetable samosas can be frozen for up to 6 months. Place samosas on a sheet pan, then place in the freezer. Once frozen, remove and place in an airtight container or freezer bag.
To reheat frozen samosas, thaw them in the refrigerator overnight, then allow them to come to room temperature before frying as instructed in the recipe.
Cooked samosas can also be frozen, however the taste and texture may change some once thawed and reheated.
More Indian Recipes
Love this Vegetable Samosas recipe? Follow me on Pinterest, Instagram, and Facebook for more!
If you try this recipe, I would really appreciate it if you would please leave a comment and star rating. Thanks!