Fried Peanut Butter and Banana Paninis are made with just 5 ingredients and take only minutes to prepare. This sandwich is a hearty, filling lunch full of delicious flavors!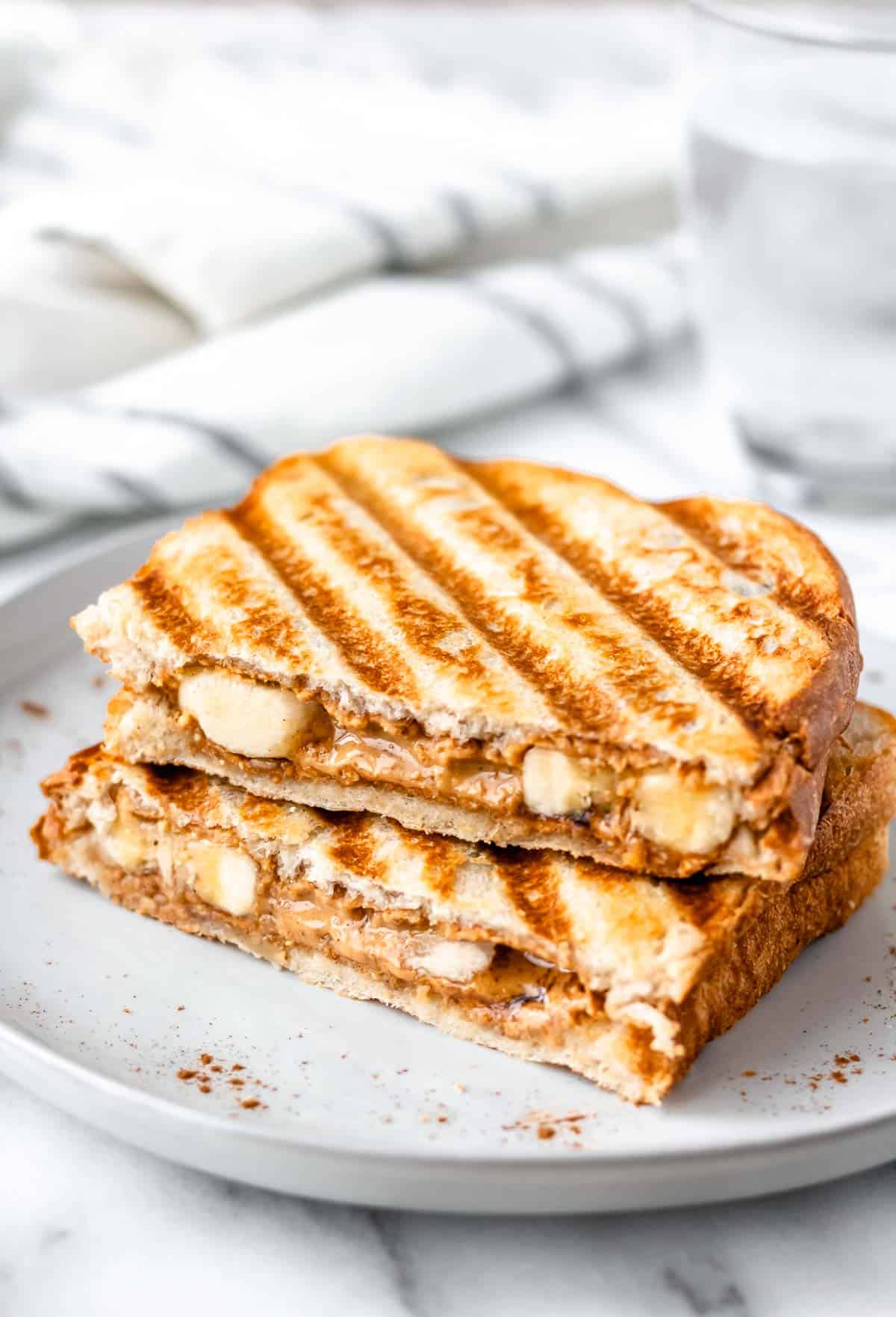 This post contains affiliate links. See our Disclosure Statement for more information.
This Fried Peanut Butter and Panini, which is very similar to Elvis Presley's favorite sandwich, was also on the menu at one of my favorite local sandwich shops for years. It was named, very fittingly, as the Hound Dog. Sadly, it has since been removed from their menu, but is easy enough to make at home.
All you need is sourdough bread, crunchy or creamy peanut butter, honey and cinnamon. I usually grill mine in a panini pan, but you could use a regular skillet too.
If you enjoy this flavor combination, will may also like these recipes for Peanut Butter and Banana Overnight Oats, Banana Egg Rolls with Peanut Butter and Banana Toast with Peanut Butter, Honey & Cinnamon.
Why This Recipe Works
It only takes 5-10 minutes from start to finish for this panini to be made and cooked. It is a hearty, filling lunch or even dinner.
The combination of peanut butter, banana, honey and cinnamon is a delicious flavor combination.
Both adults and kids will love this panini.
Step-By-Step Instructions
Ingredients
2 slices of sourdough bread: you can switch the bread out for any kind that you like.
2 tablespoons peanut butter
1 banana
1 tablespoon of honey
1/8 teaspoon cinnamon
1 teaspoon oil or butter for frying.
The entire recipe and instructions can also be found in the recipe card at the bottom of this post. You can also print the recipe from the card, if needed.
Prep!
Cut the banana into 1/2-inch thick slices.
Create!
Spread both slices of the bread with the peanut butter.
Chef's Note: if you are using larger sourdough bread, similar to the bread in the photos, you may need extra peanut butter and you may need to cut the banana slices a little thinner so you have enough to cover the entire slice.
Place the banana slices over the peanut butter on one slice of the bread.
Drizzle with honey and sprinkle on the cinnamon. Close the sandwich.
Heat a skillet or panini pan to medium-high and add the oil or butter.
Once hot, swirl the oil or butter around to coat the bottom of the pan, then carefully place the sandwich in the pan.
Grill until golden brown, about 1-2 minutes, then flip and cook an additional 1-2 minutes or until golden.
Present!
Cut in half and serve warm.
Tips and Techniques
This fried sandwich can be easily modified. You can switch the bread out for any type that you like and use either creamy or crunchy peanut butter. It can be fried in a skillet or made with a panini press.
If you are using larger slices of sourdough bread, you may need to use extra peanut butter and slice the banana a bit thinner to ensure you have enough to cover the entire slice of bread.
FAQ's
Are Peanut Butter and Banana Sandwiches Good For You?
While peanut butter and banana sandwiches provide plenty of protein, potassium and healthier unsaturated fats, enjoying one without frying it is probably the better option if calorie and fat intake is of a concern.
More Sandwich Recipes
Love this Fried Peanut Butter and Banana Panini recipe? Follow me on Pinterest, Instagram, and Facebook for more!
If you try this recipe, I would really appreciate it if you would please leave a comment and star rating. Thanks!
This recipe was originally published on August 9, 2016. It was updated with new images, step-by-step instructions, tips, techniques and FAQ's in June 2022.