Did you love peanut butter sandwiches as a child?  If so, you'll love this Grown Up Peanut Butter & Banana Panini!
This post contains affiliate links.  See our Disclosure Statement for more information.
All through my childhood, and most of my adult life, I have been a huge fan of peanut butter and jelly sandwiches.  Strawberry jam only, please!  I would have never thought in a million years I'd be willing to stray from my beloved sandwich of choice, but I did.  And, it's even better than the original (in a different grown up peanut butter sandwich kind of way of course!).
I didn't invent this sandwich.  I do believe the king (Elvis) loved a good friend peanut butter and banana sandwich!  It's also on the menu at one of my favorite local sandwich shops, where it's known as the Hound Dog (how fitting!).  That sandwich shop is actually the first place I ever had a peanut butter and banana sandwich and what inspired me to attempt to recreate my own version at home.
Grown Up Peanut Butter & Banana Panini
We prefer to use a natural, creamy peanut butter and sourdough bread for this panini, but you can absolutely switch things up if you'd like.  I believe Elvis liked plain ole white bread, and the sandwich shop uses crunchy peanut butter, honey, and cinnamon.  I absolutely add honey and cinnamon to mine as well!  Trust me, don't leave those two ingredients out!  It sounds like a bunch of random ingredients smeared between two slices of bread, but they work oh-so-well together.  The peanut butter with the sweetness of the banana and honey, topped with a little spice from the cinnamon is just pure perfection!  Trust me, if you like all the ingredients, you'll love this!
Rather than "frying" my sandwich, I use my trusty panini pan and grill it on the stove top.  A panini sounds so much better for you than "fried sandwich" doesn't it?  It only takes 5-10 minutes from start to finish for the sandwich to be made and cooked.  It probably takes less time that to eat it!
I call this an Adult Peanut Butter and Banana Panini, but kids absolutely love it too!  Jaxon didn't care for it when he was really young but he loves it now.  He actually thought I was lying to him when I told him that he didn't always love this sandwich!
Have you ever had a fried peanut butter and banana sandwich?
Love this recipe?  Follow me on Pinterest, Instagram, and Facebook for more!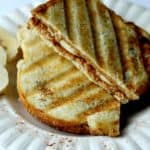 Print
Grown Up Peanut Butter & Banana Panini
Did you love peanut butter sandwiches as a child? If so, you'll LOVE this Grown Up Peanut Butter & Banana Panini!
Ingredients
1

teaspoon

extra virgin olive oil

2

slices

sourdough bread

*or bread of choice

4

Tablespoons

peanut butter

*more or less depending on size of bread/preferences

1/2

banana

cut into thin slices

1

Tablespoon

honey

1/4

teaspoon

cinnamon
Instructions
Add the oil to a panini pan and spread to coat the bottom of the pan. Heat on medium-high.

Spread both slices of the bread with peanut butter. Place the banana slices over the peanut butter on one slice of the bread. Drizzle with honey and sprinkle with cinnamon. Place the other slice of bread on top (peanut butter side down).

Grill until golden brown, flip and repeat. Serve warm!
Notes
** Nutritional information is an estimate and may vary.
Nutrition
Serving:
1
sandwich
|
Calories:
899
kcal
|
Carbohydrates:
115
g
|
Protein:
31
g
|
Fat:
38
g
|
Saturated Fat:
7
g
|
Sodium:
951
mg
|
Potassium:
790
mg
|
Fiber:
8
g
|
Sugar:
33
g
|
Vitamin C:
5.1
mg
|
Calcium:
84
mg
|
Iron:
5.9
mg