This shop has been compensated by Collective Bias, Inc. and Conagra Brands. All opinions are mine alone. #SimpleSecret #CollectiveBias
Sesame-Peanut Cauliflower is a delicious, easy to make Asian-inspired recipe!  It's perfect for busy weeknights!
Our family is constantly on the go these days – you can probably relate.  My oldest son will be starting travel soccer in a couple months. Basically this means year-round practices at least twice during the week and traveling to games every weekend.  Oh, except we do get 2 weekends off during the year.  Two.
I'm starting to build up my collection of quick, easy meals the whole family will eat. My latest recipe is this super tasty Sesame-Peanut Cauliflower! The entire recipe takes about 30 minutes to make and you can serve it over rice, noodles, or spaghetti squash.
I use  P.F. Chang's® Home Menu Sauce in Sesame. It's the simple secret to extraordinary flavor!  It's a very versatile sauce that can be used on all kinds of meats and vegetables.  Because we love all types of Asian food and cauliflower,  it only made sense to combine the two!  I only added a few ingredients to keep the recipe quick and easy to make.
Prep!
Before you start cooking you will want to cut your cauliflower into bite size pieces and the red pepper into thin strips.  Chop the peanuts and slice the scallions, if using.
If you are serving this dish with rice, noodles, or spaghetti squash, you will want to get that cooking as well.
A large, deep skillet works best for this recipe.  You will also need a large spoon, small bowl, whisk, and all of your ingredients.
Create!
Whisk together the NEW P.F. Chang's® Home Menu Sauce in Sesame, peanut butter, and crushed red pepper, if using. Set aside.
Heat the olive oil in a large, deep skillet over medium high heat. Add the cauliflower florets and red pepper slices and cook, stirring often for about 8-10 minutes. The cauliflower will start to brown and turn slightly soft.
Add the sauce and peanuts to the skillet with the cauliflower and toss until everything is coated.
Enjoy on it's own, or serve over rice, noodles, or spaghetti squash.
Present!
If presentation is important, just for fun, or if you are serving this meal to guests, it's easy to make this recipe look restaurant-quality! You can serve Sesame-Peanut Cauliflower in pretty bowls with chop sticks! Top with extra sesame seeds and sliced scallions, if desired.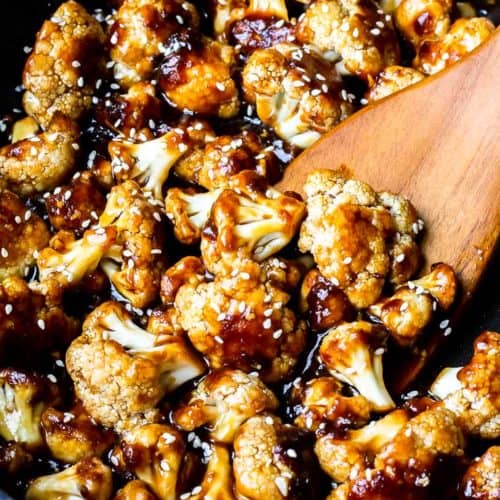 Print
Sesame Cauliflower
Sesame Cauliflower is a delicious, incredibly flavorful way to put an Asian-inspired vegetarian meal on the table any night of the week. It's a super simple recipe that takes just 20 minutes to make.
Instructions
Cauliflower
Whisk together 3 tablespoons of soy sauce with 2 tablespoons of cornstarch to create a thick slurry.

In a large bowl, combine the cauliflower florets with the soy sauce and cornstarch mixture. Toss well.

Heat the oil in a large, deep skillet over medium-high heat. Add the battered cauliflower florets.

Cook, stirring frequently, until browned and crispy. This will take anywhere from 3-5 minutes depending on the size of the florets. Remove to a plate.
Sesame Sauce
While the cauliflower is cooking, combine all of the ingredients for the sesame sauce in a medium bowl and whisk well.

Pour the sauce into the same skillet used for the cauliflower and raise the heat to bring to a boil, stirring constantly until the desired thickness is reached, about 1-2 minutes.

Stir the cauliflower back into the skillet and toss to coat with the sauce.

Garnish with sesame seeds and/or sliced green onions, if desired. Serve on its own or over rice, noodles, or spaghetti squash.
Notes
** This recipe is currently being revised to use a homemade sesame sauce rather than a store bought sauce. The recipe card now reflects the changes, the post itself will be updated soon!
Tips and Techniques
Use low sodium soy sauce for a less salty tasting recipe.
You can make this a spicy sesame cauliflower recipe simply by mixing a 1/4 to 1/2 teaspoon of crushed red pepper into the sesame sauce.
Store leftovers in an airtight container in the refrigerator. Use within 3-5 days.
How to Make This Recipe Gluten Free
To make this recipe gluten free, be sure that your soy sauce is gluten free and serve over rice, gluten free noodles or spaghetti squash.
** Nutritional information is an estimate and may vary.
Nutrition
Serving:
1
serving
|
Calories:
194
kcal
|
Carbohydrates:
22
g
|
Protein:
5
g
|
Fat:
11
g
|
Saturated Fat:
6
g
|
Sodium:
1545
mg
|
Potassium:
394
mg
|
Fiber:
3
g
|
Sugar:
11
g
|
Vitamin C:
54
mg
|
Calcium:
30
mg
|
Iron:
1
mg