This easy Butter Paneer recipe, also know as Paneer Makhani, uses simple ingredients yet tastes just as delicious as your favorite authentic Indian takeout. This one-pan vegetarian dinner recipe is perfect for any night of the week.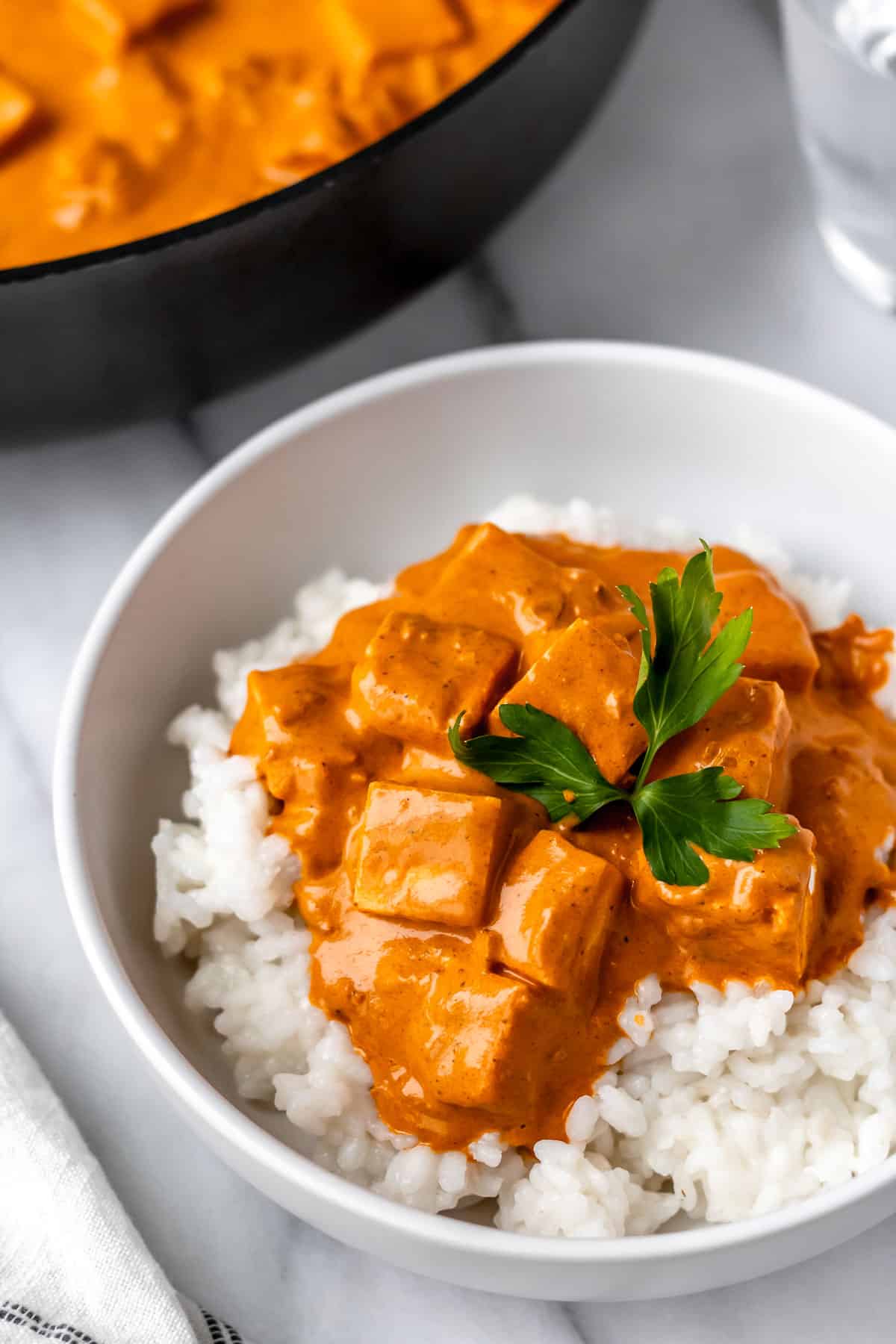 This post contains affiliate links. See our Disclosure Statement for more information.
Butter Paneer, also known as Paneer Makhani, is a rich, flavorful, vegetarian Indian dish. This restaurant-quality recipe is made with a similar sauce or gravy as Butter Chicken (Murgh Makhani).
There is no need to marinate the paneer, like you would with chicken, so additional spices and yogurt are added to the gravy instead. This also makes the recipe quicker to create.
What is paneer?
Paneer is a firm Indian cheese made from just whole milk and an acid like white vinegar or lemon juice, rather than rennet, to keep it vegetarian. It has a very mild flavor and is an excellent replacement for meat, especially in sauce or gravy-based dishes.
It's very easy and more cost efficient to make Homemade Paneer, should you want to try your hand at cheesemaking.
Why This Recipe Works
This is a fairly quick, easy recipe that tastes amazing. It's equally as delicious as your favorite Indian takeout restaurant.
The best part is that you don't really need any ingredients that are hard to find. I have had trouble finding garam masala seasoning in the past, but it's almost everywhere these days. And, if you can't find paneer, all you need is milk and vinegar or lemon juice and you can easily make homemade paneer!
You can keep it mild and family-friendly, or add a chili pepper or two for a spicy version.
This recipe is naturally gluten free and can be made low carb simply by serving it over cauliflower rice or zoodles instead of white or brown rice.
How To Make Butter Paneer
Ingredients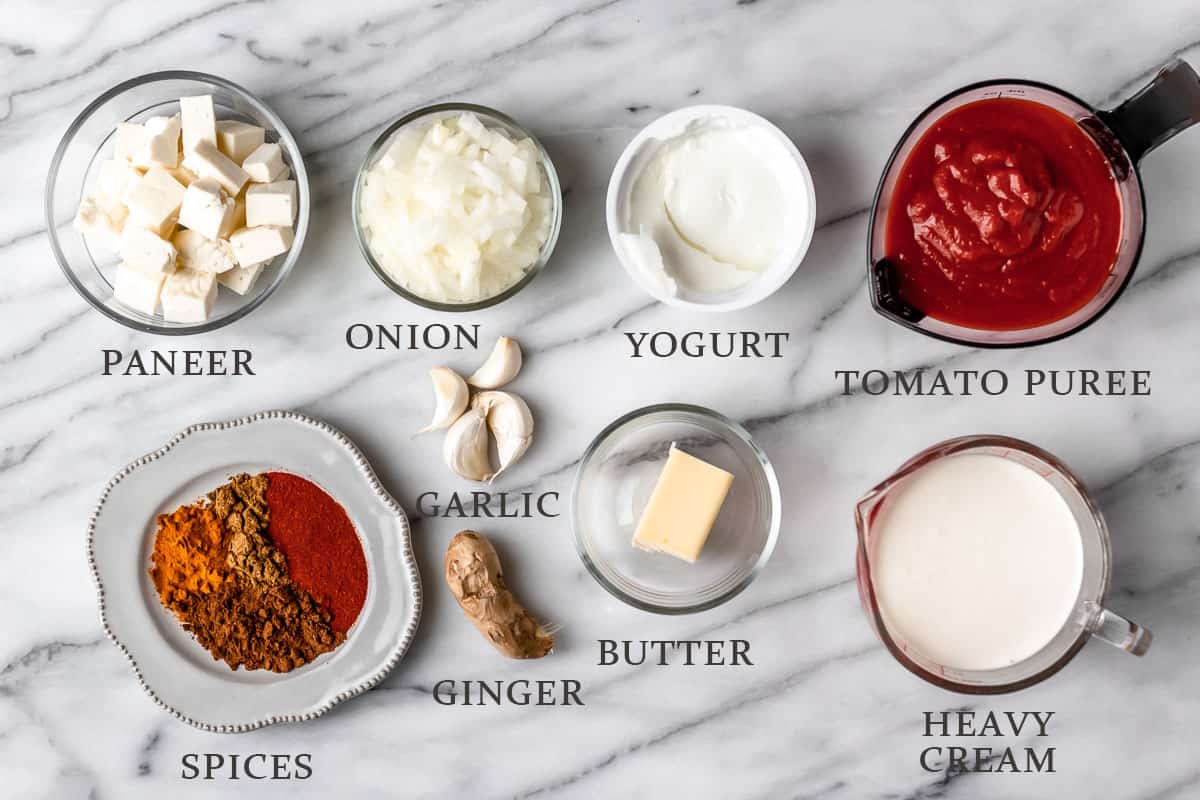 1 pound of paneer (cut into bite size cubes)
3 tablespoons butter
1 onion (finely diced)
4 cloves garlic (minced)
1 tablespoon ginger (minced or grated)
2 teaspoon ground cumin
2 teaspoons garam masala
1 teaspoon turmeric
14 ounces tomato puree
1 1/2 teaspoons paprika
1-2 red chili peppers (optional for a spicy dish)
1/4 cup Greek yogurt
1 cup heavy whipping cream (more or less to taste)
Chef's Tip: you can use diced tomatoes, if preferred. I use tomato puree so that the finished gravy is pretty creamy without the need to use a blender.
The entire recipe and instructions can also be found in the recipe card at the bottom of this post. You can also print the recipe from the card, if needed.
Prep!
Mince the garlic and ginger and finely dice the onion.
Cut the paneer into bite size cubes.
Create!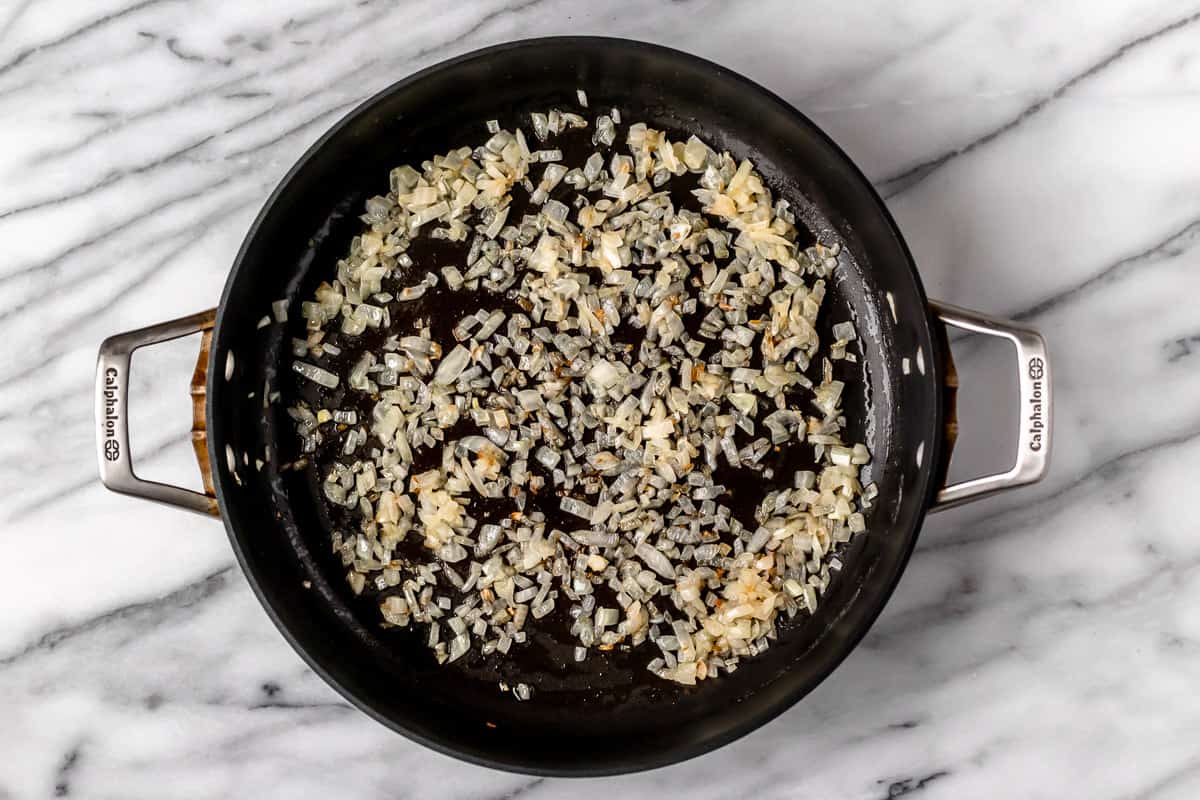 Melt the butter in a large skillet on medium heat. Add the onion and cook until softened and starting to brown, about 3-5 minutes.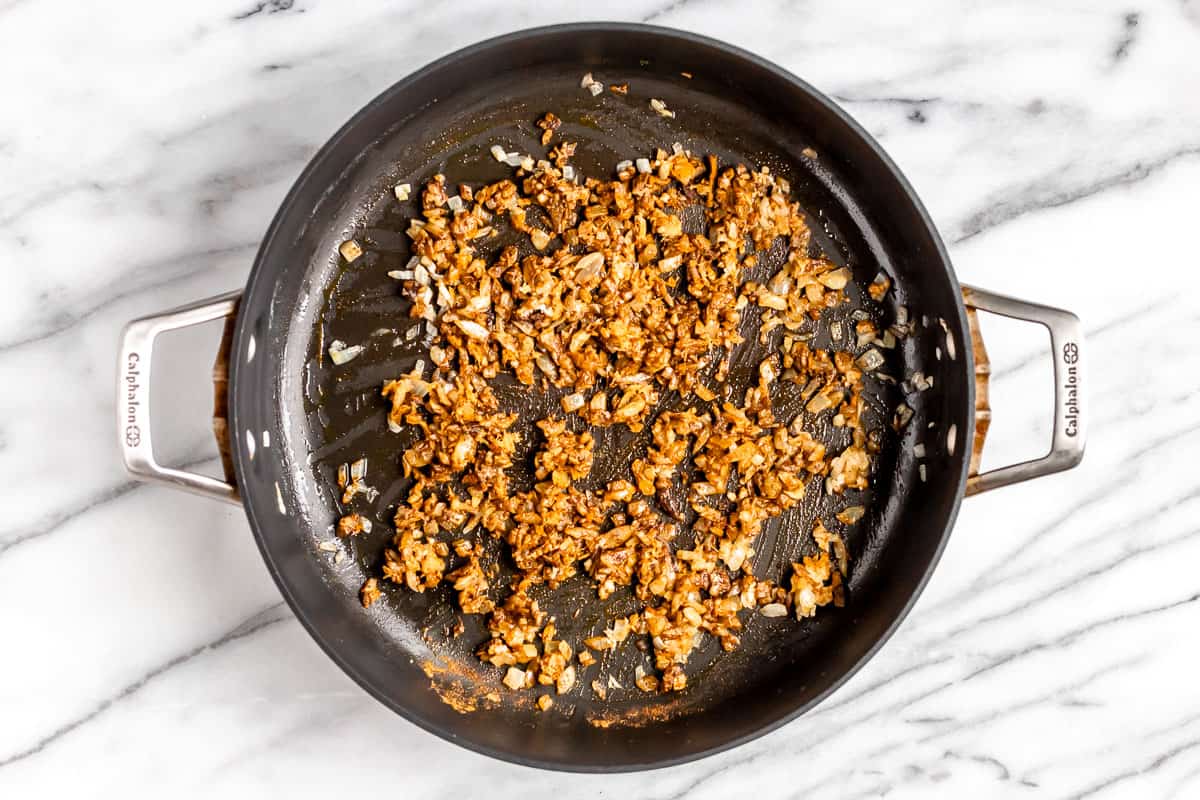 Add the garlic, ginger, cumin, turmeric, and garam masala. Continue to cook for 1-2 minutes, stirring frequently.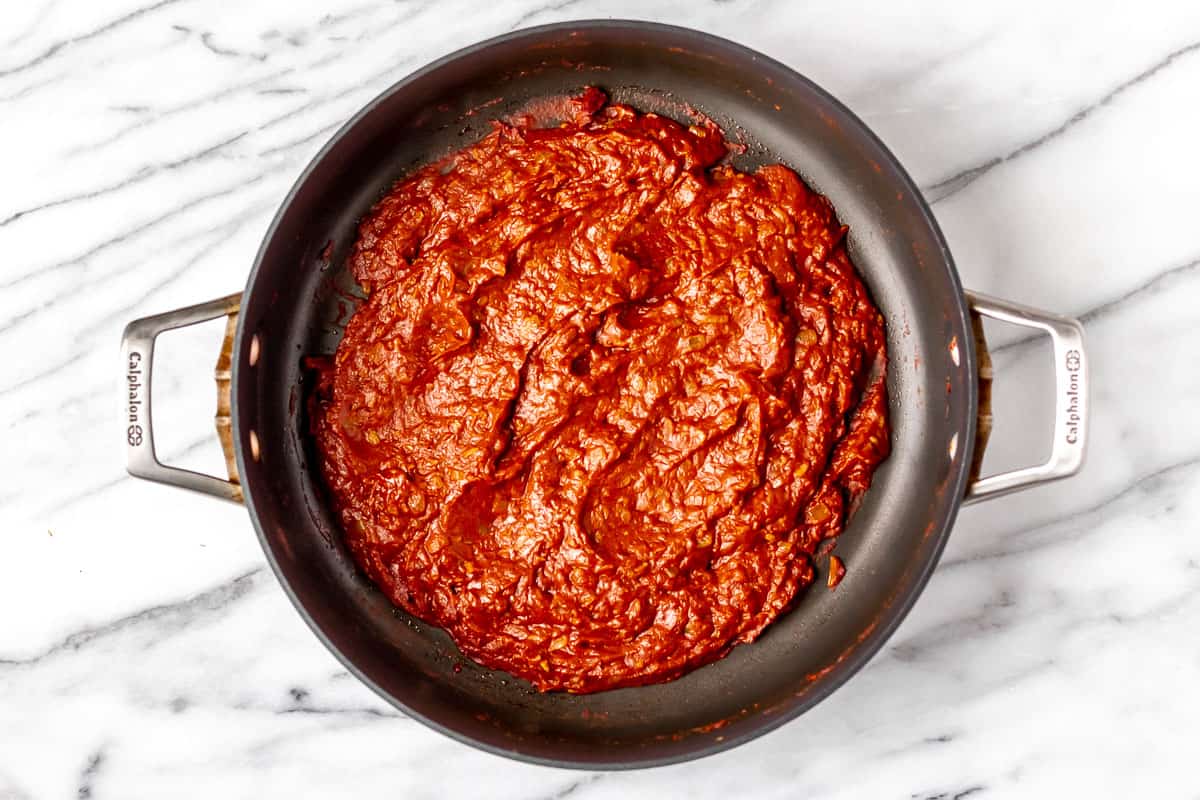 Stir in the tomato puree and paprika. Lower the heat and simmer until the puree darkens and thickens, about 10-15 minutes.
If you are using a chili pepper, add it with this step.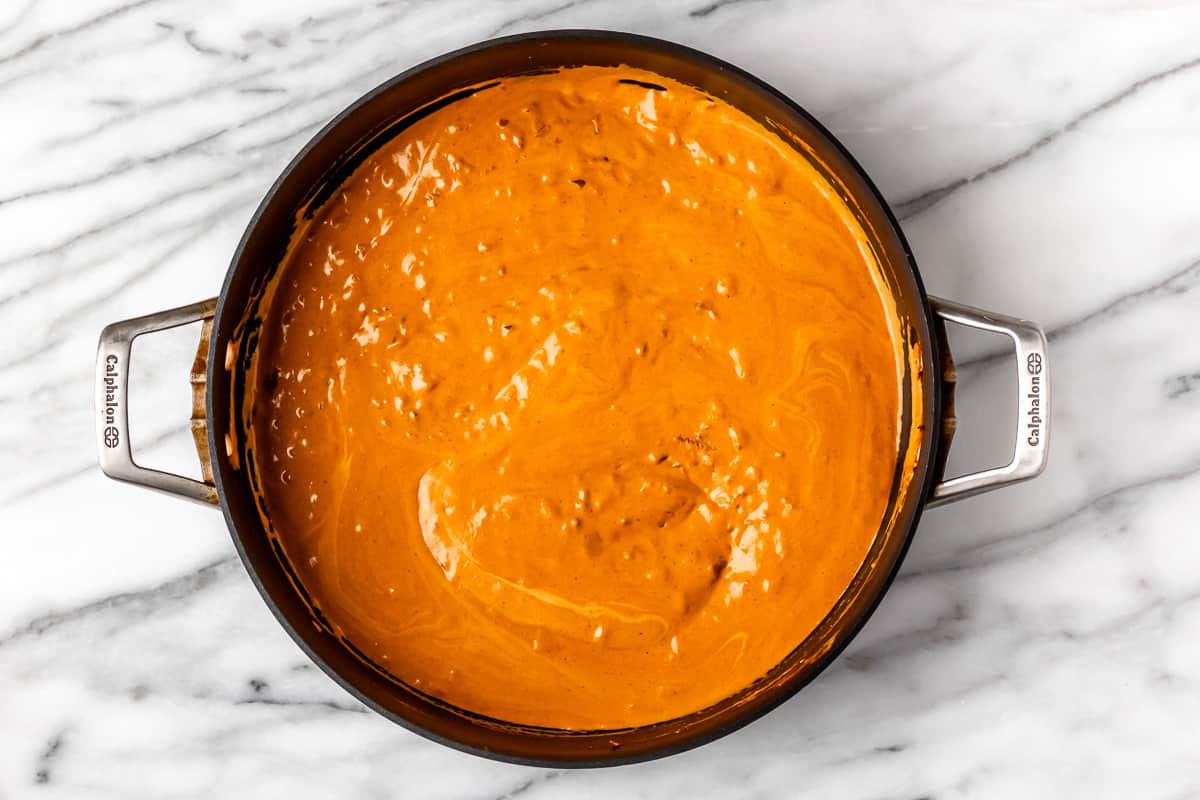 Remove the pan from the heat and whisk in the yogurt and 1 cup of the heavy cream. Taste and adjust seasonings as needed. You may want to add more yogurt and/or heavy cream.
Chef's Tip: if you want a creamier sauce, you can puree it in a blender prior to adding the paneer.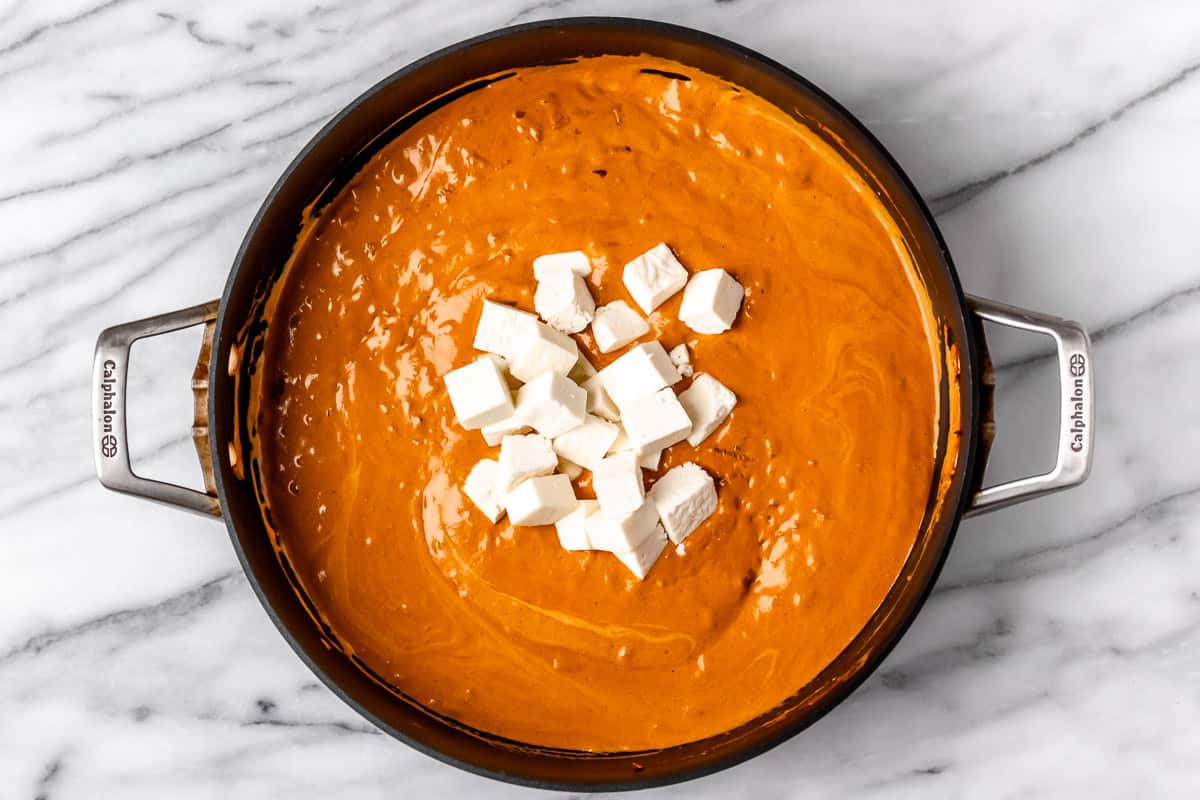 Stir in the cubes of paneer.
Present!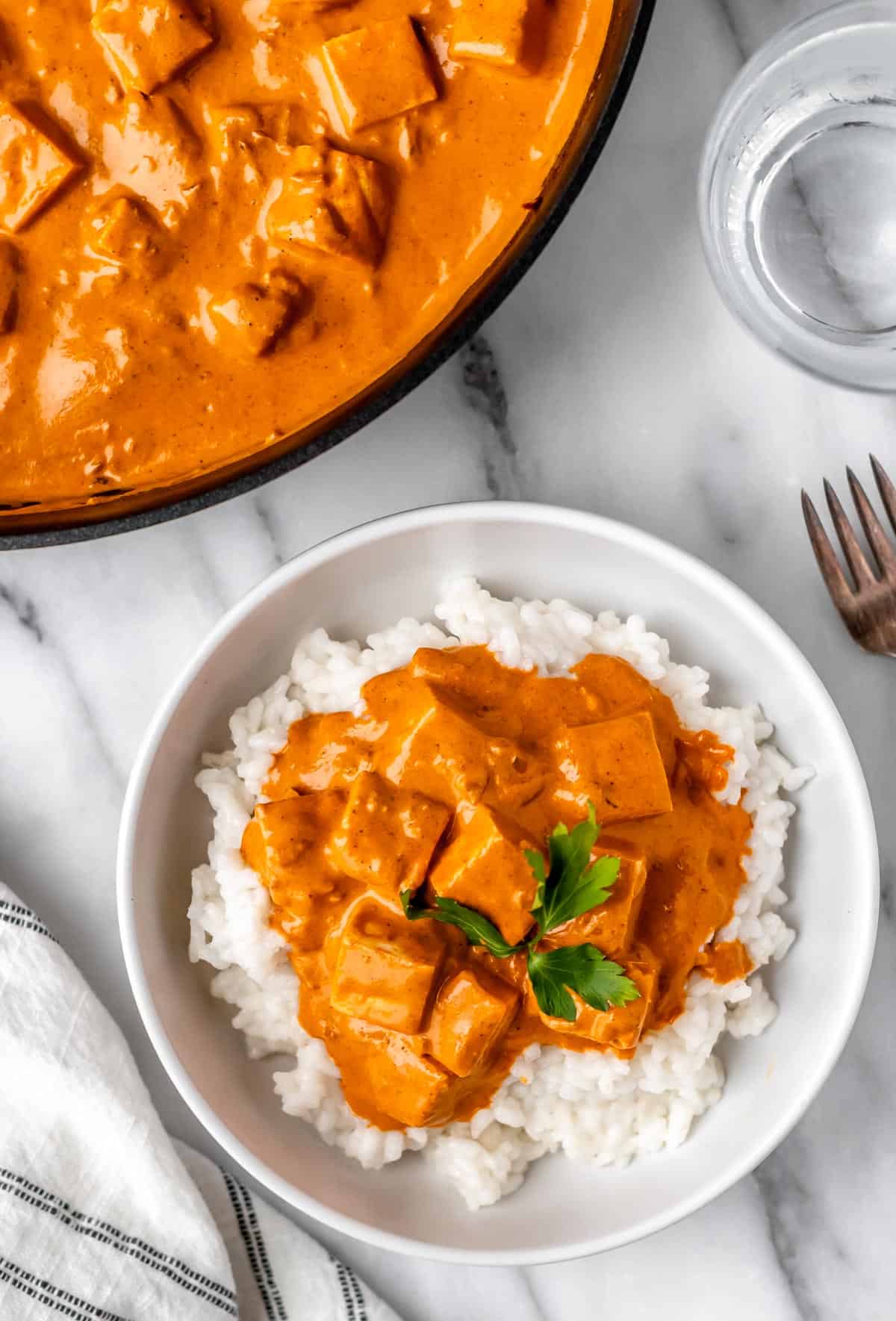 Serve hot over rice.
For a lower carb option, serve over cauliflower rice or zucchini noodles.
Tips and Techniques
For a spicier version, add a diced red chili pepper or two.
Serve over cauliflower rice or zucchini noodles for a low carb option.
Store leftovers in an airtight container in the refrigerator. Use within 3-4 days for best results.
FAQ's
What Is Butter Paneer Sauce Made Of?
Butter paneer sauce, or gravy, is made from a combination of tomato, cream, butter, and spices. The spices vary from recipe to recipe but typically include garam masala, cumin, paprika and more.
Is Butter Paneer Healthy?
The term "healthy" is relative.
Butter Paneer is fairly high in calories and fat due to the amount of dairy in the recipe so some would say it's really not healthy at all. It's also traditionally served over rice which also increases the total calories and carbohydrates.
However, if you are following a low carb, high fat diet and serve this dish over cauliflower rice, one could say it's healthier. It is also vegetarian.
More Vegetarian Recipes
Love this Butter Paneer recipe? Follow me on Pinterest, Instagram, and Facebook for more!
If you try this recipe, I would really appreciate it if you would please leave a comment and star rating. Thanks!