Ricotta Pizza with Roasted Garlic and Broccoli is a delicious vegetarian pizza loaded with flavor. This recipe can be made on any type of crust so it can fit into many different types of diets or ways of eating, such as gluten free and low carb.
This post contains affiliate links for your convenience. See our Disclosure Statement for more information.
This Ricotta Pizza recipe is a white pizza made without any sauce. It's also completely vegetarian.
The toppings include both mozzarella and ricotta cheese, broccoli and roasted garlic.
You can make this pizza on any type of crust that you like, such as a traditional pizza crust, gluten free pizza crust, or low carb pizza crust such as this recipe for Cauliflower Pizza Crust.
The toppings are all suitable for gluten free, low carb and keto diets, as well.
If you enjoy vegetarian pizza, you may also like these recipes for Caprese Pizza and Pizza Bianca.
Why This Recipe Works
This is a very flavorful pizza with a delicious combination of roasted garlic, ricotta, mozzarella cheese and olive oil.
You can modify toppings by using as much or as little of each one as you like or by swapping out broccoli for spinach or kale.
This recipe can easily be made low carb, keto friendly and gluten free simply by the pizza crust you choose to use.
Step-By-Step Instructions
Ingredients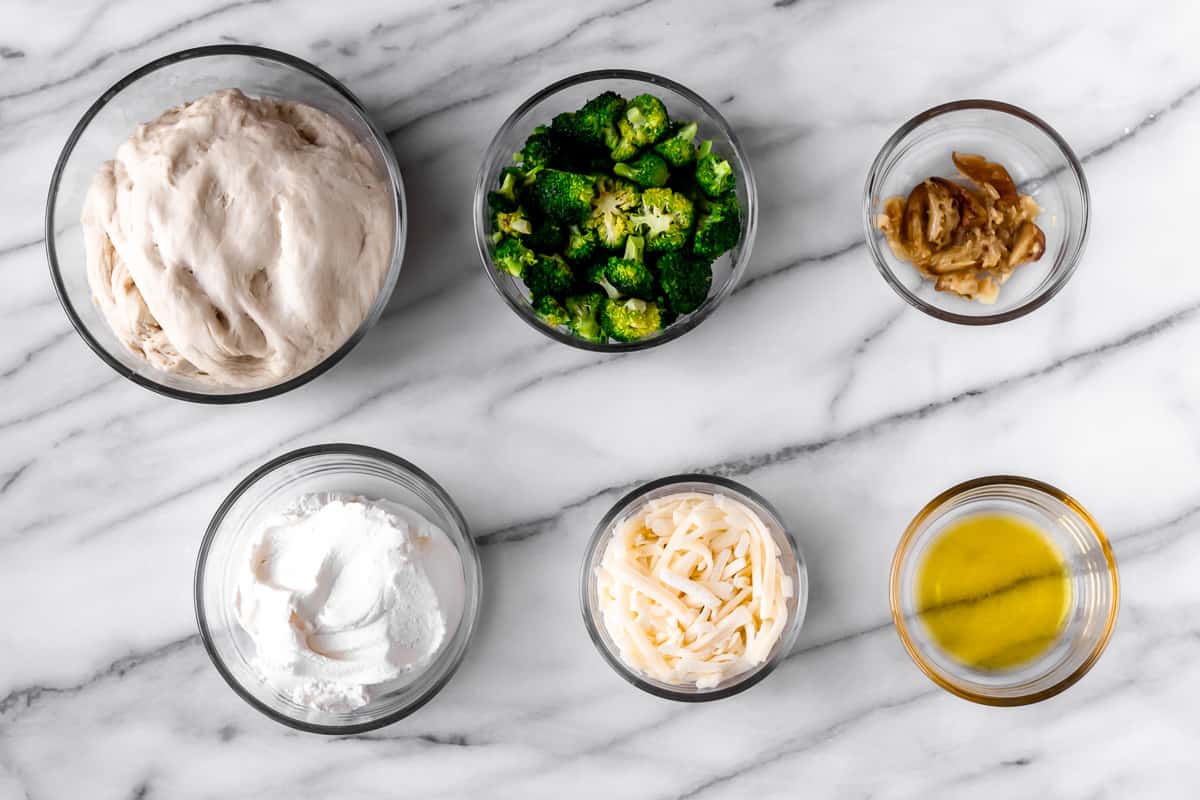 Pizza Dough: enough for a small pizza, though all of the ingredients can easily be adjusted to accommodate any size crust. You can use a traditional pre-baked pizza crust or pizza dough, gluten free crust, or low carb crusts, like a Cauliflower Pizza Crust which is also shown in the photos below.
Broccoli: steamed, sautéed or roasted until crisp-tender. If you put the broccoli on raw, it won't cook much and may be harder to bite into.
Ricotta Cheese
Mozzarella Cheese
Roasted Garlic
Olive Oil
The entire recipe and instructions can also be found in the recipe card at the bottom of this post. You can also print the recipe from the card, if needed.
Prep!
If you are preparing a pizza crust from scratch, you will need to do that first up until the first bake. Leave the oven on to finish baking the pizza once the toppings are on.
Steam, sauté, or roast the broccoli until just crisp-tender.
Prepare the roasted garlic, if necessary. If you need instructions, you can follow the steps in this tutorial for How To Roast Garlic. Plain garlic can also be used, but will give the pizza a slightly different flavor.
Create!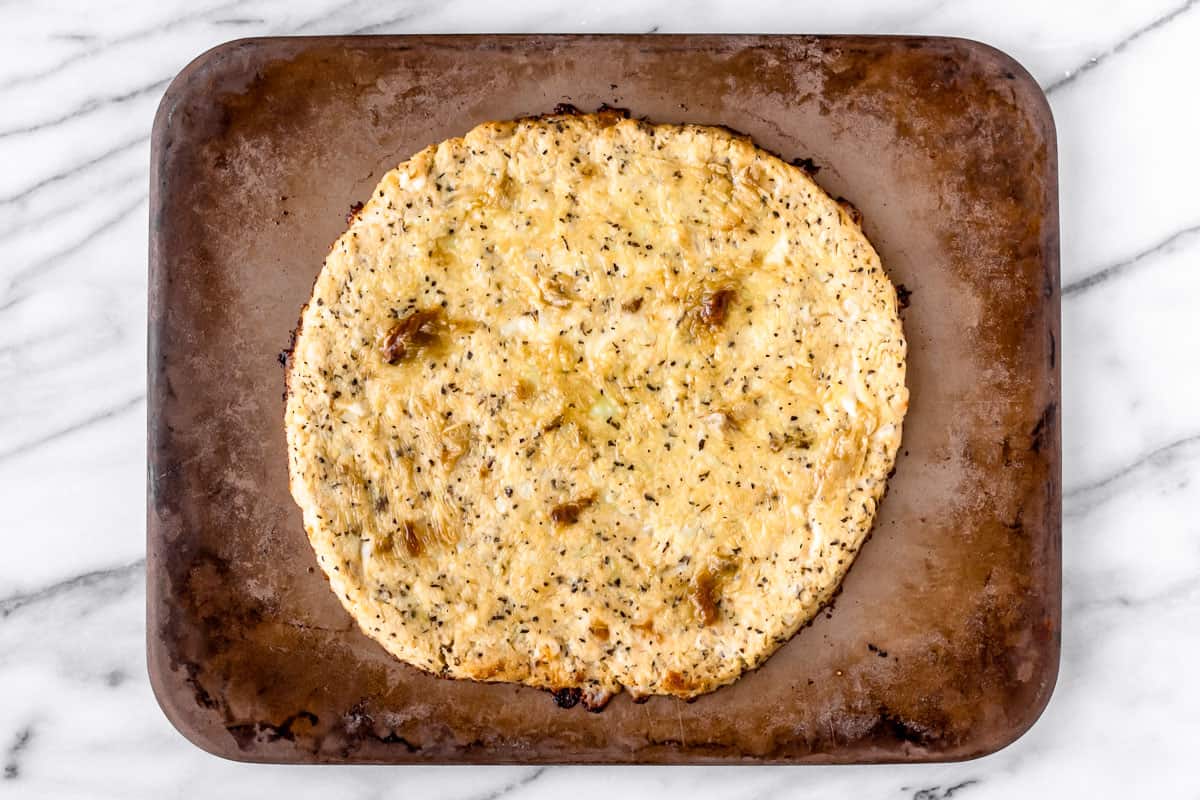 Smash the roasted garlic in a small bowl and combine with the olive oil. Brush evenly onto the pizza crust.
Top with dollops of the ricotta cheese. I like to spread it just a little so that it covers more space, but still stays fairly thick.
Sprinkle on the mozzarella cheese.
Top with the broccoli.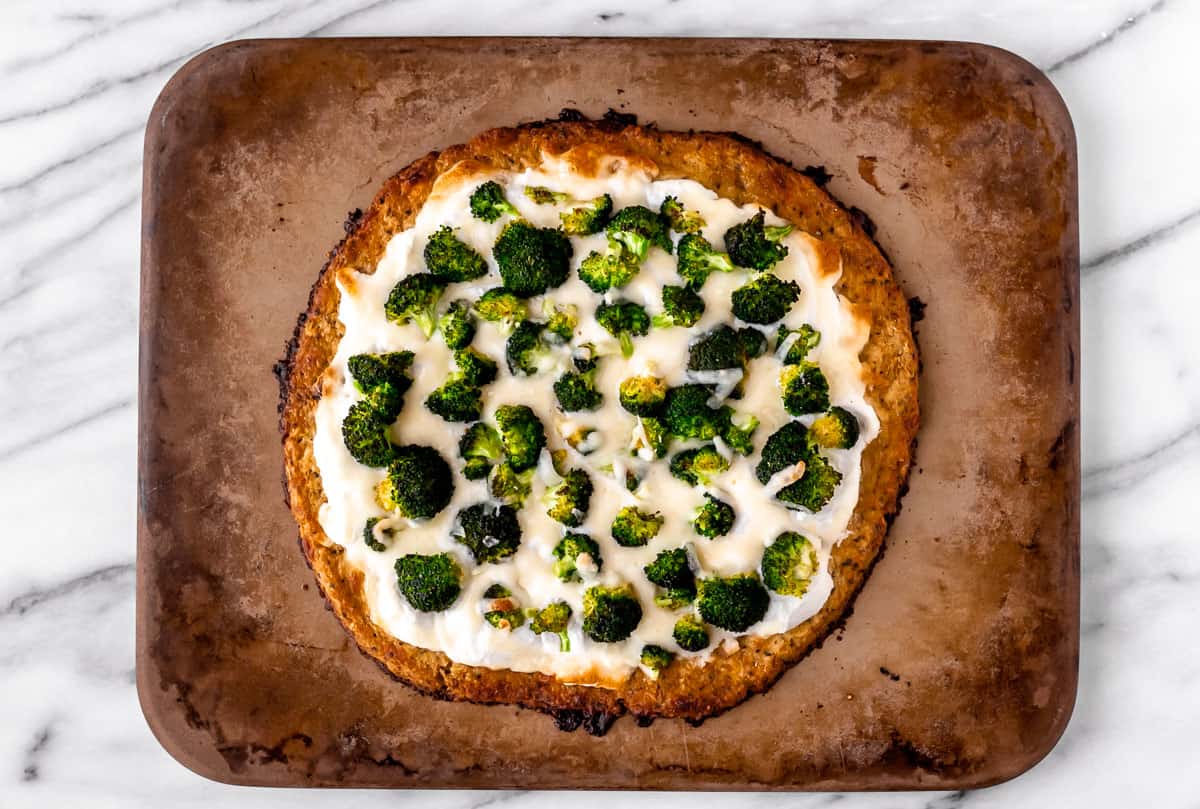 Bake for 5-10 minutes or as long as needed to finish the crust.
Present!
Serve as is, or sprinkle on herbs like oregano, basil or crushed red pepper.
Tips and Techniques
This pizza is easily modified. You can add as much or as little of any of the toppings as you like. You can also swap out the broccoli for spinach, kale, or any other veggies that you enjoy.
You can prepare this pizza on any type of crust. You can use a store-bought pre-baked crust or prepared pizza dough. You can also use any gluten free or low carb pizza crust recipe that you like.
Store leftovers tightly covered in the refrigerator. Consume within 3-5 days.
FAQ's
Can You Freeze Ricotta Pizza?
While you can freeze ricotta pizza, the texture of the ricotta may change once thawed and reheated.
Does Ricotta Go On Pizza Before Or After Baking?
Ricotta can be added to pizza either before or after baking. In recipes where the is no sauce, it's probably best to add the ricotta cheese before baking. Fresh ricotta can be dolloped or any pizza hot out of the oven.
More Pizza Recipes
Love this Ricotta Pizza recipe? Follow me on Pinterest, Instagram, and Facebook for more!
If you try this recipe, I would really appreciate it if you would please leave a comment and star rating. Thanks!
This recipe was originally published on April 24, 2016. It was updated with an improved recipe, new images, step-by-step instructions, tips, techniques and FAQ's in June 2022.