This Spinach Ricotta Pizza with Roasted Garlic makes a great vegetarian meal!  I use a cauliflower pizza crust to make it gluten free and much lower in carbs than traditional pizza!
This post contains affiliate links for your convenience.  See our Disclosure Statement for more information.
Not too long ago I shared with you guys my recipe for Cauliflower Pizza Crust!  Now, I'm going to tell you one of my favorite ways to transform that crust into a delicious white pizza!  I've definitely used red sauce on cauliflower crusts before, but it does tend to make it soggy and harder to pick up.  This recipe for Spinach Ricotta Pizza with Roasted Garlic does not have a sauce, so if you use my Cauliflower Pizza Crust recipe you should get a great final result!  You can also use a regular pizza crust you've made or buy one pre-made at the store.
All the flavors in this Spinach Ricotta Pizza work really well together, but pizza is such an individual thing.  Why do you think pizza companies let you pick and choose what you want on yours?  It's like no two people want the exact same pizza…half pepperoni/half cheese anyone?  I feel like pizza recipes are just a base for you to build upon and make your own, including this one.  If you want more mozzarella, add it.  Less?  Don't put as much. I went light on the spinach and put big globs of ricotta cheese on mine because the first time I had ricotta cheese on a pizza, it was just like that.  I want lots of ricotta in each bite!!  You can also mix the two cheeses and spread them onto the crust!
I'm going to tell you in the recipe below the exact measurements I used for the pizza you're about to see. I would recommend just using it as a guideline to make a pizza YOU will love!  Trust me, my feelings won't be hurt of you don't make yours exactly the same!  I'm already thinking of multiply ways I want to switch it up myself!
I am also including directions for how to roast garlic in the notes below the recipe.  Once it's roasted you're going to mince it up and mix it with some olive oil, then brush it onto the pizza crust before the toppings and/or dab it on top of the toppings.  If you don't have time to roast the garlic, you can use regular garlic, but the flavor will be slightly different.
Leave a comment and let me know if you make this Spinach Ricotta Pizza with Roasted Garlic as is, or if you modify it.  If you have more suggestions, comment away!   I'm all about it!
Enjoy!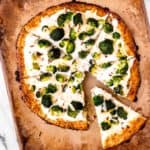 Print
Ricotta Pizza with Roasted Garlic and Broccoli
Ricotta Pizza with Roasted Garlic and Broccoli is a delicious vegetarian pizza loaded with flavor. This recipe can be made on any type of crust so it can fit into many different types of diets or ways of eating, such as gluten free and low carb.
Ingredients
1

small

pizza crust

(see notes, prepared up until the first bake)

4

cloves

roasted garlic

1

tablespoon

extra virgin olive oil

1

cup

ricotta cheese

1/2

cup

mozzarella cheese

shredded

1 1/2

cups

broccoli florets

(cooked until crisp-tender, see notes)
Instructions
Preheat oven to the temperature in the instructions for the crust that you are using.

Smash the roasted garlic in a small bowl and combine with the olive oil. Brush evenly onto the pizza crust.

4 cloves roasted garlic,

1 tablespoon extra virgin olive oil

Top with dollops of the ricotta cheese. You can spread it just a little so that it covers more space, but still stays fairly thick.

Sprinkle on the mozzarella cheese.

1/2 cup mozzarella cheese

1 1/2 cups broccoli florets

Bake for 5-10 minutes or as long as needed to finish the crust.

Serve as is, or sprinkle on herbs like oregano, basil or crushed red pepper.
Notes
Tips and Techniques
This pizza is easily modified. You can add as much or as little of any of the toppings as you like. You can also swap out the broccoli for spinach, kale, or any other veggies that you enjoy.
You can prepare this pizza on any type of crust. You can use a store-bought pre-baked crust or prepared pizza dough. You can also use any traditional, gluten free or low carb pizza crust recipe that you like.
Store leftovers tightly covered in the refrigerator. Consume within 3-5 days.
** Nutritional information is an estimate and may vary. These values do NOT take into account the pizza crust you choose to use since there are so many different options.
Nutrition
Serving:
1
serving
|
Calories:
131
kcal
|
Carbohydrates:
4
g
|
Protein:
7
g
|
Fat:
10
g
|
Saturated Fat:
5
g
|
Polyunsaturated Fat:
1
g
|
Monounsaturated Fat:
4
g
|
Cholesterol:
28
mg
|
Sodium:
101
mg
|
Potassium:
130
mg
|
Fiber:
1
g
|
Sugar:
1
g
|
Vitamin A:
387
IU
|
Vitamin C:
21
mg
|
Calcium:
146
mg
|
Iron:
1
mg