A Manmosa is the beer drinkers version of the infamous mimosa. It is still made with orange juice, but isn't quite as sweet. It's the perfect alternative for those who don't care for champagne, but do enjoy a good beer.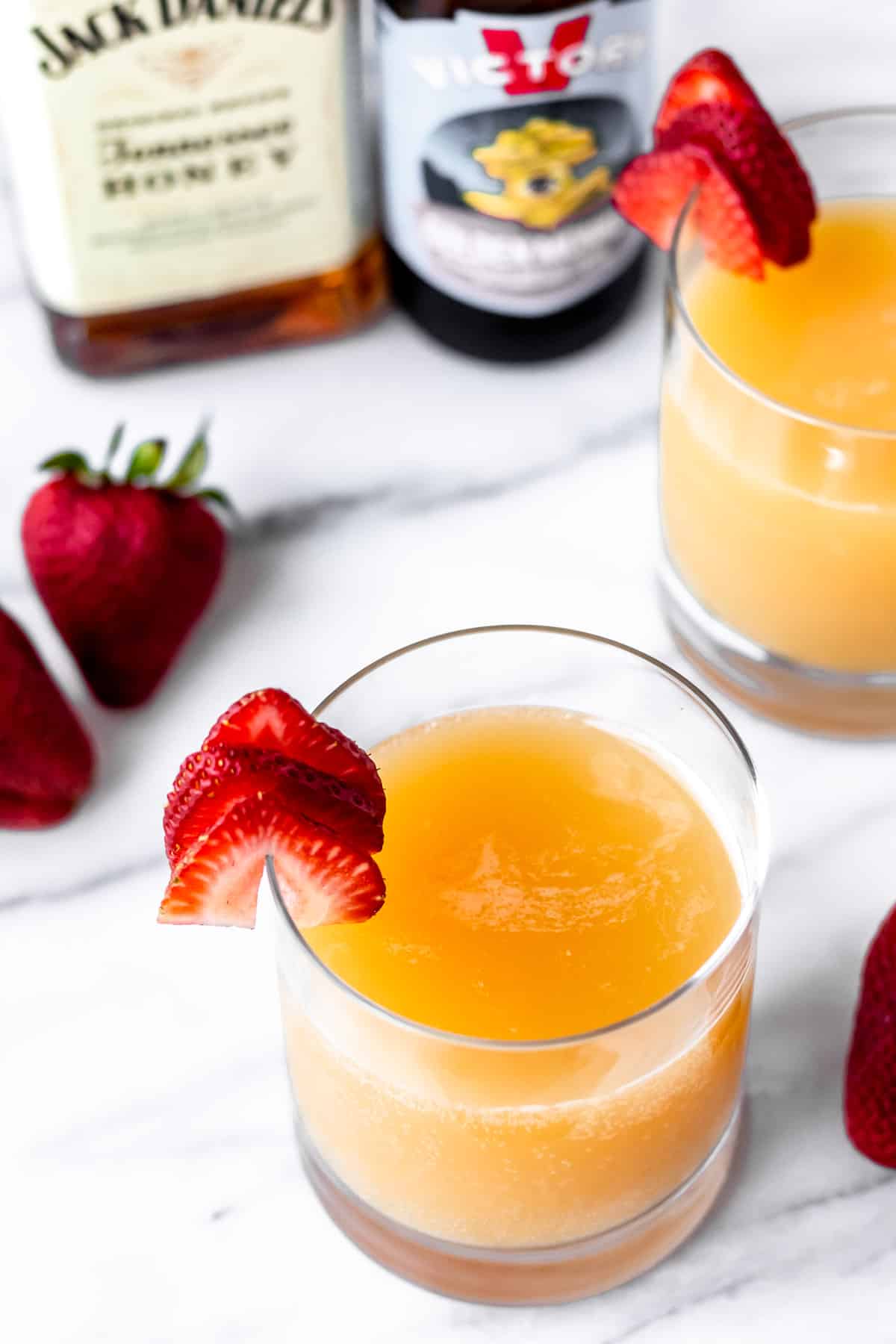 This post contains affiliate links. See our Disclosure Statement for more information.
The Manmosa first came into popularity several years back as an alternative to the very popular Mimosa. It's one of those cocktails that you either love or hate, but not because of the taste.
Some find it a bit off-putting to refer to a drink made with beer as a "man" drink. Regardless of personal feelings, this cocktail is really delicious and perfectly suitable for anyone who enjoys a sweeter cocktail made with beer.
We didn't give the Manmosa its name, but we did give it our own spin. In fact, this Mamosa recipe is a bit unique in that it's made with a honey whiskey and spiced beer to give it even more flavor sure to appeal to a larger crowd.
It's just as enjoyable to serve at brunch alongside of recipes such as Simple Lemon Ricotta Pancakes, Maple Bacon Sweet Potato Hash, and Easy French Crepes.
Why This Recipe Works
The Manmosa is a very quick and easy cocktail to prepare.
It's a delicious alternative to the mimosa.
This cocktail can be made with any beer or whiskey they you prefer or want to experiment with. It's an extremely versatile drink.
How To Make A Manmosa
Ingredients
The entire recipe and instructions can also be found in the recipe card at the bottom of this post. You can also print the recipe from the card, if needed.
Prep!
There is no prep for this recipe. If you plan to use a garnish, such as strawberries or orange slices, you can prepare those first.
Create!
Combine the beer, whiskey and orange juice in a glass, such as an old fashioned glass. Stir gently.
Present!
Garnish, if desired, and serve.
Tips and Techniques
You can use any beer that you prefer. Different types and different flavors of beer will give you different results.
Any whiskey can also be used. The honey whiskey adds a touch more sweetness to this cocktail.
This cocktail is best when made immediately prior to serving.
FAQ's
What Is The Difference Between A Manmosa And A Mimosa?
A Mimosa is a beverage made with champagne and orange juice. A Manmosa is made with beer and orange juice and usually has another liquor, such as champagne, vodka and/or whiskey mixed into it as well.
More Cocktail Recipes
Love this Manmosa recipe? Follow me on Pinterest, Instagram, and Facebook for more!
If you try this recipe, I would really appreciate it if you would please leave a comment and star rating. Thanks!