French crepes are thin, delicate pancakes that can be stuffed with either sweet or savory fillings. This easy recipe will walk you through everything you need to know about how to make the best crepes.
This post contains affiliate links. See our Disclosure Statement for more information.
Crepes seem to have a reputation of being a bit difficult to make. After seeing a crepe food truck years ago, I really thought a special crepe maker was needed to make these thin, eggy pancakes. Thankfully, I was wrong, though I'm sure it would be a helpful small appliance if you have the extra money and space.
I've made crepes before, but the best crepes recipe came from one of the chefs at my culinary school, who was known at the upscale hotel he worked at for the amazing crepes he would make with just a heavy-bottomed skillet.
Of course his recipe was never written out, so another instructor determined to share it with us watched over him one day as he made his famous crepes and wrote down the approximate measurements. This is the recipe that I'm sharing with you below.
You can stuff these crepes with any sweet or savory filling that you enjoy. The photos in this post show crepes stuffed with Pastry Cream (you can use this 2 ingredient Pastry Cream Alternative recipe too!) and topped with fudge sauce, similar in flavor to a Boston Cream Pie.
Why This Recipe Works
Crepes are fairly quick and easy to make and require only a handful of pantry staples.
They can be stuffed with either sweet or savory fillings and served for breakfast, brunch, lunch or dinner. You can even enjoy crepes for dessert!
Leftover crepes can be frozen and defrosted individually, as needed.
How To Make Crepes
Ingredients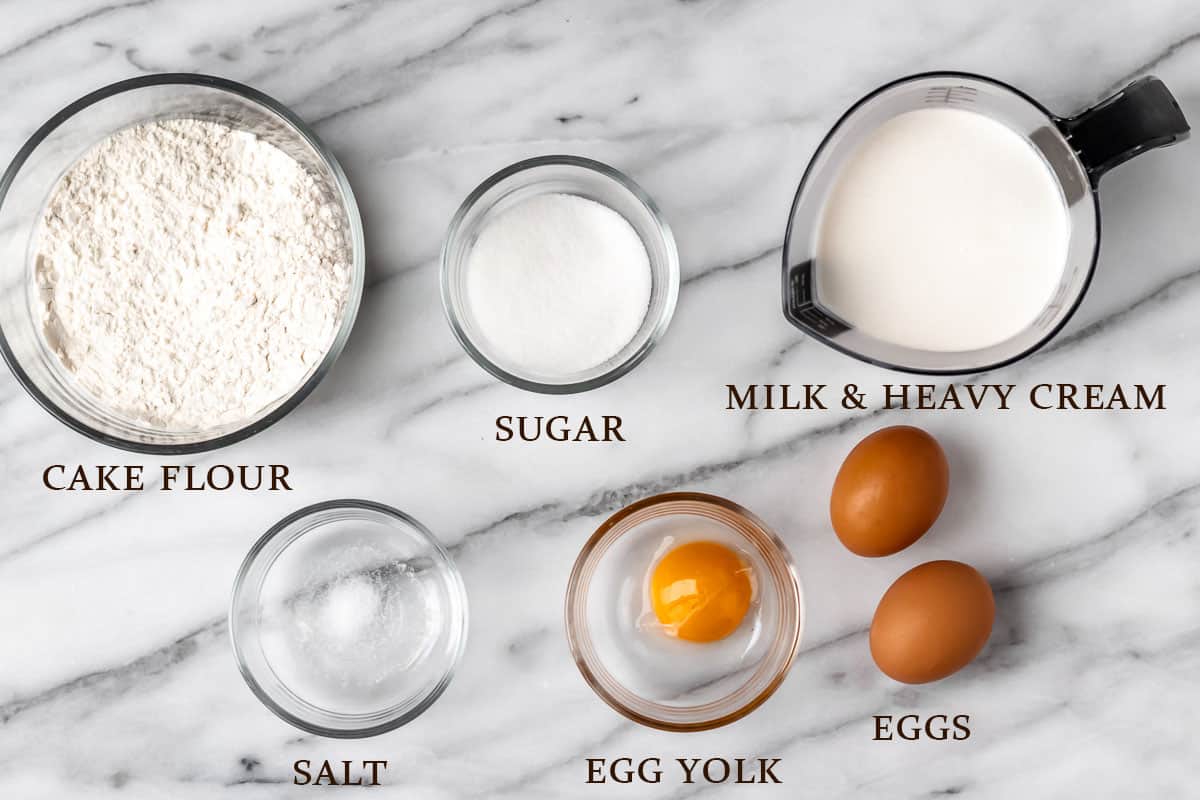 2 whole eggs
1 egg yolk
4 ounces cake flour (about 3/4 cup): whole wheat flour can also be used.
2 tablespoons granulated sugar
1/8 teaspoon salt
5 ounces whole milk
5 ounces heavy cream
melted butter for cooking
Chef's Tip: you can use 10 ounces of half-and-half in place of the milk and heavy cream.
The entire recipe and instructions can also be found in the recipe card at the bottom of this post. You can also print the recipe from the card, if needed.
Prep!
Allowing the crepe batter to rest in the refrigerator for at least 1-2 hours is ideal for the most perfect crepes. Plan ahead, if possible. It's not absolutely necessary to allow the batter to rest, but the crepes may not be quite as expected.
Create!
Whisk together the eggs and yolk in a medium bowl.
Add the flour, sugar and salt and whisk until smooth.
Gradually add the milk and cream. The mixture should be thin. You can add more milk and/or cream if needed.
Strain through a fine mesh strainer before using to remove any lumps of flour.
If possible, allow the batter to rest in the refrigerator for at least 1-2 hours.
When you are ready to cook the crepes, heat an 8 or 9-inch crepe pan, heavy-bottomed skillet or cast iron skillet on medium. Brush a thin layer of melted butter onto the bottom of the pan (just enough to coat it) with a silicone brush. For the first crepe, you can add a little extra butter.
Scoop out about 3 tablespoons of batter (slightly less than 1/4 cup). Pull the skillet off the heat and pour in the batter turning the pan side to side to coat the entire bottom with the batter.
Cook for 1-2 minutes or until the bottom is lightly golden browned.
Using a spatula, pull the edges of the crepe away from the pan, then slide the spatula underneath to lift and flip the crepe.
Cook an additional 1-2 minutes or until lightly browned. Remove to a plate and repeat with more butter and batter until all of the batter is used.
Present!
Serve stuffed with your favorite sweet or savory fillings. Crepes can be folded into triangles, rolled or stacked.
Tips and Techniques
Using a heavy bottomed skillet will help distribute the heat for more even cooking. You can use a dedicated crepe pan or a nonstick or cast iron skillet.
Cook crepes on medium heat so that the pan doesn't get too hot and cook the crepes before you're able to swirl the batter around it completely. You can also lift the pan up off of the heat while swirling to give you even more time.
Allow the batter to rest at least an hour or two in the refrigerator before cooking. This is not absolutely necessary, but it does help give you the most perfect crepes.
Store leftover crepes tightly covered in the refrigerator. Consume within 2-3 days.
FAQ's
Is Crepe Batter The Same As Pancake Batter?
Not quite. Crepes do not contain any leavening agents, like baking soda or baking powder which makes them thin and flat. Pancakes, on the other hand, do contain leavening agents so they rise while cooking and are thicker and fluffier.
What Kind Of Flour Is Best For Crepes?
Cake flour or whole wheat flour is best for crepes. While you can use all purpose flour, the batter may end up thicker than desired resulting in thicker crepes.
Can You Freeze Crepes?
Crepes can be frozen for up to 3 months. Place a small sheet of wax paper between each crepe and freeze in an airtight container or freezer bag.
More Breakfast Recipes
Love this Easy French Crepes recipe? Follow us on Pinterest, Instagram, and Facebook for more!
If you try this recipe, I would really appreciate it if you would please leave a comment and star rating. Thanks!