Enjoy this simply made French Connection cocktail recipe as a smooth, comforting after-dinner beverage. It requires only three ingredients and a few minutes to prepare.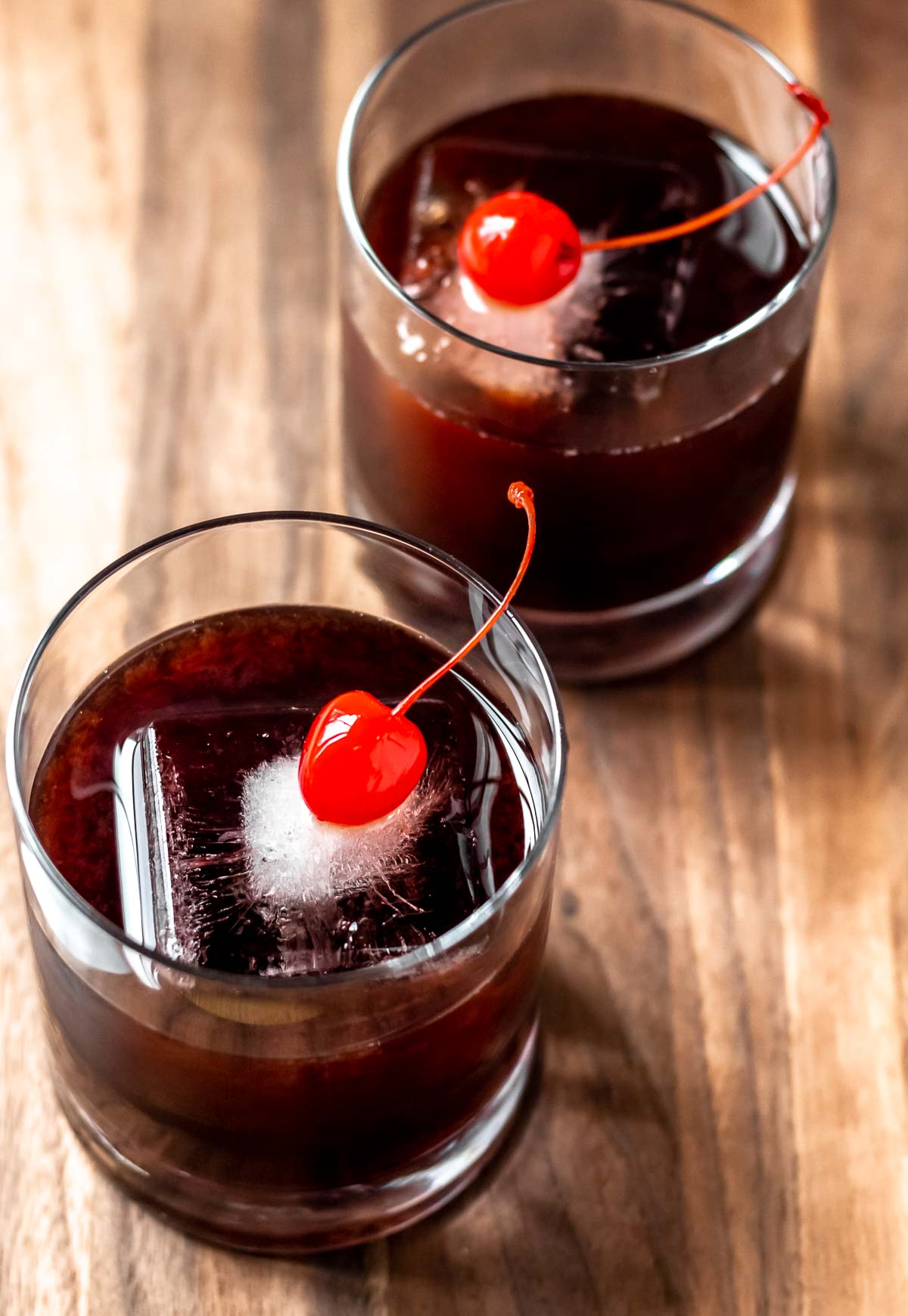 This post contains affiliate links. See our Disclosure Statement for more information.
This French Connection cocktail recipe was developed by Daryl Harris. It was tested and approved by both of us.
A French Connection cocktail is usually made with equal parts of cognac and Disaronno liqueur. Sometimes, a little splash of cherry juice from a jar of maraschino cherries is added, as well. Often, it's garnished with a maraschino cherry.
While Daryl enjoys cognac, especially as a nightcap or digestif, I find it too strong for my tastes.
To accommodate both of our tastes, we lessened the amount of cognac and added black cherry juice. This gave the cocktail a smoother finish without quite as much burn.
Why This Recipe Works
The steps to make a French Connection cocktail are very simple.
This adaptation is not as strong as the classic recipe.
It's a great cocktail for after dinner, especially after a romantic or celebratory dinner such as birthdays, anniversaries and Valentine's Day.
Step-By-Step Instructions
Ingredients
The entire recipe and instructions can also be found in the recipe card at the bottom of this post. You can also print the recipe from the card, if needed.
Prep!
There is no prep work for this recipe except to place ice into two cocktail glasses. We like to use large cubes.
Create!
Add the cognac, Disaronno, black cherry juice and a cup of ice to a cocktail shaker. Place the lid on and shake for 30-60 seconds. Strain into 2 glasses.
Present!
Garnish with a maraschino cherry, if desired.
FAQ's
Are Disaronno And Amaretto Liqueurs The Same Thing?
Disaronna is a type of amaretto liqueur. Amaretto is made with almonds, while Disaronno is not, however they both taste very similar.
More Cocktail Recipes
Love this French Connection Cocktail recipe? Follow me on Pinterest, Instagram, and Facebook for more!
If you try this recipe, please leave a comment and star rating. I would really appreciate it!