This recipe for Apple Brandy Cider cocktails is easy to prepare and perfect for warming you up on chilly evenings. This beverage tastes sweet, spicy, and warm thanks to cinnamon, brown sugar, butter, and brandy. The additional aromatic cooked apples and cider highlight the delicious seasonal flavor of fresh apples.
This post contains affiliate links. See our Disclosure Statement for more information.
This Apple Brandy Cider cocktail recipe was developed by Daryl Harris and tested by both of us.
This recipe for Apple Brandy Cider cocktails is a fun way to use up leftover apples from apple picking. If you're lucky enough to live near an orchard, try making this easy recipe to warm up after a cold afternoon spent picking apples. Of course, you can use store bought apples as well!
Apple cider is the base of this drink, plus the brandy and cooked apples add so much apple flavor to make an intensely delicious, aromatic beverage. Cinnamon, brown sugar, and butter give the apple brandy cocktail an extra boost of sweetness and warmth, which is great during fall and winter.
This is a wonderful cocktail to serve for special occasions and holidays like Thanksgiving. It is warming, sweet, and spicy, so it's great for cold evenings. You can enjoy this drink warm or chilled – it really is delicious served both ways. This beverage would be super tasty paired with Apple Pork Chops.
Why This Recipe Works
This is quick and easy recipe for a flavorful drink. It should take you less than 10 minutes to create.
Apple Brandy Cocktails are delicious. It tastes just like hot apple pie in a glass!
It's the perfect after dinner drink to prepare during fall or winter to warm you up.
How To Make An Apple Brandy Cider Cocktail
Ingredients
The entire recipe and instructions can be found in the recipe card at the bottom of this post. You can print the recipe from the card, if needed.
Prep!
Cut the apple into 1/4-inch thick slices.
Create!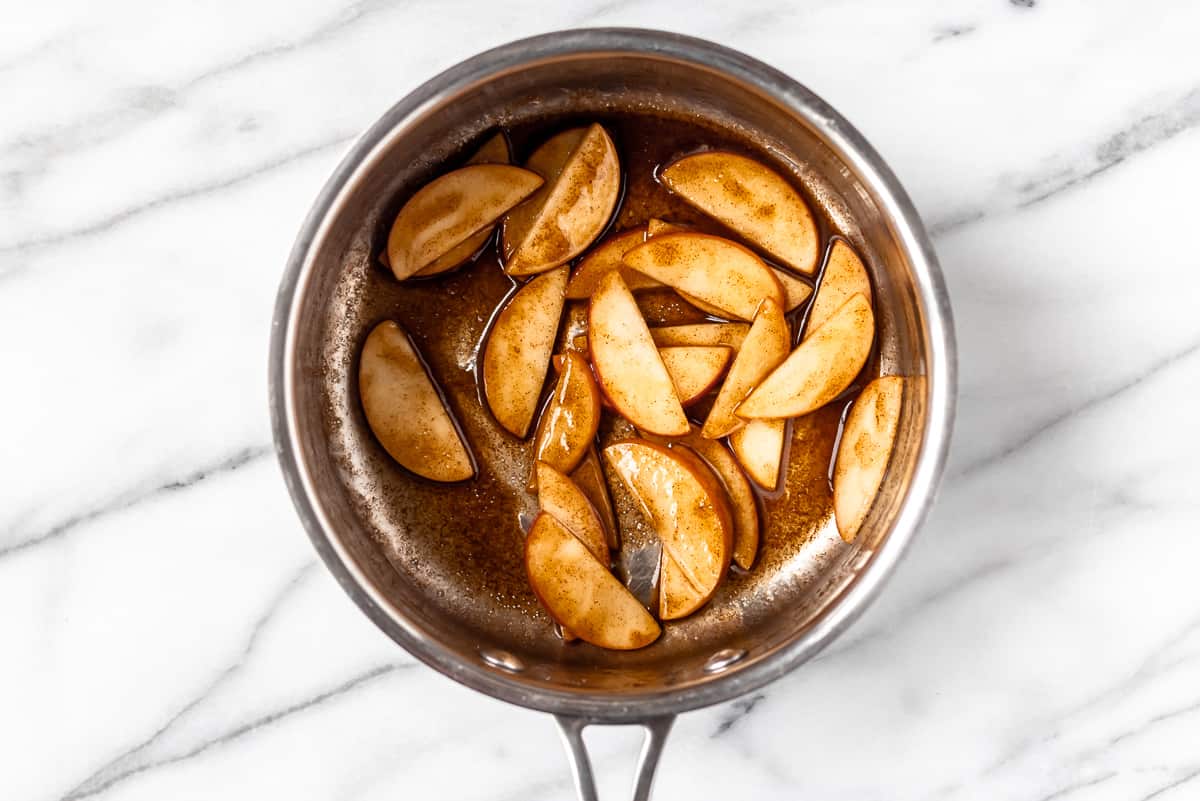 Melt the butter in a medium saucepan over low heat.
Add the butter, brown sugar and cinnamon.
Cook 1-2 minutes to soften the apples.
Stir in the apple cider and continue to cook until warmed through.
Remove from the heat and stir in the brandy.
Present!
Divide the liquid and the apples evenly between 4 tumbler-style glasses.
Chef's Tip: if you prefer, you can strain the liquid through cheesecloth to remove some of the cinnamon particles.
Tips and Techniques
You can strain the liquid through cheesecloth to remove excess cinnamon particles, if preferred, however it is not necessary.
Serve this cocktail warm or chilled.
Store in the refrigerator, tightly covered, for up to 2-3 days.
FAQ's
Can You Use Mulled Cider?
If you choose to use a mulled cider to make your cocktails you may want to hold off adding any extra spices, like cinnamon, until after tasting the recipe.
Does Alcohol Cook Off In Hot Drinks?
Alcohol will cook off slightly when added to hot drinks. When stirred into a hot beverage upwards of 15% of the alcohol may evaporate.
More Apple Recipes
Love this Apple Brandy Cider? Follow me on Pinterest, Instagram, and Facebook for more.
If you try this recipe, I would really appreciate it if you would please leave a comment and star rating. Thanks!