An Irish Sunset cocktail is made from a delicious blend of Jameson Irish Whiskey, peach schnapps and fruit juice. It's simple to make and is equally as perfect for St. Patrick's Day as it is for a beautiful summer day or evening.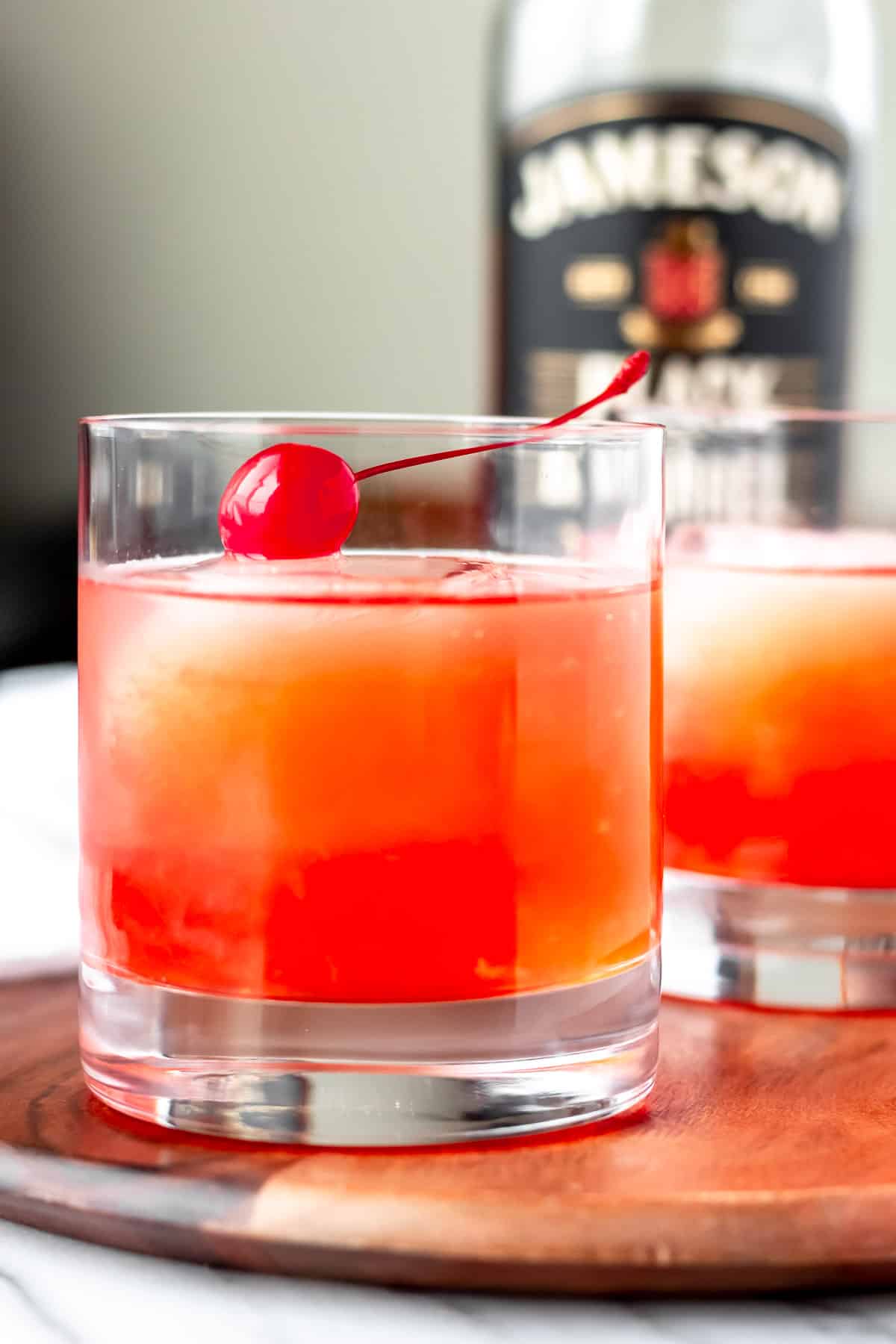 This post contains affiliate links. See our Disclosure Statement for more information.
This Irish Sunset cocktail recipe was developed by Daryl Harris and tested by both of us.
An Irish Sunset cocktail, loosely inspired by the Irish Gold cocktail, is the perfect addition to St. Patrick's Day celebrations. It's stunning coral color, reminiscent of a beautiful summer sunset, also makes this drink ideal for the warmer seasons.
You may have heard of a Green Tea Shot, which is made with a combination of Jameson Irish Whiskey, peach schnapps, sour mix and a splash of lemon-lime soda. In this recipe, we've replaced the sour mix and soda with lemon and cherry juice. This gives the cocktail a sweeter, fruitier flavor and a more summery vibe.
The cherry juice also gives this beverage a much prettier appearance, which is why we named it an Irish Sunset.
Why This Recipe Works
There are only four ingredients and it takes only minutes to make an Irish Sunset cocktail.
It's a great choice all summer long, and of course for St. Patrick's Day.
Its fruitier flavor makes it a smooth, enjoyable cocktail to drink.
Step-By-Step Instructions
Ingredients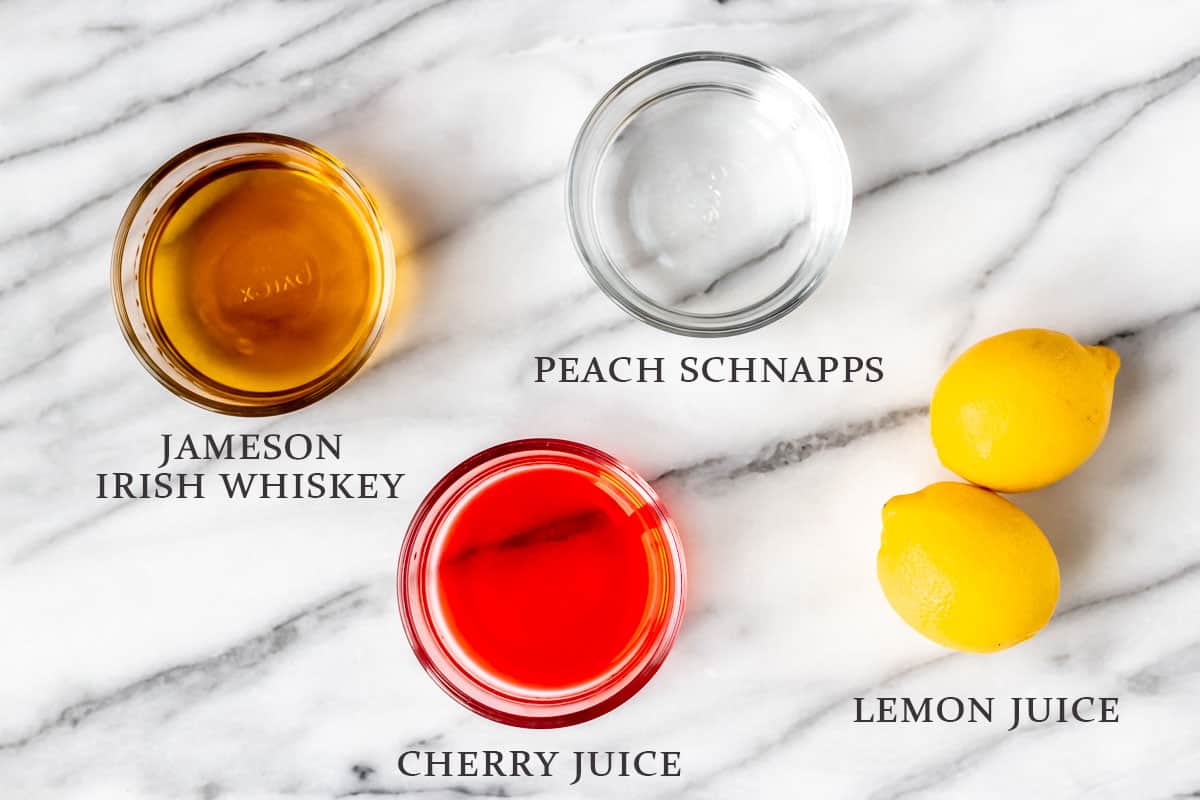 The entire recipe and instructions can also be found in the recipe card at the bottom of this post. You can also print the recipe from the card, if needed.
Prep!
There is no prep work for this recipe.
Create!
Combine the whiskey, peach schnapps, lemon and cherry juice in a measuring cup with a spout. Stir well.
Place ice in 2 Old Fashioned style glasses and divide the cocktail between them.
Present!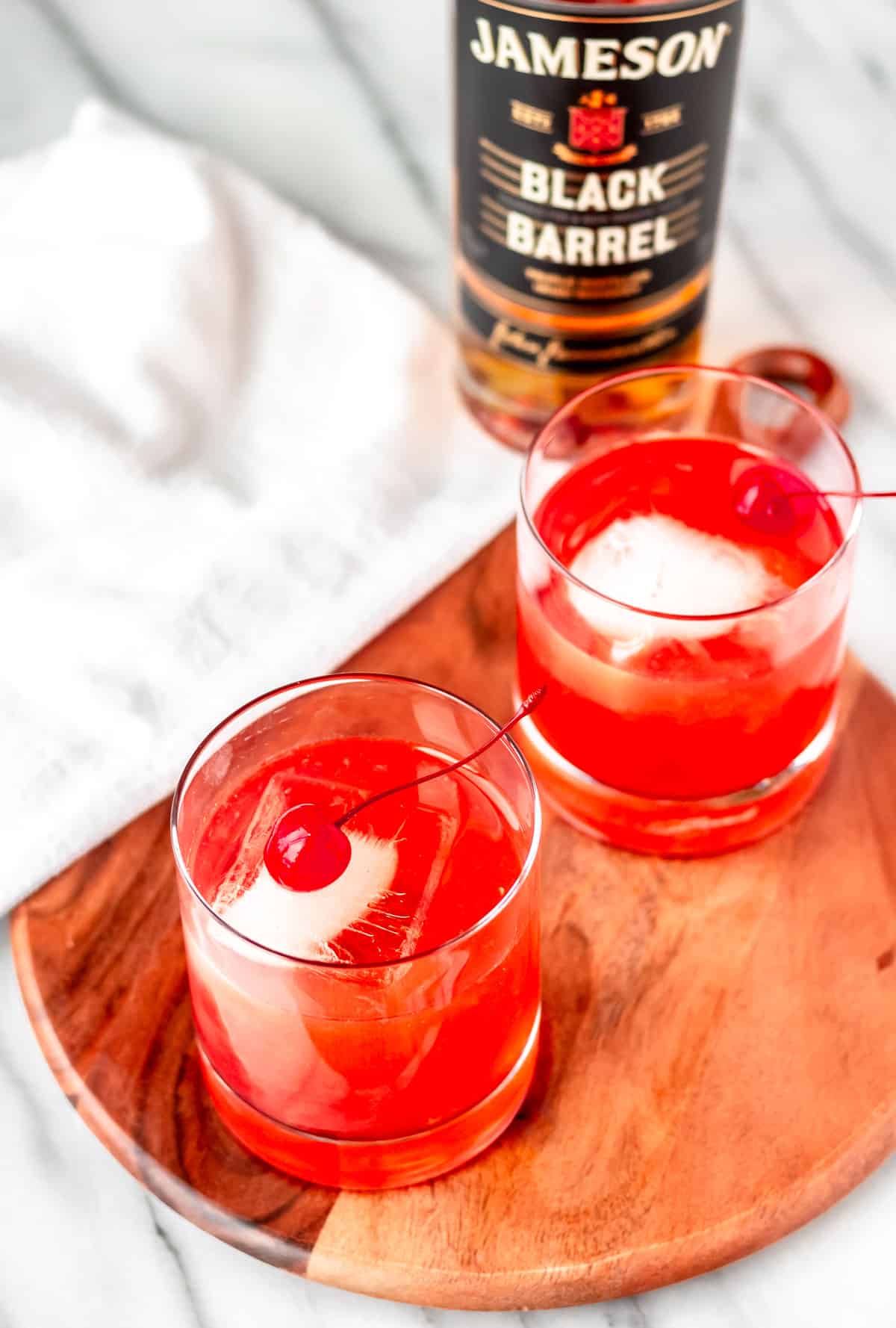 Top with a maraschino cherry, if desired.
FAQ's
What Kind Of Liquor is Jameson?
Jameson is an Irish whiskey, made only in Ireland.
More Cocktail Recipes
Love this Irish Sunset cocktail recipe? Follow me on Pinterest, Instagram, and Facebook for more!
If you try this recipe, I would really appreciate it if you would please leave a comment and star rating. Thanks!