Dark Chocolate Peanut Butter Oatmeal is the best way to start the day! Made with oats, cocoa powder, peanut butter, and maple syrup, it's actually a healthy, refined sugar-free breakfast recipe.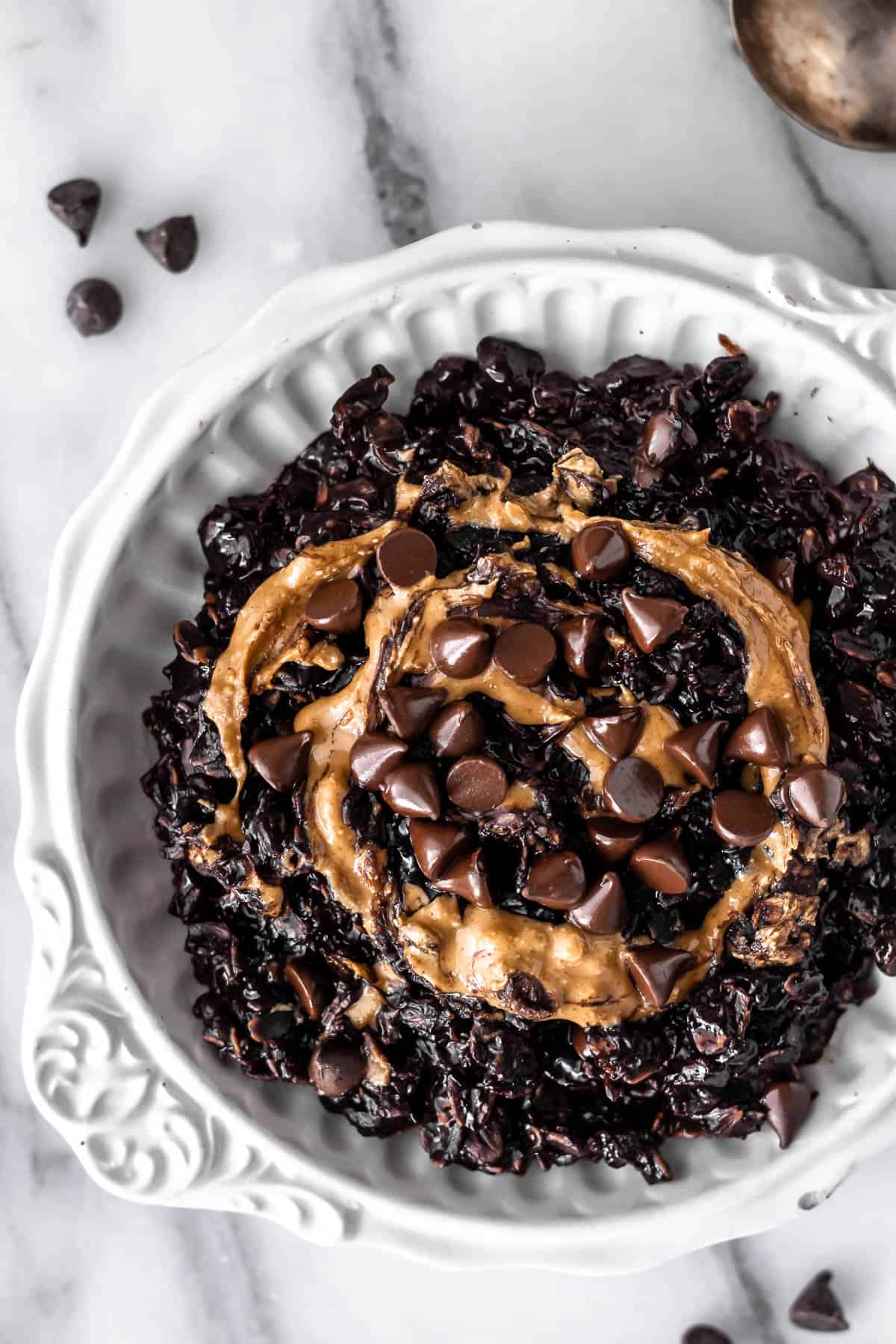 This post contains affiliate links. See our Disclosure Statement for more information.
Every decadent bite of this Dark Chocolate Peanut Butter Oatmeal tastes like a rich and scrumptious dessert. The surprising thing is that it's actually good for you!
There are no refined sugars in this entire recipe. None! Instead, it is sweetened with natural, real maple syrup. If you wanted, you could swap the maple syrup out for honey or agave.
It looks like a chocolate lover's dream come true, but it is not overly sweet. In fact, the combination of chocolate and peanut butter are as classic as they come. I use this combination all of the time, like to make Chocolate Peanut Butter Rice Krispies Treats and Dark ChocolateNo-Bake Cookies. In fact, this oatmeal does taste a lot like no-bake cookies.
Why This Recipe Works
This is a super-fast breakfast recipe to prepare. It takes less than 10 minutes to make, from start to finish. You'll also love that it only requires a handful of ingredients. It's so simple that you'll probably have this recipe memorized after making it one time.
The protein in the peanut butter and fiber in the oatmeal are a great way to start the day. It also tastes incredible as a late-night snack, when that sweet tooth screams for something quick.
It's a gluten-free recipe (just be sure to double check that your oats are labeled as gluten free). With a few ingredient swaps, this can be a dairy-free recipe too.
Step-By-Step Instructions
Ingredients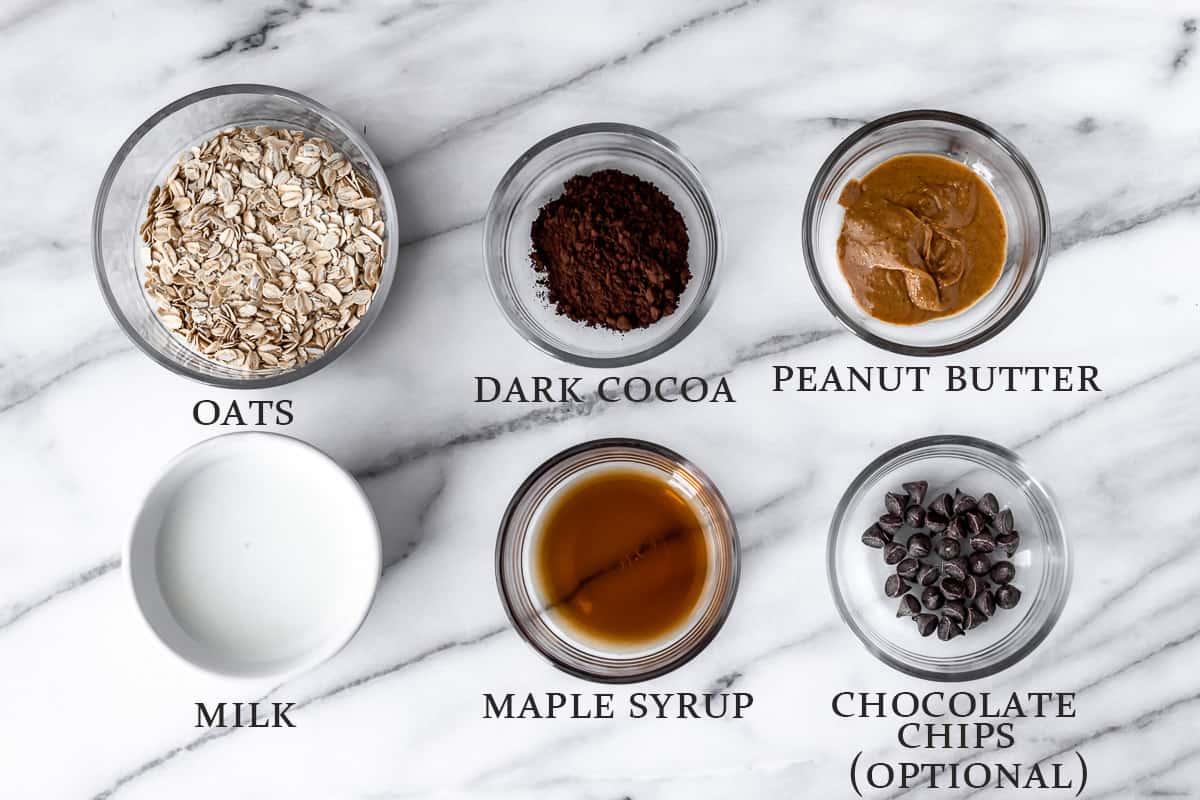 1/2 cup old fashioned rolled oats
1 tablespoon dark chocolate cocoa powder
1/2 cup whole milk: you can also use your favorite dairy-free variety.
1 tablespoon maple syrup: swap for honey or agave, if preferred.
1 tablespoon peanut butter: natural peanut butter is recommended – either creamy or crunchy.
The entire recipe and instructions can also be found in the recipe card at the bottom of this post. You can also print the recipe from the card, if needed.
Prep!
There really isn't any prep work to be done for this recipe.
Create!
Combine the rolled oats, dark cocoa powder, milk and maple syrup in a microwave-safe bowl. Stir until well blended.
Microwave on high for 1 1/2 to 2 minutes. If all of the liquid isn't quite absorbed, microwave in 15 second increments until the oatmeal reaches the desired thickness.
Stir in the peanut butter.
See the notes in the recipe card below for stove top instructions.
Present!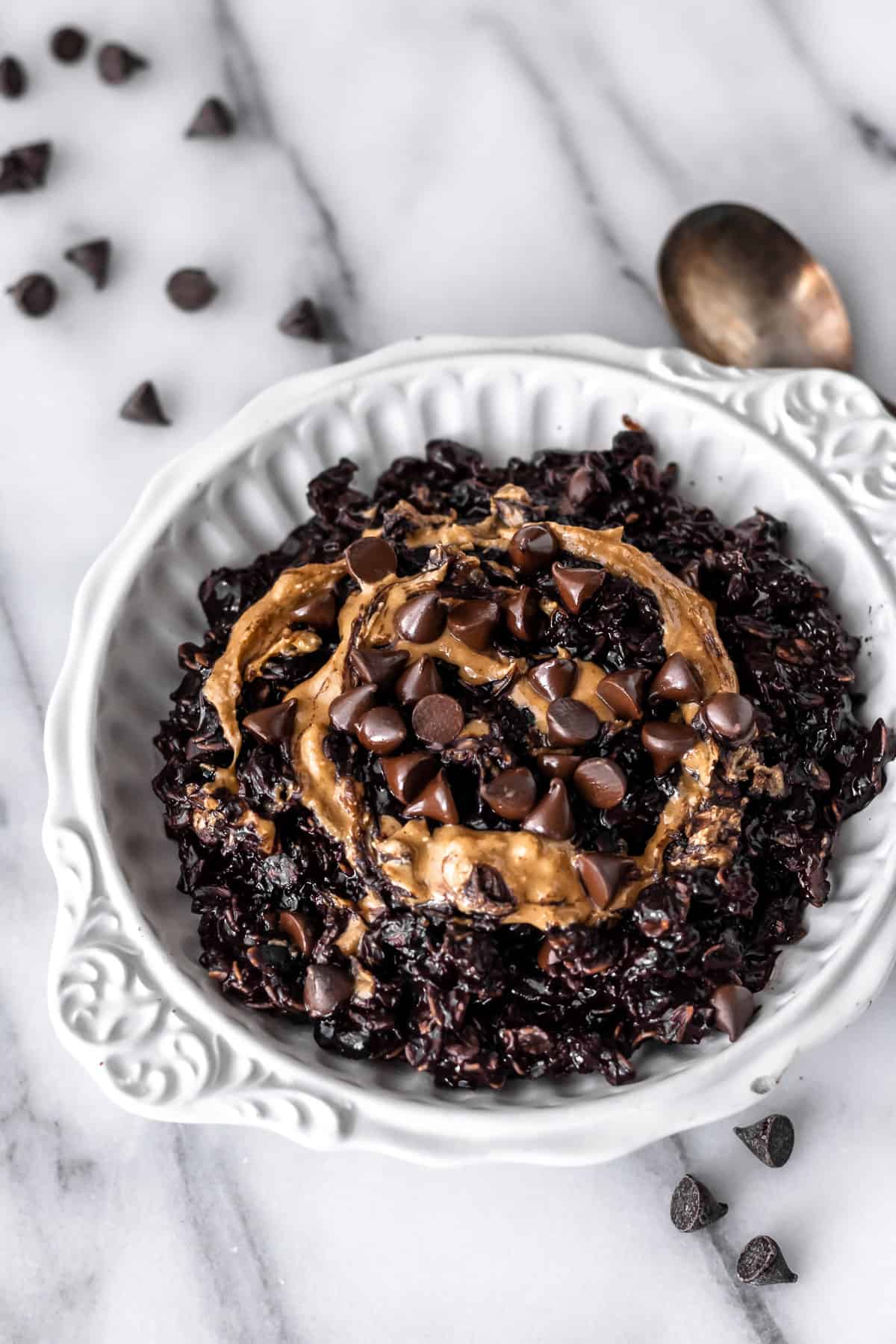 Top with additional peanut butter, chocolate chips and/or chopped peanuts, if desired.
Tips and Techniques
Adding chocolate chips to this recipe will increase the sugar content.
You can make this recipe dairy free by using dairy free milk and dairy free chocolate chips, if desired.
Store leftovers in an airtight container in the refrigerator. Consume within 3 days.
FAQ's
What Can I Add To Oatmeal?
You can add chia seeds, flax seeds, chocolate chips, nuts, and peanuts to oatmeal. Oatmeal is a really easy base that you can use and get as creative as you want. Try chocolate and strawberries on your oatmeal. Or maple syrup and bacon. The amount of varieties you can make are unlimited.
Is Eating Oatmeal With Peanut Butter Healthy?
Yes, this is a very nutrient-dense breakfast, even though it looks and tastes like dessert. Oats are high in minerals like magnesium, phosphorous, and B vitamins. Peanut butter is a wonderful source of protein and healthy fats.
Can You Store Leftover Peanut Butter Oatmeal?
Yes, you can store leftovers. Just know that it won't taste nearly as delicious when you reheat it. It tastes the best when it is hot and fresh.
More Breakfast Recipes
Love this Dark Chocolate Peanut Butter Oatmeal recipe? Follow me on Pinterest, Instagram, and Facebook for more!
The entire recipe and instructions can also be found in the recipe card at the bottom of this post. You can also print the recipe from the card, if needed.
This recipe was originally published on November 29, 2018. It was updated with new images, step-by-step instructions, tips, techniques, and FAQ's in September 2022.