Homemade Chocolate Scones are rich, sweet and absolutely decadent – they taste almost like chocolate cake for breakfast. This is an easy recipe to make and gives you the most perfect scones that are incredibly flaky, tender and moist.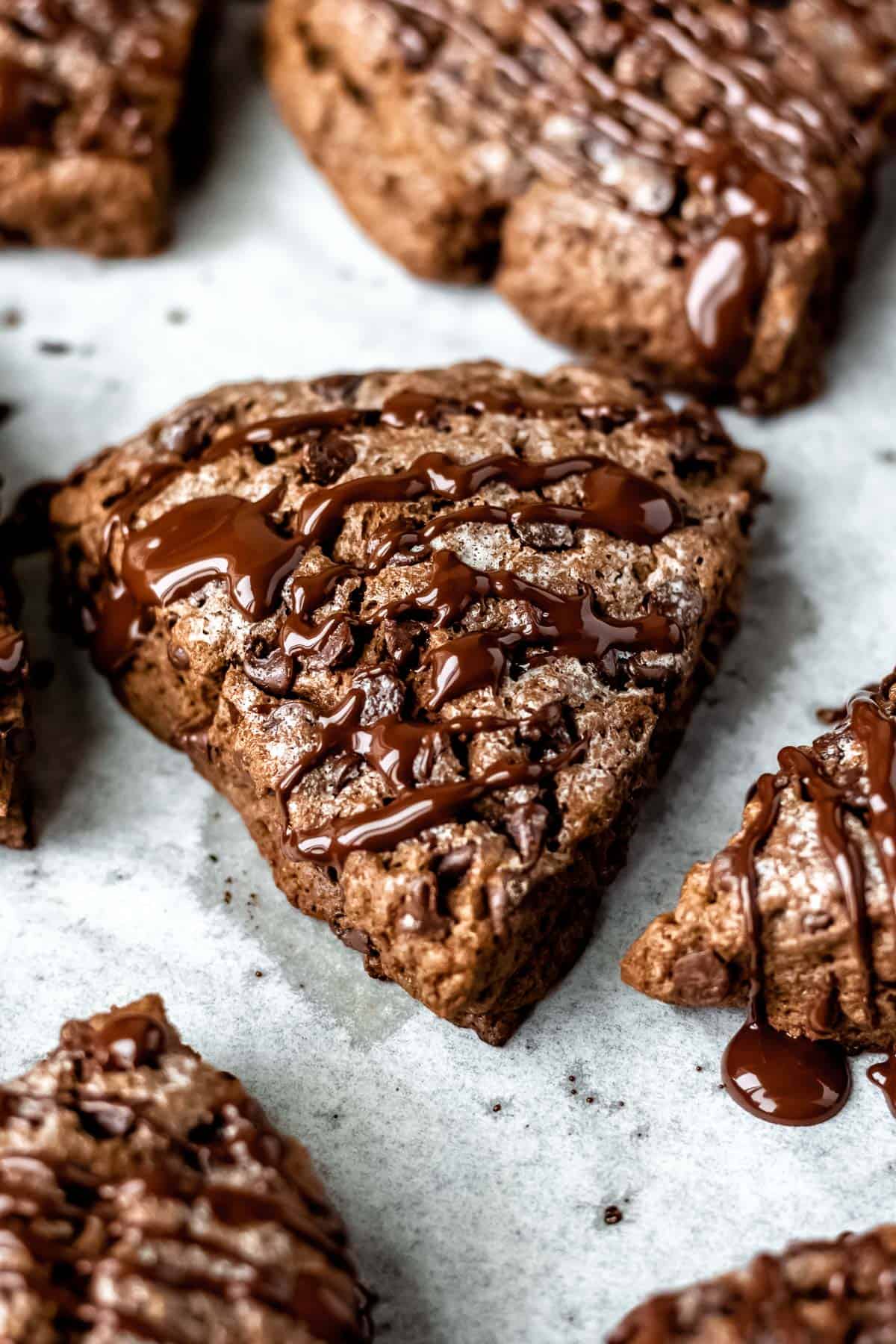 This post contains affiliate links. See our Disclosure Statement for more information.
After perfecting my standard scones recipe, that I have used in all of my previous scones recipes on Delicious Little Bites – including my very popular White Chocolate Raspberry Scones, I have decided to tackle the chocolate scone!
The recipe actually isn't all that much different. A few minor changes and the addition of cocoa powder, chocolate chips and an optional (but not really) chocolate drizzle, make these chocolate scones mouthwateringly delicious!
These sweet scones can be served for breakfast, as an afternoon snack or even as dessert. Who doesn't love chocolate cake for breakfast?
If you like this recipe you are sure to enjoy Chocolate Chip Scones and Pumpkin Chocolate Chip scones too.
Why This Recipe Works
This recipe is quick and easy to make. The procedure is straightforward, and the scones only need to be baked for about 15 minutes.
Homemade Chocolate Scones are moist and sweet. These are definitely not dry or crumbly scones.
Scones make a delightful breakfast or snack with coffee and tea. Since these are like a triple-chocolate delight when topped with a chocolate drizzle, this makes them especially perfect for dessert.
Step-by-Step Instructions
Ingredients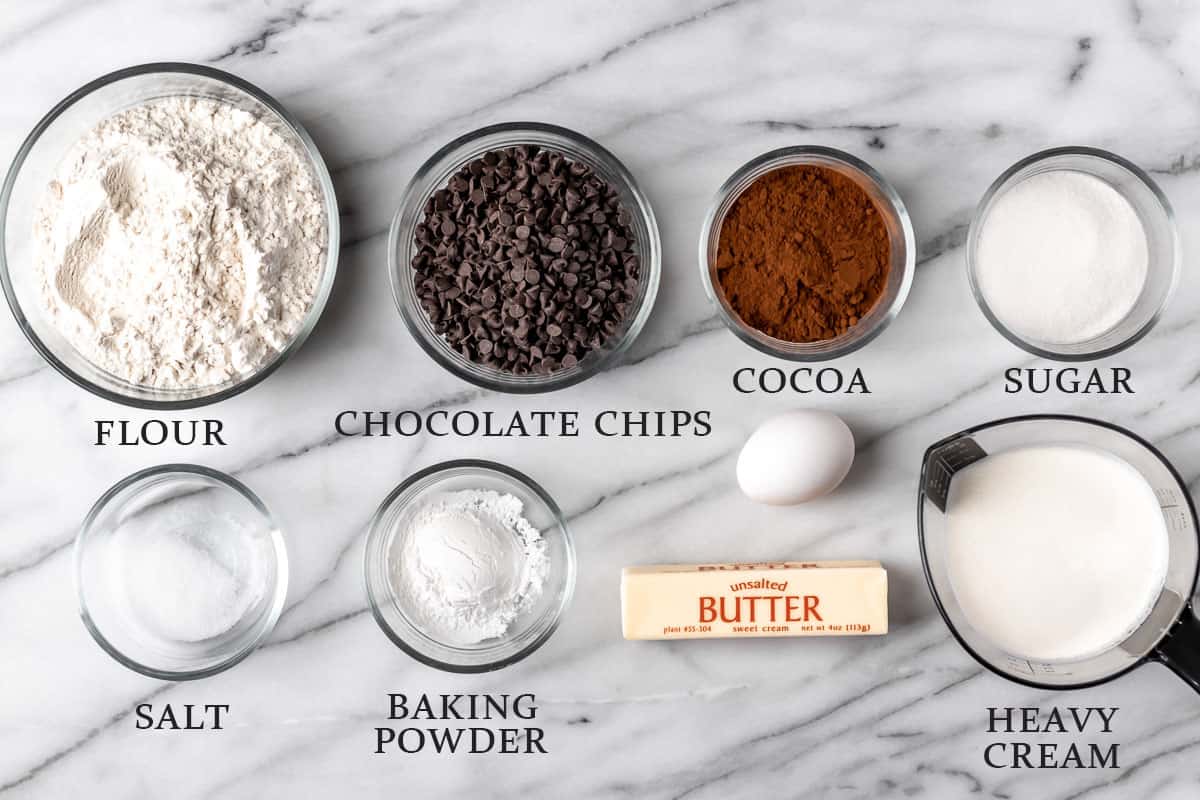 2 cups all purpose flour
1/3 cup cocoa powder
1/4 cup sugar
1 tablespoon baking powder: make sure it's fresh and hasn't been opened for longer than a year for the best rise.
3/4 teaspoon salt
8 tablespoons unsalted butter: cut into cubes or grated. Be sure that your butter is very cold when you are making scones. You can even place it in the freezer for 5-10 minutes before using it.
1 egg
1 cup heavy cream
1 cup chocolate chips: I prefer to use mini chocolate chips so you get plenty in each bite. If you want to make a chocolate drizzle to top the scones, you will need about 1/4 cup extra chips.
The entire recipe and instructions can also be found in the recipe card at the bottom of this post. You can also print the recipe from the card, if needed.
Prep!
Preheat oven to 425°F.
Create!
Combine flour, cocoa powder, sugar, baking powder and salt in a large bowl and combine.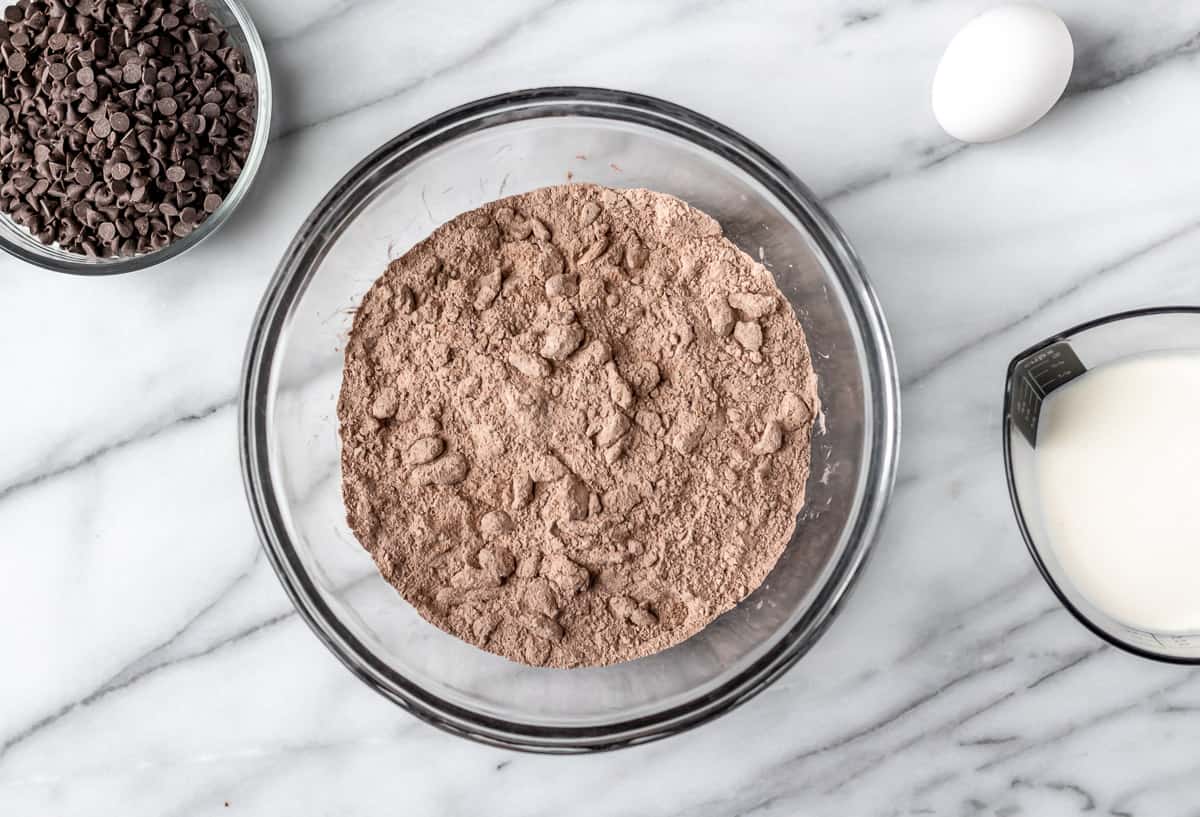 Cut in the butter using a pastry blender or fork until the pieces of butter are about the size of a pea.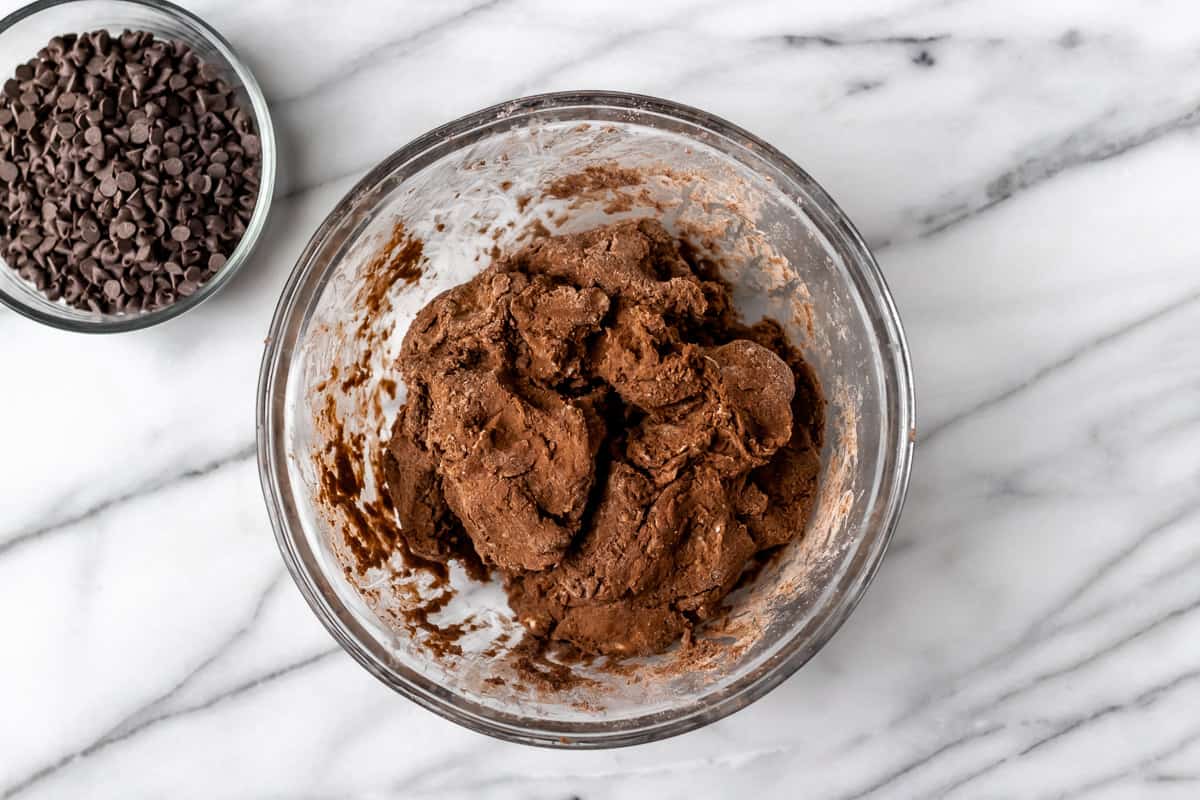 Whisk together the egg and heavy cream. Add gradually to the flour mixture until it just sticks together. Do not over mix. Reserve any extra cream mixture.
Gently stir in the mini chocolate chips. The batter will be thick.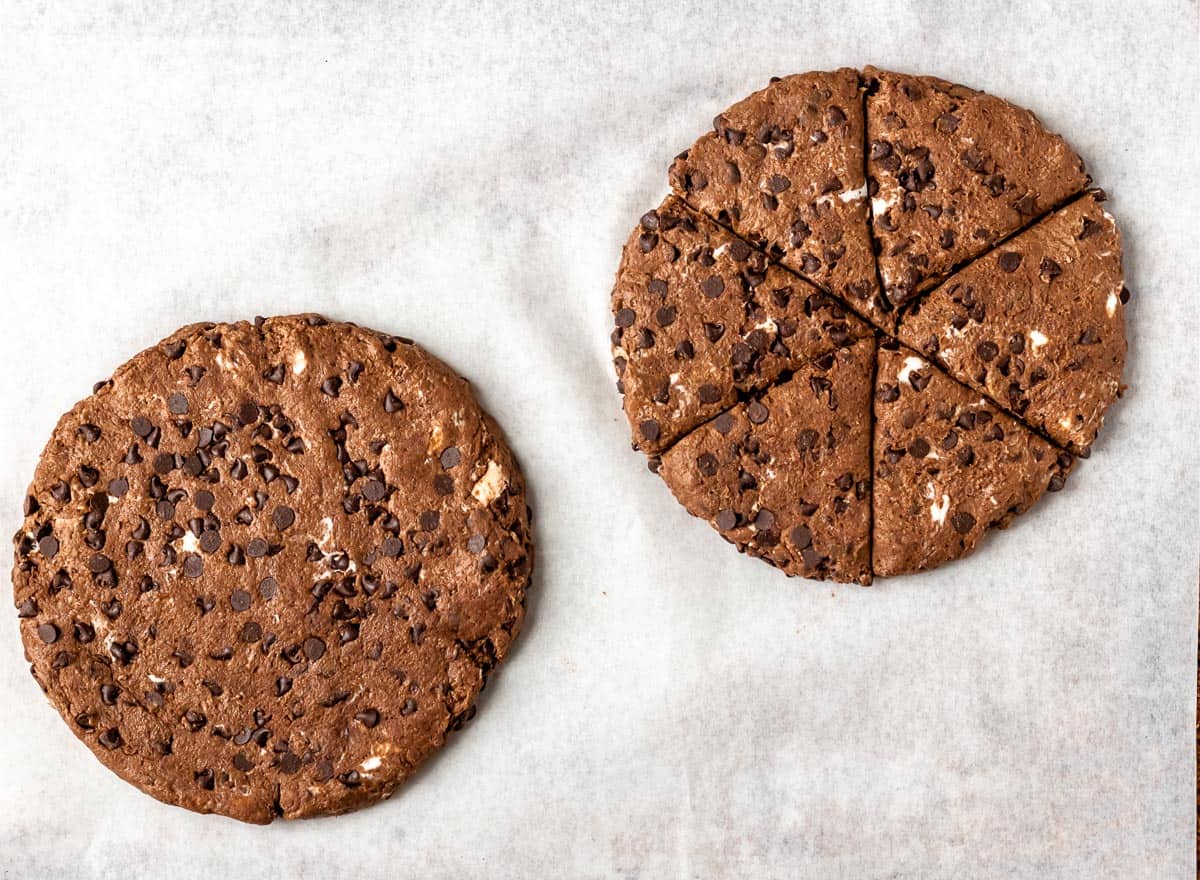 Divide the dough in half and shape into two circles, about 1/2-3/4-inch high.
Cut into 6 triangles. Place on a parchment paper or Silpat mat-lined baking sheet.
Chef's Tip: you can place the baking sheet in the refrigerator or freezer for 5-10 minutes before baking to ensure the dough is still very cold going into the oven. This will give your scones the best rise and the most perfect tender crumb.
Brush the extra cream and egg mixture onto the tops of the scones. Don't be alarmed that the tops are white. It will mostly disappear once baked. If you don't have extra, you can brush either heavy cream or an egg wash on top, if desired. This step is not necessary and can be skipped, if preferred.
Bake for 12-15 minutes or until just lightly browned on the bottoms.
Allow to cool.
If you'd like to make a chocolate drizzle for the tops, fill a small pot about halfway with water and bring to a boil. Place about 1/4 cup of chocolate chips in a bowl large enough to sit over the pot without touching the water.
Once the water reaches a boil, turn off the heat and place the bowl of chocolate chips over the pot. Allow to sit for moment, then stir until melted and smooth.
Drizzle the melted chocolate over the scones with a small spoon and allow to cool to and set.
Present!
Scones can be served warm or at room temperature.
Tips and Techniques
Using weights rather than cups will give you the most accurate results. Mini chocolate chips and standard size chips will have a difference in weights, so using cups works better for them.
Ensure that your butter is very cold when you are making scones.
Cold dough rises better, so it's important to keep the dough cold until it goes into the oven for the best scones. If you need to, you can place it in the freezer for a few minutes after shaping and cutting the scones.
Store leftover scones in an airtight container at room temperature. Use within 1-2 days for best results.
FAQ's
Can Scones Be Made Ahead Of Time?
You can make scones the night before. Shape the dough into rounds, then refrigerate until morning, or when needed.
Can You Freeze Scones?
Yes. Shape and cut the scones dough, if desired. Wrap them individually tightly in plastic wrap and store in the freezer. To bake, you may need to add a few minutes to the bake time of the recipe. Use any frozen scones within a month for best results.
More Scones Recipes
Love this recipe for Chocolate Scones? Follow me on Pinterest, Instagram, and Facebook for more!
If you try this recipe, I would really appreciate it if you would please leave a comment and star rating. Thanks!