Make this beautiful Unicorn Ice Cream to pair with a unicorn cake or cupcakes. This recipe is an easy-to-make, homemade, no-churn vanilla ice cream that's dyed with food color to fit perfectly into unicorn-themed birthday parties and other fun gatherings.
This post contains affiliate links. See our Disclosure Statement for more information.
Unicorn Ice Cream is a cool, delicious spin on the very popular unicorn cake trend.
It's made simply by using a variety of food color and homemade, no-churn vanilla ice cream.
The trick to getting the best, most colorful scoops is in the technique used to layer the ice cream into the pan.
For a patriotic version of this recipe, check out my recipe for Red, White and Blue Ice Cream.
Why This Recipe Works
It's an easy, fun recipe to make, especially with kids.
This ice cream is the perfect compliment to serve alongside of the very popular unicorn cake during birthdays and other celebrations.
You can adapt this recipe to fit any celebration just by switching up the food colors.
Step-By-Step Instructions
Ingredients
2 cups heavy cream (very cold)
1 14 ounce can sweetened condensed milk
1 teaspoon vanilla extract
Blue, purple, orange and pink gel food coloring: gel food color will give the best results.
Ice cream cones (optional, for serving)
Prep!
Place a standard sized loaf pan into the freezer to chill.
Create!
In a large mixing bowl, use an electric or stand mixer fitted with a paddle to beat the chilled heavy cream until stiff peaks form.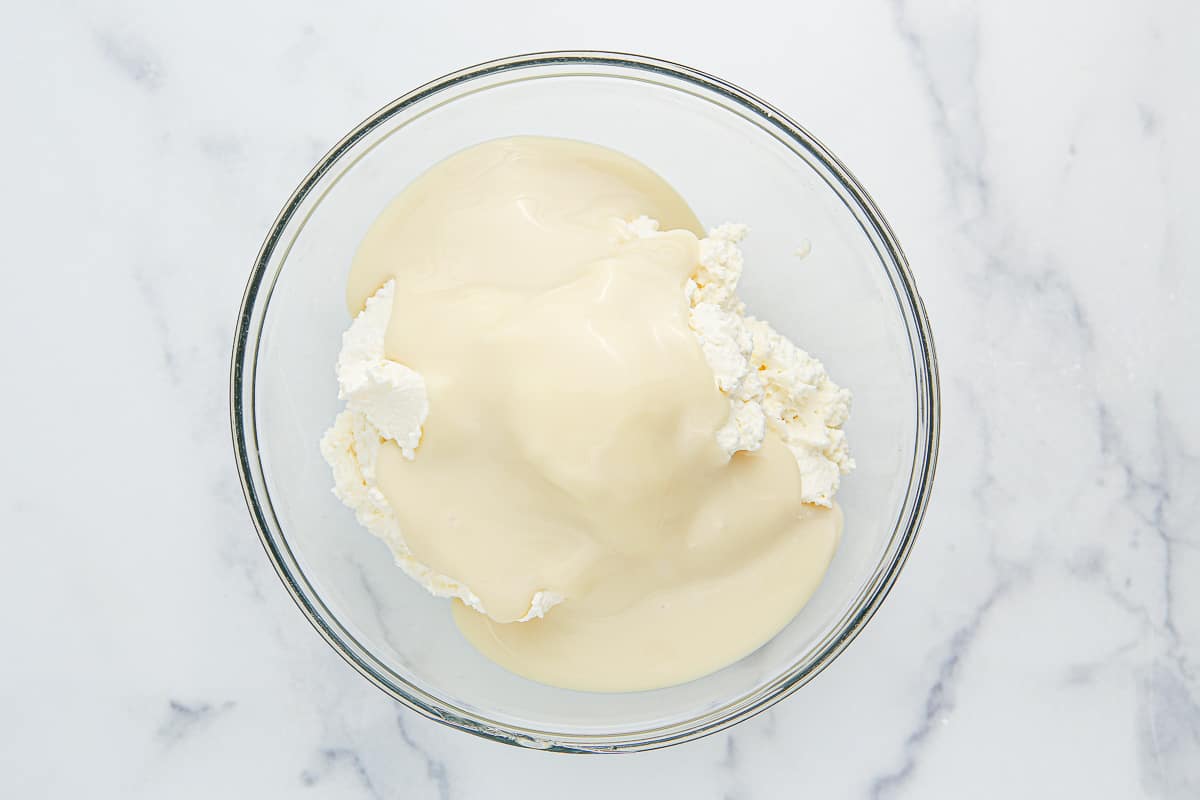 Stir in the vanilla extract and condensed milk until just combined.
Divide the mixture between four medium bowls. Add one color of food coloring to each bowl and mix until you reach your desired shades.
Remove the chilled loaf pan from the freezer and spoon the ice cream mixtures into the loaf pan, alternating the colors.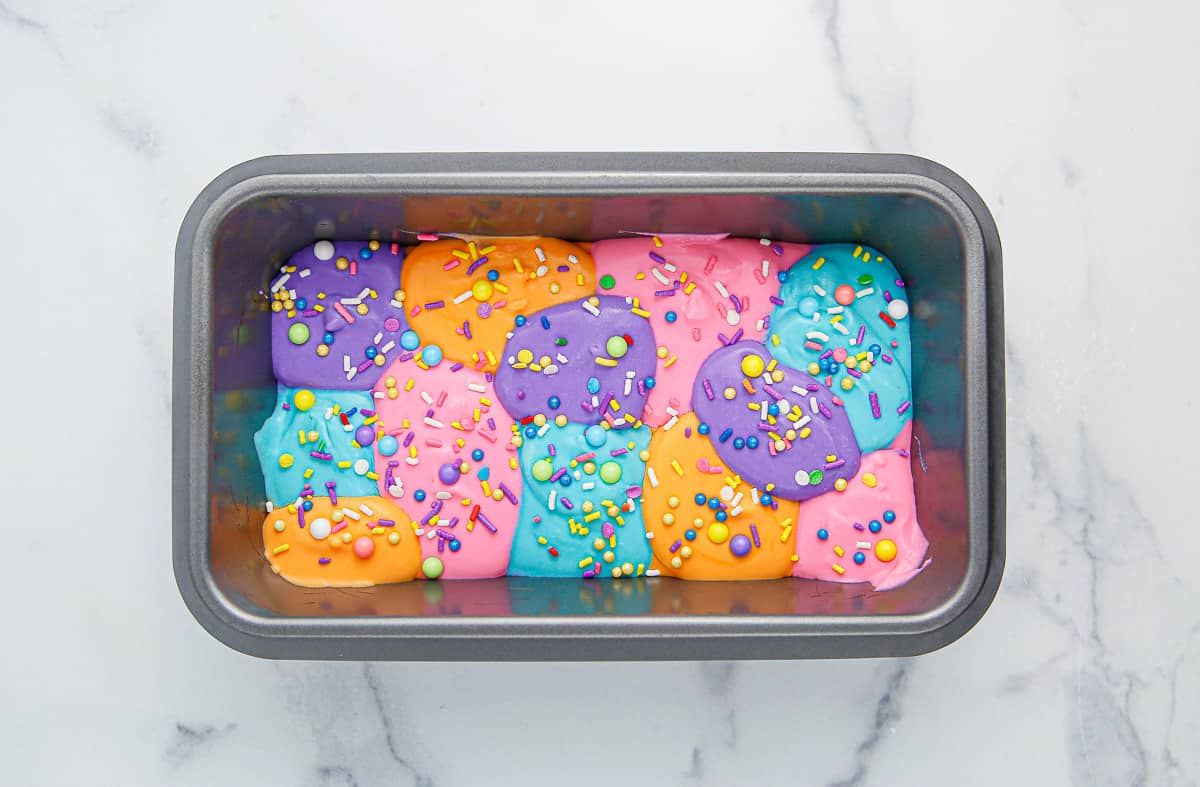 Top the ice cream with sprinkles.
Return the loaf pan back into the freezer for 6 to 8 hours, or until the ice cream is set.
Present!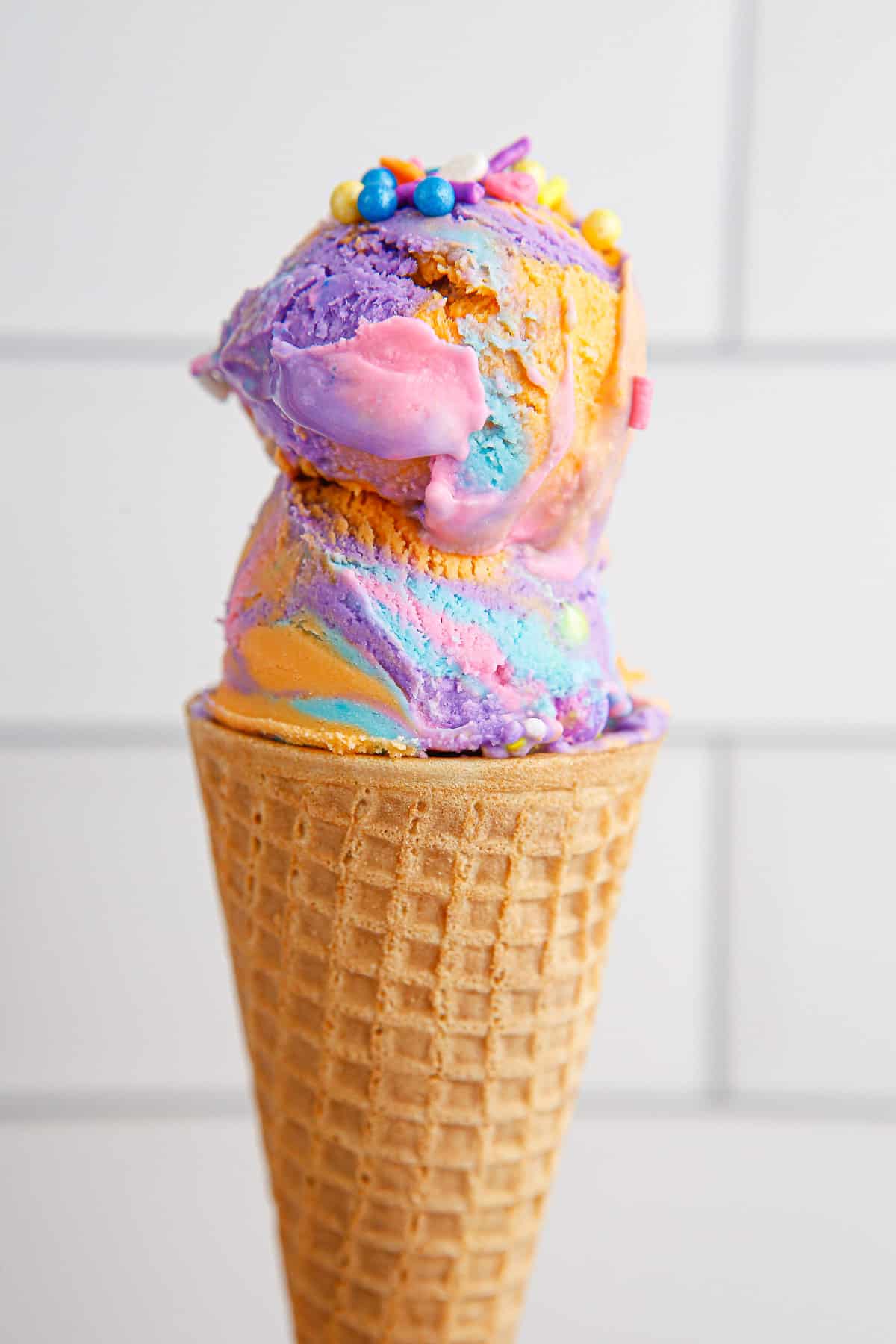 To serve, scoop in bowls or ice cream cones. Add more sprinkles, if desired.
Tips and Techniques
You can use any color food coloring you want to make this recipe fit into an endless number of celebratory needs.
Store any leftover ice cream in an airtight container in the freezer for 3 to 4 weeks. You can also store leftovers directly in the loaf pan with plastic wrap for up to 1 week.
FAQ's
Why Is My Whipping Cream Not Getting Stiff?
Heavy whipping cream needs to be very cold to be able to be whipped into stiff peaks. Placing the mixing bowl in the freezer beforehand helps keep it cold during the whipping process.
What Is The Difference Between Regular Ice Cream and No-Churn Ice Cream?
Traditional ice cream is made with eggs and granulated sugar whereas no-churn ice cream does not contain eggs and is made with sweetened condensed milk. Both are made using heavy cream.
Traditional ice cream also needs to be churned and requires an ice cream maker, while no-churn ice cream can be combined in a mixer or bowl before being placed directly into the freezer to set.
More Ice Cream Recipes
Love this Unicorn Cream recipe? Follow me on Pinterest, Instagram, and Facebook for more!
If you try this recipe, I would really appreciate it if you would please leave a comment and star rating. Thanks!