This post is sponsored by Casper's Ice Cream, however, all content and opinions are entirely my own.
How do you make a FatBoy Ice Cream Sandwich even fatter?  Turn it into a FatterBoy Ice Cream Sandwich Cake, of course!
Summer is the perfect time for all things ice cream! Our freezer is always stocked – always! My son and fiancé eat ice cream almost every single day. I'm not even kidding!
I thought I would have a little fun and change things up a bit for them. I decided to take FatBoy Ice Cream Sandwiches and turn them into an ice cream cake! A FatterBoy Ice Cream Sandwich Cake to be exact!
Why FatBoy? I use FatBoy Ice Cream Sandwiches because they are, well, fat.  Skinny isn't their thing and they have considered being called "fat" a compliment since they first hit the market in 1925! If only we all had that mentality! These ice cream sandwiches are perfect for special occasions or as a fun, well-deserved indulgence, like these FatterBoy Ice Cream Cakes!
FatBoy Ice Cream Sandwiches are made with real ice cream and come in a variety of flavors.  I am using the traditional vanilla ice cream sandwiches for this recipe. Other FatBoy varieties that would work great in this recipe are:  Chocolate, Mint Chocolate Chip, Cookies and Cream, Strawberry, or Raspberry Cheesecake, or even the Key Lime Pie-wich.
FatterBoy Ice Cream Sandwich Cake
Prep!
There isn't really much prep work to do here, but you do need to allow for some extra freezing time between assembling the cake and adding the decorations.  You will need a plate or tray, FatBoy Ice Cream Sandwiches, either liquid chocolate shell or cake icing, and any decorations you want to add.
Create!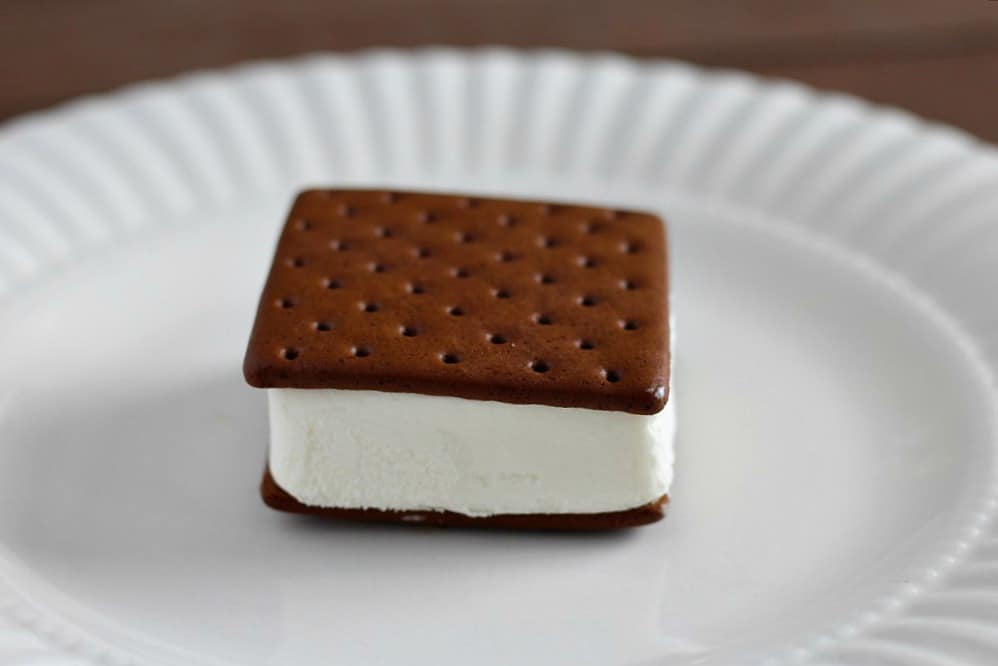 You can make an individual FatterBoy Ice Cream Sandwich Cake by placing one FatBoy Ice Cream Sandwich onto a plate or tray.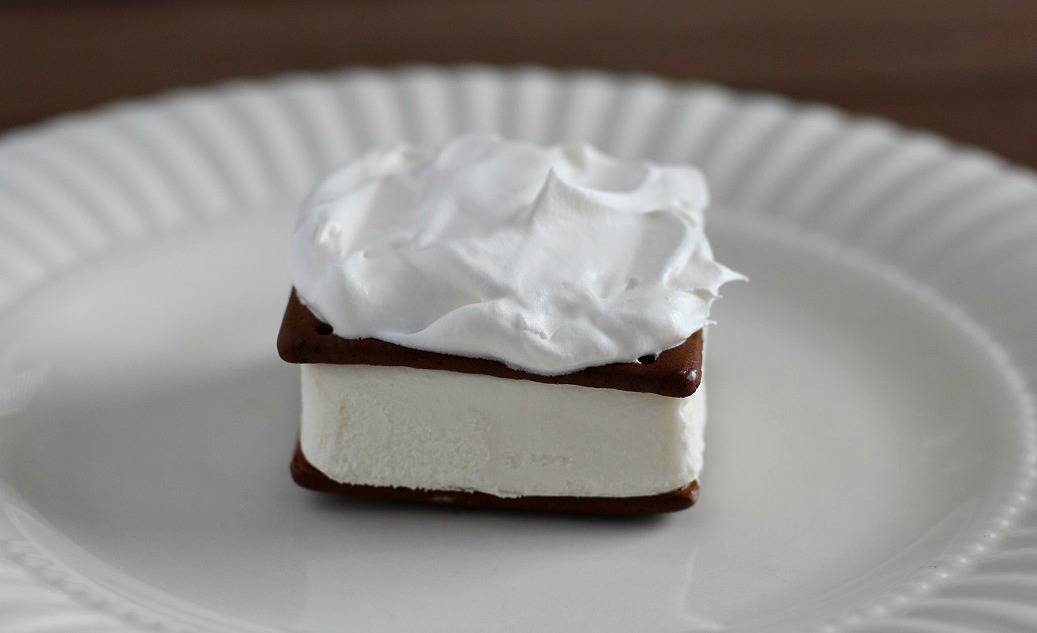 Spread on a thick layer of whipped topping and place a second FatBoy Ice Cream Sandwich on top. Clean off any extra that may come out from the edges. Place the plate into the freezer until the whipped topping is frozen solid, about 1-2 hours.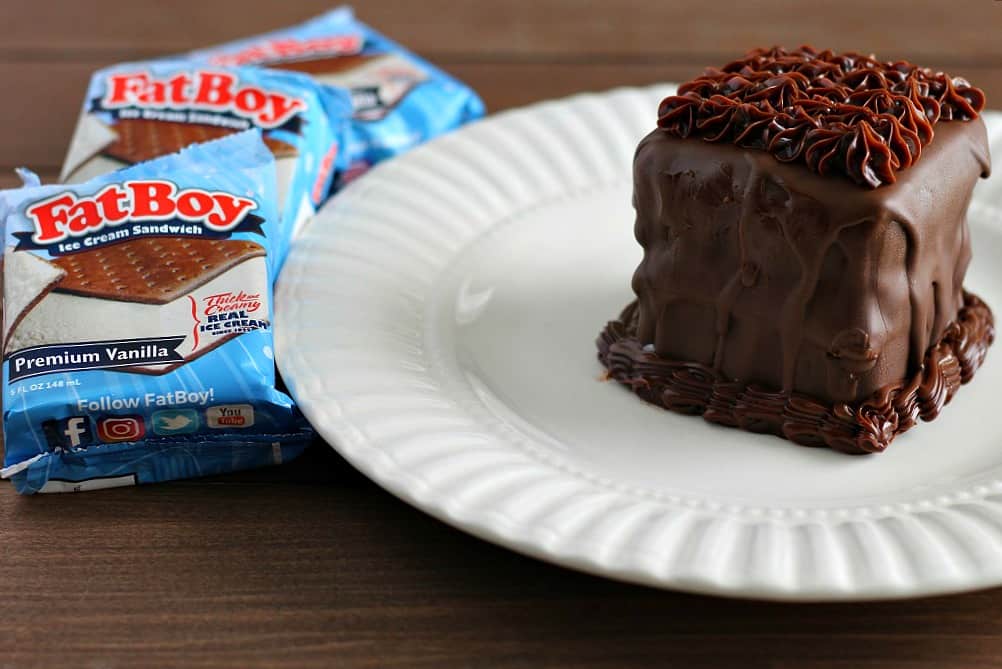 Once the whipped topping is frozen, remove the plate from the freezer.  Cover your FatterBoy Ice Cream Cake in either a liquid chocolate shell or even traditional cake icing.
For my cake, I used the liquid chocolate shell option.  It's really easy and sets quickly.  If you use this option, be prepared to add any sprinkles quickly since it sets so fast! I decided to use cake frosting to add decoration instead.
* To make a multi-serving FatterBoy Ice Cream Sandwich Cake, you can use two layers of 4 or 9 FatBoy Ice Cream Sandwiches. Simply place them on a tray or into a baking pan and follow the same steps as listed above.
Present!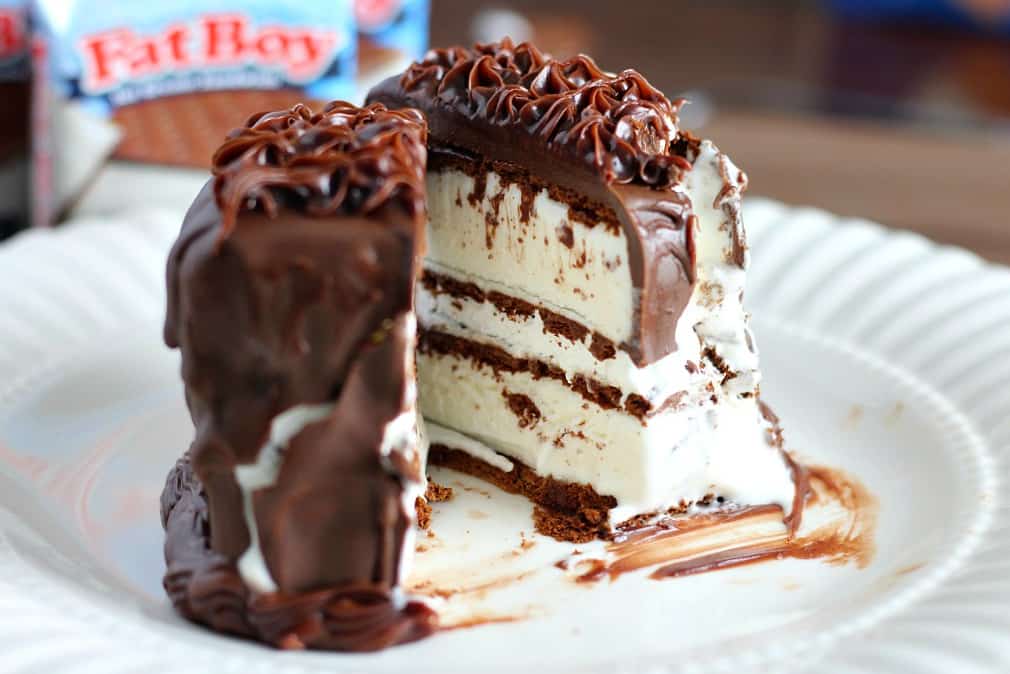 It's best to make these cakes on the plate or tray you plan to serve it on. Decorate them to fit the theme of the party or occasion you are making them for.  Be sure to leave your cake in the freezer until you are ready to serve.
Where to Buy
FatBoy Ice Cream Sandwiches are available at Sam's Club, Associated Food Stores, and more. To find a store that carries FatBoy Ice Cream Sandwiches near you visit the store locator on their website.
Enjoy!