Sweet and nutty flavors marry in the ultimate no-churn ice cream recipe – Maple Walnut Ice Cream. It tastes like it came from a creamery, and you don't need any special equipment.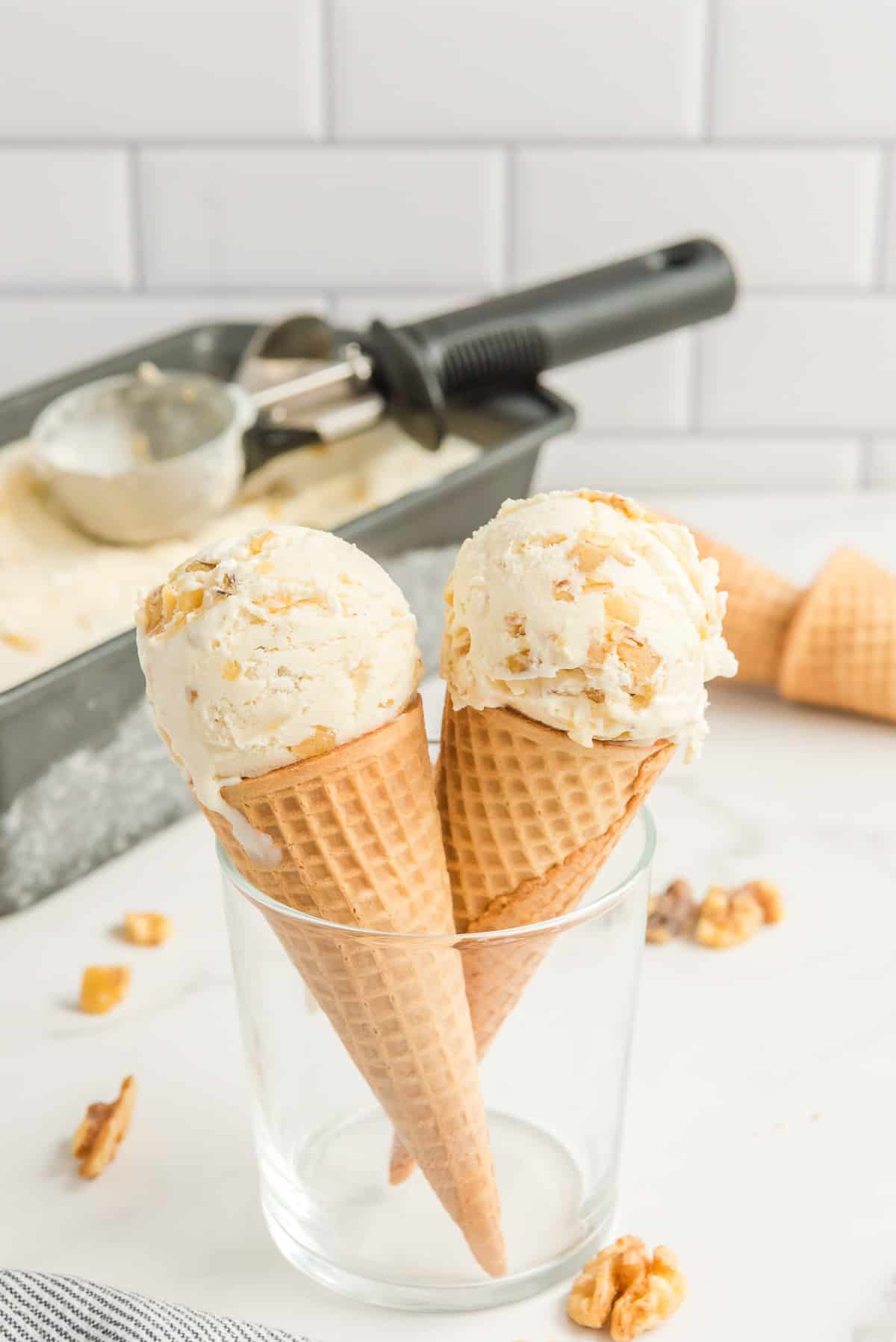 This post contains affiliate links. See our Disclosure Statement for more information.
There are literally five simple ingredients in this maple walnut ice cream recipe. In just a few hours, you'll have the best homemade ice cream.
You can use your favorite brand or type of maple syrup, just make sure that you use real maple syrup. Pure Vermont maple syrup is my favorite. You'll taste the difference!
Anyone that loves sweet, nutty ice cream flavors will really enjoy this classic recipe.
Why This Recipe Works
Maple syrup and walnuts compliment each other really well. This ice cream gets its rich, smoky notes from the toasted walnuts and added sweetness from the maple syrup. The smooth and creamy base seals the deal for this homemade favorite.
Ice cream season doesn't have to end just because the season has changed. The fall flavors of this ice cream make it the perfect treat to enjoy alongside of other seasonal desserts like Pumpkin Spice Coffee Cake or Apple Crostata with Crisp Topping.
Anyone can make a no-churn ice cream – even teens and kids. This is a really easy recipe and you don't even need an ice cream machine. The hardest part is waiting for it to set while it is in the freezer!
Step-By-Step Instructions
Ingredients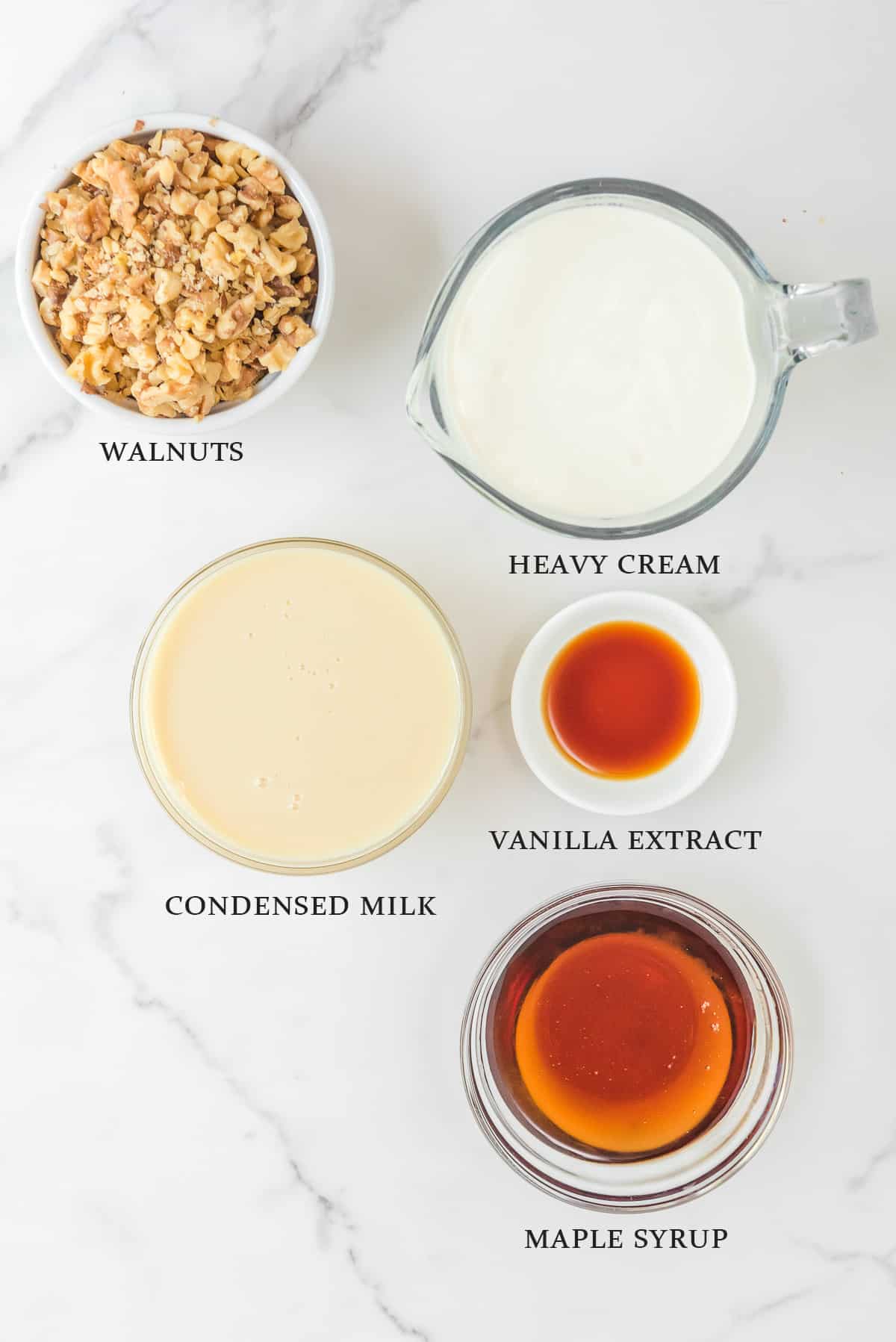 Heavy whipping cream
Sweetened condensed milk
Vanilla extract – For the best flavor, use pure vanilla extract
Pure maple syrup – Only use real maple syrup for the most authentic flavor. Darker maple syrup is stronger than light.
Chopped Walnuts
The entire recipe and instructions can also be found in the recipe card at the bottom of this post. You can also print the recipe from the card, if needed.
Prep!
If you want to toast the walnuts to enhance the flavor even more, be sure to allow them to cool fully before adding to the ice cream.
You can chill the mixing bowl for an hour or two in the freezer before beginning to help the heavy cream whip up nice and fluffy.
Create!
In a large mixing bowl of an electric mixer fitted with a whisk attachment, whip the heavy cream on high for 4-5 minutes or until the cream forms tall, stiff peaks.
When the heavy cream is fully whipped, fold in the condensed milk and vanilla extract. Mix lightly for about 1 minute or until fully combined. The mixture will be thick.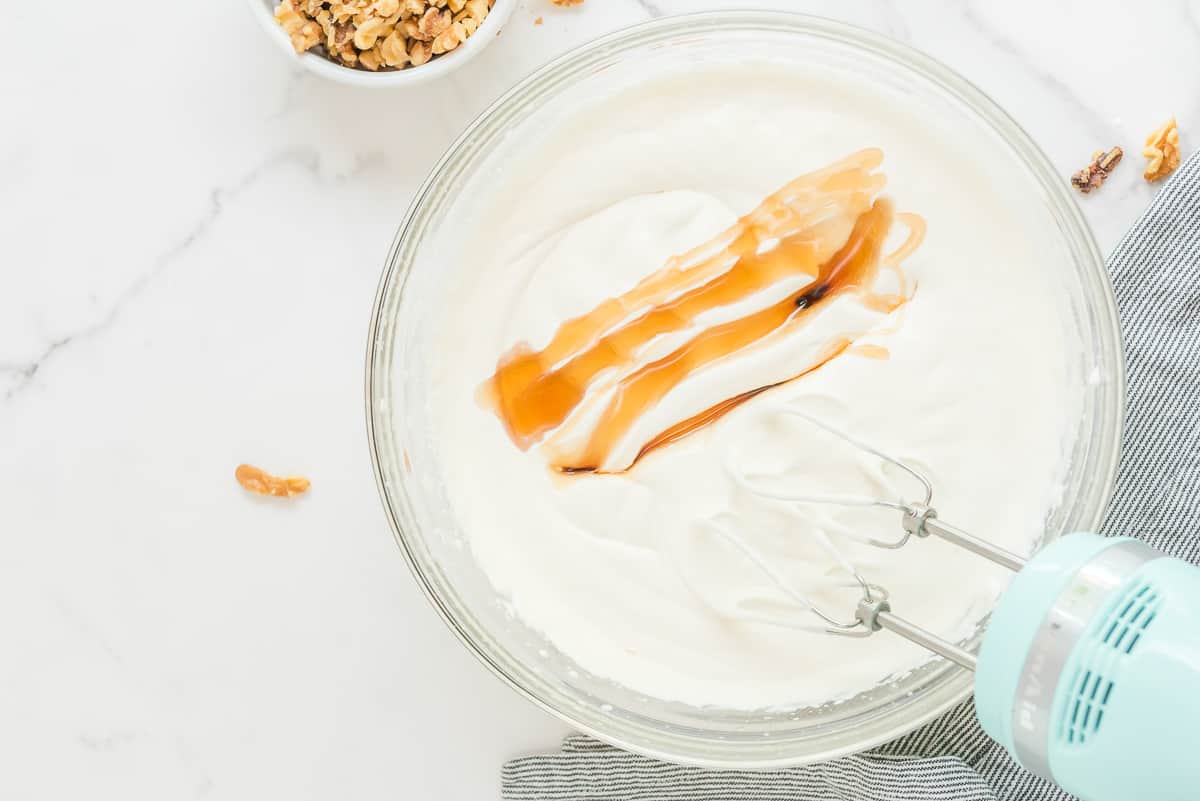 Add in the maple syrup.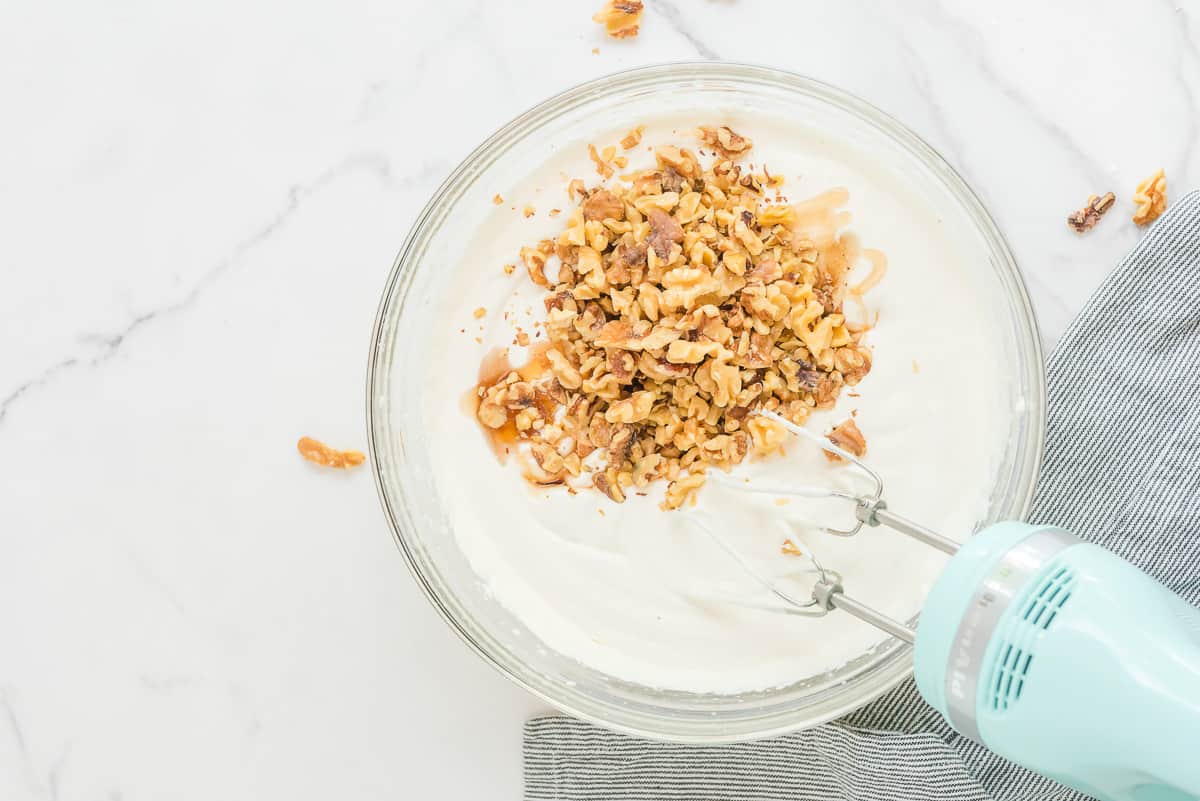 Stir in the walnuts. Mix with a rubber spatula, scraping down the sides of the bowl, until the ingredients are well blended.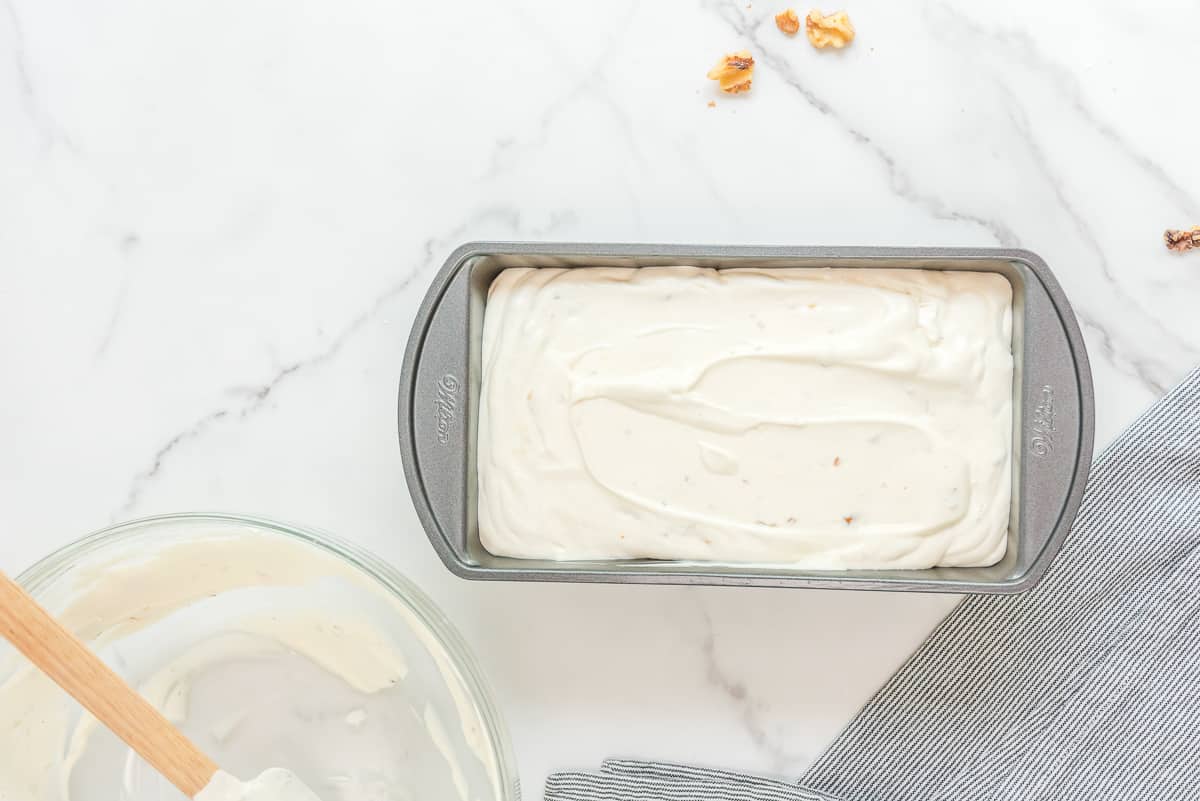 Pour the ice cream into a 9×5-inch loaf pan, cover, and place in the freezer for at least 6 hours or overnight.
Present!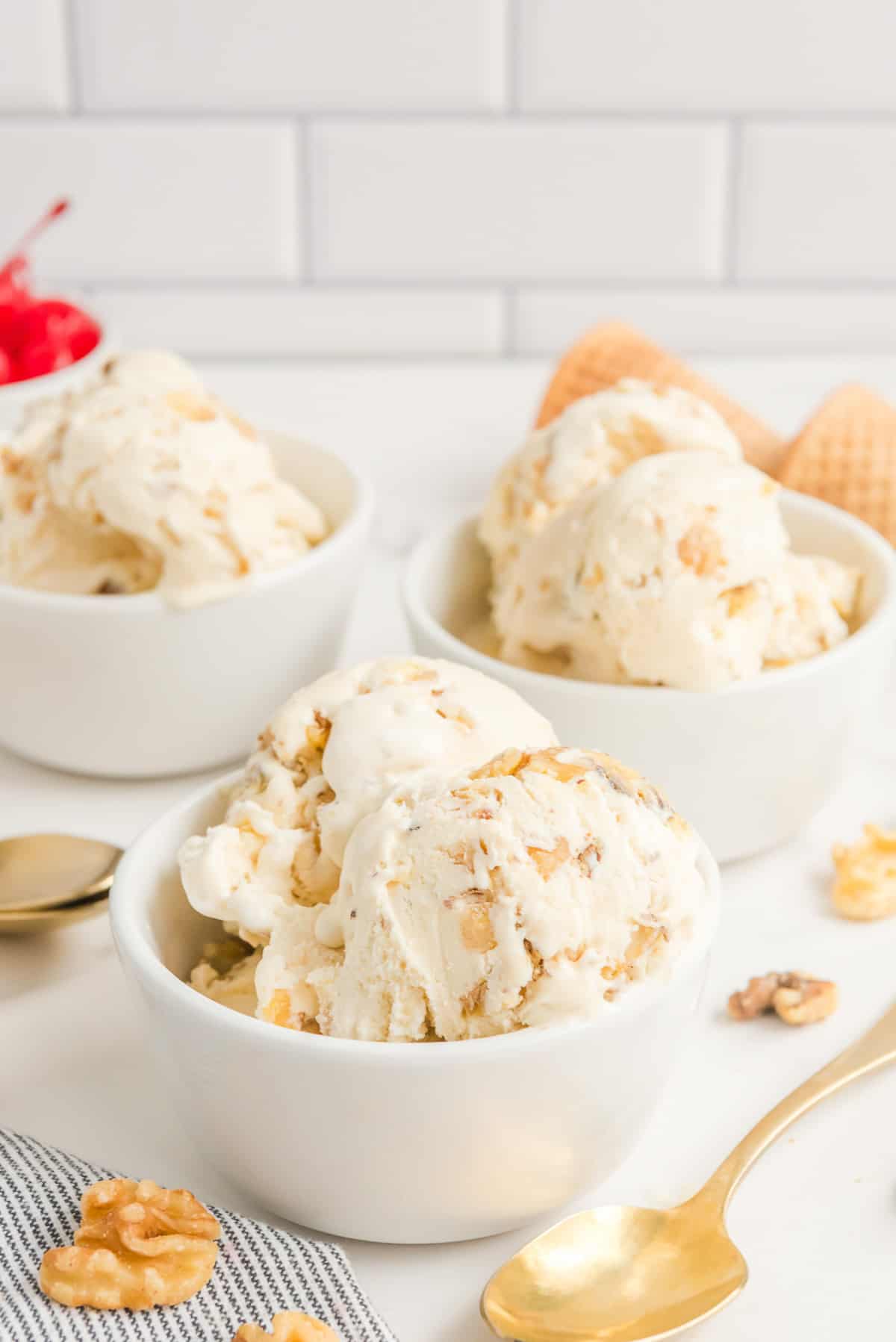 When the chill time is complete, remove from the freezer and serve in a waffle cone or bowl.
Garnish with whipped cream, extra chopped walnuts and/or maraschino cherries.
Tips and Techniques
Darker maple syrup has a stronger flavor. If you want the maple syrup to really shine, use a darker one.
You can toast the walnuts in a skillet for a couple minutes, watching very closely to prevent burning, to enhance the flavor. Let cool completely before adding to the ice cream.
Chilling the mixing bowl in the freezer ahead of time will help the heavy cream whip up nice and fluffy. Be sure to leave the cream in the refrigerator until you are ready to use it. The colder, the better.
Store extra ice cream covered in the freezer. Consume within 10-14 days.
FAQ's
What Is The Difference Between Churned and No Churn Ice Cream?
No-churn ice cream doesn't contain eggs. Most no-churn recipes, like this one, contain sweetened condensed milk instead of granulated sugar, as well.
Can You Churn No Churn Ice Cream?
Yes, you can place no-churn ice cream in an ice cream maker and churn it. Keep an eye on it as you do this, because you might have to add more sweetened condensed milk to keep it creamy.
Why Is My No-Churn Ice Cream Icy?
This happens when large ice crystals form on the ice cream while it freezes. This results either from there being too much water content in the ice cream or storing it in the freezer for too long.
I recommend keeping this maple walnut ice cream in the freezer for up to six months.
More Fall Desserts
Love this No Churn Maple Walnut Ice Cream recipe? Follow us on Pinterest, Instagram, and Facebook for more!
If you try this recipe, I would really appreciate it if you would please leave a comment and star rating. Thanks!