Fresh Blackberry Muffins are a summertime specialty which will delight anyone who gets to enjoy one. Juicy berries and vanilla flavor this tasty breakfast treat, which is incredibly easy to prepare using only a handful of pantry staples.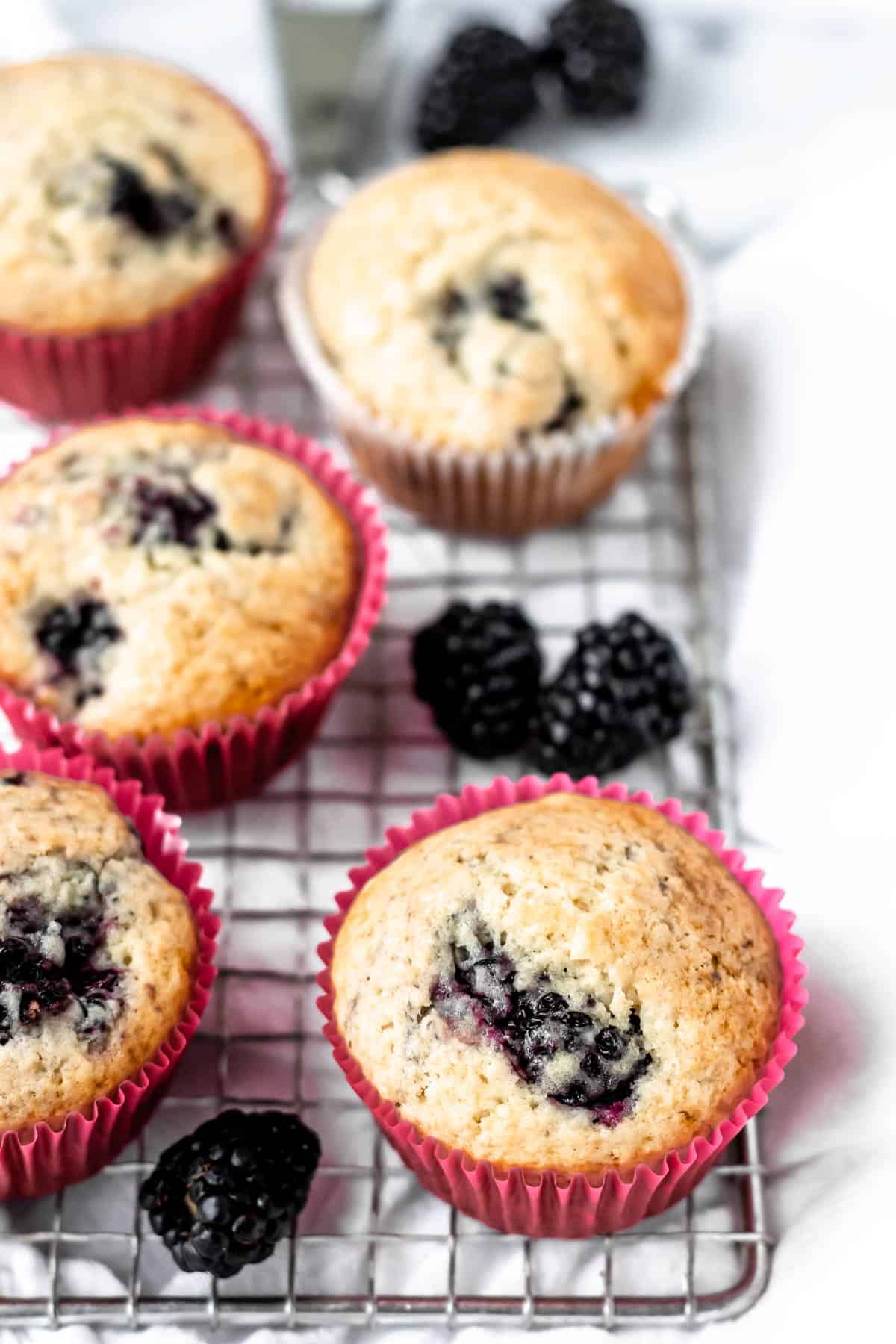 This post contains affiliate links. See our Disclosure Statement for more information.
These Blackberry Muffins are made with simple pantry staples and fresh blackberries, if you happen to be making them in the summer, otherwise feel free to swap in frozen berries in a pinch. You could even try making this recipe with a different variety of berries, such as raspberries or blueberries, too.
This recipe is easy and quick to prepare as well. Muffins are a wonderful breakfast to make and serve throughout the week – just wrap them tightly in plastic to store them for a few days. They're delicious served with tea as a light afternoon snack too.
If you're a big fan of blackberries, be sure to try these other recipes for an Easy Blackberry Crisp, Blackberry Scones, and Blackberry Cobbler.
Why This Recipe Works
Blackberry muffins are a quick and easy breakfast to make. They're great for making ahead of time and serving throughout the week as well.
All you'll need is a handful of pantry ingredients and fresh or frozen blackberries to make this delicious recipe.
These muffins are great for breakfast or even an afternoon snack. Try pairing them with coffee or tea for a flavorful pick-me-up.
Step-By-Step Instructions
Ingredients
2 cups all purpose flour
3/4 cup granulated sugar
2 teaspoons baking powder
1/4 teaspoon salt
1/2 cup whole milk
2 eggs
8 tablespoons (1 stick) unsalted butter (melted and cooled some)
1 teaspoons vanilla extract
6 ounces blackberries (about 1 cup)
You will also need a standard size muffin pan and paper liners.
Chef's Tip: if you like lemon added to your berry-flavored desserts, you can add 1 tablespoon of fresh squeeze lemon juice or 1 teaspoon of lemon zest to the batter.
The entire recipe and instructions can also be found in the recipe card at the bottom of this post. You can also print the recipe from the card, if needed.
Prep!
Preheat your oven to 400°F.
Line the muffin pan with the paper liners. Set aside.
Create!
Combine the flour, sugar, baking powder and salt in a medium bowl and stir to evenly blend.
In a smaller bowl or larger measuring cup, whisk together the milk, eggs, butter and vanilla extract.
Stir the wet ingredients into the dry until just combined. Be careful not to over-mix the batter.
Gently fold in the blackberries. Some may break and that's okay, but the goal is to have full, plump, juicy blackberries in every muffin.
Fill each well of the muffin pan about 2/3rds full with batter. I use about 1/4 cup per muffin.
Chef's Tip: if you'd like to make a streusel for the muffin tops, now is the time to prepare it and add it to the muffins.
Bake 18-20 minutes or until the muffins are lightly browned and a toothpick inserted into the center comes out clean.
Let cool.
Present!
You can serve these muffins as is, or make a vanilla glaze, like the one in this Mixed Berry Scones recipe, to drizzle on top.
Tips and Techniques
You can add 1 tablespoon of lemon juice or 1 teaspoon of lemon zest to the batter, if you prefer.
If you'd like to top your muffins with a streusel, do so before baking.
Store extra muffins in a single layer with a paper towel over the tops in an airtight container at room temperature. Consume within 3-5 days.
FAQ's
Can You Freeze Blackberry Muffins?
Yes. Allow muffins to fully cool before freezing. You can freeze them in the muffin tin, then transfer them to freezer bags once they are frozen. You can also wrap them in aluminum foil and freeze them individually. Muffins can be frozen for up to 2-3 months.
When Are Blackberries In Season?
Blackberries are harvested from May to October, but the peak of their season is the summer months of June, July and August.
More Berry Recipes
Love this Blackberry Muffins recipe? Follow me on Pinterest, Facebook, and Instagram for more!
If you try this recipe, I would really appreciate it if you would please leave a comment and star rating. Thanks!