With sweet and tangy blackberries and a crunchy topping, this easy Blackberry Crisp recipe is everything a summer dessert should be. Enjoy it as is or with a big scoop of vanilla ice cream for a delicious ending to a beautiful summer day.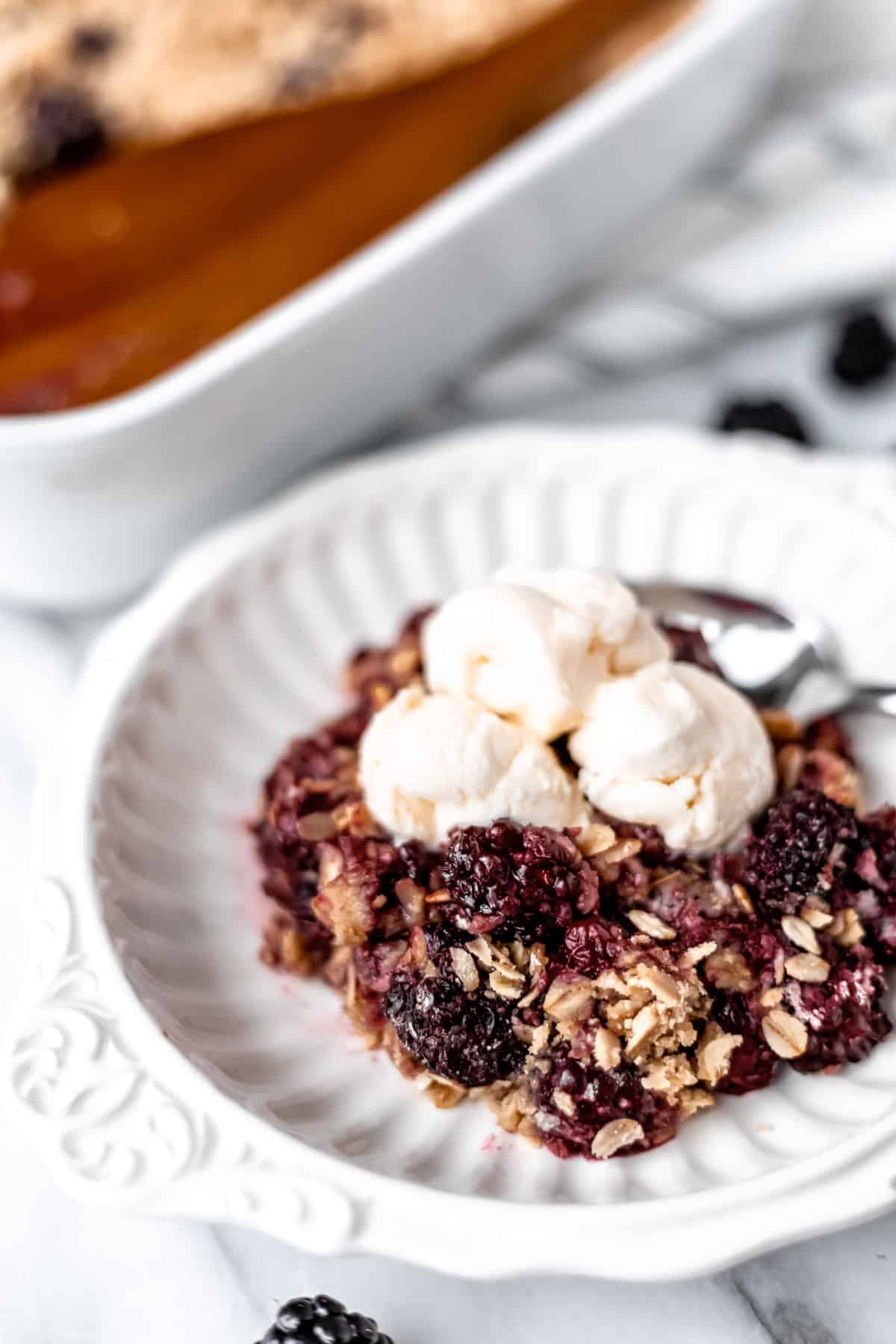 This post contains affiliate links. See our Disclosure Statement for more information.
Growing up, I didn't try too many berries, except for strawberries. I don't know when fresh blueberries and raspberries came into my life, but I most definitely remember the moment I fell in love with blackberries.
There is nothing quite like fresh-from-the-farm blackberries, and my first taste of this dark, juicy little berry was just that – fresh and homegrown.
When I lived in Utah, there was a farmer's market right around the corner from my office. I would stop every single Friday to see if the old farmer with the blackberries and lemon cucumbers was there. If he was, I would buy as many cartons as I could. Often, he was sold out before I even got there.
My son and I would eat them all on the drive home. They never made it into a single recipe.
Sadly, those days have long passed. I haven't been fortunate enough to come across homegrown blackberries where I live now, so we buy organic from the grocery store for the best alternative. While they aren't quite the same, they still bake up beautifully in desserts like in this Blackberry Crisp recipe.
Another favorite blackberry recipe of mine are these Blackberry Scones.With both of these recipe, you can easily swap out the blackberries for any other berry you prefer.
Why This Recipe Works
This recipe comes together so quickly. The hardest part is cutting in the butter and then waiting for it to get done baking.
Fresh blackberries are mixed with a little sugar and hint of cinnamon, then topped with a crunchy brown sugar oat topping for an amazing sweet and lightly spiced dessert.
You can enjoy this crisp with a big scoop of vanilla ice cream, but it's just as delicious all on its own. This is also one of those dessert recipes you can get away with eating for breakfast too!
How to Make Blackberry Crisp
Ingredients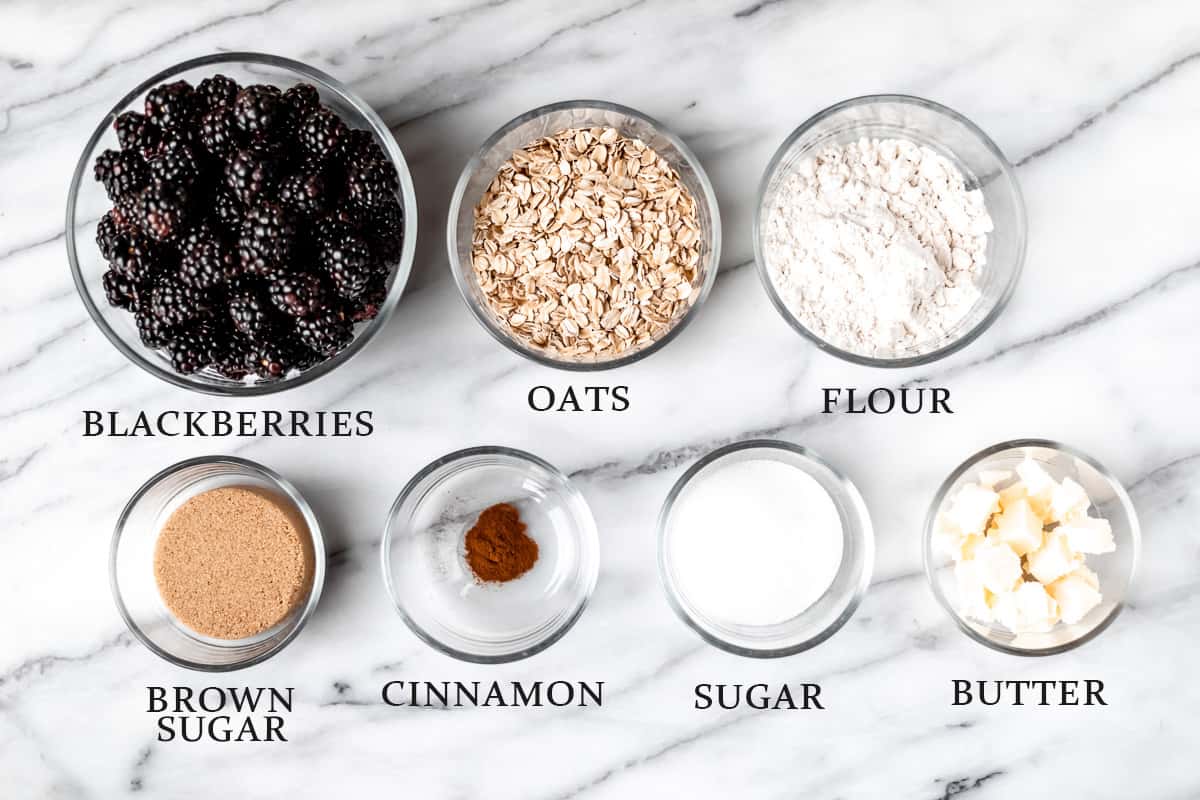 Blackberry Filling
4 cups fresh blackberries: fresh blackberries are recommended for the best results, but frozen blackberries can be used if needed.
1/4 cup all purpose flour: you can use gluten free all purpose flour, if needed.
1/4 cup granulated sugar
1/4 teaspoon cinnamon
Crisp Topping
1 cup rolled oats: be sure that your oats are labeled as gluten free, if needed.
1/3 cup all purpose flour: you can use gluten free all purpose flour, if needed.
1/2 cup brown sugar (packed)
1/4 cup unsalted butter (cut into small pieces)
The entire recipe and instructions can also be found in the recipe card at the bottom of this post. You can also print the recipe from the card, if needed.
Prep!
Preheat your oven to 350°F.
Wash the blackberries and gently pat dry.
Create!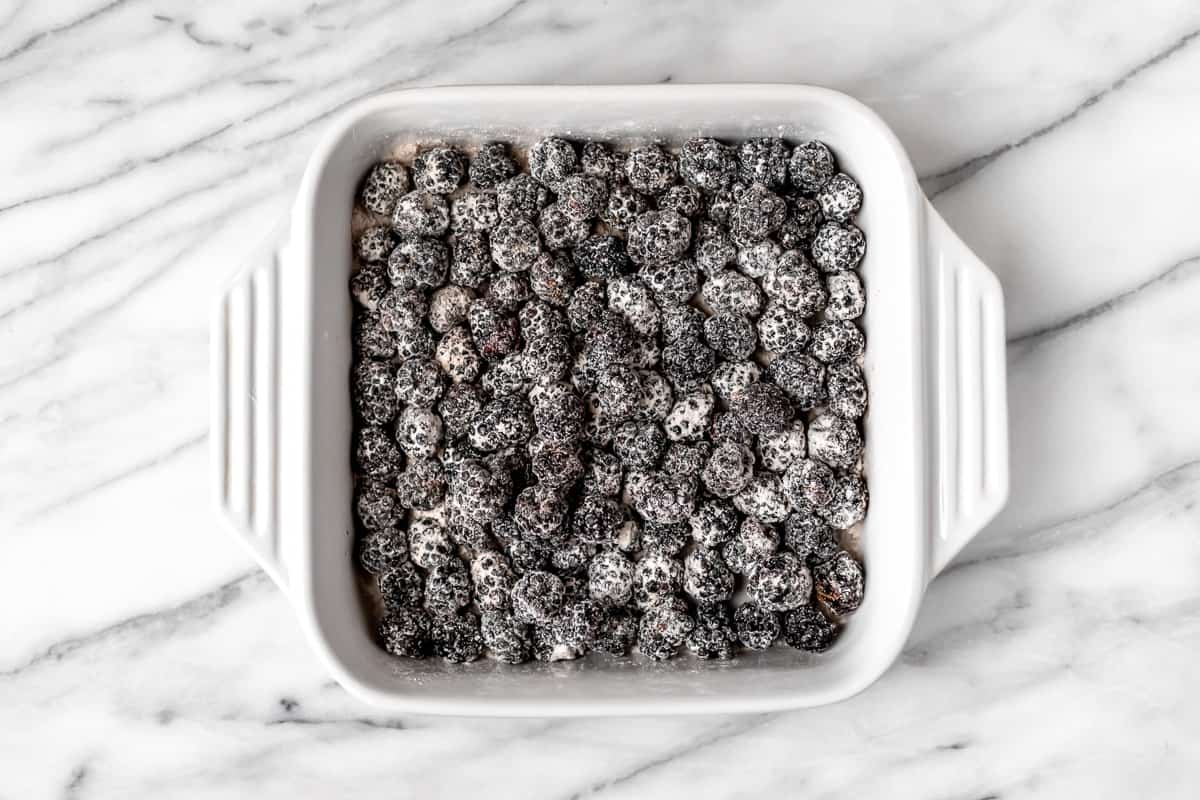 Combine the blackberries, flour, sugar, and cinnamon in a medium size casserole dish. Toss gently to coat. Some excess will fall to the bottom, it's okay.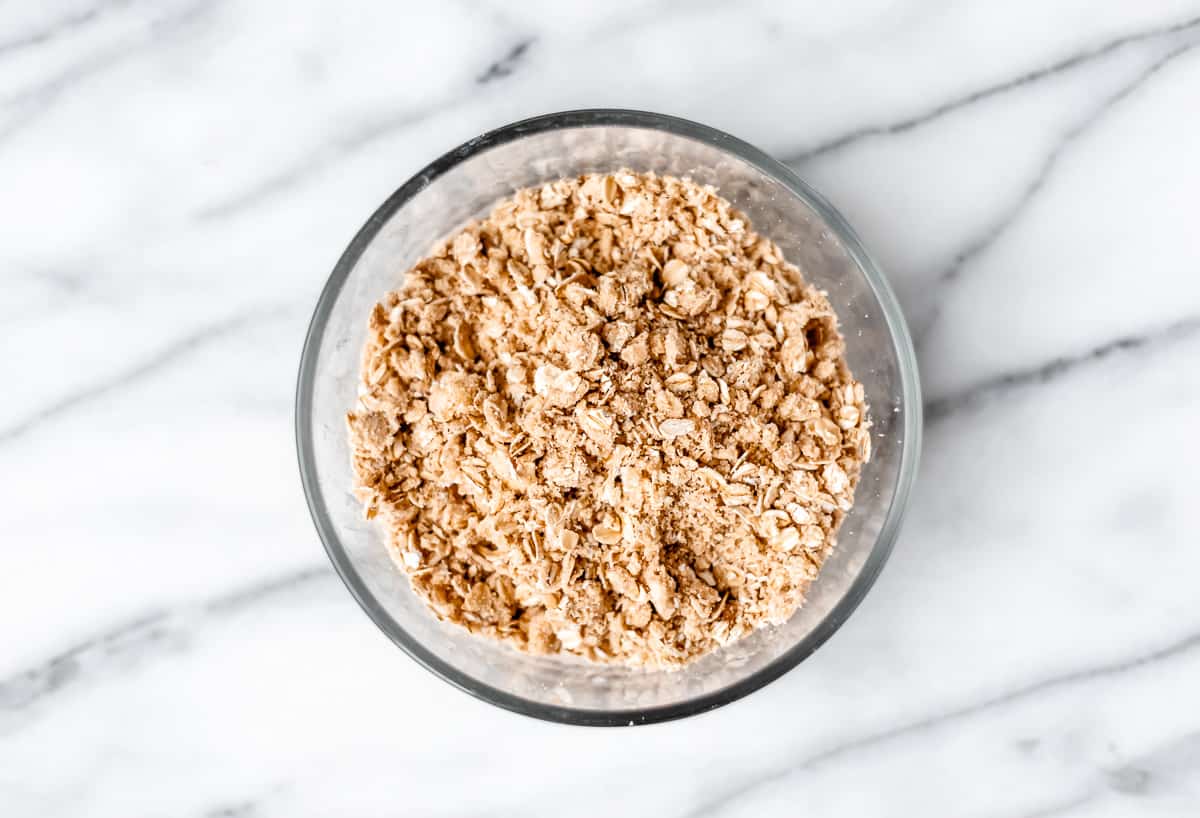 In a small bowl, combine the oats, 1/3 cup flour, brown sugar, and the pieces of butter. Using a fork or pastry cutter, mash and blend until the mixture resembles coarse crumbles.
Sprinkle the crumbs evenly on top of the blackberry mixture.
Bake for 30-40 minutes, or until the crisp is golden brown.
Present!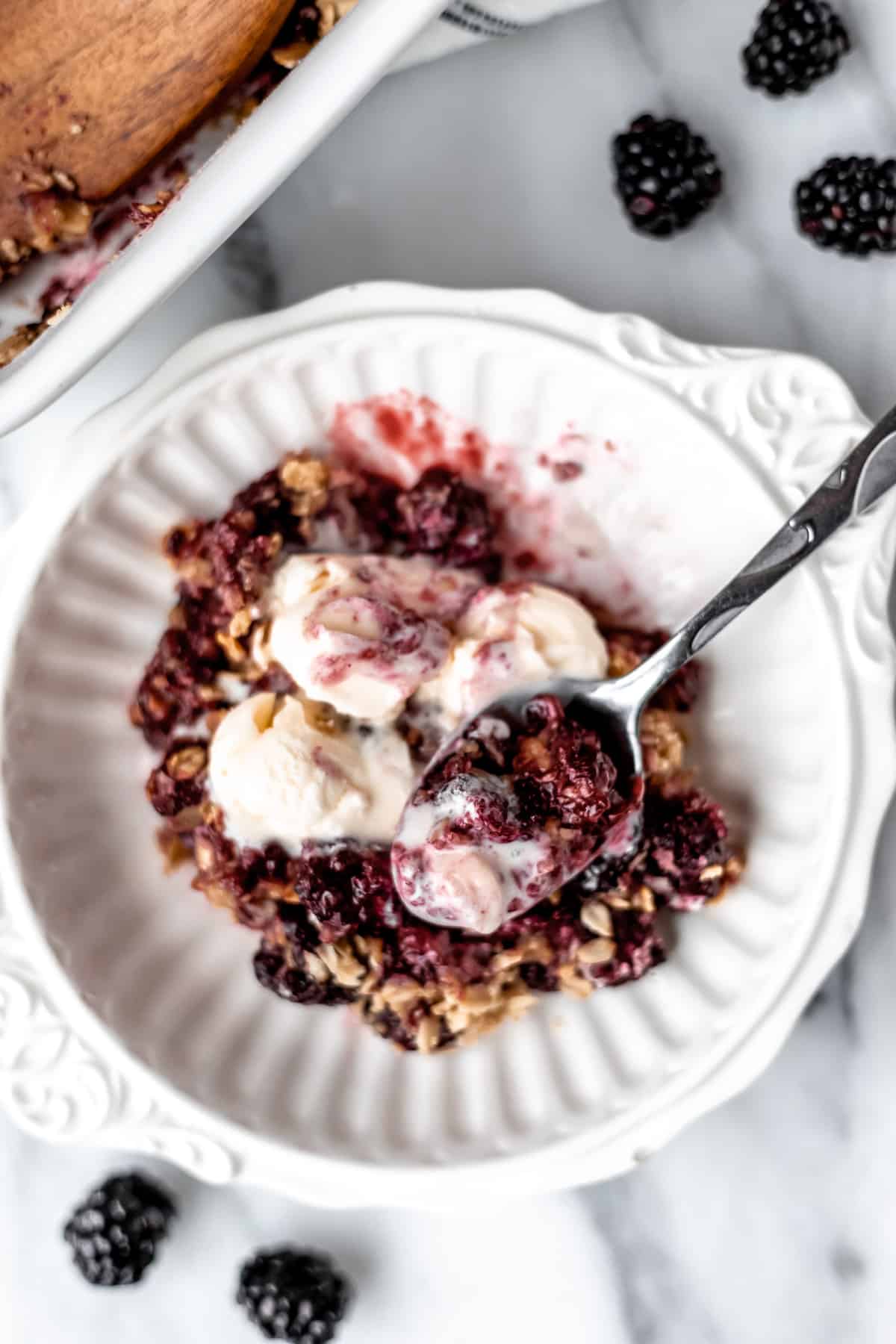 Serve warm or chilled. Or, try it with a big scoop of vanilla ice cream.
Tips and Techniques
It is strongly recommended to use fresh blackberries for the best results.
You can easily make this recipe gluten free by using gluten free flour and oats.
Store leftover blackberry crisp tightly wrapped in the refrigerator. Use within 2-3 days.
FAQ's
Can You Use Frozen Blackberries in Blackberry Crisp?
The simple answer is yes, but fresh blackberries typically give much better results.
How Do You Make A Fruit Crisp Gluten Free?
In most recipes for fruit crisp, you can simply substitute gluten free all purpose flour and ensure that the oats are gluten free as well.
Can You Use White Sugar In Place of Brown Sugar In Fruit Crisp?
Yes, but you can also add a little molasses or maple syrup to it to add more flavor.
More Dessert Recipes
Love this Easy Blackberry Crisp recipe? Follow me on Pinterest, Instagram, and Facebook for more!
If you try this recipe, I would really appreciate it if you would please leave a comment and star rating. Thanks!
This recipe was originally published on June 14, 2018. It was updated with more new images, step-by-step instructions, tips, techniques, and FAQ's in May 2023.