Blackberry Scones are loaded with juicy, sweet blackberries in a moist, tender buttermilk based scone recipe. These delicious scones can be enjoyed for breakfast, brunch, or as a sweet dessert. They are the perfect treat to enjoy with a hot cup of coffee or tea.
This post contains affiliate links. See our Disclosure Statement for more information.
This Blackberry Scones recipe is made with the same easy scones recipe base that I use in my very popular recipes for White Chocolate Raspberry Scones and Mixed Berry Scones.
Once out of the oven, the warm scones are drizzled with a simple vanilla glaze to sweeten them a little more.
These are one of the best blackberry recipes for breakfast or dessert. They are right up there with another favorite, Blackberry Crisp.
Why This Recipe Works
Making scones from scratch is not as difficult as you may think. You might also be surprised at how fast you can prepare a batch.
The most important thing is keeping the temperature of the ingredients and dough just right. You need to use very cold butter and chill the dough before cutting and baking them to get perfect results.
Scones can be enjoyed for breakfast, brunch, or anytime you want a sweet treat. They pair perfectly with a cup of tea of coffee.
These scones are made with fresh berries and buttermilk. They are not dry like many scones can be. This is because using buttermilk results in more moisture and a flaky, tender crumb.
You can use this easy scones recipe as a base to add dried, frozen or fresh fruits, chocolate, or other ingredients to create just about any scones flavor that you like.
Step-By-Step Instructions
Ingredients
For the scones you will need: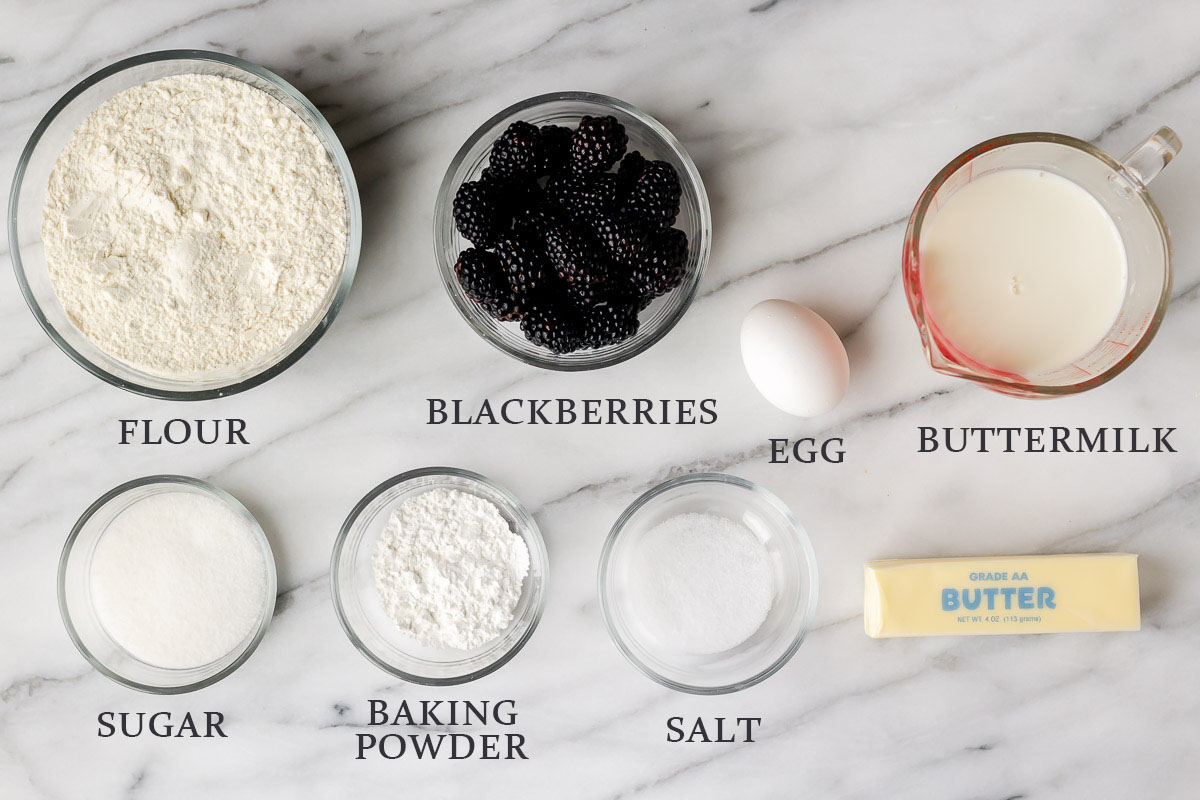 2 1/2 cups all purpose flour
1/4 cup granulated sugar
1 tablespoon baking powder
3/4 teaspoon salt
8 tablespoons butter (cold and cut into pieces or grated)
1 egg
1 cup buttermilk (if you don't have buttermilk, you can make your own by adding 1 tablespoon of lemon juice or vinegar to one cup of milk. Let it sit about 5 minutes or until it starts to coagulate or thicken)
1 cup blackberries (you can use frozen blackberries, if you prefer)
For the vanilla glaze you will need: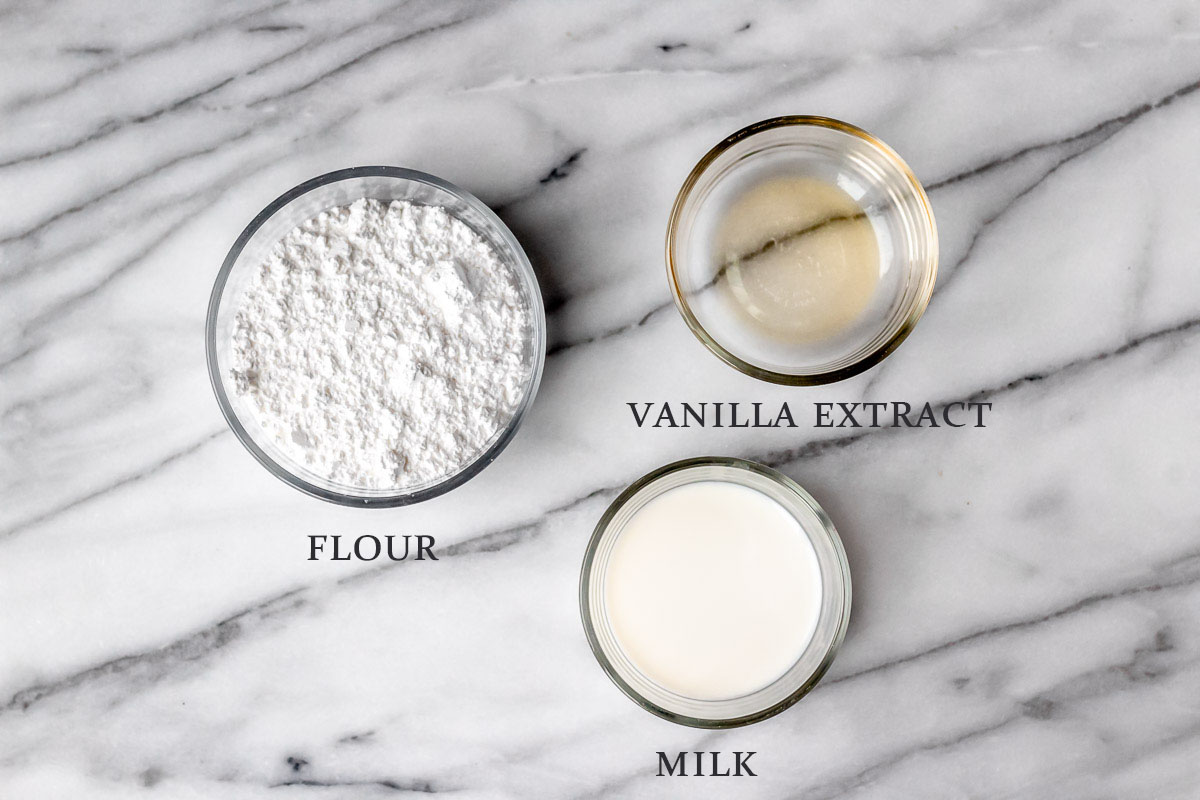 1 cup powdered sugar
2-3 tablespoons milk
1/2 teaspoon vanilla extract
Tip: if you want the scones to have extra sweetness or just a sparkly topping, you can add a coarse sugar to the tops after you glaze them.
The entire recipe and instructions can also be found in the recipe card at the bottom of this post. You can also print the recipe from the card, if needed.
Prep!
Preheat your oven to 400°F.
Create!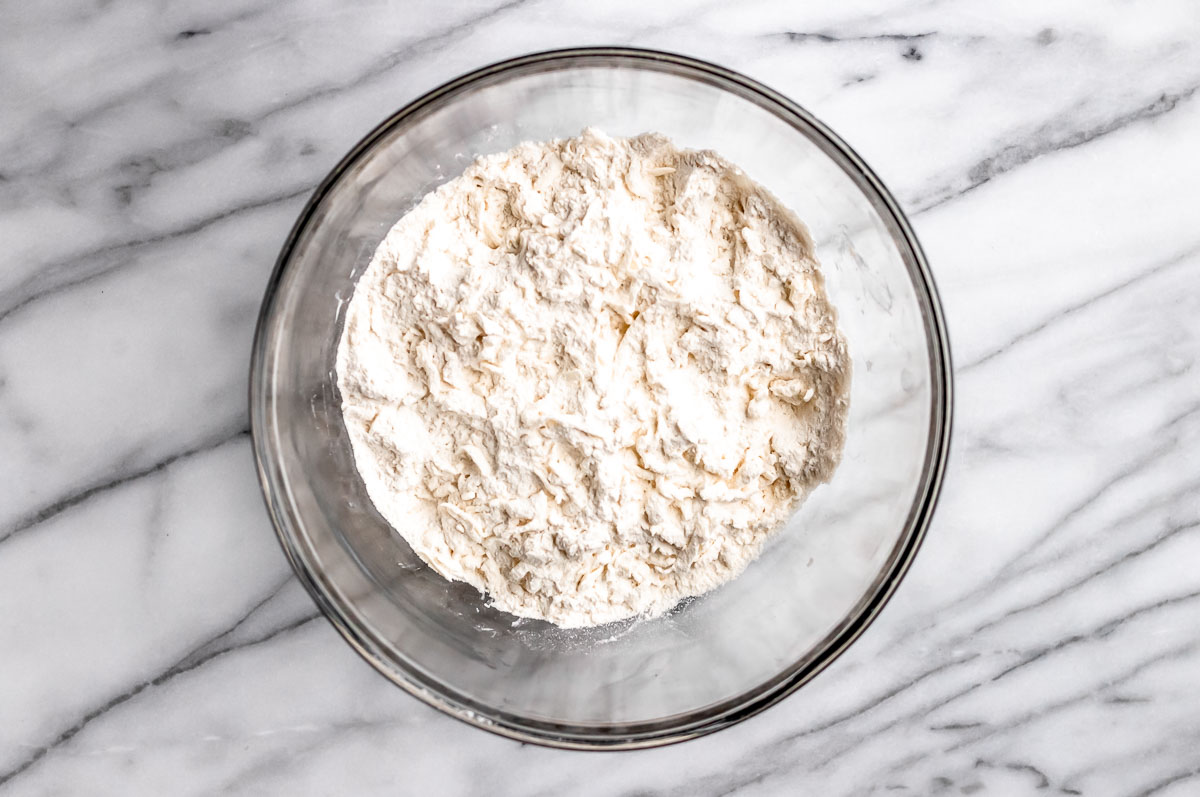 Combine the flour, sugar, baking powder, and salt in a large bowl and mix to combine.
Cut in the butter using a pastry blender or fork until just pea size pieces remain.
I don't recommend using your hands. Using your hands will warm the dough faster and the goal is to keep it as cold as possible.
Note: the butter will not be completely blended into the flour. This is okay! The pieces of butter will help to create flaky layers in the dough as it bakes.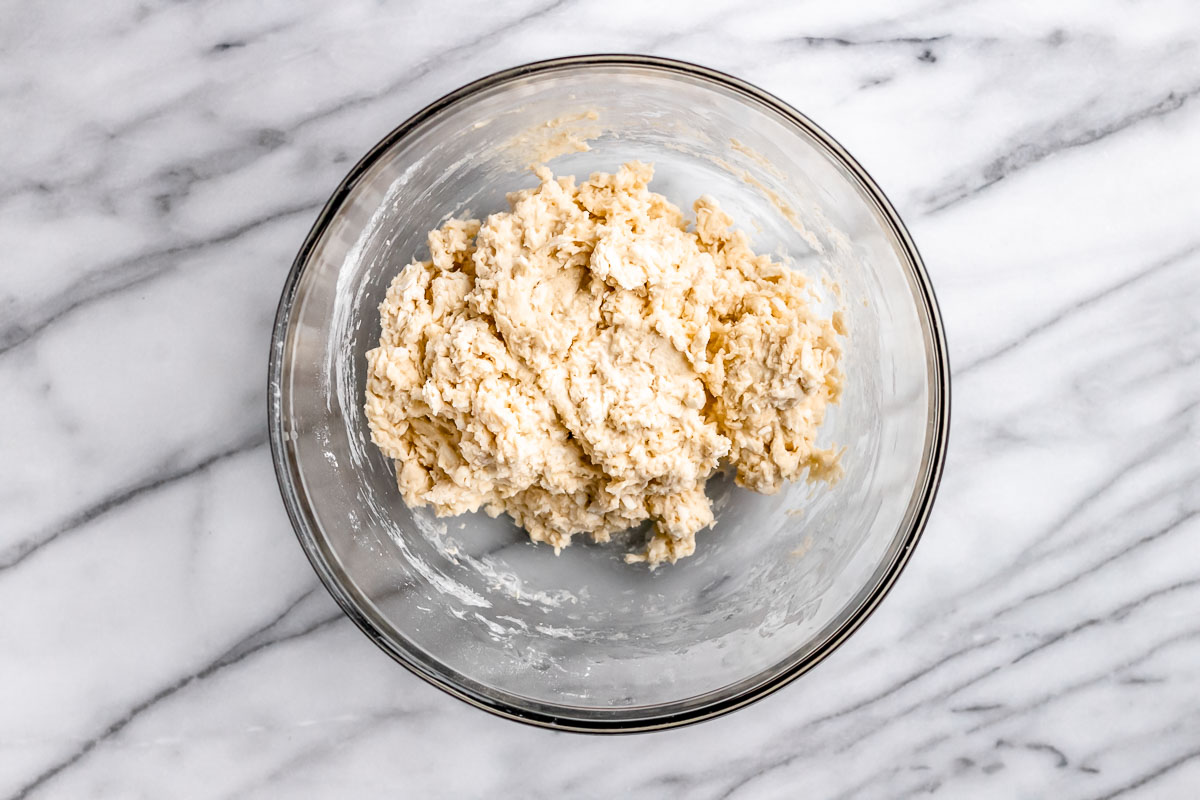 In a small bowl, whisk together the egg and 1/2 cup of the buttermilk.
Mix the egg and buttermilk into the flour, adding extra buttermilk, as needed, to get the dough to just stick together.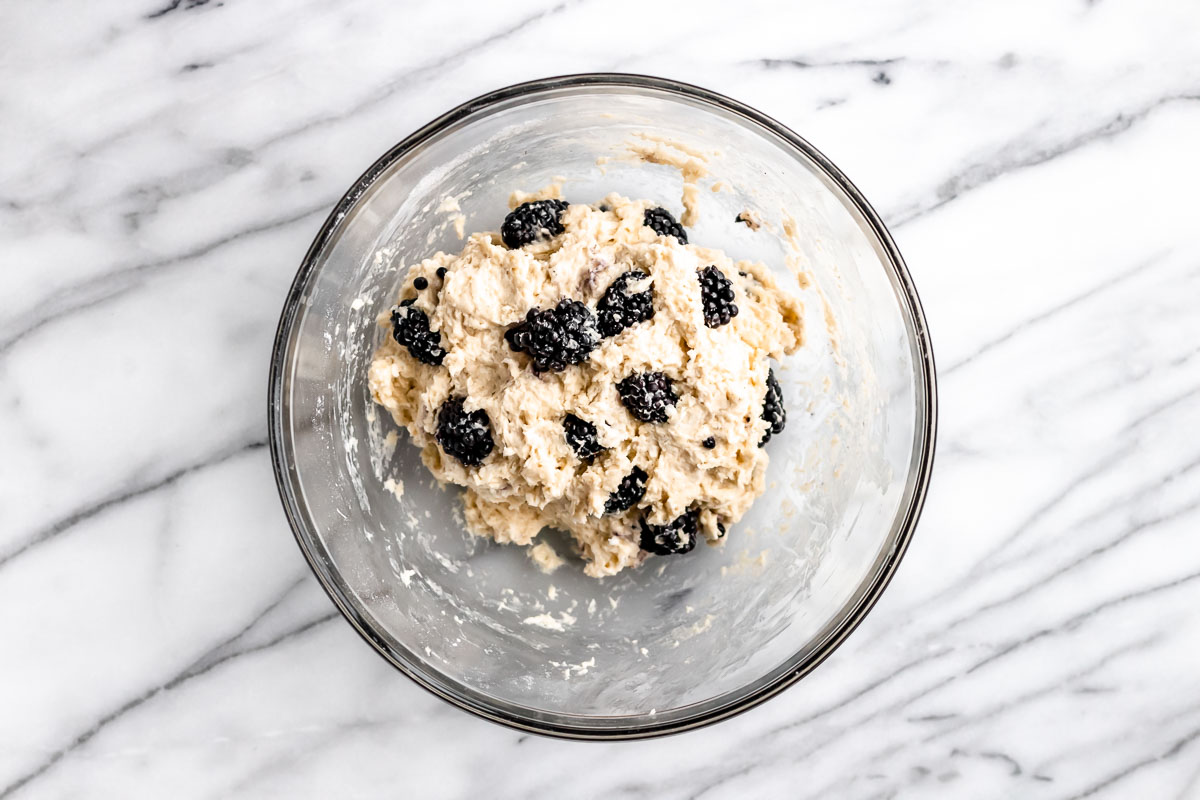 Gently fold in the blackberries.
It's okay if some of the blackberries break while mixing them in. The juices from the berries will actually help distribute the flavor throughout the scones.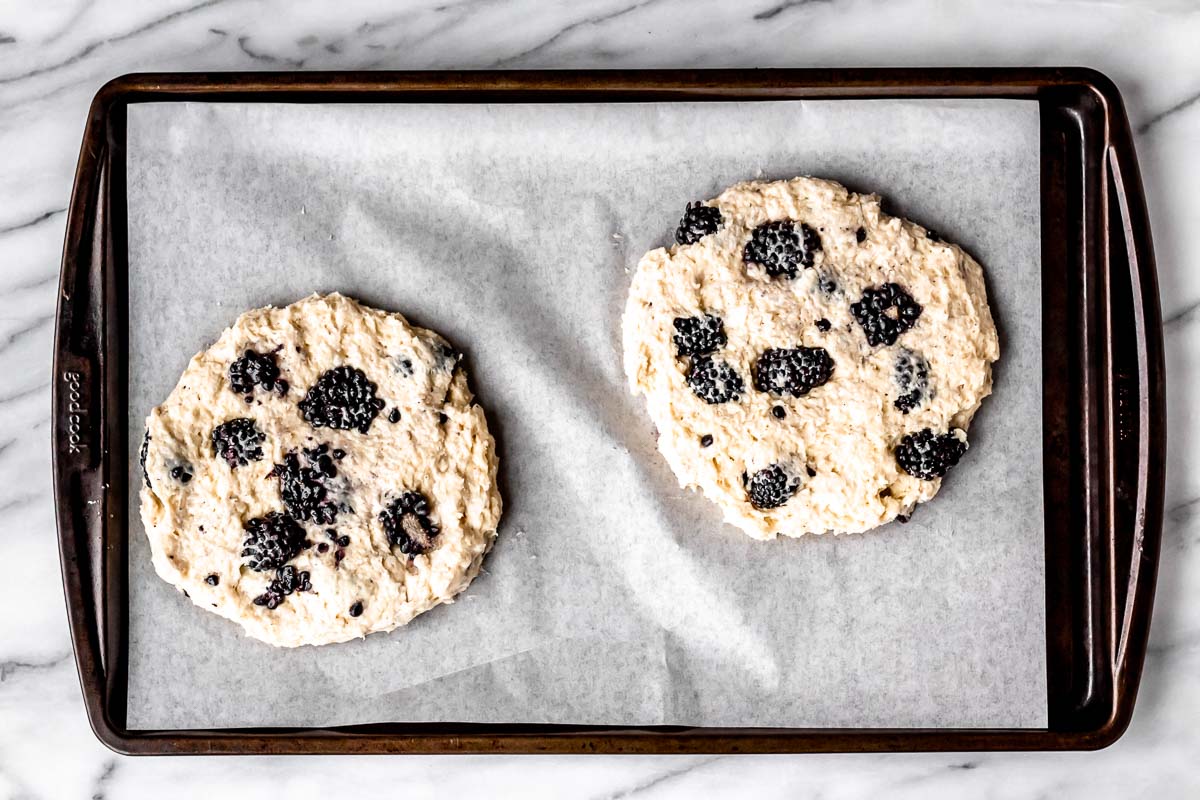 Line a baking sheet with parchment paper or a Silpat mat.
Shape the dough into 2 round circles, about 1/2 to 3/4-inch high on the baking sheet.
Place the dough in the refrigerator for about 30 minutes (or the freezer for quicker cooling) to get it very cold before baking. This helps the dough rise better and will give you the best scones.
Remove the dough from the refrigerator and cut the dough into 6 triangles (or 4 triangles for larger scones) and separate them an inch or two.
Bake for 12-15 minutes or until lightly browned on the bottoms. Remove to a wire rack to cool.
Present!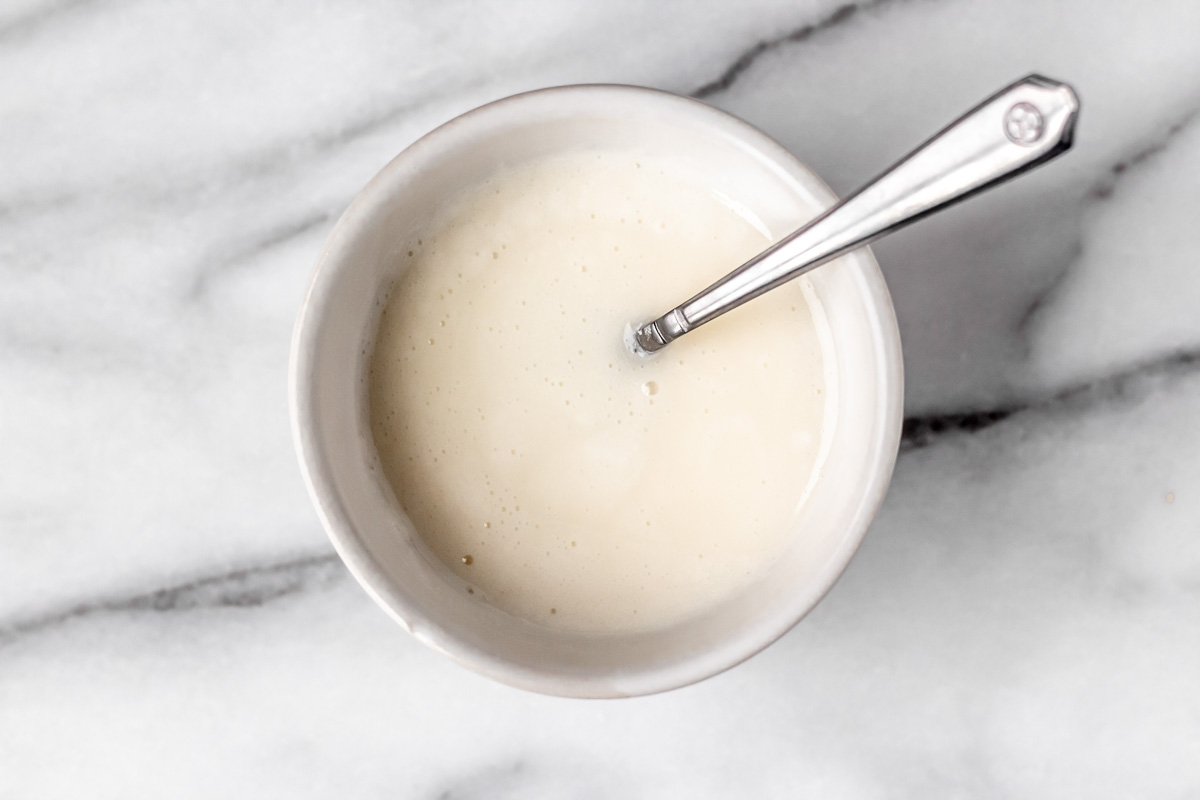 Combine the powdered sugar, milk, and vanilla extract until smooth.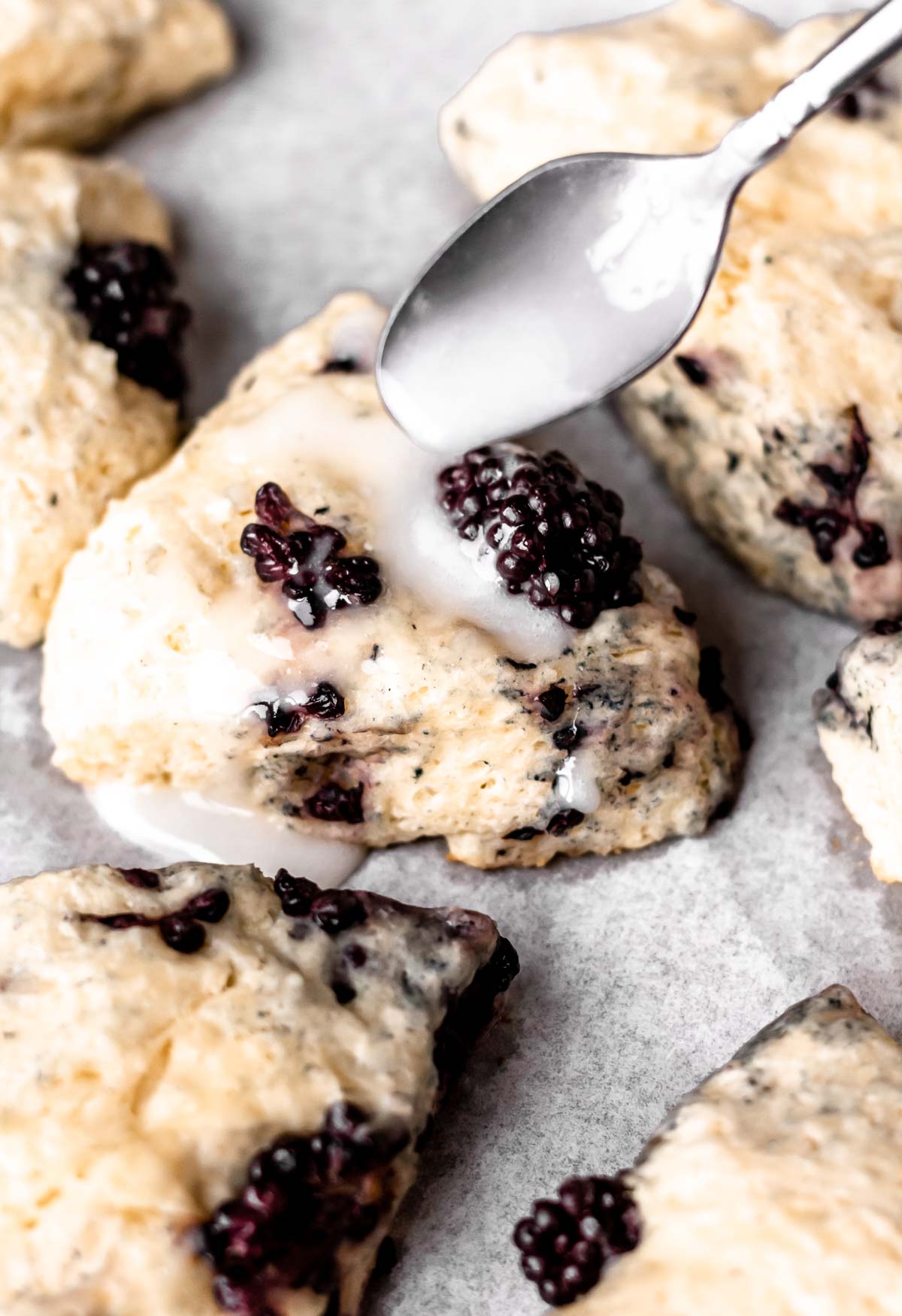 Drizzle as much of the glaze as you'd like over the scones.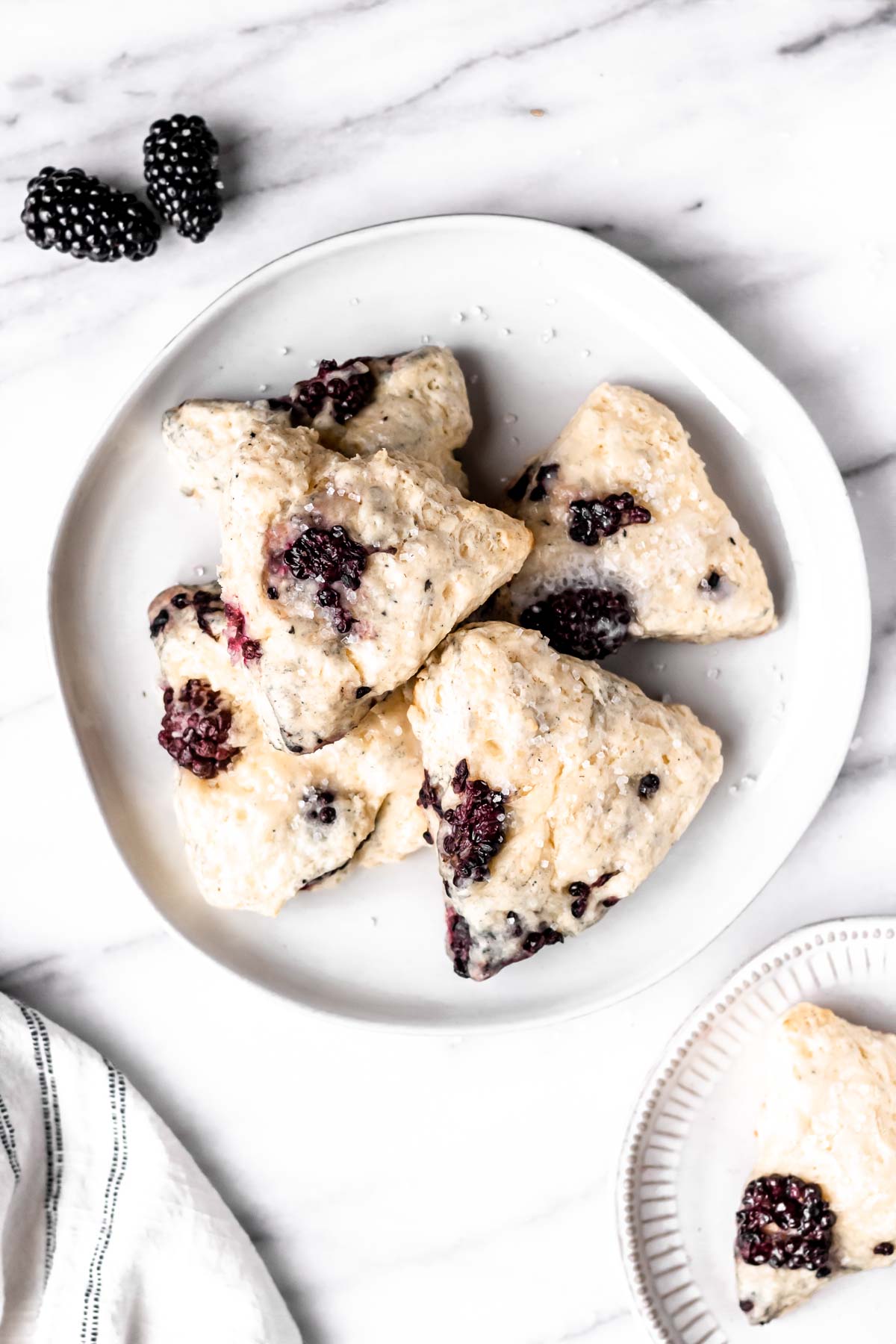 Serve warm or at room temperature.
Tips and Techniques
Ensure that your butter is very cold when you are making scones.
Don't skip the step where you place the shaped dough in the refrigerator until it's very cold. Cold dough rises better, so it's important to keep the dough cold until it goes into the oven for the best scones.
For extra sweetness and a sparkling topping, you can add coarse sugar to the tops after you glaze them.
Store leftover scones in an airtight container at room temperature. Use within 1-2 days for best results.
FAQ's
Can Scones Be Made Ahead Of Time?
You can make scones the night before. Shape the dough into rounds, then refrigerate until morning, or when needed.
Can You Freeze Scones?
Yes. Shape and cut the scones dough, if desired. Wrap them individually tightly in plastic wrap and store in the freezer. To bake, you may need to add a few minutes to the bake time of the recipe. Use any frozen scones within a month for best results.
More Scones Recipes To Try
Love this Mixed Berry Scones recipe? Follow me on Pinterest, Instagram, and Facebook for more!
If you try this recipe, please leave a comment and star rating below. I would really appreciate it!