Sweet Potato Breakfast Hash is a hearty meal full of sweet and savory flavors. Crispy bacon, fried eggs, sweet potatoes, onions and peppers make this dish an irresistible one-pan meal to be enjoyed anytime of the day.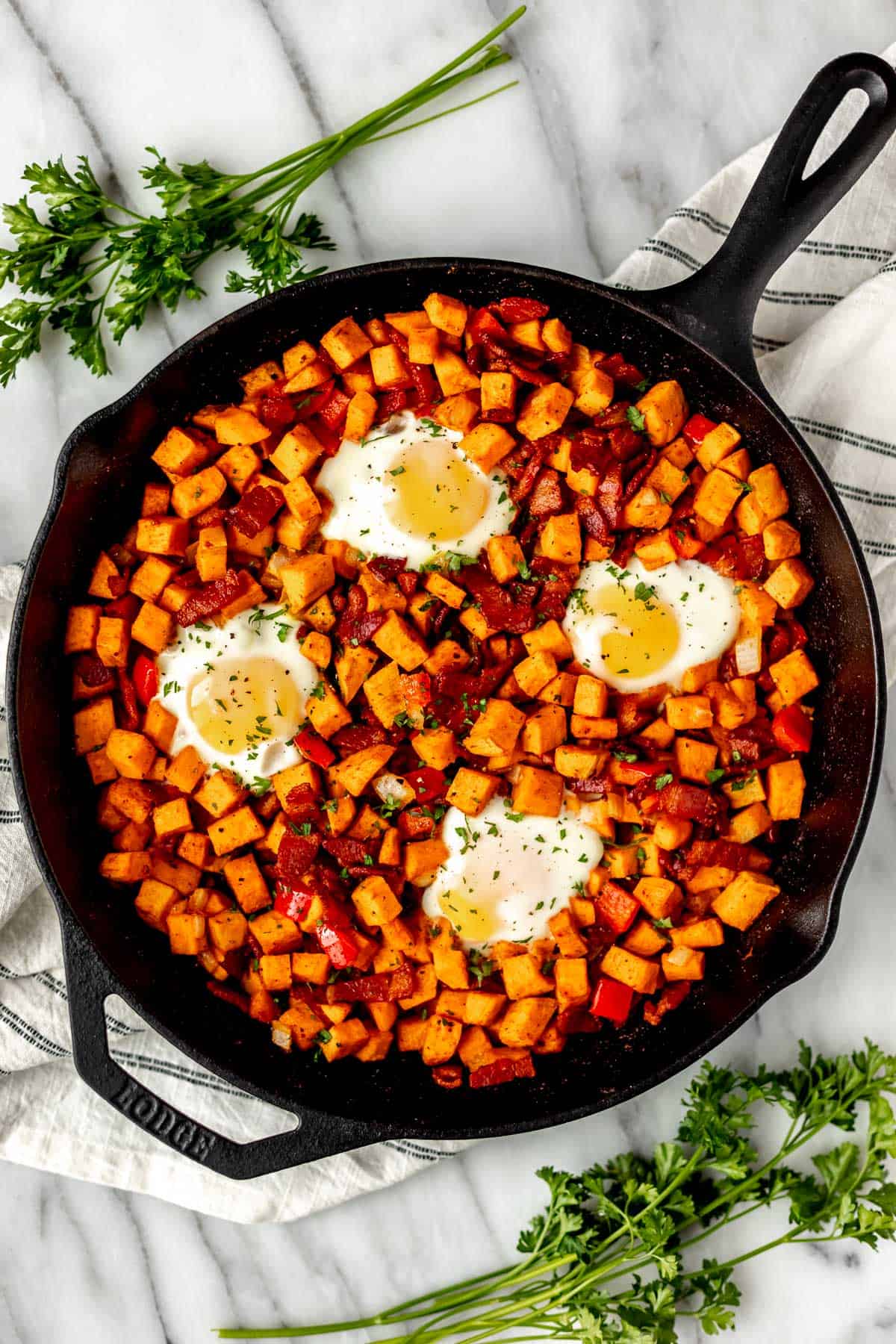 This post contains affiliate links. See our Disclosure Statement for more information.
One of our more popular recipes, especially during the fall season, is Maple Bacon Sweet Potato Hash. While it was intended as a breakfast side dish, a lot of people make it during the holidays as a dinner side too!
This recipe for Sweet Potato Breakfast Hash combines that recipe along with our recipe for Potato Hash with Bacon and Eggs into one complete meal. It's a warm and cozy breakfast dish, but perfectly suitable to enjoy anytime of the day or night.
While I love this recipe just as it is, there are so many variations that you can make simply by swapping ingredients in and out, or adding ingredients to give this recipe a little extra flavor. I share some ideas you may want to incorporate further down.
Why This Recipe Works
Sweet potato hash is an easy recipe to prepare. As an added bonus, because it's a one pan meal, clean up is quick and easy too.
This dish can be enjoyed any time of day. Obviously, it's a great breakfast, but is also perfect for brunch, lunch, or dinner, as well.
It's a hearty and filling meal that provides protein from the meat and eggs, as well as healthy carbohydrates and vegetables to help keep you satisfied longer.
Step-By-Step Instructions
Ingredients
8 slices bacon: You can swap in sausage instead. If you use sausage, you will need to add oil or butter to cook the vegetables.
4 cups sweet potatoes (diced): peeling the sweet potatoes is optional, but if leaving the peel on, make sure to scrub them really well.
salt
pepper
1/2 teaspoon garlic powder
1/2 teaspoon smoked paprika
1 small onion: sweet onions, like Vidalia, work great in this dish.
1 red bell pepper: you can use a green bell pepper, if preferred or a mix of the two.
4 eggs
fresh parsley or chives (optional garnish)
The entire recipe and instructions can be found in the recipe card at the bottom of this post. You can print the recipe from the card, if needed.
Prep!
Cut the sweet potatoes into a medium dice or about 1/2-inch cubes. Try to cut the cubes as evenly as possible so that they all cook at the same rate.
Dice the pepper and onion into about 1/4-inch pieces.
Chef's Tip: to make the dicing even easier, you can use a vegetable chopper. Most have different size grates for small, medium and large cuts.
Dice the bacon into 1/2-inch pieces.
Chef's Tip: bacon is easiest to chop when it's stacked. To do this, simply open the package of bacon and remove it all as one big piece. Then, cut it all at once into 1/2-inch slices.
Preheat your oven to 400°F.
Create!
Add the bacon to a large, oven-proof skillet or cast iron pan over medium heat.
Cook, stirring often, until the bacon is crisp, about 7 to 10 minutes. Remove with a slotted spoon to a paper-towel-lined plate and set aside.
Carefully drain all but 2 tablespoons of the bacon grease from the pan and return the pan to the stove top. Increase the heat to medium-high.
Add the sweet potatoes to the skillet and season with salt, pepper, garlic powder and smoked paprika. Cook 2 to 3 minutes, stirring occasionally.
Mix in the onion and red bell pepper and continue cook an additional 2 to 3 minutes. The vegetables should be crisp-tender, and will finish cooking in the oven.
Add the bacon back to the skillet and stir to evenly distribute.
Spread the hash out evenly in the bottom of the pan. Make 4 wells or indents into the hash.
Crack an egg into each of the 4 wells.
Transfer the pan to the oven and cook until the white of the egg is set and the yolk is still runny, about 10 to 12 minutes.
Present!
Garnish with cracked black pepper and fresh, minced parsley or chives, if desired.
Tips and Techniques
You can use red or green bell pepper or a combination of the two.
Try to cut your sweet potatoes into as evenly-sized pieces as possible. This will help them all cook at the same rate so that you don't end up with mushy and/or hard pieces of sweet potato.
Cut the bacon all at once by placing it in one large stack. To do this, simply open the package of bacon and remove the slices as one big piece. Then, cut through every piece, all at once, into 1/2-inch slices.
Bacon will crisp up more as it cools so be careful not to overcook it. Remove it from the skillet when it is just starting to look as if it's getting crispy.
You can substitute sausage for the bacon. If you decide to use sausage, you will need to add oil or butter to cook the vegetables in.
Store any leftover sweet potato hash in an airtight container in the refrigerator. Consume within 4-5 days.
Variations
Add Some Greens: stir in chopped kale, baby spinach, or Swiss chard with the peppers and onion.
Sweeten It Up: add a diced apple or two with the peppers and onions.
Switch Up The Meat: instead of bacon, try ground breakfast sausage or slices of sausage links. You can use pork, chicken or turkey sausage.
Scramble the Eggs: the eggs can be cooked in a separate pan, if preferred, and served on the side. This method is recommended if you'd prefer scrambled eggs instead of sunny-side-up.
FAQ's
Can You Freeze Sweet Potato Hash?
While you can freeze leftover sweet potato hash without the eggs, the texture of it after being reheated may not be the same. It is recommended to prepare it fresh, when possible.
Can You Bake Sweet Potato Hash?
Instead of cooking the sweet potatoes in the bacon grease, you can toss the cubed sweet potatoes in 1 tablespoon olive oil and bake in the oven set at 425°F for about 30 minutes, tossing halfway, or until fork tender. Mix the cooked sweet potatoes into the cooked bacon and vegetables.
More Sweet Potato Breakfast Recipes
Love this Sweet Potato Breakfast Hash recipe? Follow me on Pinterest, Instagram, and Facebook for more!
If you try this recipe, I would really appreciate it if you would please leave a comment and star rating. Thanks!