This old-fashioned Sweet Potato Cobbler recipe includes a homemade drop biscuit topping. The flavors of maple syrup, cinnamon, and nutmeg permeate this delicious sweet potato dessert. Serve this cobbler with a scoop of ice cream or whipped cream to complete the sweet experience.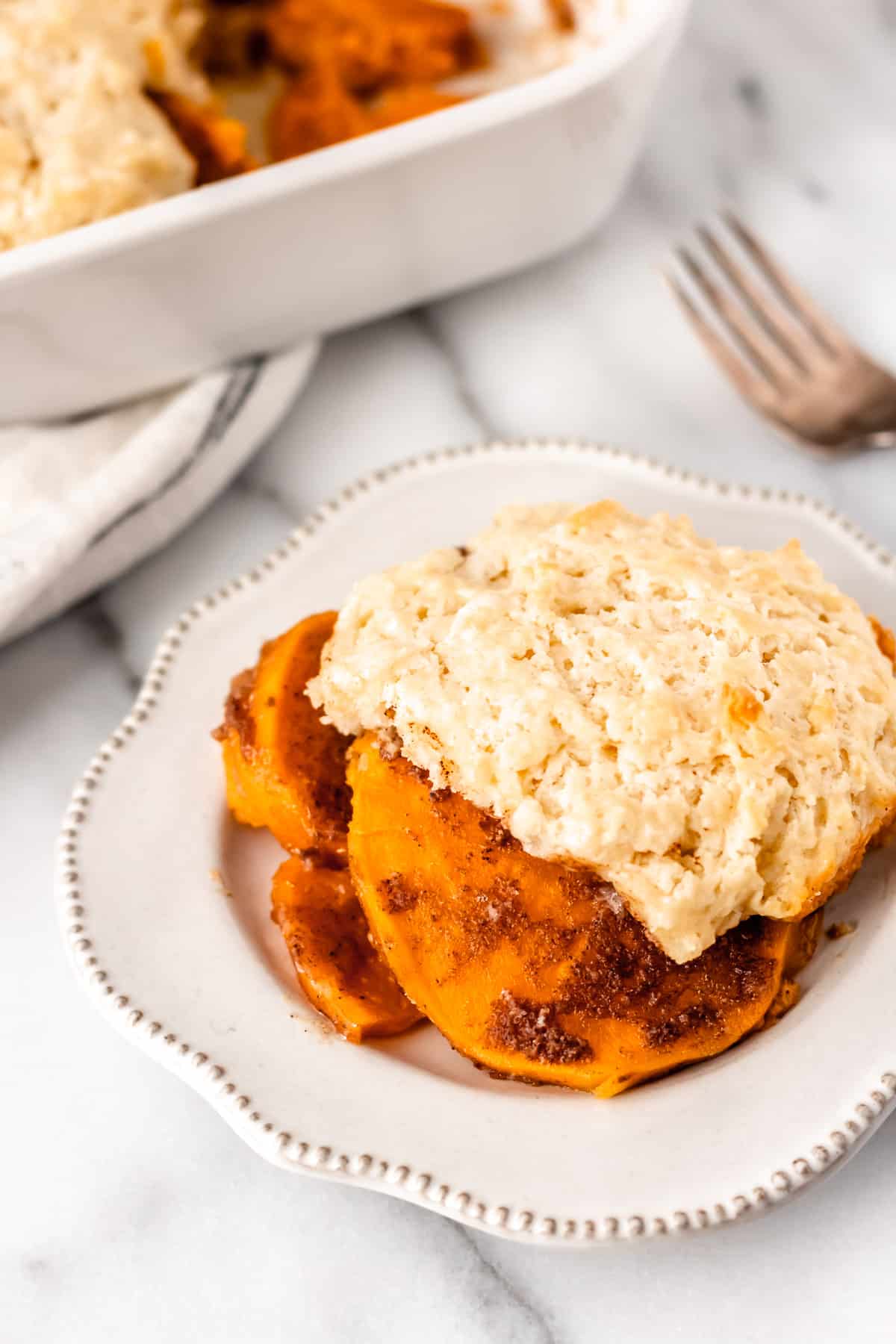 This post contains affiliate links. See our Disclosure Statement for more information.
An old fashioned style Sweet Potato Cobbler hits the spot every time, especially when topped with a big scoop of vanilla ice cream or a dollop of whipped cream.
Cinnamon, brown sugar, maple syrup, and nutmeg add plenty of flavor and aroma to the delicious sweet potatoes. The softness of the sweet potatoes compliments the soft biscuit top wonderfully too.
This sweet potato dessert recipe is easy. You don't need to be a great baker to successfully make an incredibly delicious dessert such as this simple southern staple.
This cobbler has a drop biscuit topping, so you don't need a rolling pin either. Some fruit-based cobbler recipes to try are Peach, Blueberry, Pear, Apricot, and Cherry.
Sweet Potato Cobbler is a great dessert to serve during winter when you don't have easy access to fresh fruit. It would be a great end to the meal if you happen to be serving something like Turkey Chili or Chicken Tortilla Soup.
If you enjoy the flavor combination of maple syrup and sweet potatoes in this recipe, you'll definitely like Maple Bacon Sweet Potato Hash, there's a sausage version too!
Why This Recipe Works
This is a very easy dessert recipe. You don't need to be a baker to successfully bake this cobbler.
Sweet Potato Cobbler is a perfect holiday dessert. It would be wonderful to serve for Thanksgiving, especially since it's a quick recipe.
How To Make Sweet Potato Cobbler
Ingredients
Sweet Potatoes: fresh sweet potatoes will give you the best flavor and texture, but canned sweet potatoes can be used.
Sugar: both regular sugar and brown sugar.
Maple Syrup: use pure maple syrup for the best flavor.
Spices: cinnamon and nutmeg.
Pantry staples: flour, sugar, baking powder, salt, butter, milk and eggs
The entire recipe and instructions can also be found in the recipe card at the bottom of this post. You can also print the recipe from the card, if needed.
Prep!
Preheat oven to 350°F.
Peel and trim the sweet potatoes, then cut into 1/4-inch thick slices.
Create!
Add sweet potatoes to a large pot of water and bring to a boil. Cook until just fork tender, about 7-10 minutes. Drain.
Layer half of the sweet potatoes into the bottom of a medium casserole dish.
Drizzle on half of the maple syrup.
Combine the sugar, brown sugar, flour, cinnamon and nutmeg.
Sprinkle half of the sugar and spice mixture over the potatoes.
Repeat with the remaining potatoes, maple syrup and sugar and spice mixture.
Combine flour, baking powder, sugar and salt. Cut in the butter with a pastry blender or fork until bits of butter, no larger than a pea, remain.
Whisk together the egg and milk and add to the flour mixture. Gently stir until just combined.
Dollop spoonfuls of the dough onto the top of the cherries. Sprinkle on extra sugar, if desired.
Cover loosely with foil and bake for 20 minutes. Remove the foil and bake an additional 20-25 minutes, or until the top is golden brown.
Present!
Serve as is, with whipped cream or ice cream.
Tips and Techniques
Fresh sweet potatoes work best, but you can use canned, if necessary. If you choose to use canned sweet potatoes, you may find that they get super soft after baking in the cobbler.
Store leftovers tightly covered in the refrigerator. Consume within 4-5 days for best results.
FAQ's
Can You Use Canned Sweet Potatoes in Sweet Potato Cobbler?
While fresh sweet potatoes will give you the best flavor and texture, you can use an even amount of canned sweet potatoes in cobbler.
Do You Eat Cobbler Warm Or Cold?
You can eat cobbler either warm or cold. It is equally as delicious both ways!
Can Cobbler Be Frozen After Baking?
Yes, you can freeze baked cobbler. Be sure it's tightly covered and use within 3-4 months.
More Sweet Potato Recipes
Love this Sweet Potato Cobbler recipe? Follow me on Pinterest, Instagram, and Facebook for more!
If you try this recipe, I would really appreciate it if you would please leave a comment and star rating. Thanks!