This easy-to-make Maple Sausage Sweet Potato Hash is a delicious sweet and savory recipe. It's the perfect side dish for breakfast, brunch or even dinner, but it can certainly be served as a well-rounded meal too. Maple Sausage Sweet Potato Hash is extra flavorful, easy to modify and a great, go-to recipe for anytime.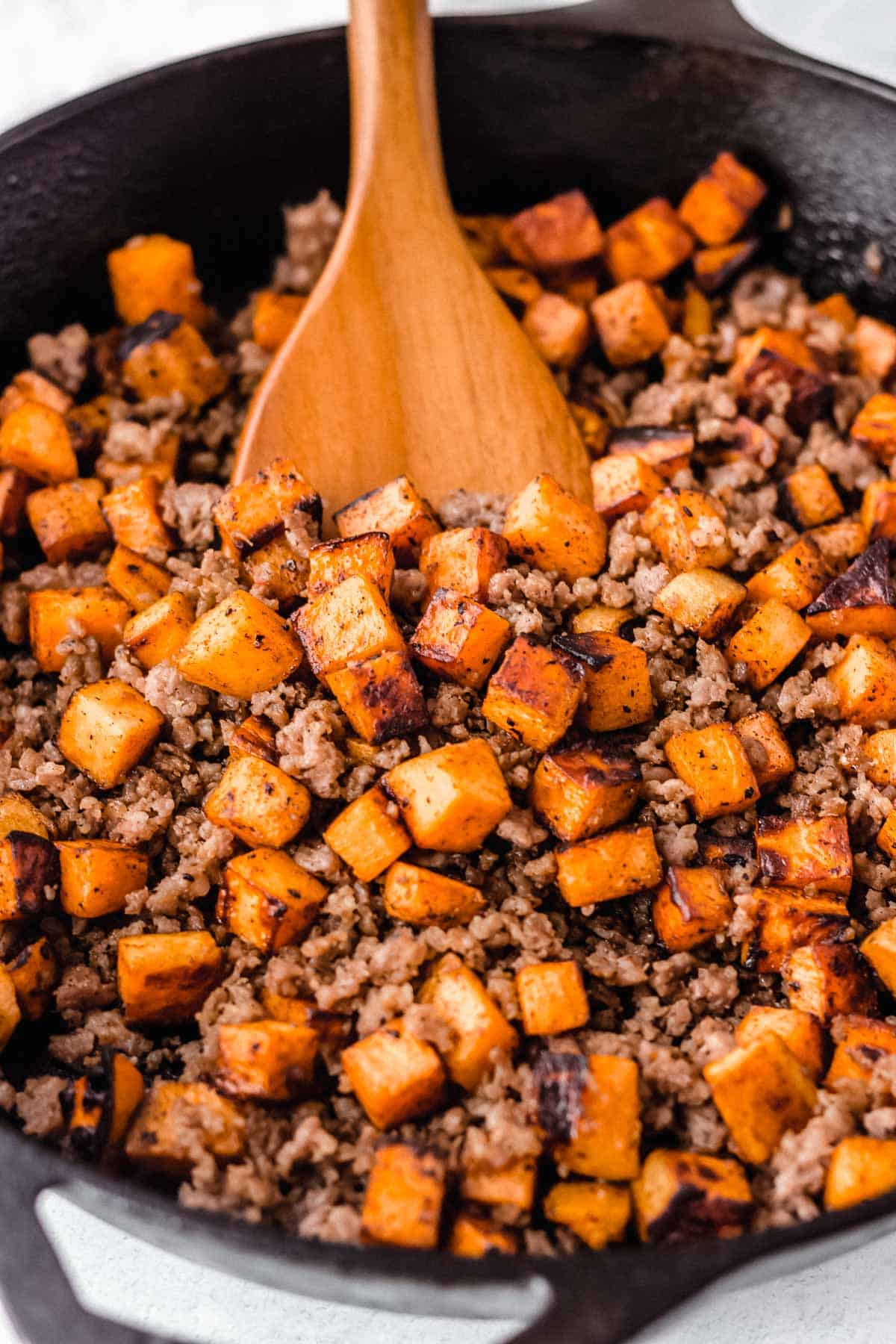 This post contains affiliate links. See our Disclosure Statement for more information.
Maple Sausage Sweet Potato Hash is an incredibly versatile recipe. If you prefer bacon, you can use that instead, like I have in my recipe for Maple Bacon Sweet Potato Hash. The complimentary flavors of this dish are sweet and savory, a sophisticated flavor profile, however it is still amazingly simple to prepare.
When I first made this recipe, I only considered serving it for breakfast, brunch or maybe dinner as more of a breakfast-for-dinner kind of thing.
But, since many readers have made this recipe as a side dish to dinner – even Thanksgiving dinner – I have come to realize, and agree, that it can be enjoyed it pretty much any time of the day!
While I usually serve Maple Sausage Sweet Potato Hash alongside scrambled eggs or pancakes (it goes great with these Lemon Ricotta Pancakes), you can also cook fried eggs within the hash (follow steps 7-10 of this recipe for how to do that), if that's what you prefer.
Why This Recipe Works
Maple Sausage Sweet Potato Hash is a delicious recipe to serve anytime of the day! While it's obviously a perfect breakfast recipe, you can also enjoy this dish at brunch or as a side for lunch or dinner! It's a well-rounded and flavorful option.
Cinnamon and maple syrup are two flavors that compliment both the sausage and the sweet potatoes very well. These two ingredients really play to the sweet side of this dish and balances out the super savory sausage – it's a comforting, warm flavor profile you'll surely enjoy.
This recipe is easy to modify. Add an onion, an apple or both to change up the flavor just a bit. If you love eggs cooked within your hash, go for it! Here's a list of 25 Breakfast Hash Recipes, if you want more inspiration.
How to Make Maple Sausage Sweet Potato Hash
Ingredients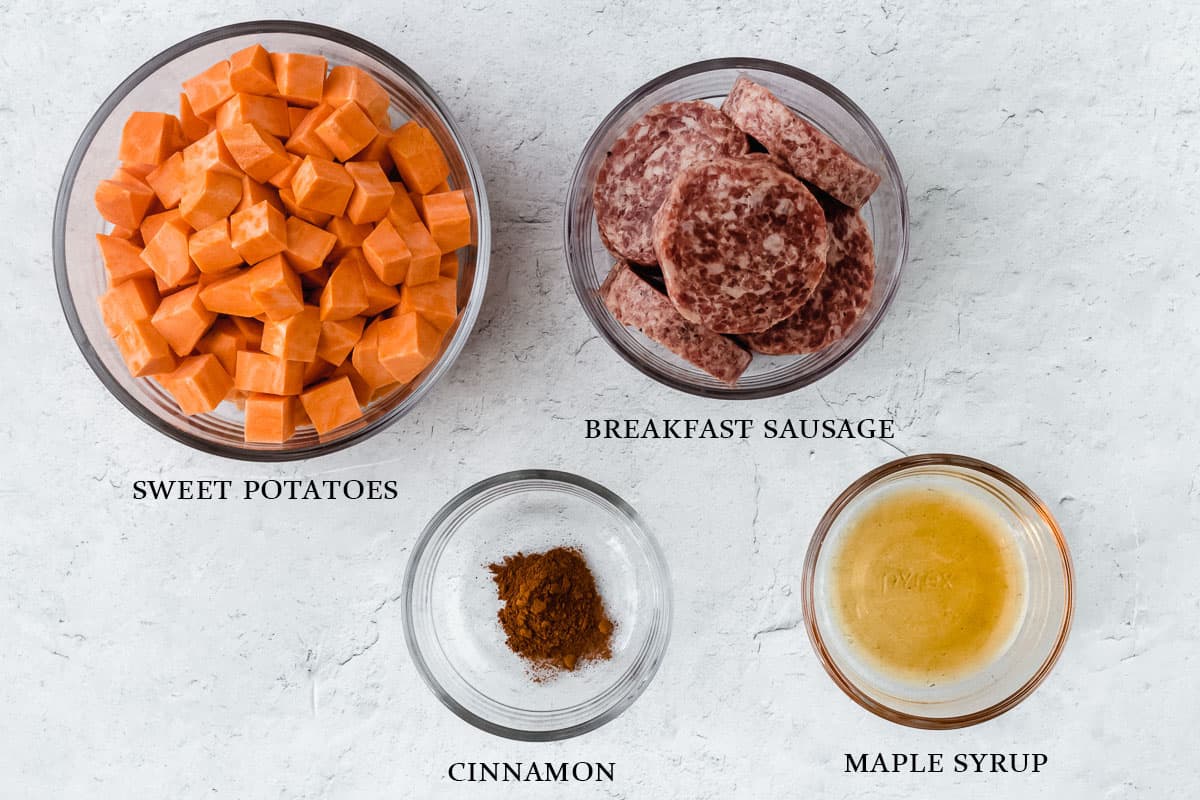 Sweet Potatoes
Sausage: I use maple sausage patties, but you can use any ground breakfast sausage that you like. Choose a gluten-free variety to make this dish gluten-free if you prefer.
Cinnamon
Maple Syrup: use pure maple syrup for the best flavor.
The entire recipe and instructions can also be found in the recipe card at the bottom of this post. You can also print the recipe from the card, if needed.
Prep!
Dice the sweet potatoes into even, 1/2-inch bite-size pieces.
Create!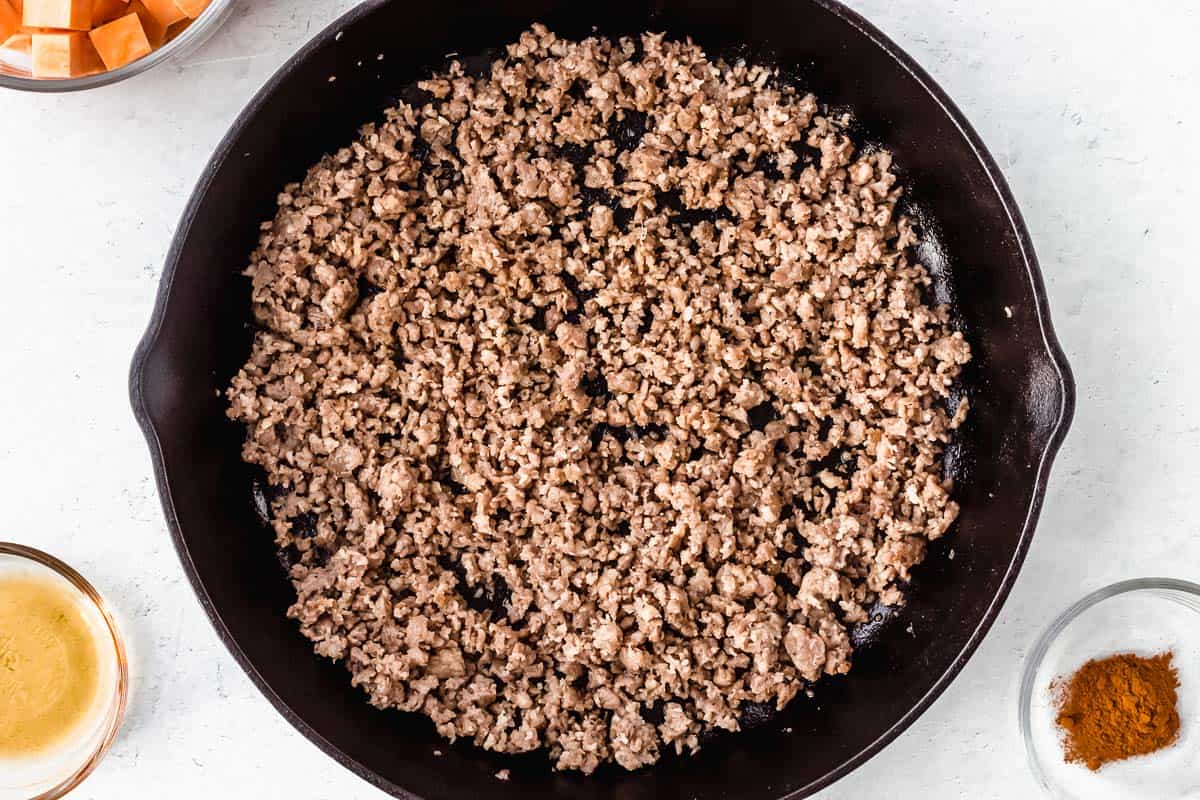 Add the sausage patties to a large skillet over medium heat.
Cook until no longer pink, 3-5 minutes, breaking up with a meat chopper or spatula.
Using a slotted spoon, remove the sausage to a plate and set aside.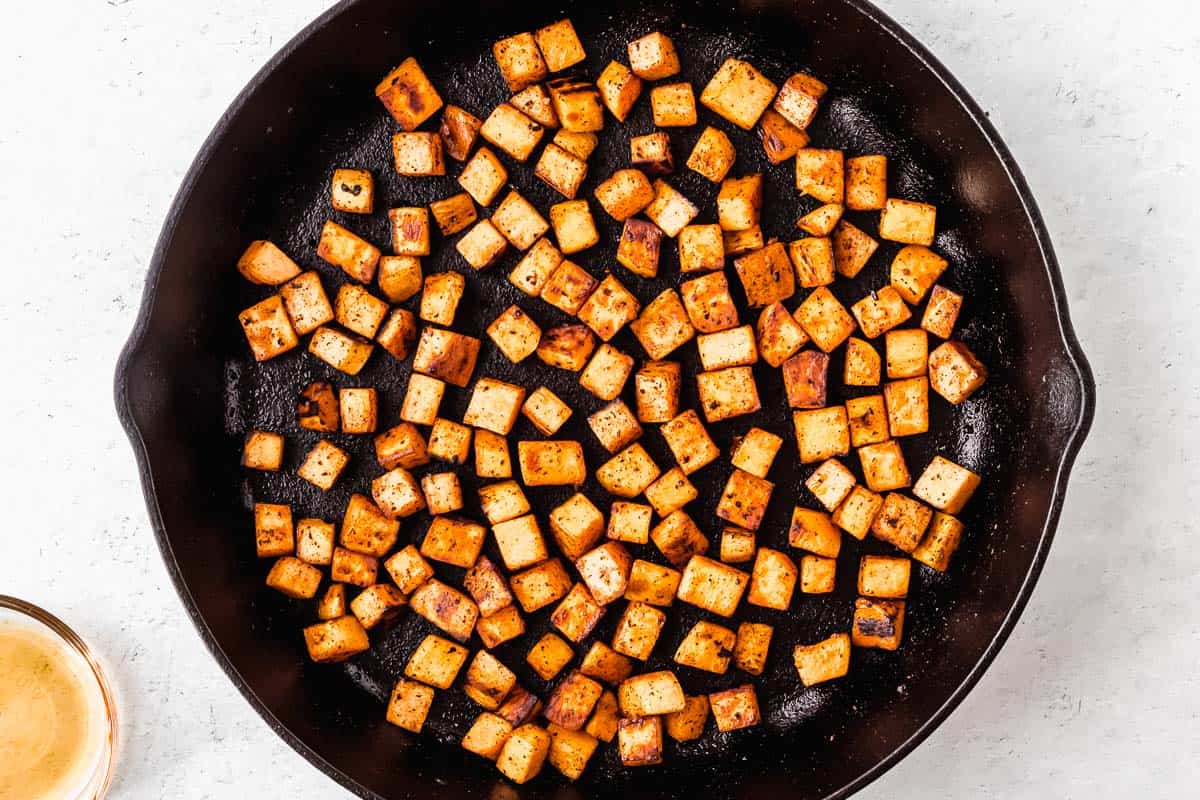 Add the diced sweet potatoes to the skillet with a drizzle of olive oil, if needed. Season with salt and pepper and sprinkle with the cinnamon.
Cook the sweet potatoes for 10-15 minutes, stirring frequently, or until they are fork tender.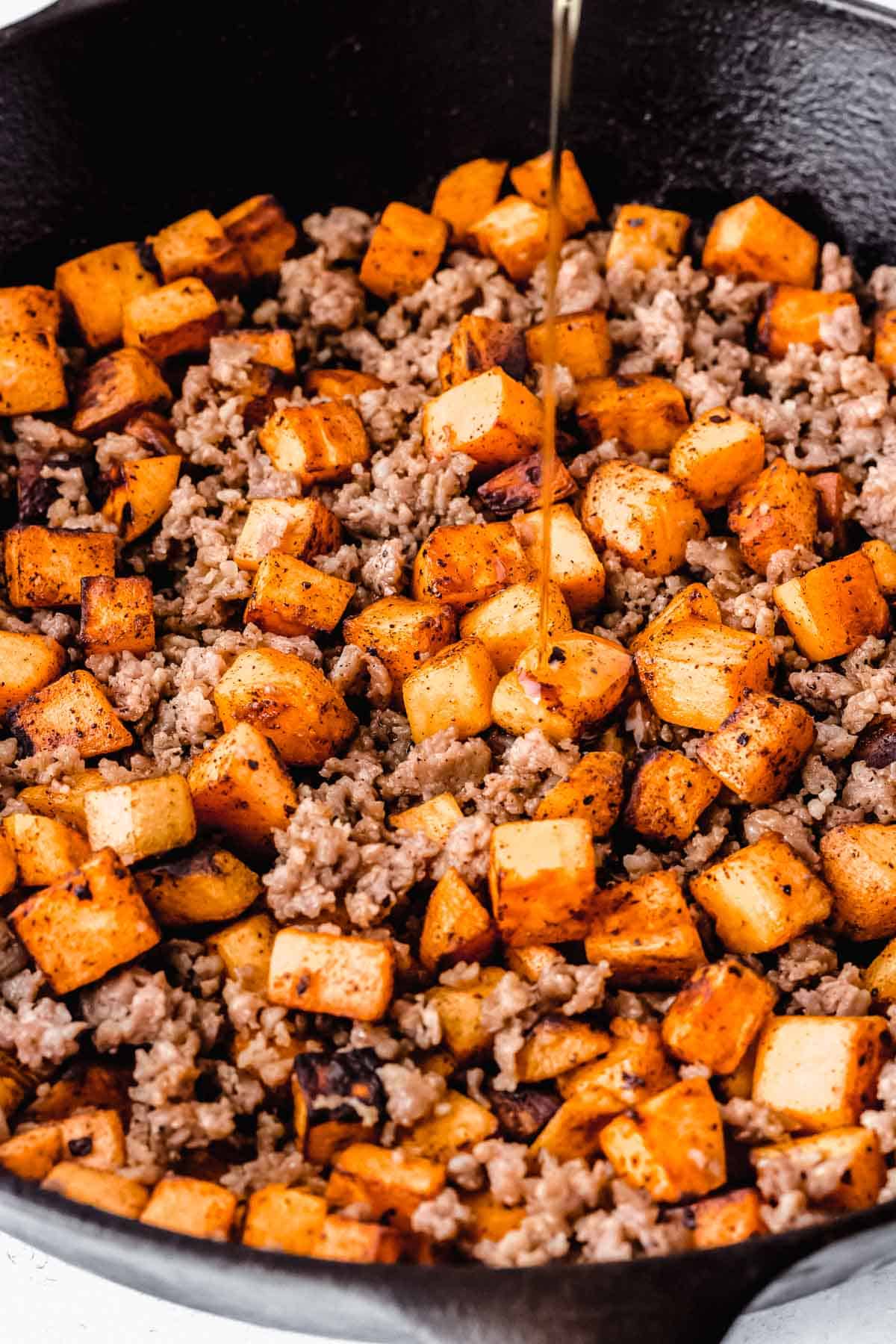 Mix the cooked sausage back into the sweet potatoes and drizzle the maple syrup over the top. Toss to combine.
You can add more maple syrup, if you like.
Present!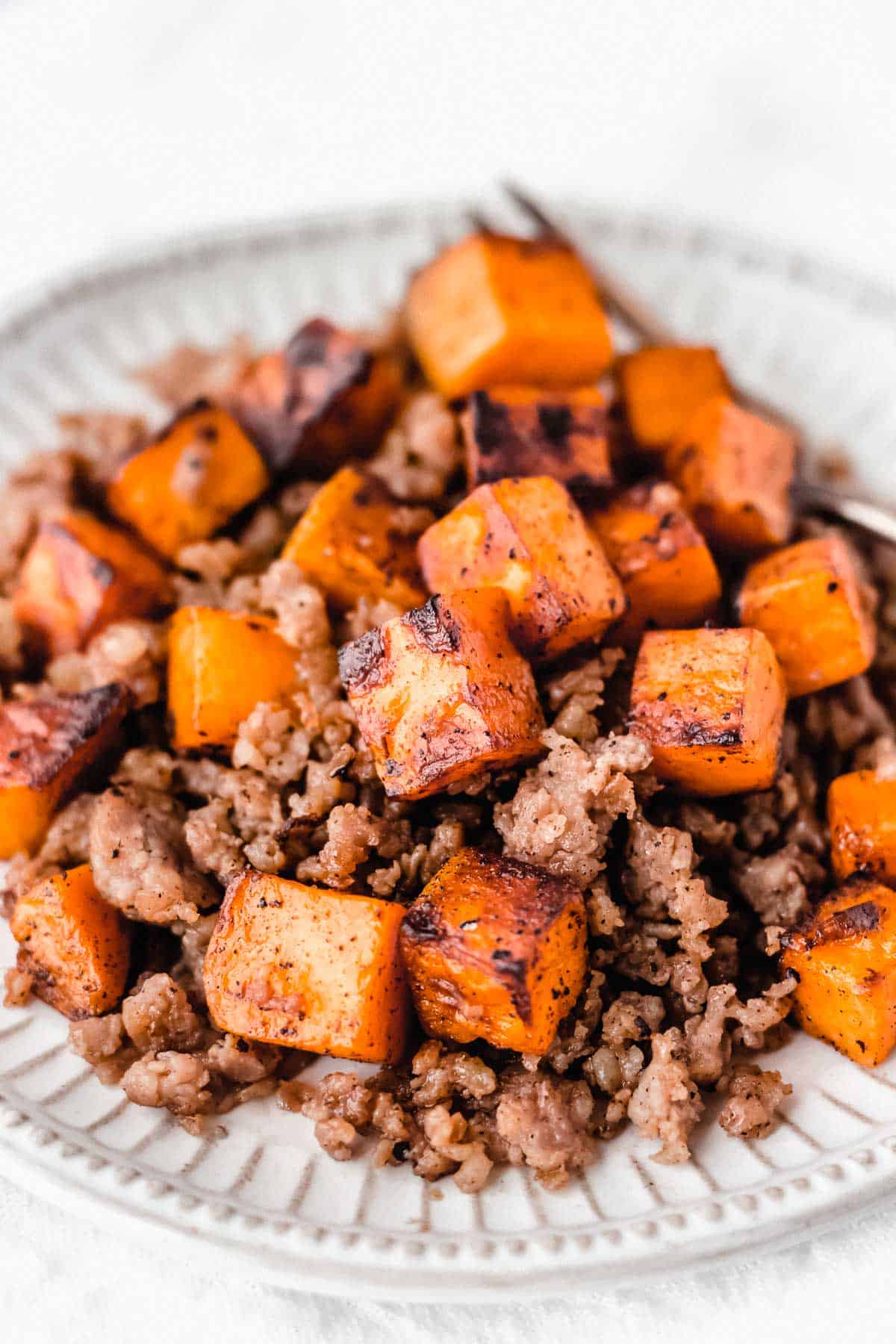 Serve warm.
Tips and Techniques
Try to cut your sweet potatoes into as evenly-sized pieces as possible. This will help them all cook at the same rate so that you don't end up with mushy and/or hard pieces of potato.
This recipe is easy to modify. Add an onion, an apple, or both to change up the flavor just a bit. If you love eggs cooked within your hash, go for it!
Store any leftover hash in an air-tight container in the refrigerator. Use within 4-5 days.
FAQ's
Can You Freeze Sweet Potato Hash?
While you can freeze leftover sweet potato hash, the quality of it after being reheated may not be the same. It's best to make it fresh, when possible.
Can You Bake Sweet Potato Hash?
Instead of cooking the sweet potatoes in the skillet, you can toss the cubed sweet potatoes in 1 tablespoon olive oil and season with salt, pepper and a 1/2 teaspoon cinnamon. Then, bake them in the oven set at 425°F for about 30 minutes, tossing once or twice during backing, or until fork tender. Mix the cooked sweet potatoes into the cooked sausage and top with maple syrup.
More Breakfast Sausage Recipes
Love this Maple Sausage Sweet Potato Hash recipe? Follow me on Pinterest, Instagram, and Facebook for more!
If you try this recipe, please leave a comment and star rating. I would really appreciate it!