Southwestern Chicken Pita Pockets are stuffed with juicy, seasoned chicken, corn, black beans, cheese and avocado. This easy recipe is full of incredible flavor and because you can make all of the ingredients ahead of time, it's also the perfect recipe for meal prep or a quick lunch or dinner.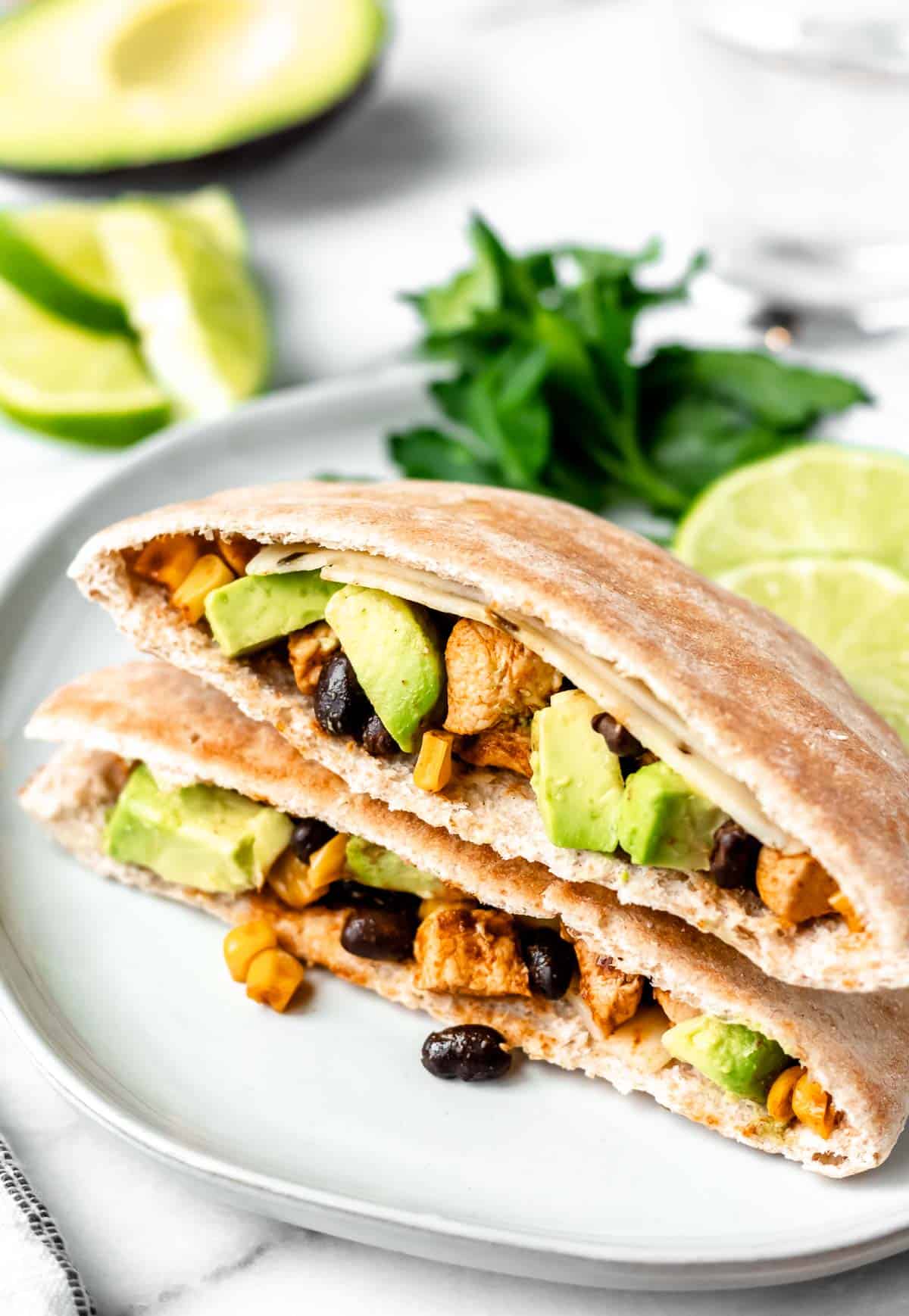 This post contains affiliate links. See our Disclosure Statement for more information.
Southwestern Chicken Pitas is an easy, flavorful, make-ahead recipe that is perfect for a quick lunch or dinner.
Pita pockets are stuffed with seasoned chicken, black beans, corn and spicy pepper jack cheese then topped off with avocado and a squeeze of lime.
If you love Southwestern flavors, you may also like these recipes for Chicken Tostadas with Creamy Cilantro Lime Sauce, Southwestern Chicken and Quinoa, and Southwestern Black Bean Burgers.
Why This Recipe Works
This is an easy, make-ahead recipe. You can make most of this recipe ahead of time, then just stuff and go. It's perfect for a quick lunch or dinner.
It's a family-friendly recipe that kids can enjoy as well, though you may want to swap out the pepper jack cheese for something for kid-friendly, like Cheddar.
This recipe is very versatile. You can adjust the ingredients to suite your own tastes and enjoy this pita warm or cold.
Step-By-Step Instructions
Ingredients
1 pound boneless, skinless chicken, diced small.
Spices: 1 teaspoon chili powder, 1/2 teaspoon cumin, 1/2 teaspoon smoked paprika, salt and pepper.
1 cup corn: canned or frozen.
1 cup of black beans: canned.
8 slices of pepper jack cheese: or you can use cheddar or Monterey for a milder flavor.
4 pita breads: cut in half.
1 avocado: diced small.
1 lime: optional.
The entire recipe and instructions can also be found in the recipe card at the bottom of this post. You can also print the recipe from the card, if needed.
Prep!
Dice the chicken into small cubes. Open and drain the cans of corn and black beans.
Mix together the chili powder, cumin and smoked paprika.
Create!
Season the chicken with salt, pepper, and half of the spices.
Heat the olive oil in a medium skillet over medium heat and add the chicken. Cook for about 5 minutes, or until no longer pink in the center.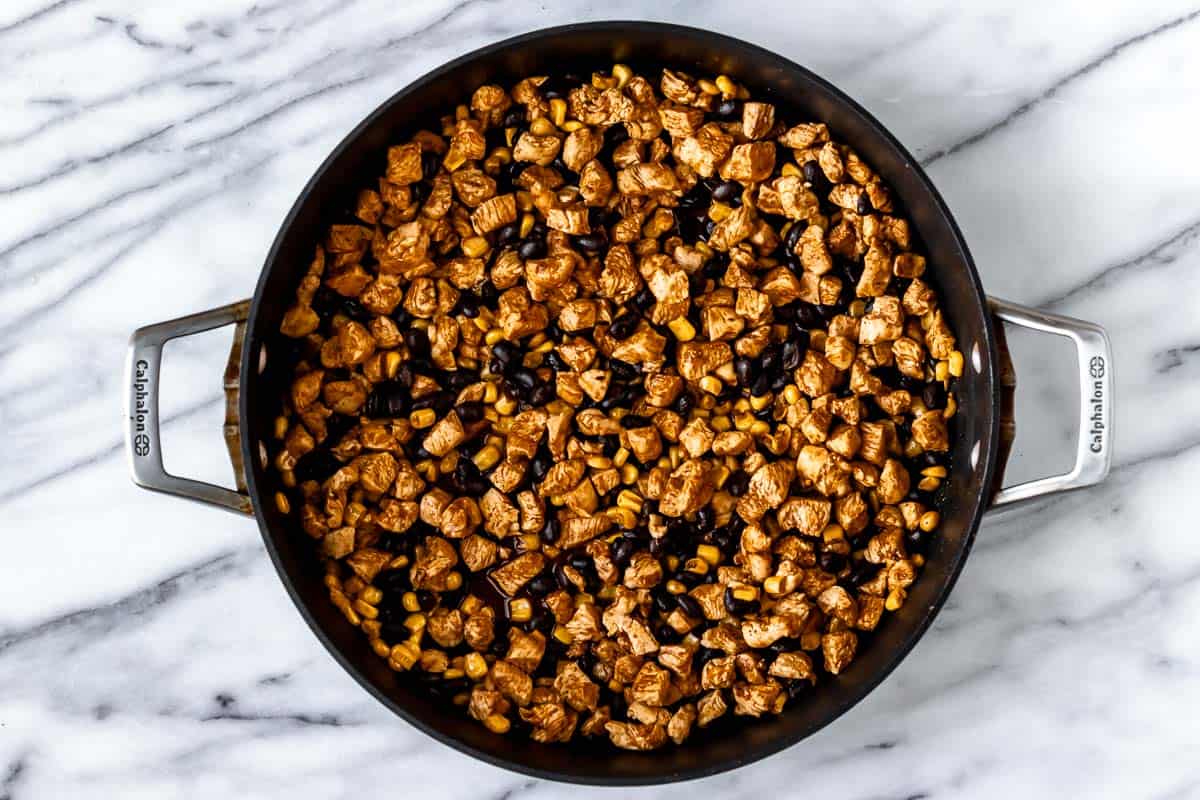 Once the chicken is cooked through, add the corn, black beans, and remaining half of the spices to the skillet. Stir and cook until heated through, about 2 minutes.
Chef's Tip: At this point you can refrigerate the chicken mixture for later use. You will want to wait until you are ready to eat to dice the avocado and assemble the pitas.
Cut the avocado into small cubes.
Present!
To assemble the pitas, place one slice of cheese into each half (you may have to cut it to make it fit).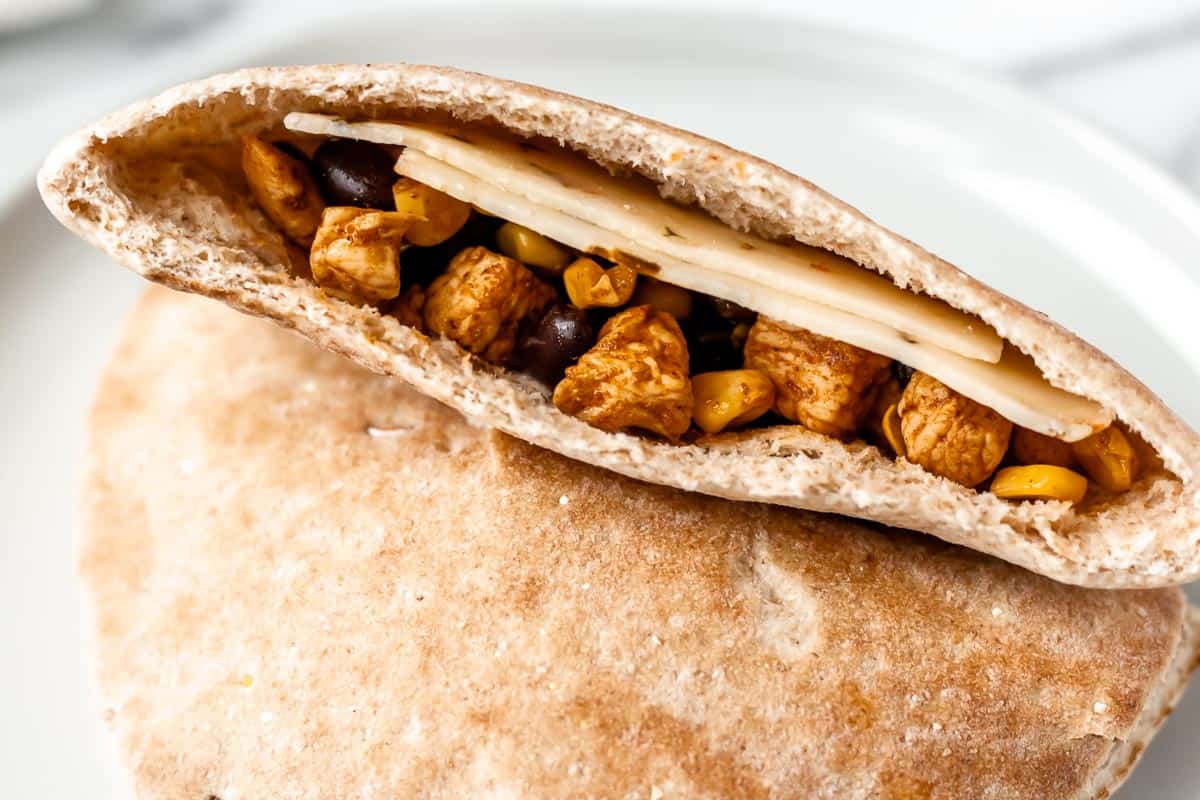 Spoon in the chicken mixture.
Top with avocado and/or a squeeze of fresh lime juice.
Chef's Tip: you can warm the pita pockets before filling them, if you prefer. Follow the instructions on the packaging for warming.
Tips & Techniques
You can make the chicken, corn, and black beans mixture ahead of time. When you are ready to eat, stuff your pita pockets with the chicken, cheese slices, and freshly cut avocado for best results.
Warm the pita pockets according to the directions on the package and stuff immediately after everything is done cooking if you prefer to enjoy this recipe hot.
Store any leftover chicken mixture in an airtight container in the refrigerator. Keep leftover pita bread tightly wrapped in the cabinet. Be sure to use the leftover chicken within 3-4 days.
FAQ's
What Do You Serve With Chicken Pitas?
Soup or salad would be a delicious complement to these chicken pitas.
More Sandwich Recipes
Love this Southwestern Chicken Pitas recipe? Follow me on Pinterest, Instagram, and Facebook for more!
If you try this recipe, I would really appreciate it if you would please leave a comment and star rating. Thanks!
This recipe was originally published on August 28, 2019. It was updated with an improved recipe, new images, step-by-step instructions, tips, techniques and FAQ's in June 2022.