Juicy, savory, and bursting with flavors from fresh herbs – this Creamy Parmesan Chicken Orzo Skillet is a rich, delicious dinner that's actually really easy to make.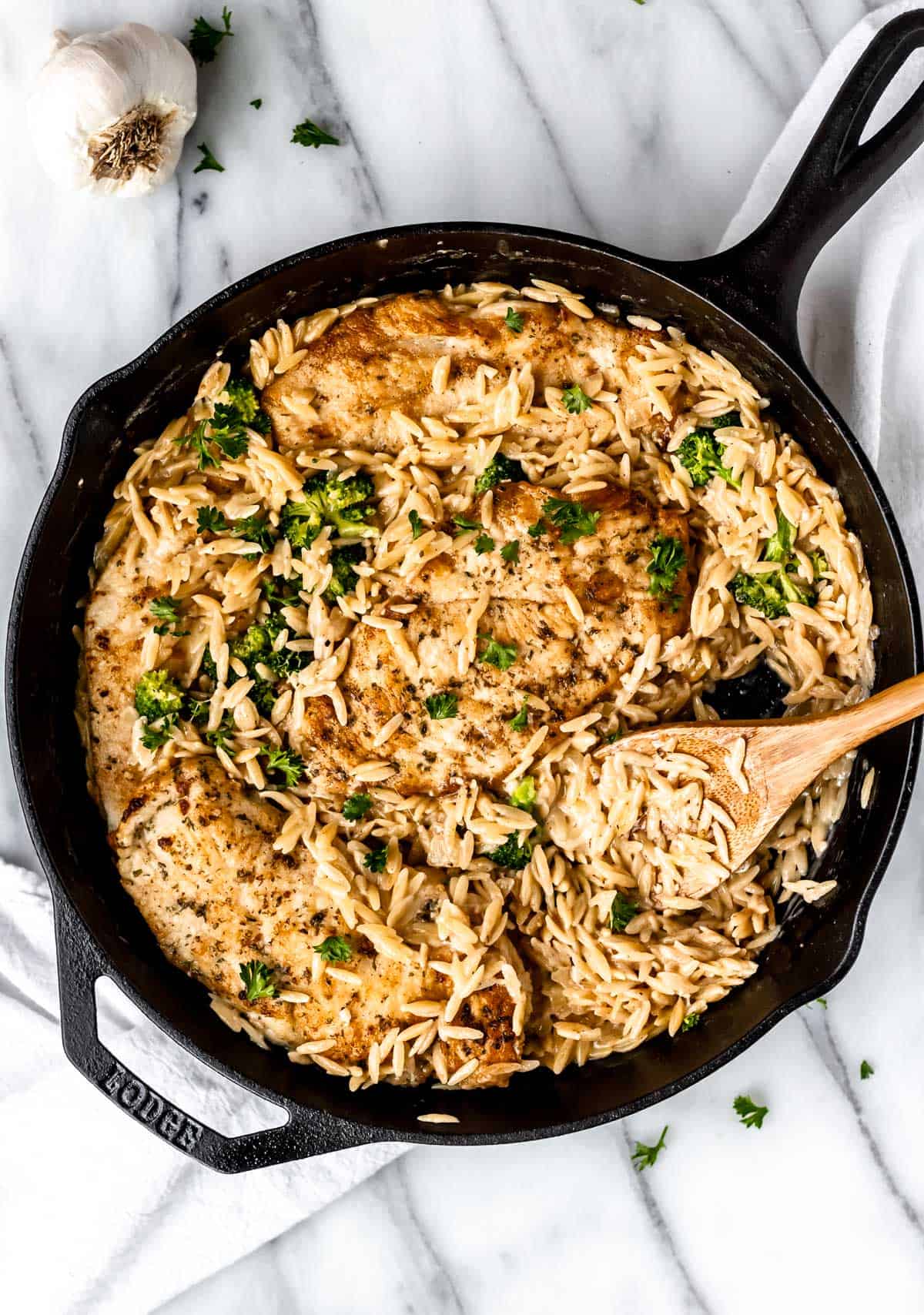 This post contains affiliate links. See our Disclosure Statement for more information.
Instead of trying to figure out side dishes for dinner, make this easy one-pot skillet recipe. It has many of the same flavors and ingredients as my Lemon Chicken With Orzo recipe.
The garlic, parmesan, and white wine flavors really come through in this dish. It tastes like something you'd order from a restaurant.
Why This Recipe Works
It's a quick and easy recipe that is perfect for busy weeknights. Since it's made in one skillet, it makes for simple clean-up too.
This recipe is family-friendly. Kids especially love the cheesy rice.
It is incredibly easy to customize. If you need to make it gluten-free, be sure to use gluten-free chicken stock and gluten free orzo pasta. Swap out broccoli for spinach or kale, or add other herbs like basil, thyme or rosemary.
Step-By-Step Instructions
Ingredients
1 pound boneless, skinless chicken breasts (thin sliced): using thin sliced chicken makes this recipe much easier to prepare on the stovetop.
salt and pepper
1/2 cup all-purpose flour
1 tablespoon dried parsley
2 tablespoons butter (divided): olive or avocado oil can be used instead.
1 onion (finely diced)
4 cloves garlic (minced)
1 1/2 cups dry orzo pasta: you can use gluten free if needed.
1/2 cup white wine: chicken stock can be substituted if you'd rather not use alcohol.
2 cups unsalted chicken stock: because Parmesan cheese can be a bit salty, it's best to use unsalted stock and add any additional seasoning once the recipe is fully prepared.
1 1/2 cups heavy cream
1/2 cup Parmesan cheese (shredded)
fresh parsley (optional garnish)
The entire recipe and instructions can also be found in the recipe card at the bottom of this post. You can also print the recipe from the card, if needed.
Prep!
Mince the garlic and finely dice the onion
Create!
Season both sides of the chicken with salt and pepper.
Combine the flour and parsley in a shallow bowl or on a plate.
Dredge each piece of chicken to coat with the flour. Shake off the excess and place on a plate.
Melt 1 tablespoon of the butter in a large skillet over medium-high heat. Add the chicken and cook for 2-3 minutes per side or until no longer pink in the center. Remove to a clean plate and tent with foil to keep warm. You may have to work in batches.
Chef's Tip: If you are using thicker pieces of chicken, you will need to cook each side longer. The internal temperature should reach 165°F on a meat thermometer inserted into the center of the thickest portion.
Lower the heat to medium and add the remaining 1 tablespoon of butter. Once it's melted add the onion and cook for 2-3 minutes or until softened and translucent. Stir in the garlic and cook and additional 30 seconds.
Add the orzo and stir to coat in the butter. Cook about 1 minute, stirring frequently, to just lightly toast the orzo.
Carefully pour in the wine and scrap up any brown bits that may be stuck to the bottom of the pan.
Pour in the chicken stock and heavy cream. Bring to a boil, then reduce the heat to simmer. Cover and cook until the orzo is tender, about 10 minutes.
Remove from the heat and stir in the Parmesan cheese until melted. Taste and season with salt and pepper as needed.
Nestle the chicken back into pan and warm through.
If you are adding vegetables, stir them in now.
Present!
Garnish with fresh parsley and enjoy.
Tips and Techniques
If you are using thicker pieces of chicken, you will need to cook each side longer. The internal temperature should reach 165°F on a meat thermometer inserted into the center of the thickest portion.
If you would like to make this a complete meal, you can stir in some fresh spinach, kale, or steamed broccoli.
Store leftovers in an airtight container in the refrigerator. Use within 3-4 days for best results.
FAQ's
What Type Of Chicken Is Best To Use With Orzo?
Any type or cut of chicken will be perfect in this recipe. If you want the chicken to cook faster, slice it really thin.
What Can I Use Instead Of Orzo With Chicken?
Orzo has a fairly neutral flavor so you could substitute most other small pastas, like ditalini, for example.. You can also easily replace this with your favorite type of rice – brown or jasmine rice would taste perfect with the chicken.
What's The Best Kind Of Skillet To Use For This Chicken Skillet Dinner?
I like to use a cast-iron skillet when I make skillet dinners. I can cook it on the stove and then place the entire skillet into the oven to reheat it and keep it warm in the oven.
More Chicken Pasta Recipes
Love this Creamy Parmesan Chicken Orzo Skillet recipe? Follow me on Pinterest, Instagram, and Facebook for more!
If you try this recipe, I would really appreciate it if you would please leave a comment and star rating. Thanks!