Mini Pumpkin Pies are the perfect addition to your dessert table this holiday season. Made with just 7 ingredients in less than a hour, these mini pies are just as beautiful and delicious as the full size version!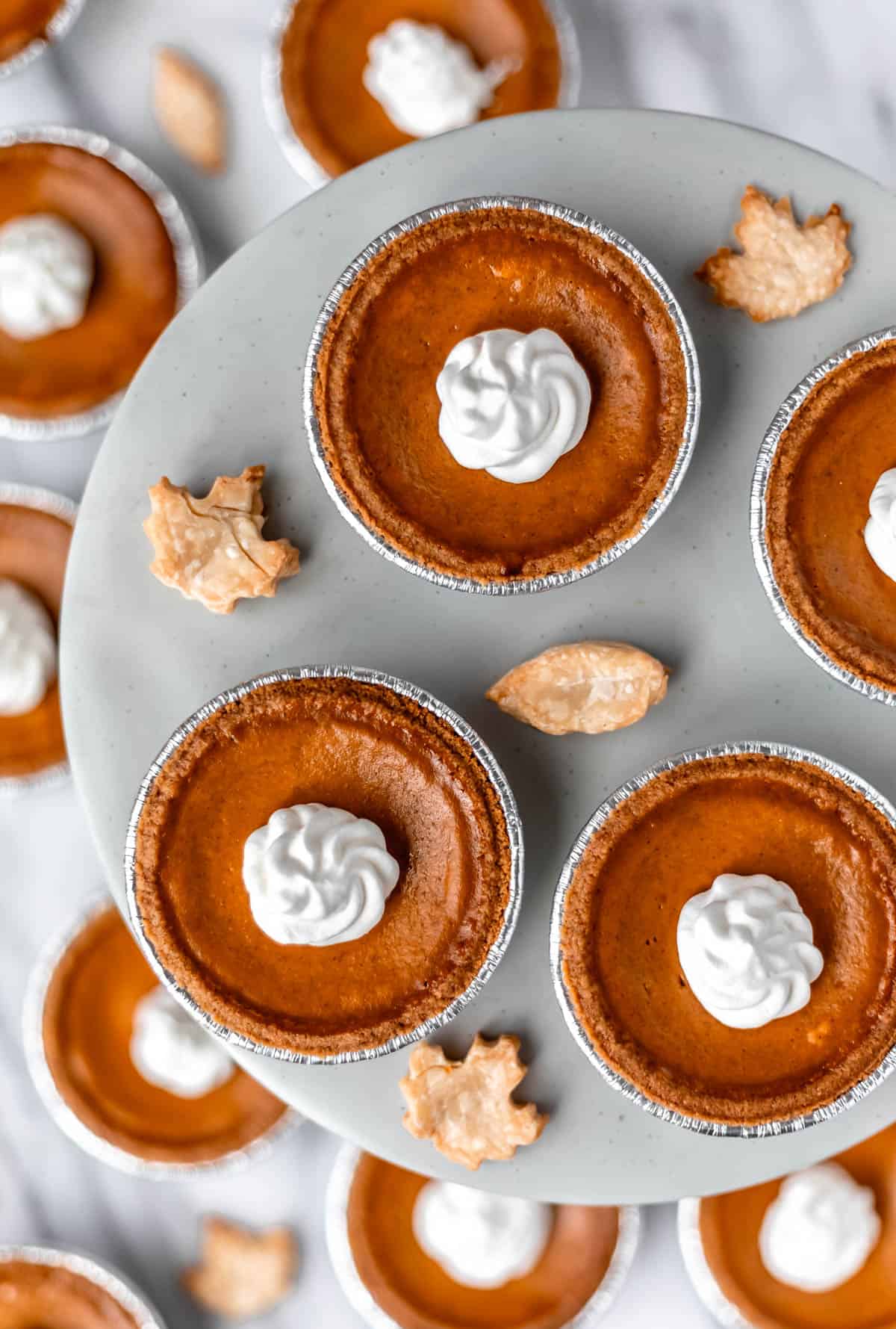 This post contains affiliate links. See our Disclosure Statement for more information.
If there's one thing we love around here, it's a mini dessert! And, there's no better time to serve these beautiful Mini Pumpkin Pies than during the fall holidays.
Pumpkin pie is a Thanksgiving classic, but often more than one type of dessert is being served. Making mini desserts makes it easy for guests to help themselves and clean up is a pinch too!
Some of our other mini dessert recipes you may want to consider are Mini Chocolate Cream Pies, Mini Coconut Cupcakes, and Mini Cheesecake Cupcakes, as well as many more!
Why This Recipe Works
Easy prep: These mini pies are made with just 7 ingredients. They take less than an hour to prepare, but do require a little time in the refrigerator to chill, as well.
Tastes delicious: there's no significant difference in the flavor. They taste just as good as your favorite pumpkin pie.
Adaptable: we've kept this recipe as simple as possible by using pumpkin pie spice and premade graham cracker pie shells. If you prefer a traditional pie crust, you can make your favorite or buy one from the store. If you would rather mix up your own favorite blend of spices for pumpkin pie – go for it!
Step-By-Step Instructions
Ingredients
2 eggs
3/4 cup granulated sugar
2 teaspoons Pumpkin Pie Spice: you can make your own or use store bought.
1/2 teaspoon salt
1 15-ounce can pumpkin puree: you can use fresh pumpkin puree, if preferred. If you choose to use canned, be sure it's pumpkin puree and not pumpkin pie filling.
1 12-ounce can evaporated milk
18 mini graham cracker pie shells: we use store-bought mini graham cracker pie shells. You can make your own by cutting out circles of classic pie crust and using mini pie pans, if you prefer.
The entire recipe and instructions can also be found in the recipe card at the bottom of this post. You can also print the recipe from the card, if needed.
Prep!
There is no significant prep work for this recipe unless you need to make a batch of pumpkin pie spice or want to prepare your own pie crusts.
Preheat your oven to 375°F.
Create!
Whisk the eggs together in a medium bowl.
Add the sugar, pumpkin pie spice, and salt.
Stir in the pumpkin puree and evaporated milk until evenly blended.
Fill each pie shell almost all of the way full, leaving just a little space.
Place the mini pies on a baking sheet to make them easier to move to and from the oven.
Bake for 25-30 minutes or until the pies are set and a toothpick inserted into the center comes out clean.
Allow to cool at room temperature for 30 minutes, then transfer to the refrigerator to chill for at least 2 hours.
Present!
Top each pie with a dollops of whipped cream, if preferred.
You can also make fall-themed pie crust cut outs to decorate them with too. Use mini fall-themed cookie cutters or fill silicone molds with the dough, then bake until done through.
Tips and Techniques
Fresh pumpkin puree can be used instead of canned.
You can make classic pie crusts by cutting out circles of either homemade or store bough pie crust dough and placing it in mini pie pans.
Leftover pie should be stored loosely covered in the refrigerator. Consume within 3-4 days.
FAQ's
How Do You Know When Pumpkin Pie Is Done Baking?
Pumpkin pie is done baking when the filling is just set and a toothpick inserted into the center comes out clean.
Can You Freeze Pumpkin Pie?
Pumpkin pie is excellent for freezing. Wrap your pie with plastic wrap, then foil, and place in the freezer for up to 1 month.
To reheat, thaw in the refrigerator, then reheat in an oven set to 350°F. If the crust starts to brown too much, cover the edges with foil until the pie is fully heated through.
More Pumpkin Dessert Recipes
Love this recipe for Mini Pumpkin Pies? Follow me on Pinterest, Instagram, and Facebook for more!
If you try this recipe, I would really appreciate it if you would please leave a comment and star rating. Thanks!