Mini Pecan Pies are two-bite treats perfect for any holiday dessert spread. Each crisp pie crust is filled with a traditional pecan pie filling of sweet brown sugar and crunchy pecan pieces.
This post contains affiliate links. See our Disclosure Statement for more information.
It's no secret that mini desserts are a favorite around here. For a while now, I've been planning to make a few options for mini pies that would be perfect for holidays like Thanksgiving and Christmas. These Mini Pecan Pies definitely fit the bill!
These are a great option when you want to offer a variety of desserts or have smaller options for those who don't want more than a bite or two after a big holiday dinner.
If you're looking for even more mini dessert recipes, be sure to check out these Mini Chocolate Cream Pies, Mini Coconut Cupcakes with Coconut Buttercream Frosting, and Mini Eclairs.
Why This Recipe Works
This mini pies are very easy to prepare, and have the same classic pecan pie flavor you know and love.
They are bite size so you and your family and friends can enjoy just one or a few. Mini desserts make it fun to prepare multiple sweet treats for tastings or for those moments when you can't decide which dessert you want the most!
Mini Pecan Pies are perfect for the Thanksgiving and Christmas holidays, and well as other gatherings and celebrations.
Step-By-Step Instructions
Ingredients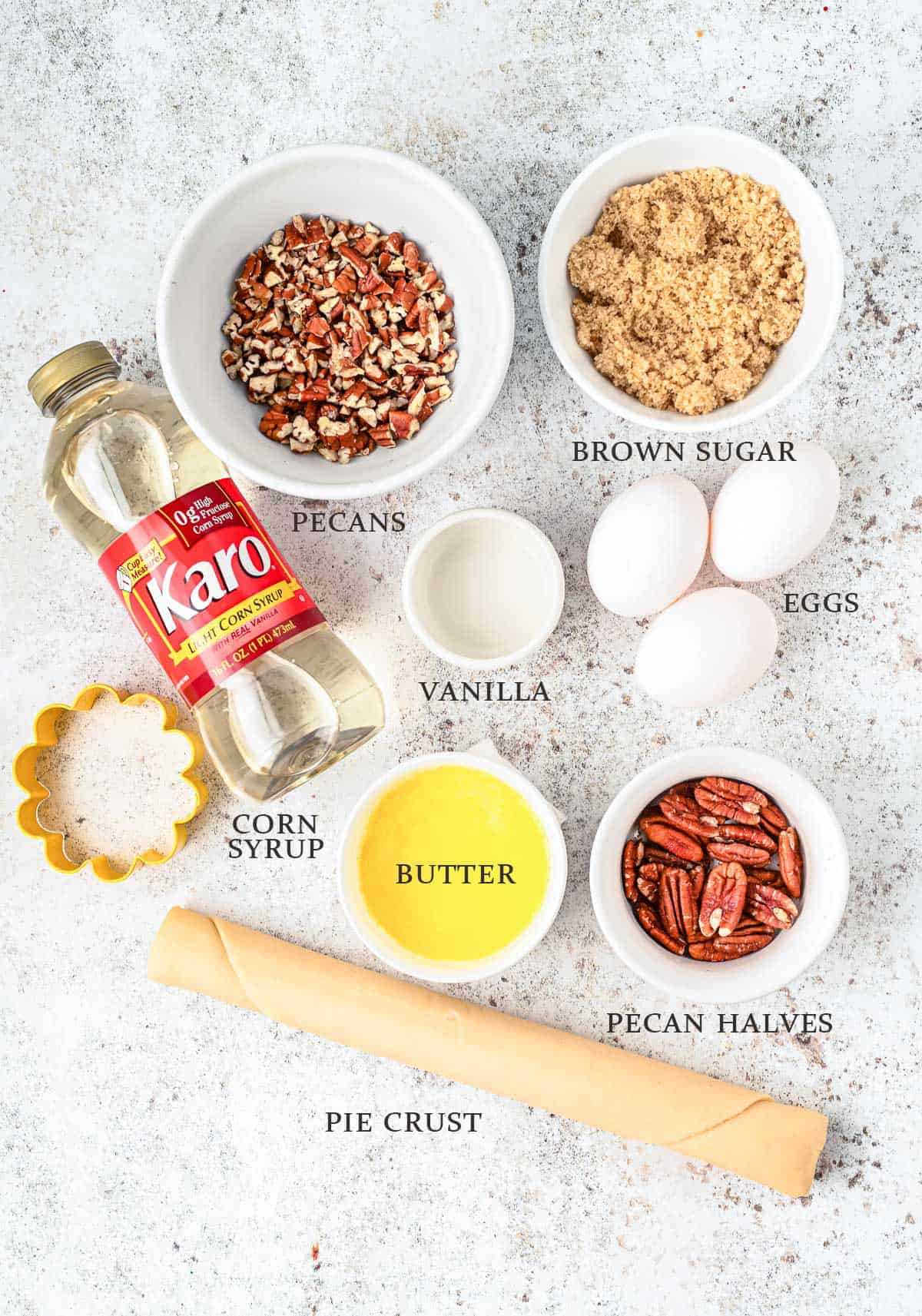 2 pie crusts: you can use store-bought or homemade pie crust
1 cup brown sugar (packed)
1 cup light corn syrup
3 eggs
3 tablespoons unsalted butter (melted)
1 teaspoon vanilla extract
3/4 cup pecans (finely chopped)
18 pecan halves
The entire recipe and instructions can also be found in the recipe card at the bottom of this post. You can also print the recipe from the card, if needed.
Prep!
Preheat your oven to 400°F.
Spray a mini muffin pan with non-stick cooking spray. Set aside.
Create!
If using homemade pie crusts, roll it out into a circle about 12 inches in diameter on a lightly floured surface. Store bought pie crusts simply need to be unrolled out onto a lightly floured surface.
Using a 3 to 3 1/2-inch size round cookie or biscuit cutter, cut out as many circles as possible from the pie crusts. You should be able to get at least 18 circles.
Gently press the circles of dough into each cup of the muffin pan, being careful not to tear it. The dough should come up the sides of the pan.
In a medium bowl, whisk together the brown sugar, corn syrup, eggs, melted butter and vanilla extract until combined. Stir in the chopped pecans.
Carefully fill each pie crust to about 1/4-inch from the top of the crust.
Chef's Tip: be careful not to overfill the crusts or spill too much of the pie filling around them or they may stick to the pan once baked and be difficult to remove.
Top each mini pie with one pecan half, if desired.
Bake for approximately 20 minutes or until the filling is set. Be careful not to over-bake.
Allow to cool in the pan before removing.
Present!
Serve warm or at room temperature with a dollop of whip cream or a side of ice cream. These mini pies pair deliciously with vanilla or Maple Walnut Ice Cream.
Tips and Techniques
Use pre-made, store-bought pie dough to make preparing this recipe even quicker and easier than it already is.
Be careful not to overfill the pie crust. Overfilling may cause the pie filling to bubble over and make a mess.
Store leftovers in an airtight container in the refrigerator. Consume within 5 days.
FAQ's
How Can You Tell If A Pecan Pie Is Done Baking?
When a pecan pie is done baking, the filling should be set and not be liquid-y when you gently shake the pan.
Can You Make A Pecan Pie Ahead Of Time?
Yes, you can make a pecan pie ahead of time. Store it tightly covered in the refrigerator up to 5 days.
Can You Freeze Pecan Pie?
Pecan pies can be tightly wrapped and frozen for up to 3 months.
More Pie Recipes
Love this Mini Pecan Pies recipe? Follow me on Pinterest, Instagram, and Facebook for more!
If you try this recipe, I would really appreciate it if you would please leave a comment and star rating. Thanks!