This easy-to-make Cherry Crumb Pie recipe is made with a fresh, tart cherry filling. It's topped with a brown sugar and cinnamon crumble and is the perfect additional to the holiday dessert table, as well as a seasonal treat!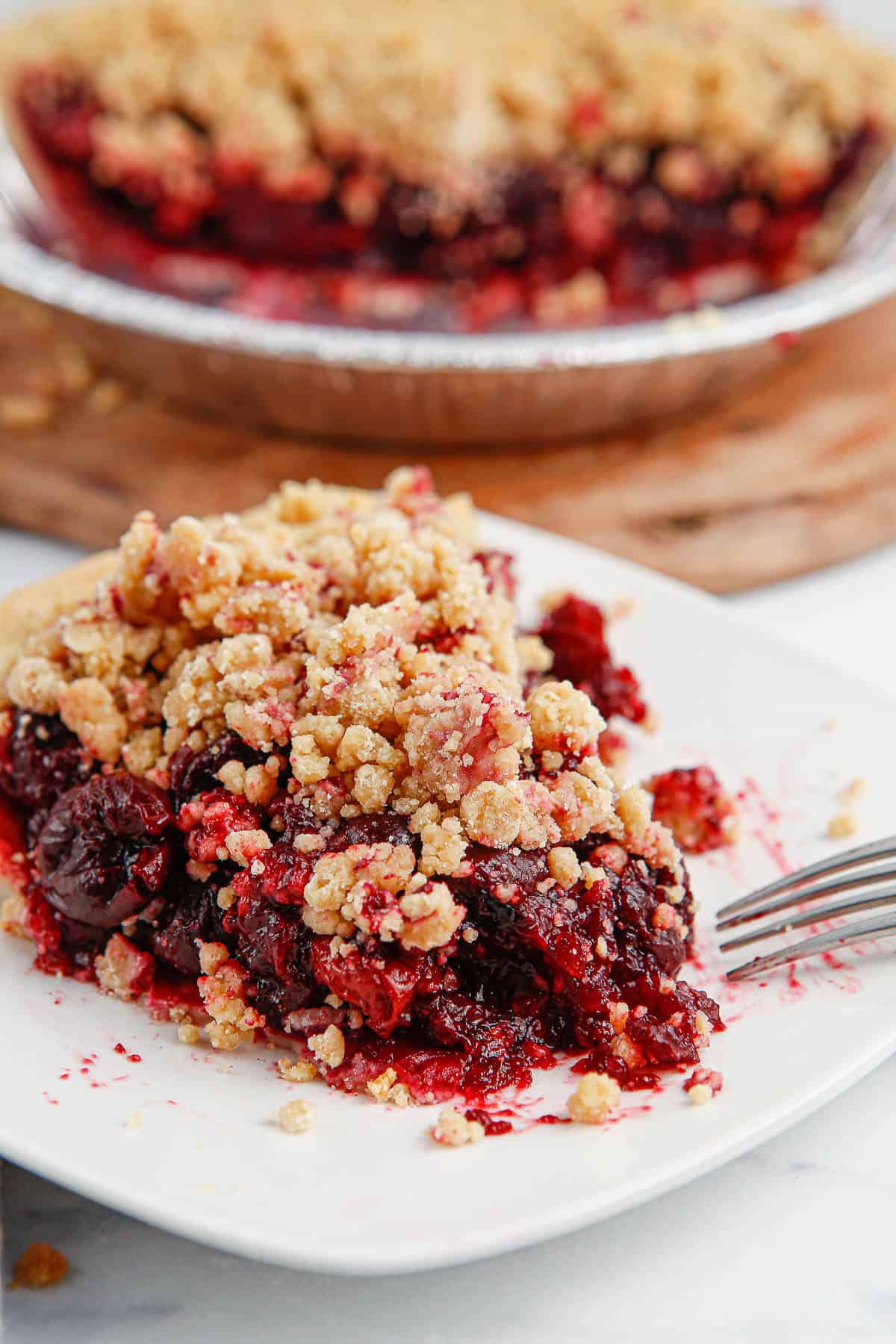 This post contains affiliate links. See our Disclosure Statement for more information.
Growing up, I absolutely loved traditional cherry pie. You know the pie with the canned cherry pie filling inside and a lattice top? I've not got a negative word to say about pie made like that – it's still one of my favorites.
But, this homemade Cherry Crumb Pie, sometimes called a cherry crumble pie, is a whole different kind of cherry pie. It's like a cherry pie with a crumb topping similar to what you might find on an apple crisp.
And, it's made with fresh cherries. Now, if you can't find fresh cherries, since they are typically only in season from May through July, you can use frozen so that you can enjoy this pie all year long.
Looking for more ways to use fresh cherries? Try our recipes for Cherry Cobbler and Chocolate Cherry Brownies too!
Why This Recipe Works
This recipe is pretty easy to make, especially if you use a store-bought pie crust. Of course you can make your own pie crust too, if you prefer.
Cherry pie is classic flavor that everyone knows and loves. The crisp topping gives it even more sweet, cinnamon-y flavor.
This pie is the perfect addition for holidays. It's absolutely beautiful on the Thanksgiving or Christmas dessert table.
Step-By-Step Instructions
Ingredients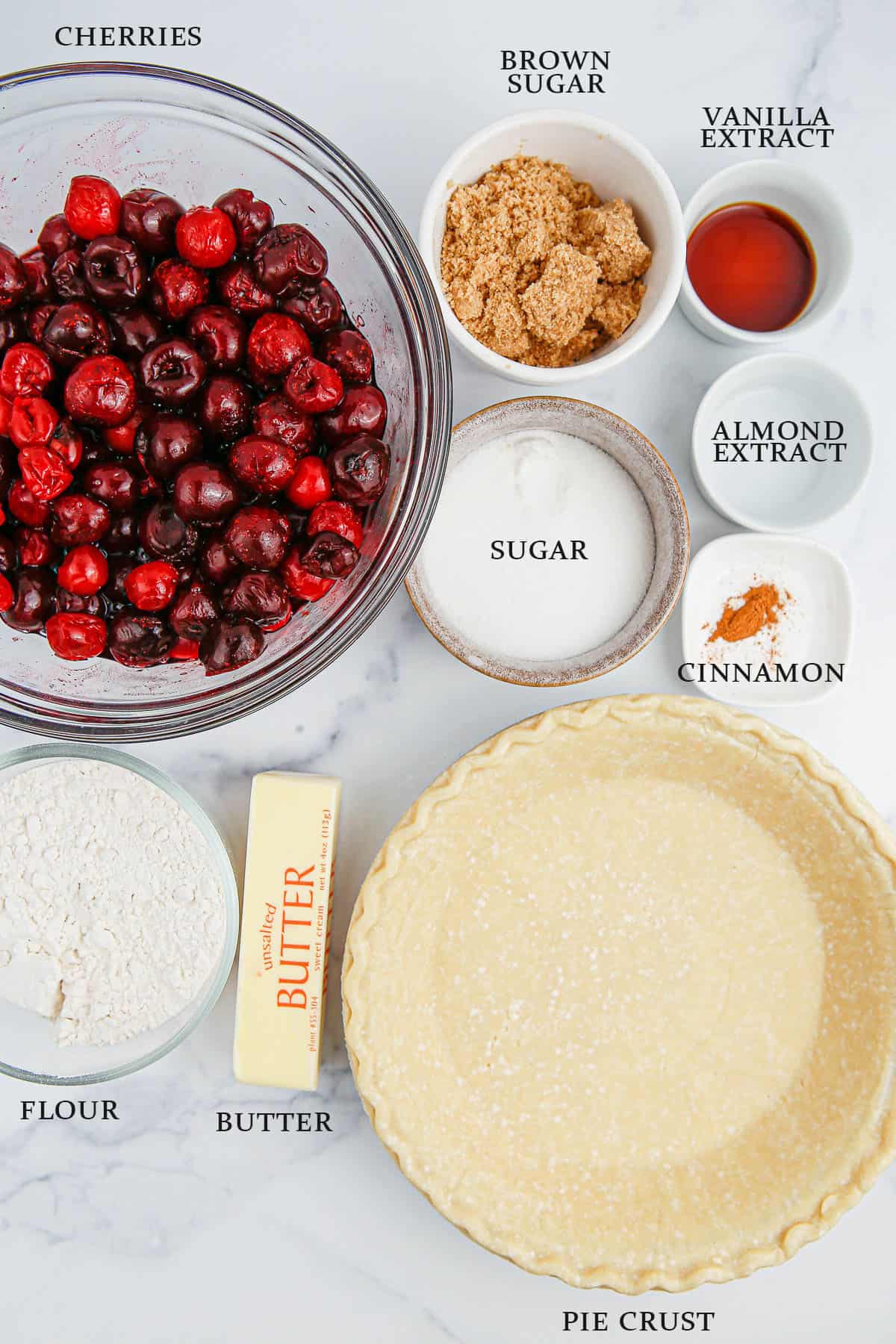 8 cups fresh cherries (pitted): tart cherries work great in this recipe. You can also use a blend of tart and dark cherries. Frozen cherries can be used but must be fully thawed and drained prior to adding them.
1 cup granulated sugar
1/4 cup cornstarch
1 teaspoon vanilla extract
1/2 teaspoon almond extract
1/2 cup unsalted butter (melted)
1 cup all purpose flour
1/2 cup dark brown sugar (packed)
1/2 teaspoon ground cinnamon
1 9-inch deep dish pie crust (or homemade crust recipe)
The entire recipe and instructions can also be found in the recipe card at the bottom of this post. You can also print the recipe from the card, if needed.
Prep!
Preheat your oven to 350°F.
Remove the pits from the cherries, if needed.
Create!
In a large saucepan, mix together the cherries, white sugar, and cornstarch. Cook over medium low heat until the mixture begins to thicken and bubble.
Remove from heat and stir in the vanilla and almond extract. Set aside to slightly cool.
In a medium size bowl, mix together the melted butter, flour, brown sugar, and cinnamon until well combined.
Pour the cherry pie filling into the prepared pie crust.
Crumble the flour mixture into small pebble sized pieces and sprinkle on top of the pie filling.
Bake in the preheated oven for 45 to 55 minutes, or until the filling is bubbling and the topping is a light golden brown.
Present!
Allow the pie to fully cool before cutting.
Slice and serve.
Tips and Techniques
If using frozen cherries make sure they are completely thawed and drain any juice before adding to the pan.
Tart cherries work great for this recipe, or a blend of tart and dark cherries. If you only have dark cherries on hand, I'd recommend adding 1-2 tablespoons of lemon juice to the filling to balance the sweetness of the dark cherries, and reduce the amount of sugar used to 1/2 cup.
Pre-made cherry pie filling can be used as a substitute. If using pre-made filling, omit the cornstarch and sugar from the filling mixture and skip the cooking in Step 2.
Store leftover pie in an airtight container for up to 3 days in the refrigerator.
FAQ's
Can You Freeze Cherry Pie?
This Cherry Crumb Pie can be frozen for up to 3 months. To defrost the frozen pie, leave it in the refrigerator for 8 hours or overnight to fully thaw before serving.
More Fruit Pie Recipes
Love this Cherry Crumb Pie recipe? Follow me on Pinterest, Instagram, and Facebook for more!
If you try this recipe, I would really appreciate it if you would please leave a comment and star rating. Thanks!