Mini Cheesecake Cupcakes are made with a simple graham cracker crust and homemade cheesecake that bakes up creamy and delicious. They are finished off with a dollop of cherry pie filling or your own favorite toppings.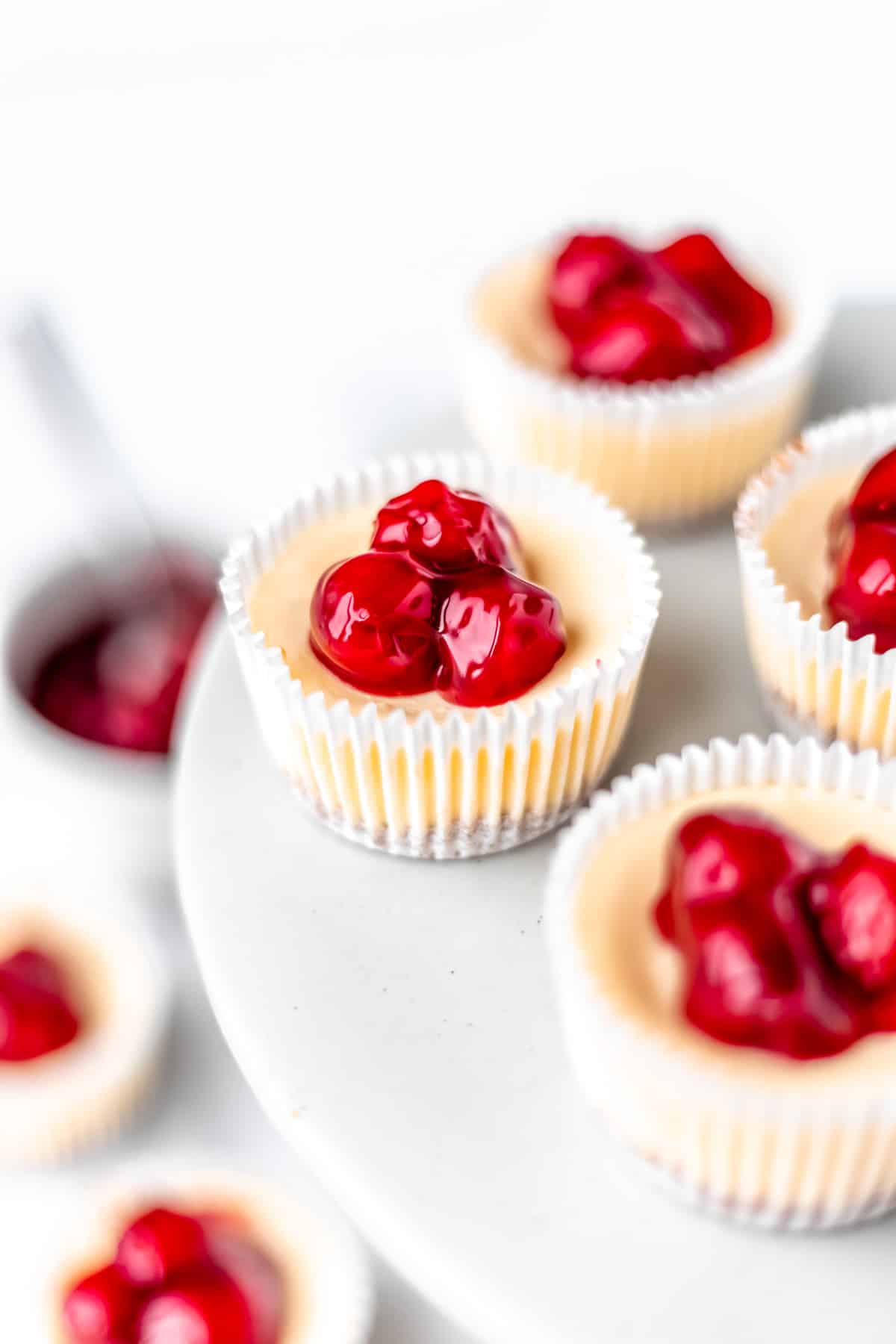 This post contains affiliate links. See our Disclosure Statement for more information.
Mini Cheesecake Cupcakes are yet another recipe that will always bring back a little reminder of my childhood.
I can remember my mom making them in a cupcake pan in foil liners and topping each mini baked cheesecake with a spoonful of my favorite cherry pie filling.
That memory, along with the fact that cheesecake is still one of my favorite desserts, helped me to create my own mini cheesecake recipe in a similar way. Each cup is filled with rich, creamy cheesecake on a graham cracker crust.
A dollop of cherry pie filling tops my cheesecakes, but you can use any topping that you prefer. This Blueberry Sauce would also be so delicious on these little cheesecake bites!
I think this is are the best mini cheesecake cupcakes, and I think you will too!
Why This Recipe Works
This is a pretty easy recipe to prepare. It's as simple as making a crust from crushed graham crackers and butter, then whipping up a quick cheesecake batter. After they are done baking, simply add a spoonful of cherry pie filling, or your own favorite topping.
These single serve delicious little bites are perfect for parties and entertaining.
They are super versatile. You can top them with a huge variety of pie fillings, sauces, chocolate, caramel, fresh fruit, candy, and/or nuts.
Step-By-Step Instructions
Ingredients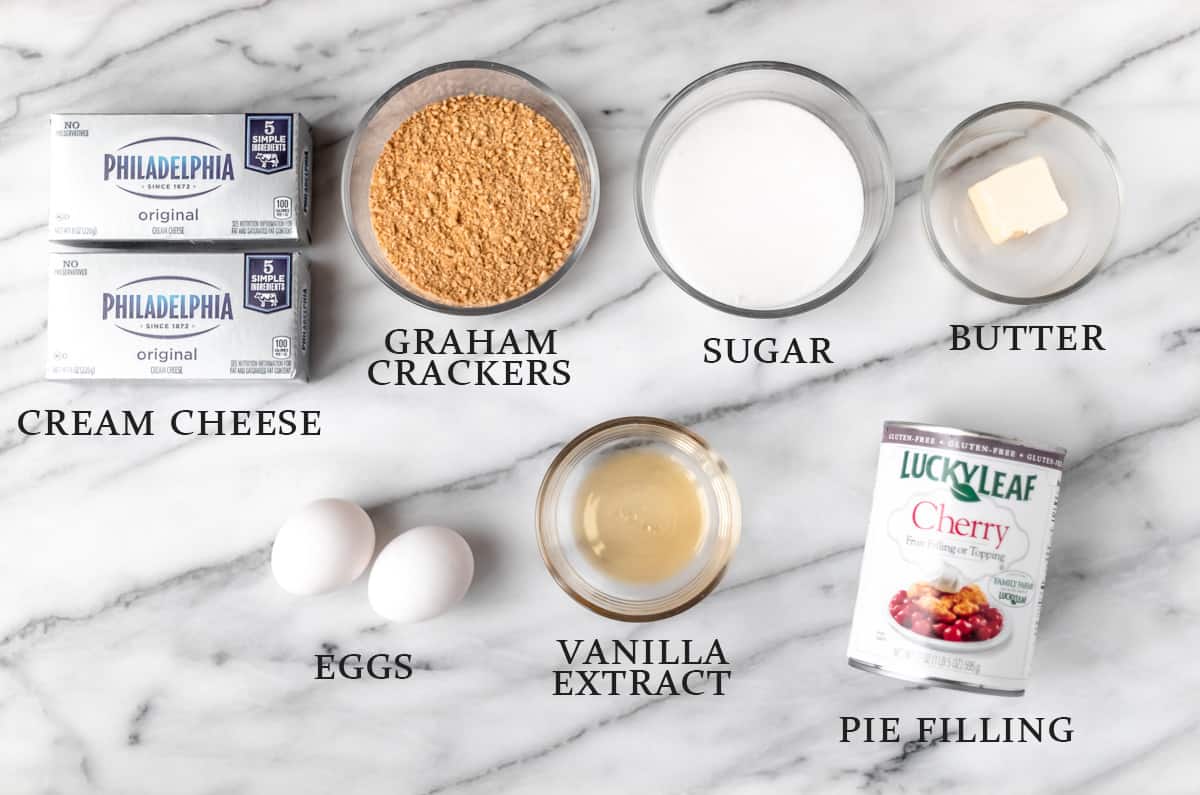 Graham Cracker Crust
3/4 cup graham cracker crumbs: you can buy these or make your own by adding graham crackers to a food processor and pulsing until they resemble fine crumbs.
2 tablespoons granulated sugar
3 tablespoons unsalted butter (melted)
Cheesecake
2 8 ounce packages cream cheese (at room temperature): it is recommended to use full fat cream cheese for the best results.
1/2 cup granulated sugar
1/2 teaspoon vanilla extract
2 eggs (room temperature)
Cherry pie filling: or any topping that you prefer
Chef's Tip: it is very important that the cream cheese and eggs be at room temperature. If either is cold it will not beat together smoothly and will result in lumps in your cheesecake.
The entire recipe and instructions can also be found in the recipe card at the bottom of this post. You can also print the recipe from the card, if needed.
Prep!
Set the cream cheese and eggs out at least an hour ahead of time to come to room temperature.
Preheat your oven to 325°F.
Line a standard cupcake pan with 12 cupcake liners.
Create!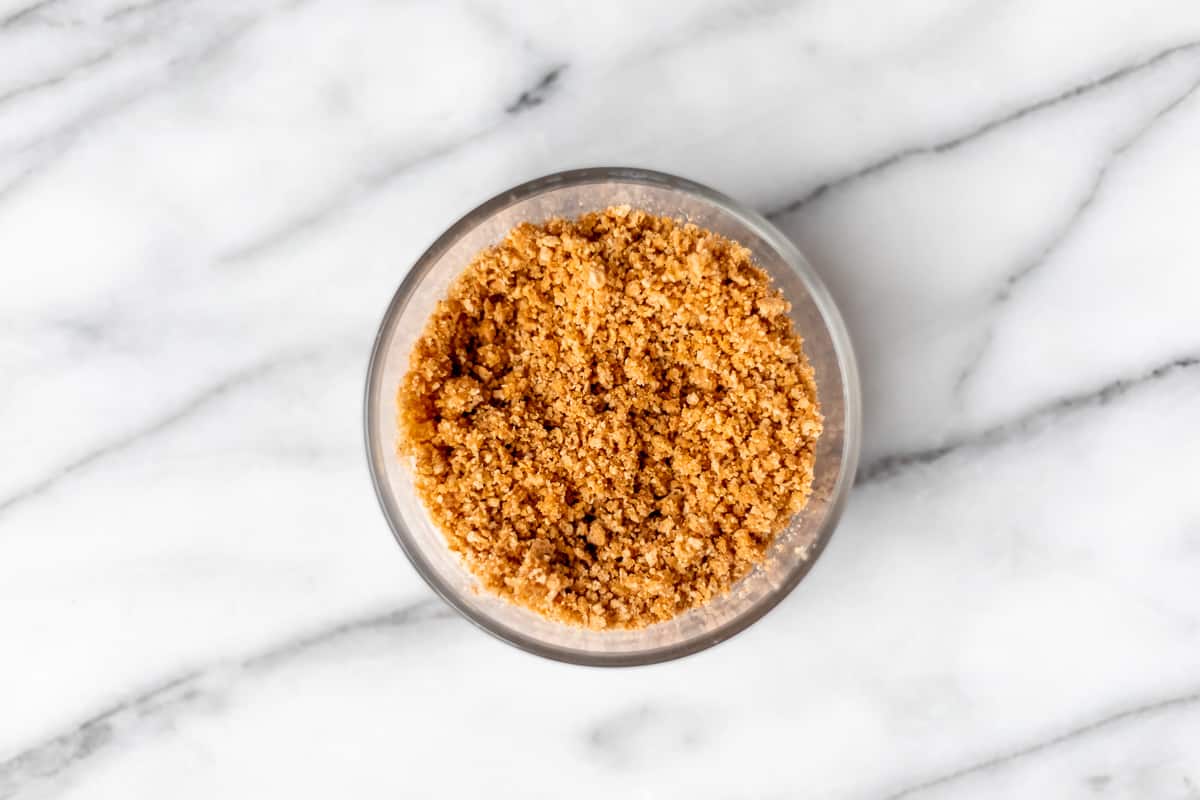 Combine the graham cracker crumbs, 2 tablespoons of sugar and melted butter in a small bowl and mix until it resembles wet sand.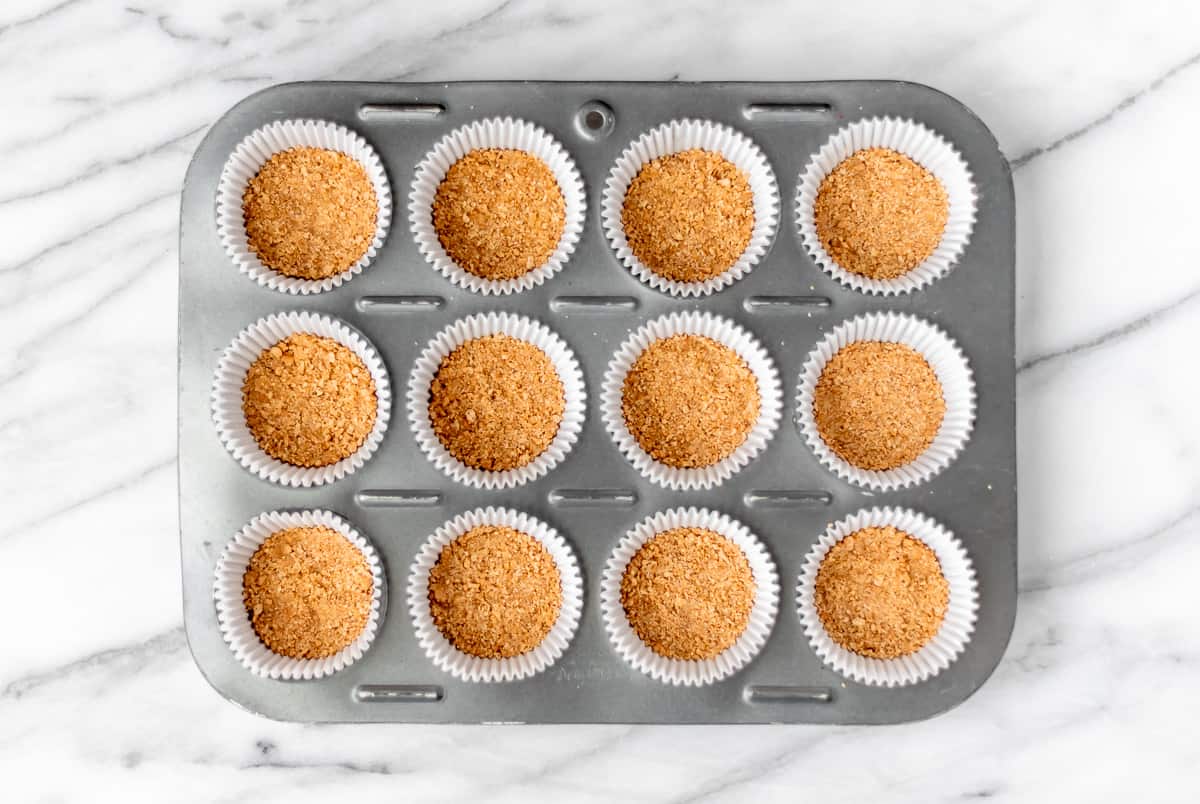 Press 2 to 3 teaspoons of the graham cracker mixture into the bottom of each cupcake liner and press it down firmly with your fingers or the back of a tablespoon.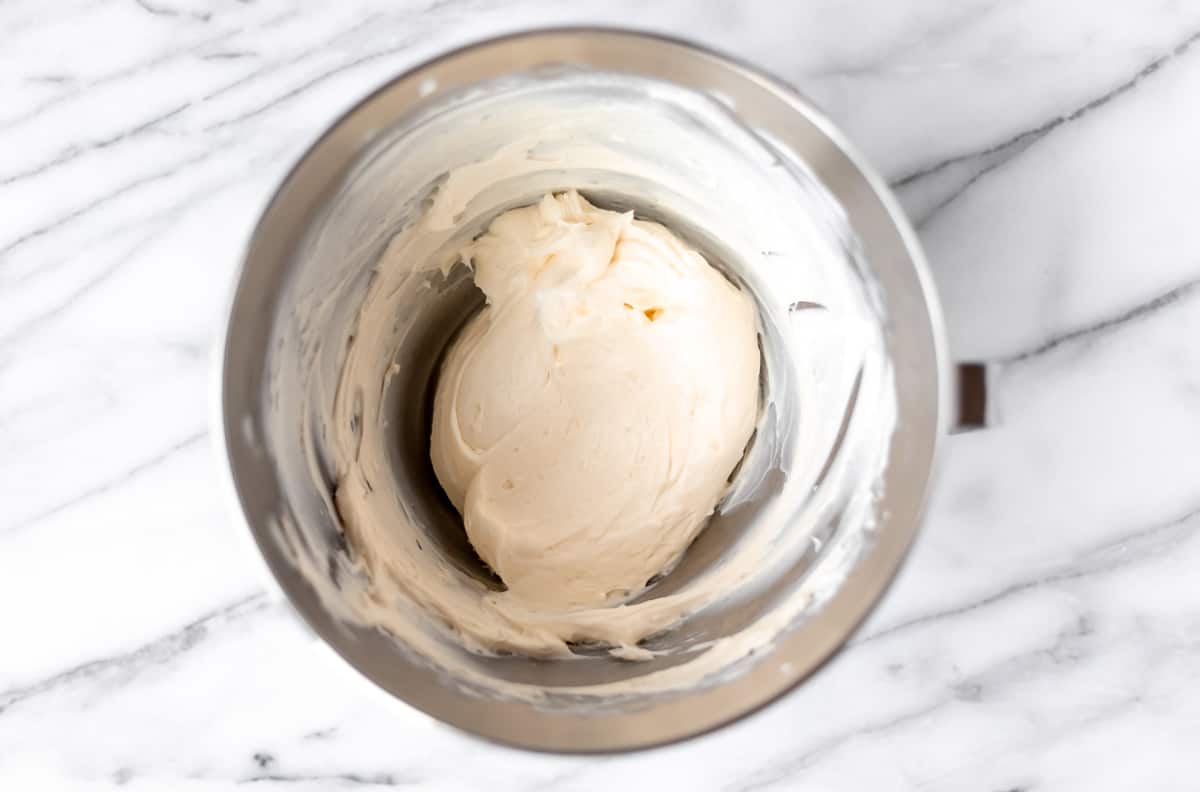 In a stand mixer fitted with a paddle, beat the cream cheese, sugar and vanilla extract on medium high speed until very smooth, scraping down the sides of the bowl as needed.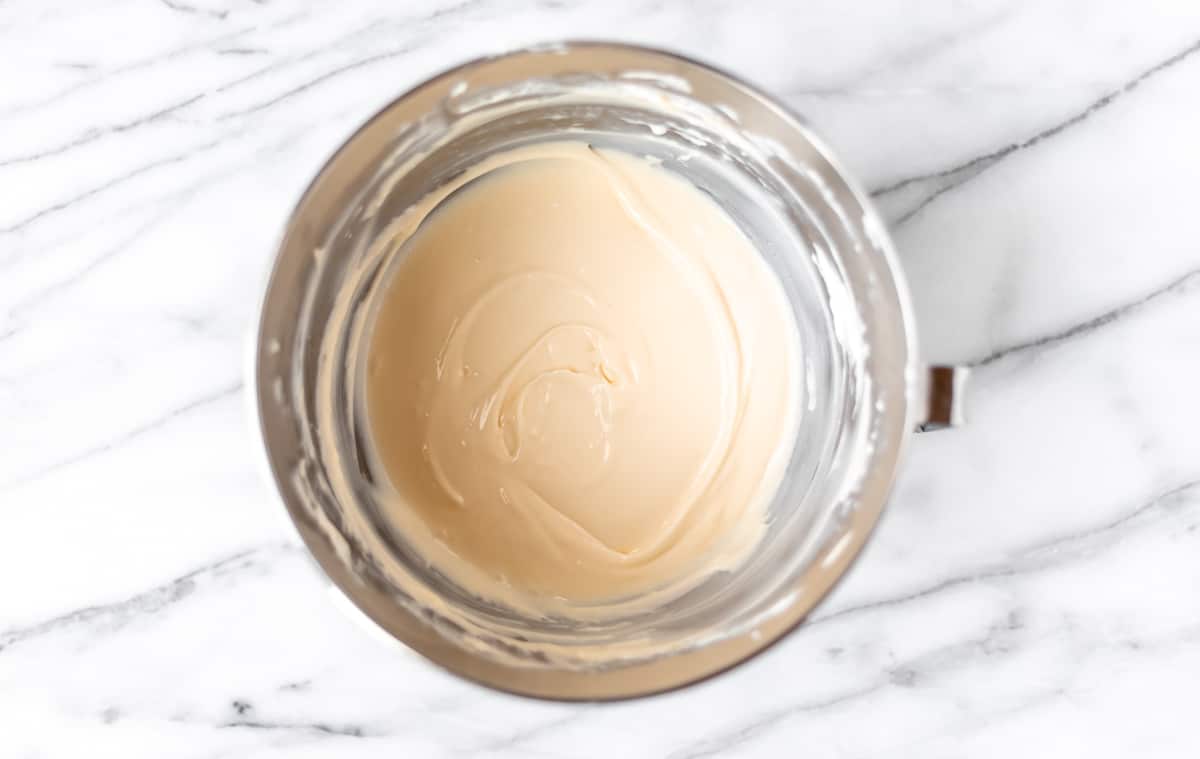 Lower the speed and add the eggs one at a time and continue to beat just until creamy smooth, scraping down the sides of the bowl as needed. The batter needs to be smooth and lump-free, but be careful not to over-mix.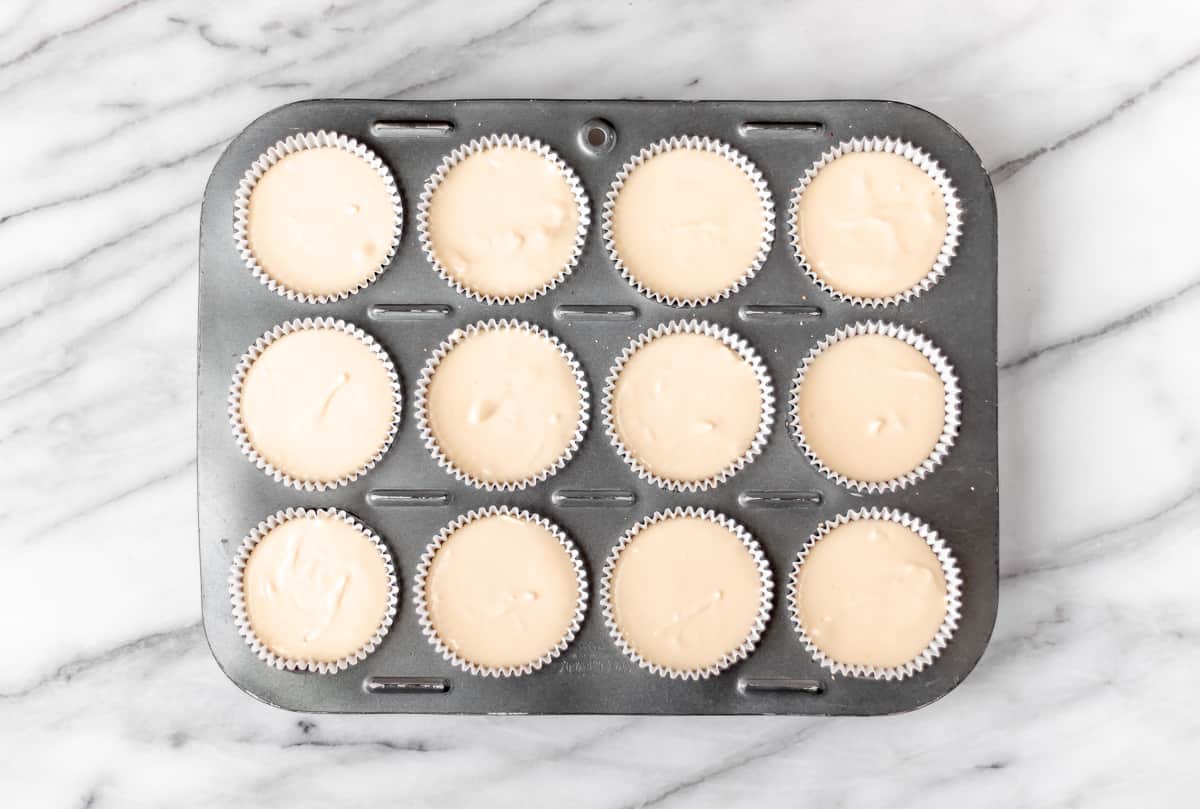 Add about 1/4 cup of the batter to each cupcake liner. The filling should come up almost to the tops of the liners.
Bake for 18-20 minutes or until the mini cheesecakes are about set, but slightly jiggly in the centers. They will set more as they cool and chill.
Transfer the cheesecakes to the refrigerator for at least 4 hours.
Present!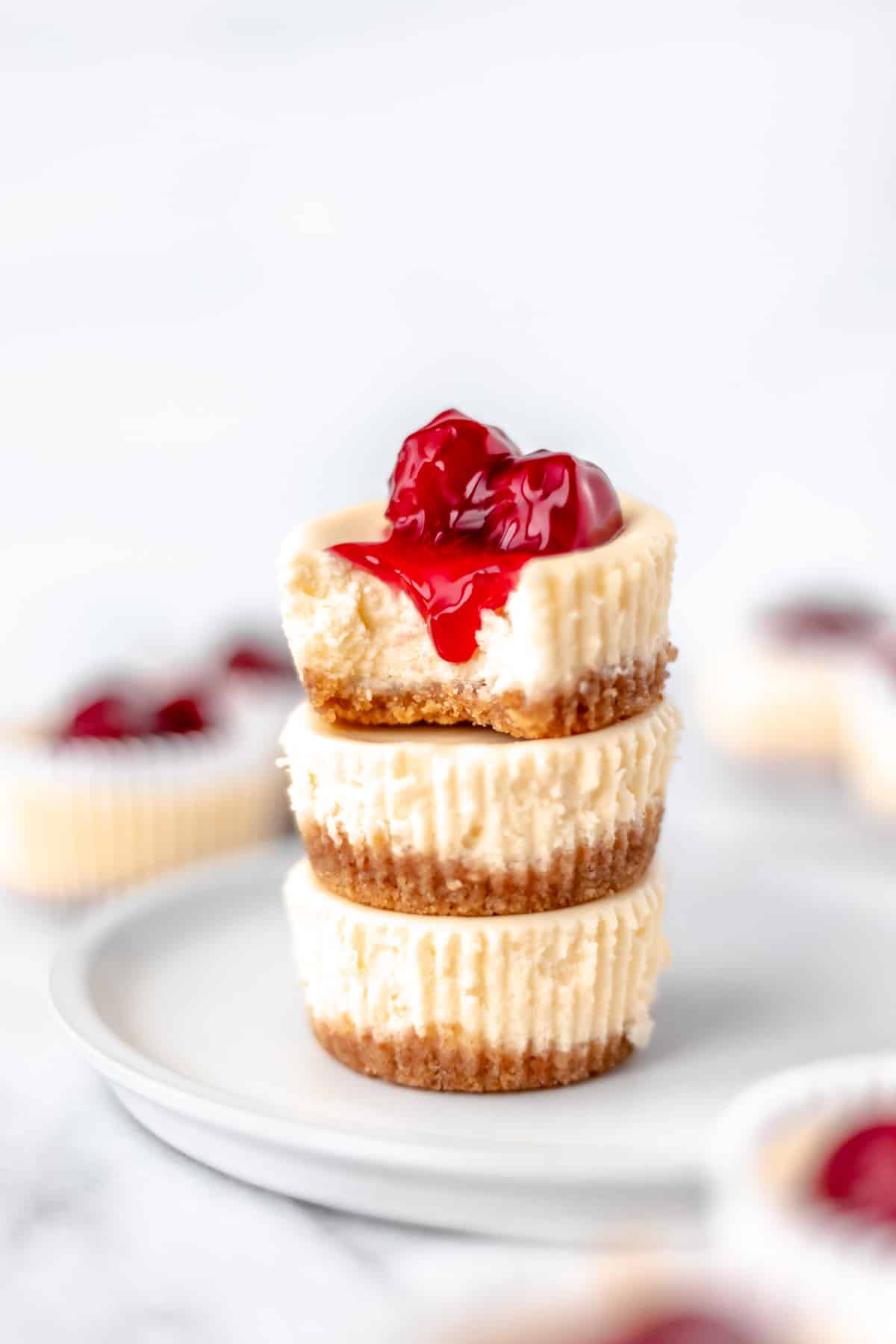 Once the cheesecake cupcakes have fully chilled, remove them from the refrigerator and garnish with a spoonful of cherry pie filling or your preferred topping and serve.
Tips and Techniques for the Perfect Cheesecake with No Cracks!
Be sure to use room temperature cream cheese and eggs and do not over mix the cheesecake batter.
Do not over-bake the cheesecake. Cheesecake is done baking when the edges are just set, but the center is still wobbly. It will continue to set as it cools.
Chill the cheesecake cupcakes in the refrigerator for at least 4 hours before serving.
FAQ's
How Long Does Cheesecake Keep In The Refrigerator?
You can store extra cheesecake in the refrigerator, tightly covered with plastic wrap, for up to 3 to 4 days.
Can You Freeze Cheesecake?
Yes. Allow the cheesecake to cool then wrap it tightly in plastic wrap. You can wrap it whole or cut it into individual servings. Use within 1 month for best results.
What Is The Difference Between New York style Cheesecake And Regular Cheesecake?
New York style cheesecake uses more cream cheese in the filling resulting in a richer, denser cheesecake. A regular cheesecake uses a combination of cream cheese and sour cream which will give you a lighter, creamier texture with added tang.
This recipe is New York style.
More Cheesecake Recipes
Love this Mini Cheesecake Cupcakes recipe? Follow me on Pinterest, Instagram, and Facebook for more!
If you try this recipe, I would really appreciate it if you would please leave a comment and star rating. Thanks!