Mini Eclairs are simply smaller versions of classic eclairs. These two-bite treats are made with classic, French pâte à choux pastry, filled with vanilla pastry cream, and topped with a chocolate glaze. They are easy to make and perfect for entertaining.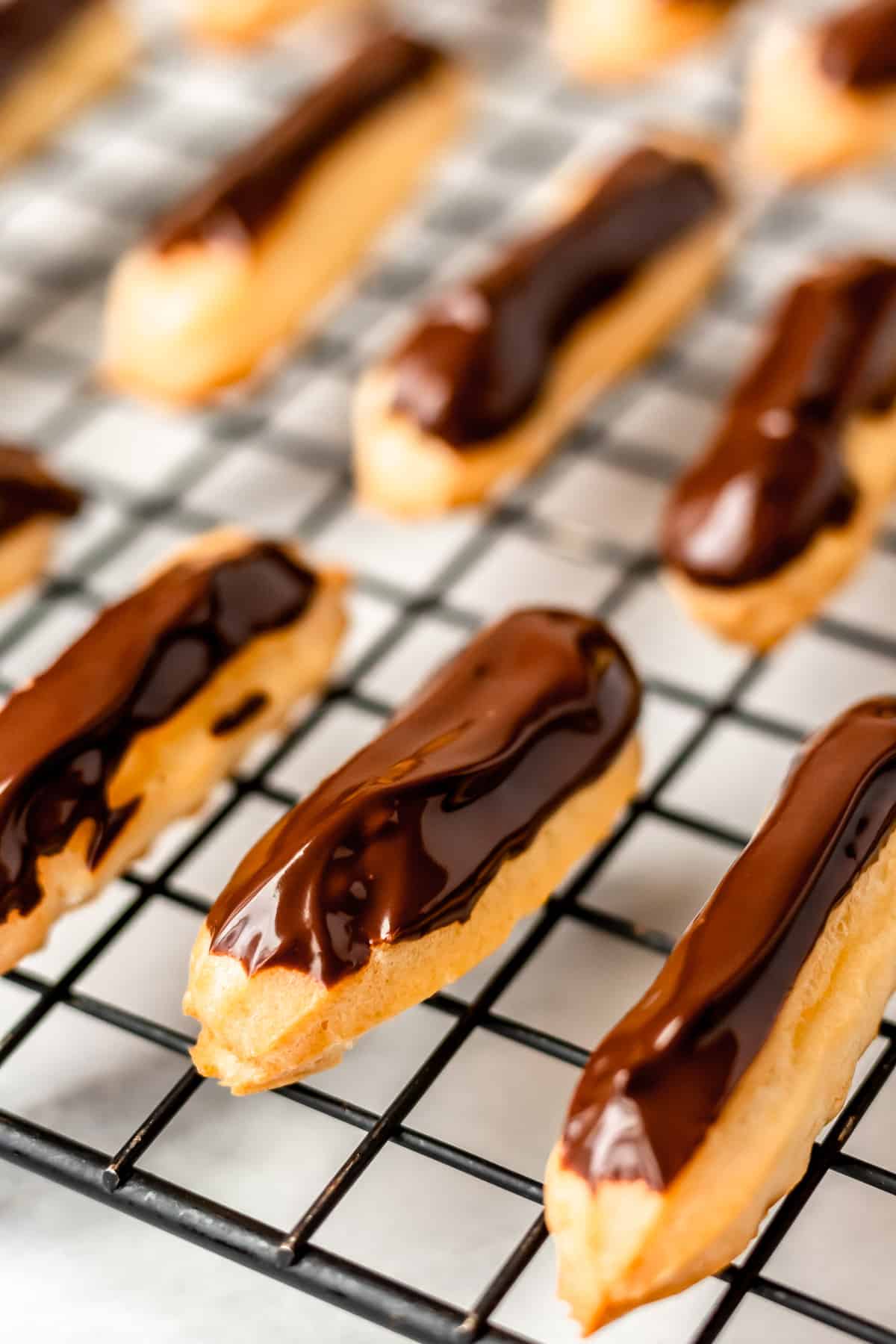 This post contains affiliate links. See our Disclosure Statement for more information.
Mini Eclairs are just smaller versions of a traditional eclairs recipe. These delicious little bites are the best when you just need a small treat or for entertaining.
Making homemade eclairs may seem like a daunting task, but it is actually a very straightforward method.
Pâte à choux pastry is the base for this Mini Eclairs recipe. It is the same pastry dough that is used for popular recipes such as cream puffs, profiteroles and Gougères.
Similar to cream puffs, eclairs are usually filled with French Vanilla Pastry Cream (Crème Pâtissière), though chocolate pastry cream or sweetened whipped cream can also be used. For a quick an easy filling, this Pastry Cream Alternative made with instant pudding mix can also be used.
After filling, the tops of the eclairs are dipped into melted chocolate or a chocolate ganache.
Interested in trying more mini desserts? Mini Chocolate Cream Pies, Mini Chai Cupcakes and Mini Lemon Cheesecakes are a few recipes you might enjoy, as well.
Why This Recipe Works
Eclairs are a classic, favorite recipe for many. This mini eclairs recipe is especially great for entertaining.
Though eclairs have a reputation of being a bit more fancy or upscale, they are fairly easy to make.
Eclairs are versatile. You can change the filling to just about any flavor, though vanilla pastry cream is still the most common.
How To Make Eclairs
Ingredients
1 cup water
1/2 cup unsalted butter
1 cup all purpose flour
1/2 teaspoon salt
4 eggs
2 cups pastry cream (see the Prep! section below)
1 cup high quality chocolate (I used Scharffenberger Semi-Sweet Chunks), chips or cut into pieces (if you use a standard chocolate, you can add 1 tablespoon of light corn starch to give it a shiny finish).
The entire recipe and instructions can also be found in the recipe card at the bottom of this post. You can also print the recipe from the card, if needed.
Prep!
Prepare your pastry cream and refrigerate. You can use a classic Vanilla Pastry Cream recipe which is a custard made with eggs or my Pastry Cream Alternative recipe that is egg-free, uses just two ingredients, and is much quicker to make.
If you choose to use the pastry cream alternative, see the notes section for how to make a smaller batch.
Preheat your oven to 425°F.
Create!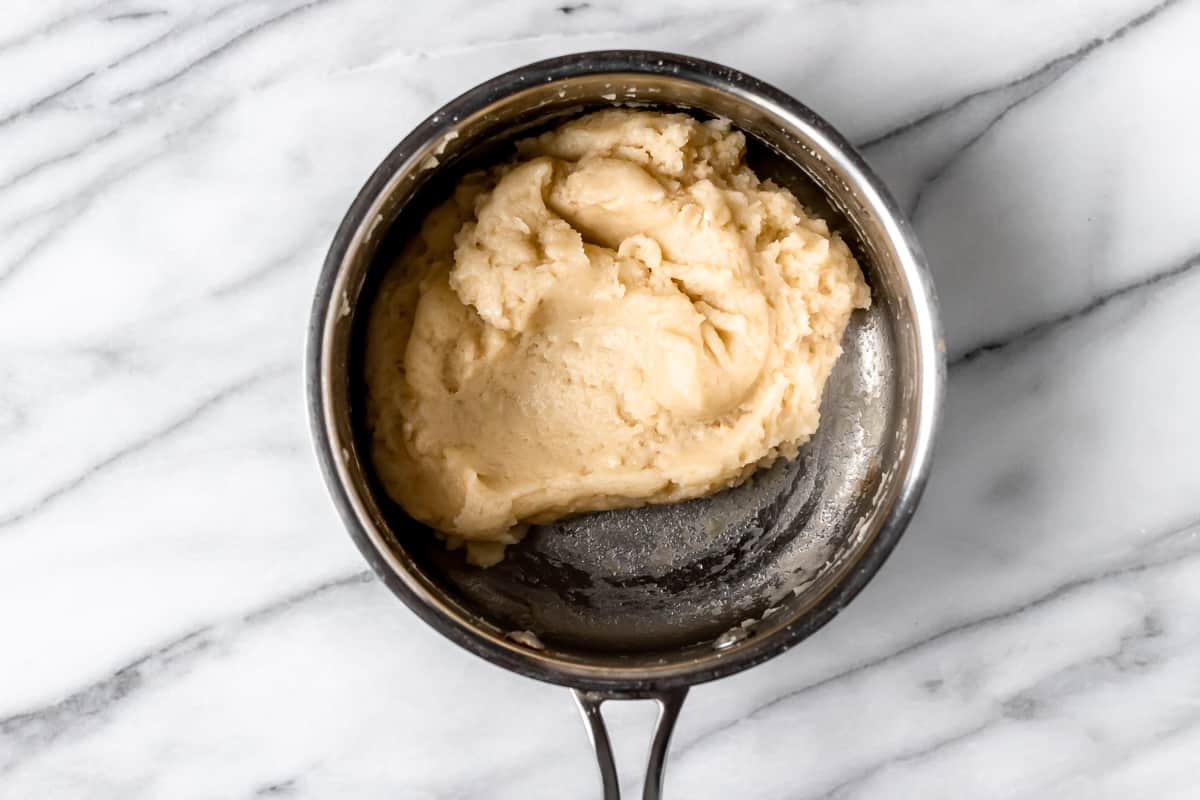 In a medium sauce pan, bring the water and butter to a boil, ensuring that the butter is fully melted.
Stir in the flour and salt all at once with a wooden or silicone spoon until a ball of dough forms. Continue to cook until the dough starts to form a film on the bottom of the pan, about 30-60 seconds longer.
The dough should be about 175°F at this point.
Transfer the dough to the mixer bowl and turn onto medium speed for about 1 minute. The temperature of the dough needs to drop to 145ºF or less before adding the eggs to prevent the eggs from cooking. You can check the temperature with a food thermometer if you have one.
Add the eggs one at a time and beat on medium speed until each one is fully incorporated before adding the next. When the batter is fully mixed, it will resemble more of a thick cake batter rather than dough.
Transfer the pastry dough to a pastry bag fitted with a 1/2-inch star tip (I use a Wilton #21). You could also use a circle tip if you don't want the eclairs to have ridges.
Hold the bag at a 45 degree angle about a half inch above a parchment or Silpat-lined (recommended) baking sheet and pipe a 2-inch line of batter. Repeat, leaving at least a half of an inch between each eclair, until the baking sheet is full.
Chef's Tip: you can add a small dot of batter under each corner of the parchment paper, if using, to help hold the paper down as you pipe your eclairs.
Smooth off any points of batter with a wet finger so that they don't burn while baking.
You will need at least two baking sheets, or you will need to work in batches.
Bake for 15-20 minutes or until golden brown. Allow to cool.
Place the pastry cream in a second pastry bag fitted with a small, circle tip. I use a Wilton #7 tip. Fill the eclairs by poking a small hold into each side of the bottom with the tip. Squeeze the pastry cream in slowly until you just start to feel the eclair expand. Smooth off any excess.
Repeat with the remaining eclairs.
To melt the chocolate, fill a small pot about 1/3 of the way full with water and bring to a boil. Place the chocolate in a medium or large mixing bowl. The bowl needs to be big enough so that it can be placed on top of the pot without touching the water.
Once the water is boiling, turn off the heat and place the bowl of chocolate on top of it. Let it sit for a minute or two, then use a spatula to stir until fully melted and smooth.
I like to transfer the melted chocolate to a shallow bowl or dish to make it easier to evenly dip the eclairs.
Dip just the top of the eclair into the melted chocolate, letting the excess drip off before turning it back over. Place on a cooling rack and allow the chocolate to set.
Present!
Eclairs are best enjoyed freshly made. Store leftover prepared eclairs in the refrigerator.
Tips and Techniques
Use a high-quality chocolate for the glaze. If you need to use a lesser quality chocolate, you an add about 1 tablespoon of light corn syrup to give the chocolate more of a shiny finish.
You can add a small dot of batter under each corner of the parchment paper, if using, to help hold the paper down as you pipe your eclairs.
Store leftovers in an airtight container at room temperature. Eclairs are best served the day that they are made, but will keep for a couple of days.
FAQ's
What Are Eclairs Filled With?
Eclairs are usually filled with Vanilla Pastry Cream (Crème Pâtissière). You could also use a chocolate pastry cream, Bavarian cream, a sweetened whipped cream or even pudding, if preferred.
Can You Freeze Eclairs?
Eclairs are best when enjoyed fresh, but leftovers can be frozen. Lay the eclairs out on a sheet pan, then place in the freezer. Once frozen transfer them to an airtight container or freezer bag. Allow the eclairs to defrost at room temperature before eating.
More Dessert Recipes
Love this Mini Eclairs recipe? Follow me on Pinterest, Instagram, and Facebook for more!