Homemade Italian Seasoning is a delicious addition to an endless number of meat, poultry and vegetarian dishes. It's quick and easy to make and can be stored in your pantry to be used, as needed.
This post contains affiliate links. See our Disclosure Statement for more information.
There really is no need to buy over-priced premade herb and spice mixtures when you can easily make your own exactly how you like them.
This easy Homemade Italian Seasoning mix adds a robust flavor to any recipe that you want to use it in.
Try adding a little of this seasoning to dishes like Italian Turkey Sweet Potato Skillet, Sheet Pan Italian Chicken with Potatoes and Peppers, and Keto Italian Meatballs.
Why This Recipe Works
This is a super-simple seasoning mix. It's so quick and easy to mix together that you'll wonder why you ever bought the pre-made mixes in the first place.
With all the herbs and spices inside, it's one of the most flavorful seasonings you can make. You can use it on chicken, turkey, pork, even pasta and vegetarian or vegan dishes.
Plus, it's a really versatile spice mixture too. You have full control over how it tastes. Adjust the amount of herbs, add other types that aren't in it, or leave your least favorite kinds out of it.
Step-By-Step Instructions
Ingredients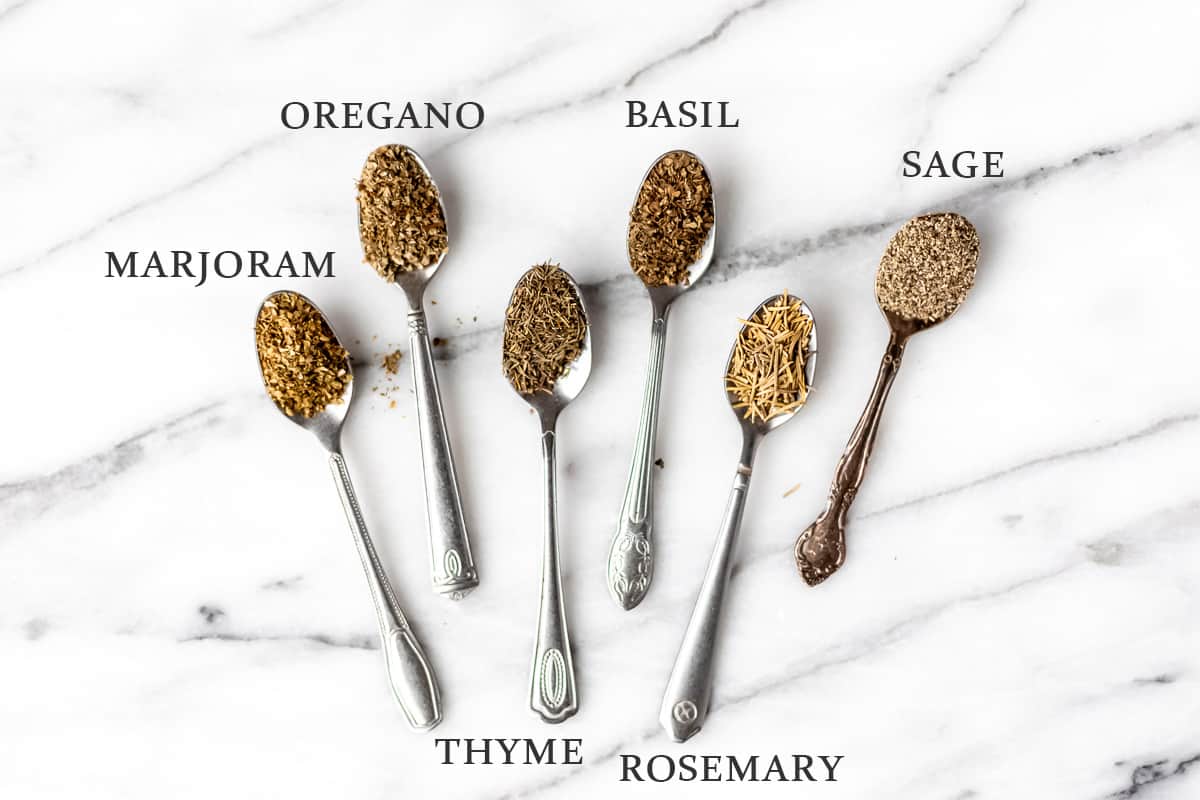 1 tablespoon dried marjoram: marjoram is a less common herb. If you don't have it, you can use more oregano instead.
1 tablespoon dried oregano
1 1/2 teaspoons dried basil
1 1/2 teaspoons dried thyme
1 1/2 teaspoons dried rosemary
1 1/2 teaspoon dried sage
The entire recipe and instructions can also be found in the recipe card at the bottom of this post. You can also print the recipe from the card, if needed.
Prep!
There is no prep work for this recipe.
Create!
Add the marjoram, oregano, basil, thyme, rosemary, and sage to a small bowl and mix until well combined.
Chef's Tip: if a finer seasoning is preferred, you can use a spice or clean coffee grinder, mortar and pestle, or small food processor to blend it to your desired texture.
Present!
Store in a jar with a lid away from direct sunlight.
Use by the earliest expiration date on the individual jars of herbs used.
Tips and Techniques
Use fresh, dried herbs and spices for the best results.
If you don't have or don't like an ingredient, you can easily adjust this recipe to suite your own tastes.
Use a spice or coffee grinder, food processor, or mortar and pestle to grind the spices finer, if desired.
Store in a dry, cool place away from direct sunlight. Use by the earliest expiration date on the individual jars of herbs used.
FAQ's
What Is In Italian Seasoning?
Most Italian seasoning includes marjoram, oregano, basil, rosemary, sage, and thyme. Some may include other herbs such as savory, parsley, dried garlic, or red pepper flakes for a spicier seasoning.
What Can Be Used As A Substitute For Italian Seasoning?
If you don't have Italian seasoning on hand, use any combination of the herbs typically found in pre-made mixes, Herbs de Provence, poultry seasoning, or a combination of fresh herbs if you have them.
More Homemade Spice Mixtures
Love this Homemade Italian Seasoning recipe? Follow me on Pinterest, Instagram, and Facebook for more!
If you try this recipe, I would really appreciate it if you would please leave a comment and star rating. Thanks!