Homemade Blackening Spice is a quick and easy mixture of spices and herbs, which add tons of flavor to any dish. This savory and mildly spicy combination of ingredients is perfect for seasoning meat, vegetables, and especially Cajun dishes. All you need to do is measure and mix the ingredients!
This post contains affiliate links. See our Disclosure Statement for more information.
For a simple way to add flavor to meat, vegetables, and more, try Homemade Blackening Spice. This spice mix is often used on fish and chicken, but it is especially common in Cajun recipes. 10 different spices are included in this recipe for blackening spice mix.
Homemade spice mixes, like this one, are a quick and easy way to improve the flavor of any dish. All you need to do is measure and combine the spices in an airtight container. Voila! Now you've got fresh Blackening Spice.
Use this spice mixture to create extra flavorful dishes such as Blackened Fish Tacos or Cajun Shrimp and Grits. You may also use this delicious Homemade Blackening mix to season dishes such as Creamy Cajun Chicken and Jambalaya.
Why This Recipe Works
Making blackening spice is quick and easy. Plus, it adds a ton of flavor to any dish you decide to use it in.
Homemade blackening spice is better than store bought varieties because there are no fillers or unnecessary ingredients.
This spice mix is versatile. You can use it in all recipes that call for blackening seasoning. It's also very similar to Cajun seasoning, but milder. It can be used in place of Cajun seasoning for a similar flavor profile with a little less heat.
How To Make Blackening Seasoning
Ingredients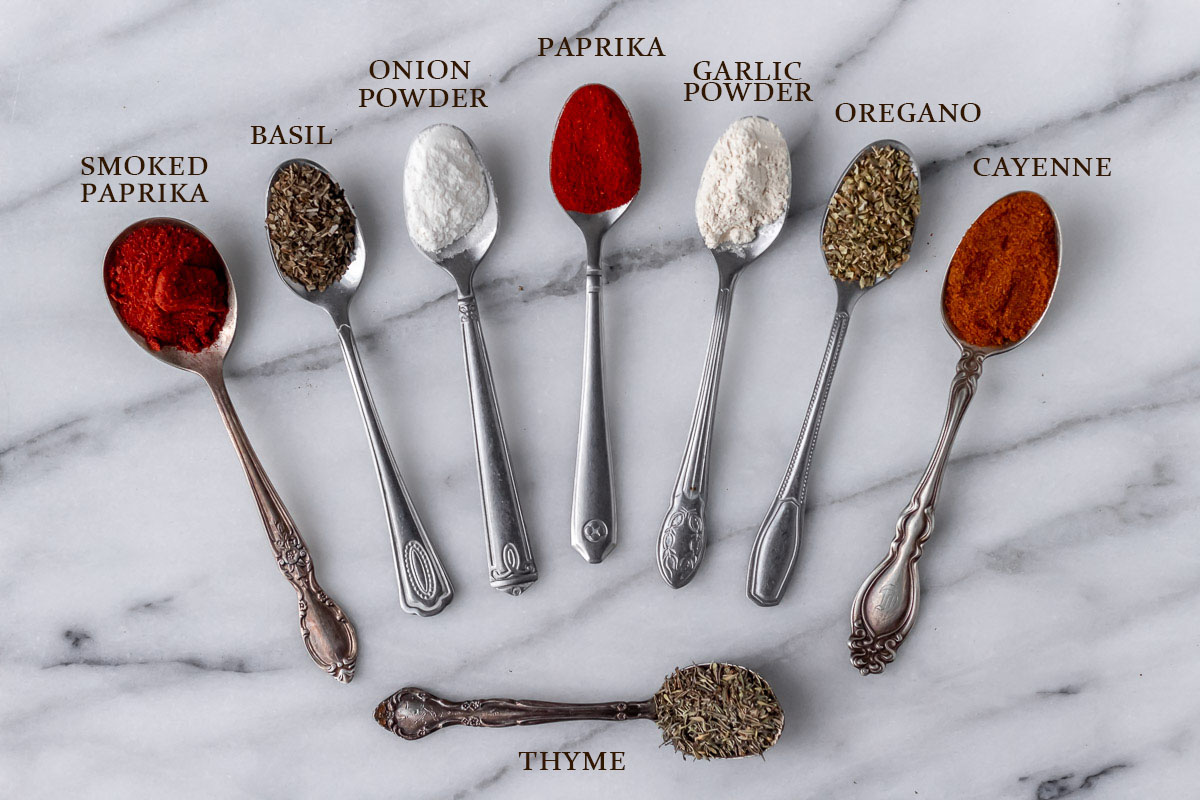 Paprika
Smoked Paprika: you can adjust the amount of both regular paprika and smoked paprika to suit your own tastes.
Garlic Powder
Onion Powder
Dried Basil
Dried Oregano
Dried Thyme
Cayenne Pepper: use more or less depending on how spicy you want your dish. If you are making this spice mixture to use in Cajun recipes, you would typically use more cayenne pepper.
Salt
Pepper
The entire recipe and instructions can also be found in the recipe card at the bottom of this post. You can also print the recipe from the card, if needed.
Prep!
There is no prep work for this recipe other than to gather your spices and a container with an airtight lid.
Create!
Combine all of the spices and stir until well blended. Store in an airtight container in a cool, dry place.
Recipes To Use With Blackening Seasoning
Homemade blackening seasoning can be used to replace store bought blackening seasoning in any recipe that calls for it or Cajun seasoning.
Some of my favorite recipes to use it in are:
Tips and Techniques
Adjust the cayenne pepper to suit your own taste. If you are using this blackening spice in a recipe that calls for Cajun spice, you may want to increase the cayenne, as Cajun spice typically has more heat to it.
Adjust the regular and smoked paprika to suit your own tastes.
Blackening seasoning will keep in an airtight container in a cool dark place until the earliest expiration date on the spices used.
FAQ's
Is Blackening Seasoning The Same As Cajun Seasoning?
Blackening and Cajun seasonings are very similar, however, Cajun seasoning tends to be spicier.
Love this easy recipe for Homemade Blackening Seasoning? Follow me on Pinterest, Instagram, and Facebook for more!
If you try this recipe, I would really appreciate it if you would please leave a comment and star rating. Thanks!