Packed with healthy vegetables, hummus and feta cheese, this vegetarian Greek Veggie Wrap is incredibly tasty! It's the perfect alternative to salad and quick enough to make for lunch on even the busiest of days.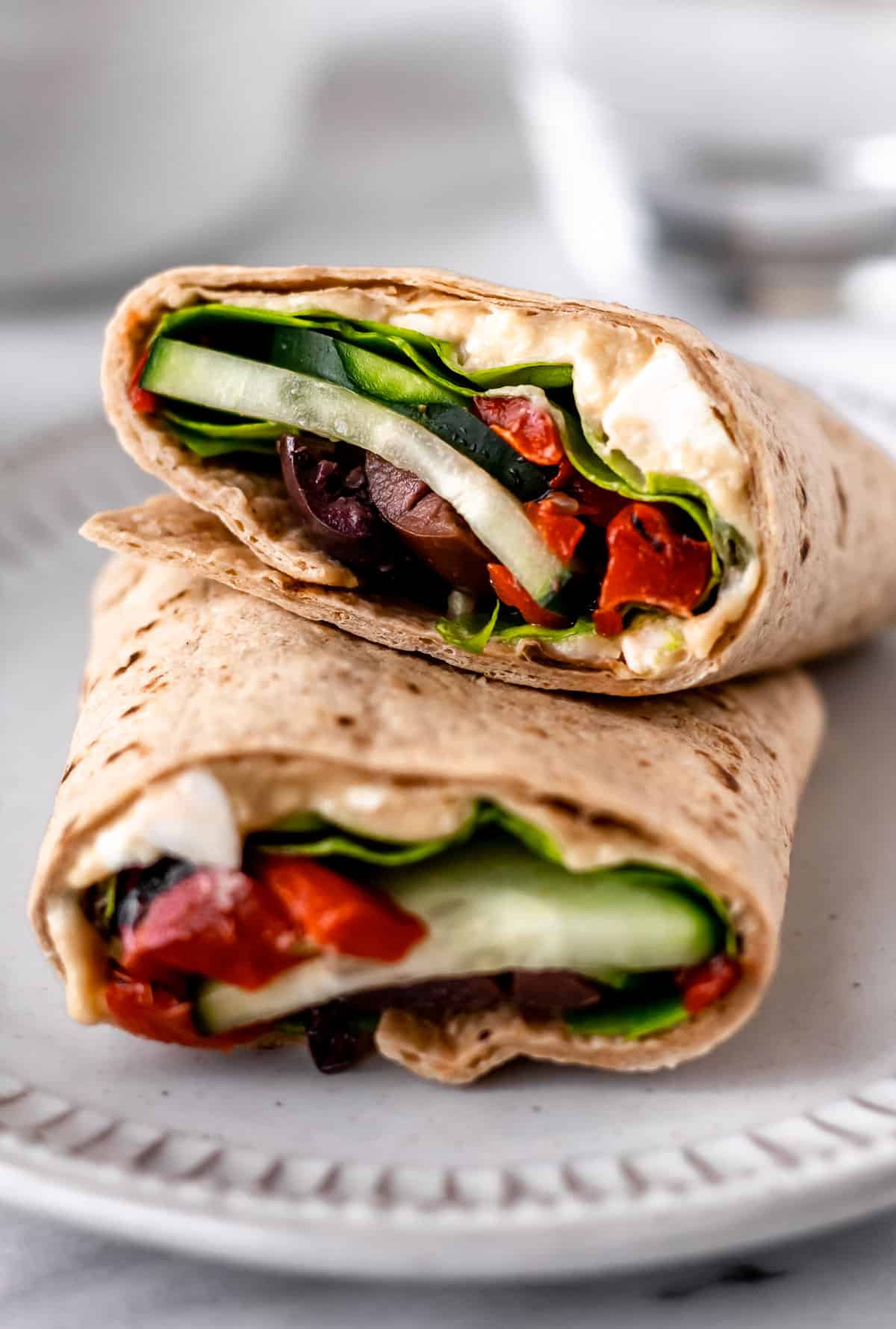 This post contains affiliate links. See our Disclosure Statement for more information.
As someone who spent over 10 years as a vegetarian, I am still very much drawn to that particular way of eating. Veggie wraps and sandwiches were, and still are, one of my favorite vegetarian meals.
This Greek Veggie Wrap is loaded with so many traditional Greek flavors, such as hummus, feta cheese, olives and healthy vegetables.
It's a great choice for a quick and easy lunch since it's light but still packed with so much flavor!
If you are interested in trying some other types of wraps, check out these recipes for Blackened Salmon Wraps with Avocado Slaw, Grilled Buffalo Chicken Wraps and Ground Beef Lettuce Wraps
Why This Recipe Works
Making a Greek veggie wrap is super easy and quick. Most of the ingredients can be bought already prepped. For example, roasted red peppers can be bought already sliced, feta cheese can be bought already crumbled and of course hummus comes prepared. You will have to slice your cucumbers and it's probably a good idea to cut the olives in half, as well.
This is a very flavorful wrap with great texture too! The flavors are very similar to a delicious Greek Salad.
You can adapt this recipe to suite your own personal tastes very easily. Any of the ingredients can be increased or decreased, or omitted all together. It can even be made gluten free or low carb simply by using a gluten free or low carb tortilla.
How to Make a Greek Veggie Wrap
Ingredients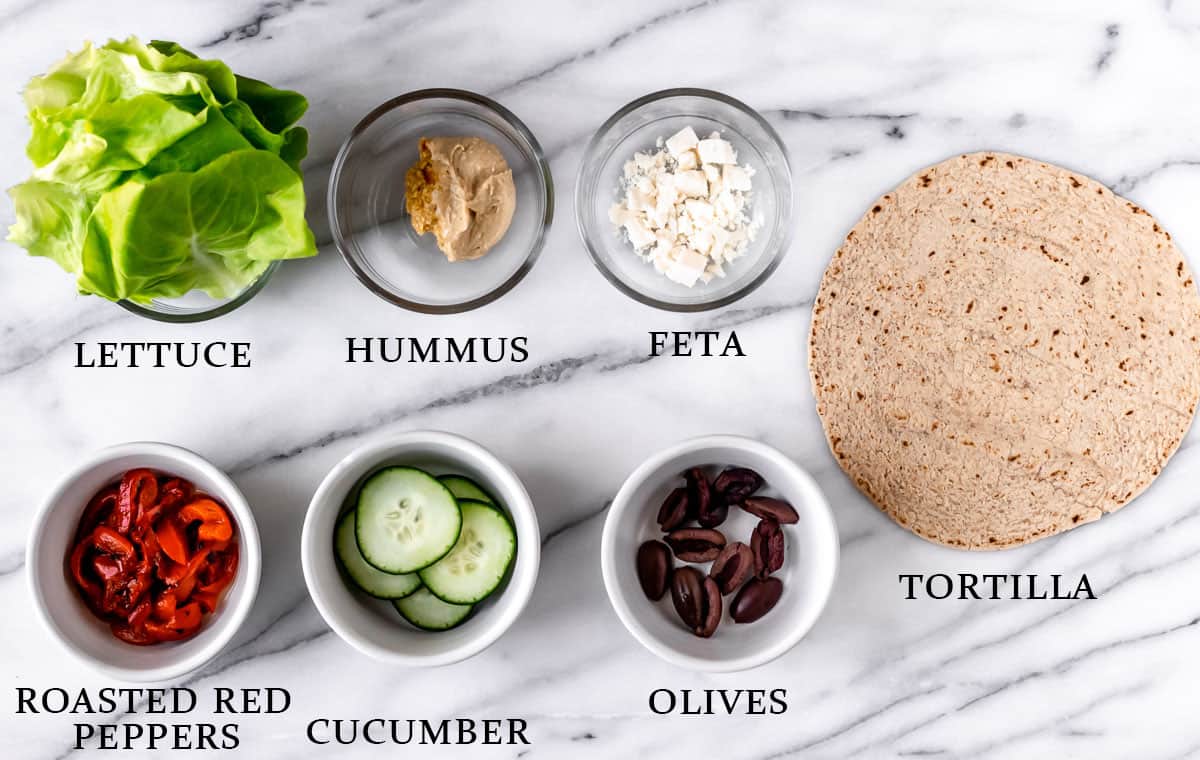 1 tortilla (you can use low carb or gluten free tortillas, if needed)
1 tablespoon prepared hummus of your choice (I like roasted garlic)
1 tablespoon feta cheese (crumbled)
2 slices lettuce (or equivalent amount of spinach)
1/4 cup roasted red peppers (sliced thin)
1/4 cup cucumber (sliced thin)
6 Kalamata olives (halved)

The entire recipe and instructions can also be found in the recipe card at the bottom of this post. You can also print the recipe from the card, if needed.
Prep!
Make sure all your vegetables are sliced and diced to your liking and crumble the feta cheese, if necessary.
Create!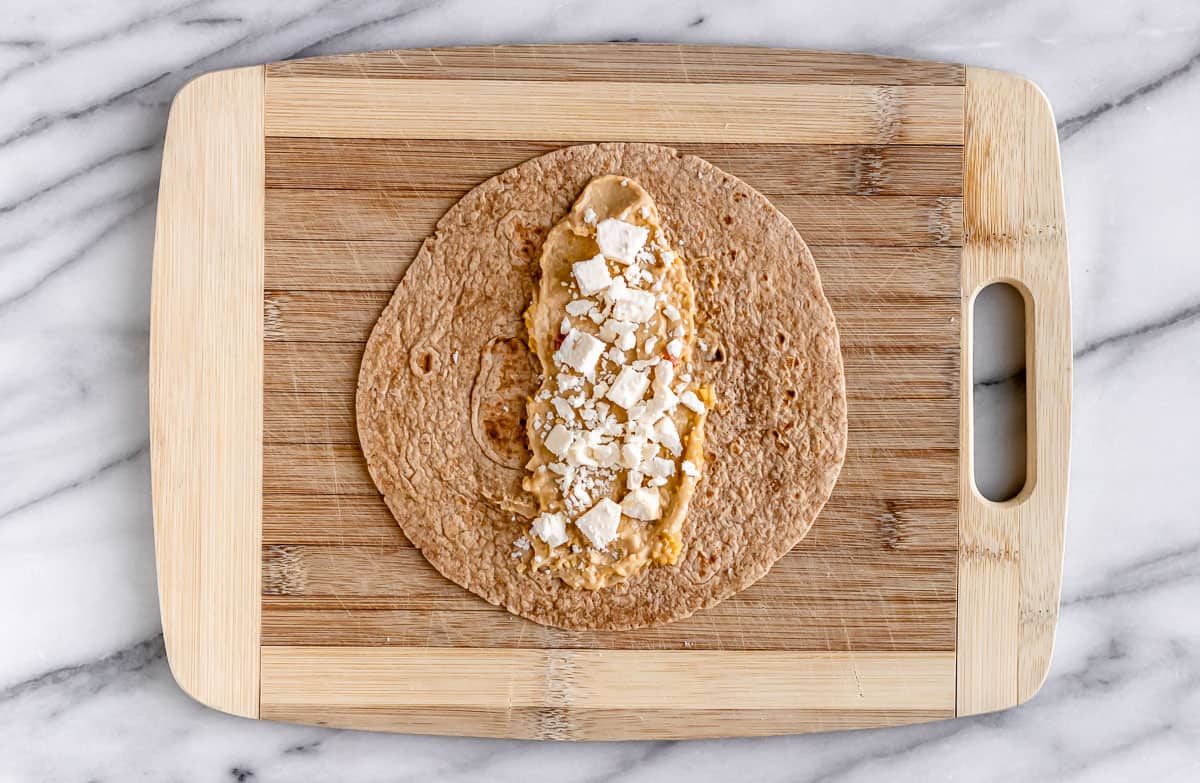 Lay out a tortilla and spread the hummus onto the center. Top with the feta cheese.
Add the lettuce, thin strips of roasted red peppers, thin slices of cucumber and Kalamata olives that have been sliced in half.
Present!
Wrap by folding over the top and bottom ends, then the right side and roll to the left.
Cut in half, if preferred, and enjoy.
Tips and Techniques
Use low carb or gluten free tortillas if needed to keep this recipe low carb, keto-friendly and/or gluten free.
You can purchase many of the ingredients in this recipe already prepared to save time. Hummus, crumbled feta, and sliced roasted red peppers can all be bought ready to use.
It's best not to prepare these wraps ahead of time as the tortillas can get soggy. Store leftover ingredients until the expiration or use-by date on the package or until they are no longer fresh.
FAQ's
Is A Veggie Wrap Good For You?
As with any recipe, the ingredients within and your own specific health needs will determine if veggie wraps are good for you. In general, this Greek Veggie Wrap is healthy. It's made of plenty of vegetables, hummus and a small amount of cheese. It can be made to accommodate low carb and gluten free diets, as well.
How Many Calories Are In A Veggie Wrap?
The total amount of calories in a veggie wrap will vary from variety to variety and with any modifications made to the recipe. This Greek Veggie Wrap recipe has approximately 212 calories per serving, if made exactly as stated in the recipe card.
More Recipes
Love this Greek Veggie Wrap recipe? Follow me on Pinterest, Instagram, and Facebook for more!
If you try this recipe, I would really appreciate it if you would please leave a comment and star rating. Thanks!
This recipe was originally published on December 27, 2017. It was updated with new images, an improved recipes, step-by-step instructions, tips, techniques and FAQ's in April 2022.