You will want these Mini White Pizza's with Broccoli, Sun-Dried Tomatoes, and Roasted Garlic ALL THE TIME – they are that good!
Just editing the photos and writing up this post has made me crave these Mini White Pizza's all over again!  They are seriously my favorite white pizza, that I have made, to date!  That's saying a lot because I also really love my Spinach Ricotta Pizza as well!
This post contains affiliate links for your convenience.  See our Disclosure Statement for more information.
I made these on a whim.  My boyfriend wasn't going to be home for dinner and my son was excited for a "free" dinner where he could eat chicken nuggets, or a TV dinner (a treat for him).  I didn't want to make a big meal just for me.  I had a head of cauliflower in the fridge and a bunch of left over cheese from when I made that Spinach Ricotta Pizza, so I decided I'd make up some Cheesy Cauliflower Pizza Crusts and load them up with whatever I could find in the fridge.  You can use my recipe for the crusts, or you can use your own favorite recipe, or even pre-made crusts from the grocery store.  I just really love the flavor the cauliflower crust, especially with all the other ingredients in this pizza – it just works really well together!
I had plenty of Roasted Garlic on hand so I decided to mix that into ricotta and mozzarella cheese to spread onto the crusts.  I had a very small amount of sun-dried tomatoes (I'd definitely use more the next time I make this because I love them SO much!) and we almost always have broccoli on hand, so I cut some of that up into small bite-sized pieces and scattered both onto the cheese mixture.  After baking, these were so full of cheesy, garlicky flavor!  The sun-dried tomatoes gave a little burst of sweetness with each bite!  Simply delicious!
While I enjoyed these Mini White Pizza's, well, mini, you could easily make this recipe using full sized crusts as well.  They make both a great individual  meal, or a dinner the whole family can enjoy!  It is kind of fun having your own little pizza though!
I hope you enjoy them as much as I do!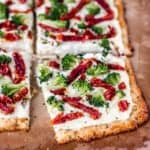 Print
Pizza Bianca (White Pizza) with Sun-dried Tomatoes and Broccoli
Pizza Bianca, also commonly referred to as White Pizza, is a sauce-less pizza topped with a combination of Italian cheeses. This recipe has added sun-dried tomatoes and broccoli and is made on a low carb cauliflower crust to give it even more amazing flavor, although any pizza crust can be used.
Ingredients
1

Cauliflower Pizza Crust

(or use your own recipe/store bought crusts)

6

cloves

roasted garlic

(see notes)

1 1/2

cups

ricotta cheese

(whole milk)

1/2

cup

mozzarella cheese

(shredded)

salt and pepper

(to taste)

1

cup

broccoli florets

(cut small)

1/2

cup

sun-dried tomatoes

(sliced thin or diced)
Instructions
Preheat your oven as directed in your pizza crust recipe.

Prepare your pizza crust up to the first bake. (See notes)

Mash the roasted garlic cloves into a paste. In a medium bowl, combine the ricotta cheese, mozzarella cheese and garlic until well blended. Season lightly with salt and pepper.

Spread the cheese mixture evenly over the pizza crust in a similar fashion as you would pizza sauce.

Top with sun-dried tomatoes and broccoli.

Return the pizza to the oven for 5-7 minutes or until the crust is fully baked and the pizza toppings are hot.

Cut into 6 slices and serve warm.
Notes
Tips and Techniques
You can reference this post on How to Roast Garlic, if you prefer to roast your own. You can also substitute raw garlic, but the flavor profile will be slightly different.
If you are using a prepared, store-bought crust, follow the directions on the package for baking. It may already be baked once.
Store leftover pizza in an airtight container in the refrigerator. Use within 3-4 days.
** Nutritional information is an estimate and may vary. If you use a different crust or swap out toppings, it could be significantly different.
Nutrition
Serving:
1
slice
|
Calories:
266
kcal
|
Carbohydrates:
15
g
|
Protein:
19
g
|
Fat:
15
g
|
Saturated Fat:
8
g
|
Cholesterol:
79
mg
|
Sodium:
469
mg
|
Potassium:
789
mg
|
Fiber:
4
g
|
Sugar:
6
g
|
Vitamin A:
681
IU
|
Vitamin C:
69
mg
|
Calcium:
370
mg
|
Iron:
2
mg