This fresh Blackberry Syrup is perfect for drizzling on pancakes, yogurt, oatmeal, and ice cream; it's even better mixed into cocktails. Try this quick recipe for a versatile ingredient, which is simple to make, but provides plenty of flavor.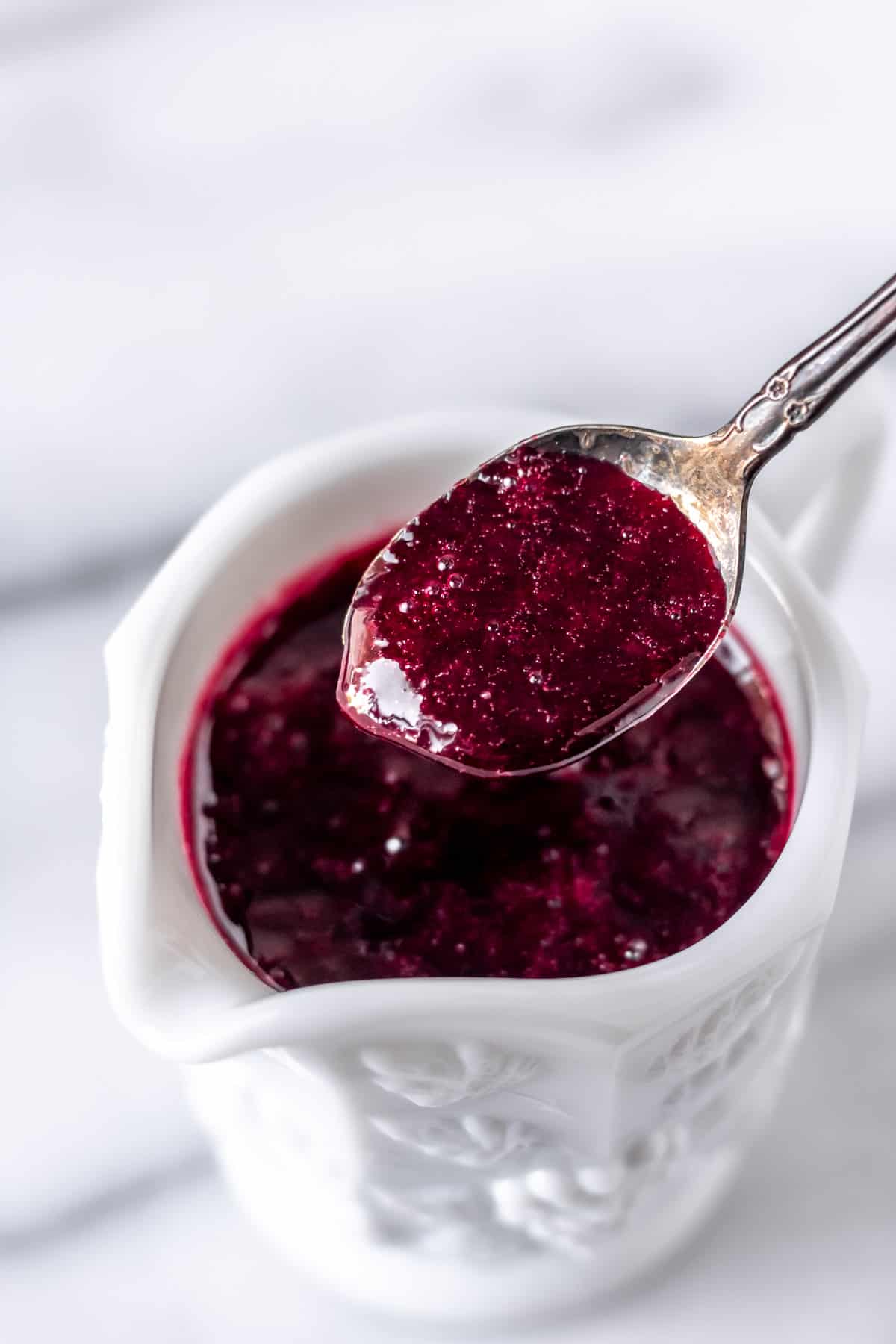 This post contains affiliate links. See our Disclosure Statement for more information.
This recipe for Blackberry Syrup results in a somewhat thin simple syrup, but instructions are included for how to thicken the syrup, making it like a blackberry sauce, if you prefer.
Either way, it is a versatile recipe which can be used to enhance many dishes such as waffles, pancakes, oatmeal, or yogurt parfait. A drizzle of Blackberry Syrup adds a fresh and flavorful twist to anything you decide to use it on.
It is incredibly delicious mixed into cocktails too – which is perfect for summertime! Fresh Blackberries are best to use for this recipe, however frozen works fine too. You won't believe how easy this recipe is to prepare, as there's no prep work, and you just need to boil all the ingredients in a pot. All you need is 5-6 ingredients total too.
If you like fruit syrups and enjoy making this recipe, be sure to check out my recipe for Blueberry Sauce too! It's also amazing in cocktails. For all the blackberry lovers out there, try this recipe for an Easy Blackberry Crisp this summer too.
Why This Recipe Works
Making Blackberry Syrup is a quick, easy process. There is zero prep work required – just make sure your berries are rinsed and clean.
This recipe uses fresh, flavorful ingredients. Anything you decide to pour this Blackberry Syrup atop will have an added natural berry essence!
You can use this Blackberry Syrup as an ingredient in many ways; it's super versatile. Try using it to make fun drinks or drizzled on waffles & pancakes. It tastes delicious in oatmeal, yogurt or ice cream too.
How To Make Blackberry Syrup
Ingredients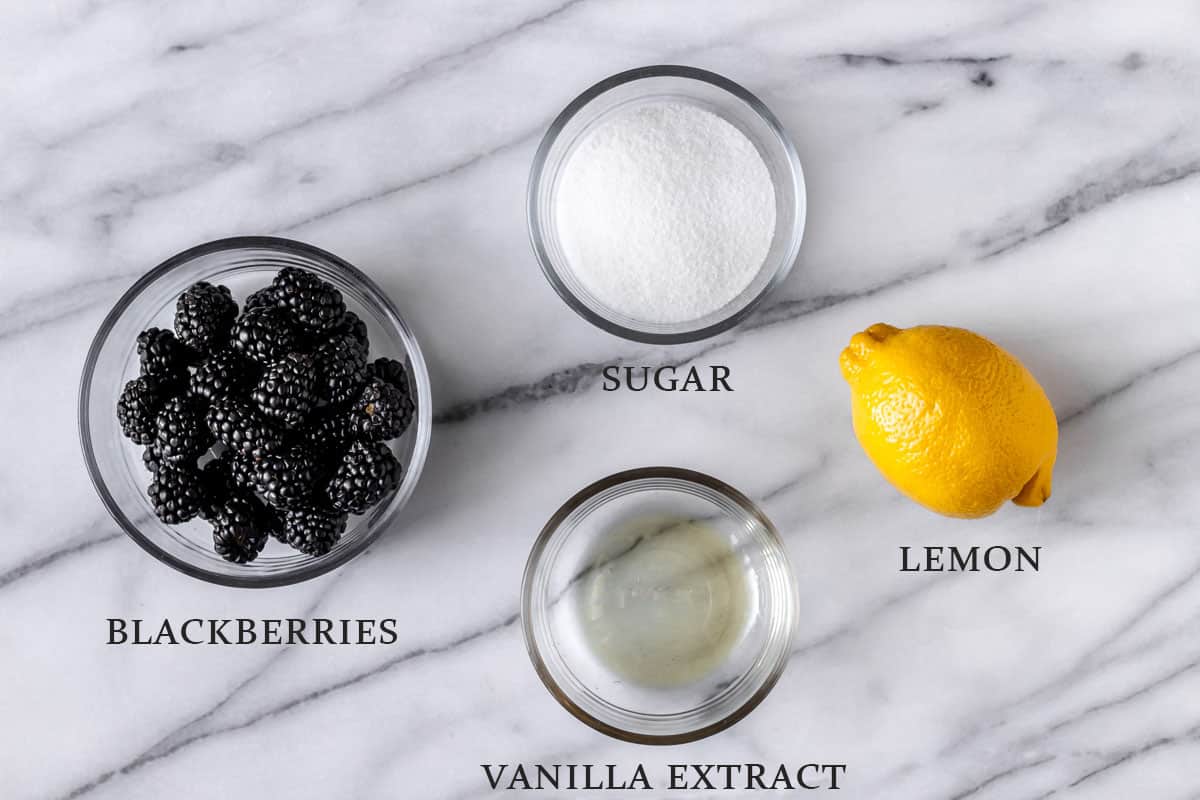 1 cup blackberries: freshly picked will give you the best flavor, if you are so lucky to grow your own or are able to buy them at a farmer's market.
1/2 cup water
1/4 cup granulated sugar
1 teaspoon fresh squeezed lemon juice
1/4 teaspoon vanilla extract
OPTIONAL: if you want a thicker blackberry syrup whisk together 1 tablespoon of cornstarch with 1 tablespoon of water to create a slurry before adding it to the pot with the other ingredients after straining. See instructions for exactly how to do this below.
The full recipe and instructions can also be found in the recipe card at the bottom of this post. It can be printed from there, as well.
Prep!
There is no prep work for this recipe other than to rinse your blackberries and pat them dry.
Create!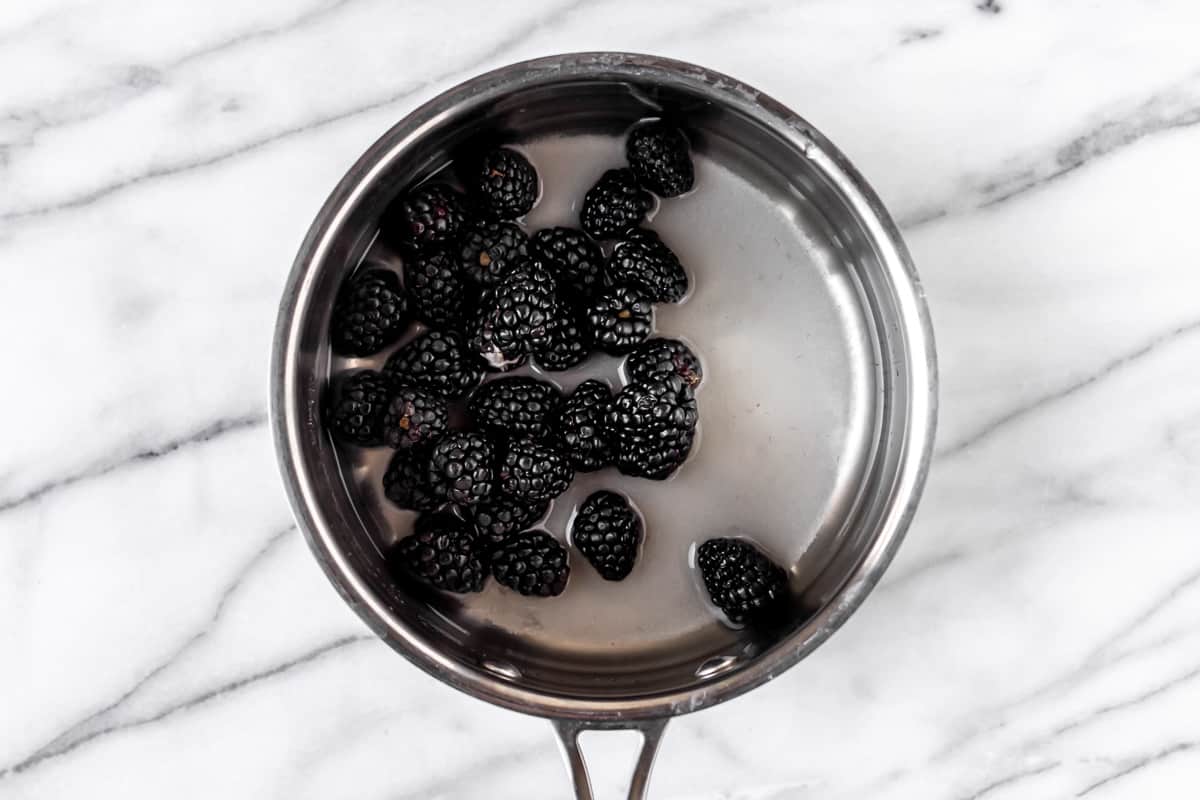 Combine the blackberries, water, sugar, lemon juice and vanilla extract in a medium pot and bring to a boil.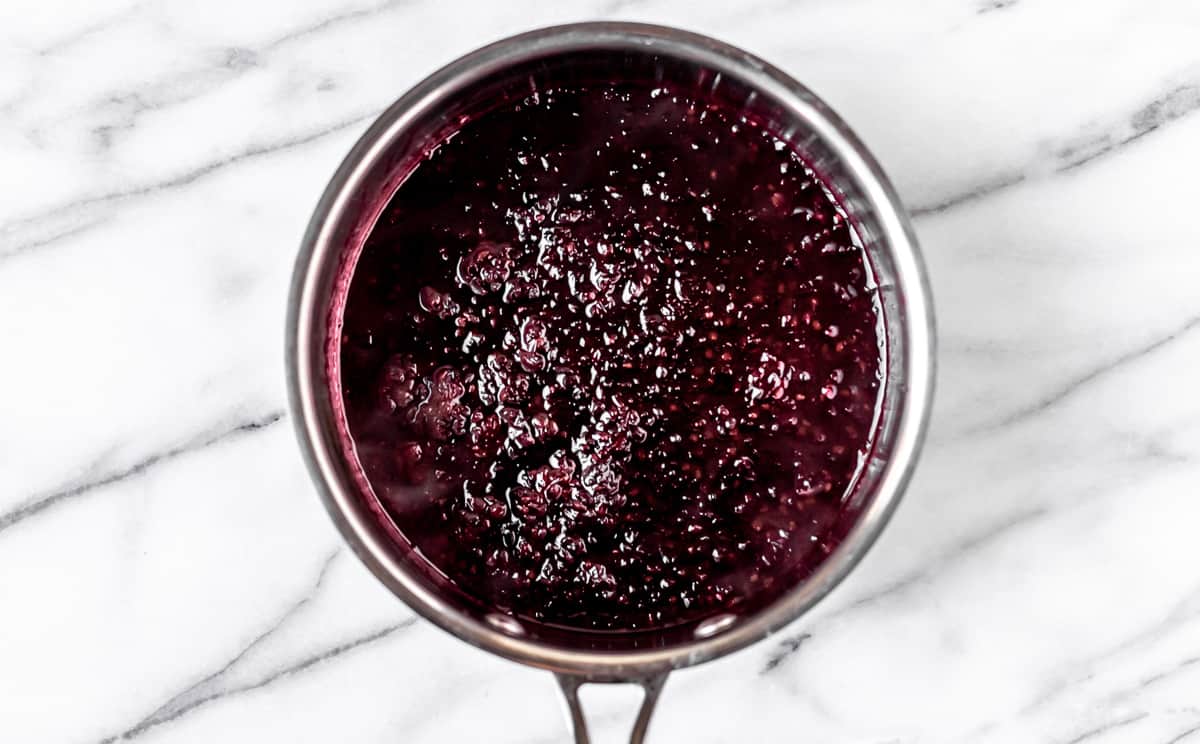 Reduce the heat to low and simmer an additional 5 minutes or so, breaking up the blackberries with a spoon as they soften, until the sauce thickens.
If you prefer a thicker blackberry sauce with the pieces of blackberries in it, your sauce is finished at this point.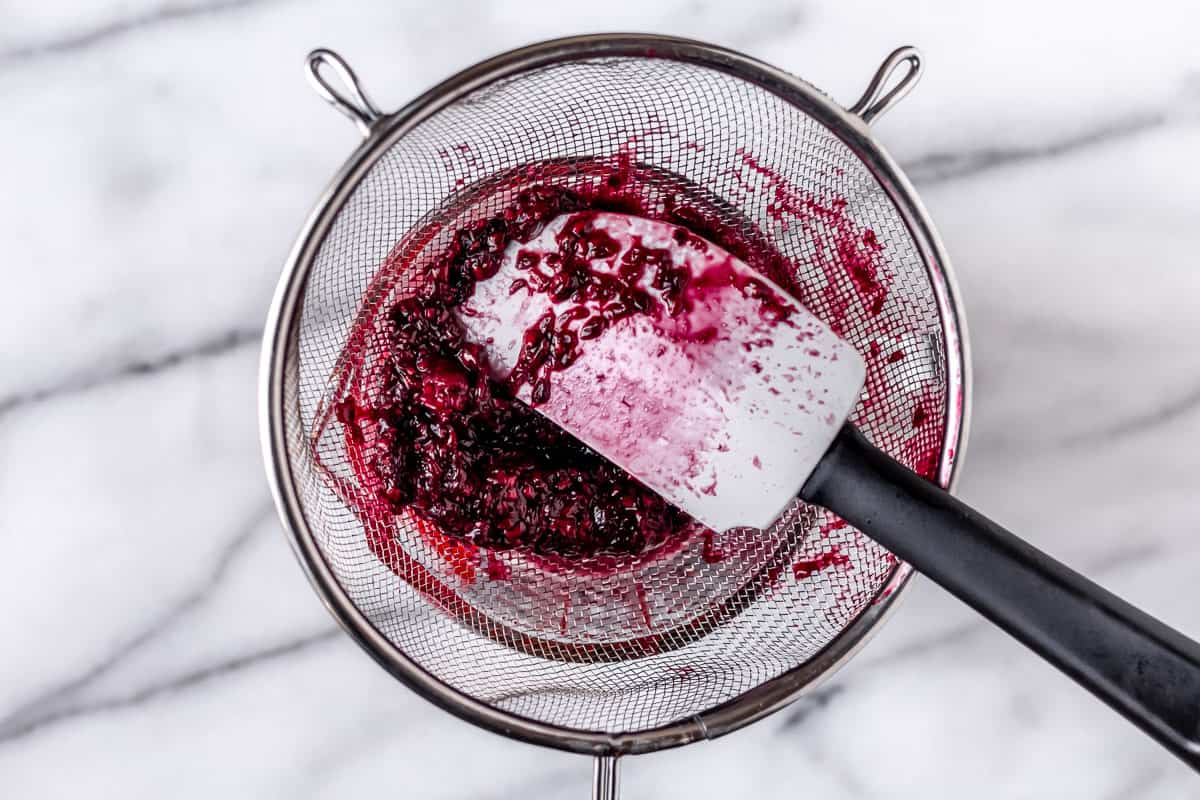 If you do not want the pieces of blackberries in your sauce or syrup, strain it though a fine mesh strainer. At this point you have a simple syrup that is somewhat thinner, but will thicken more as it cools.
To thicken the syrup significantly more, return it to the pot on low and add the cornstarch slurry. Cook stirring, just a minute or two until thickened.
Present!
Let cool to thicken some and serve as desired.
Tips and Techniques
If you want a thicker blackberry syrup whisk together 1 tablespoon of cornstarch with 1 tablespoon of water to create a slurry. Add the strained syrup and cornstarch back to the pot on low and cook 1-2 minutes until thickened.
FAQ's
How Long Can You Store Berry Syrup?
If stored properly, in an airtight container, you can store berry syrups for up to 2 weeks in the refrigerator.
Can You Freeze Berry Syrup?
Yes, berry syrups can be frozen.
Can You Use Frozen Berries To Make Berry Syrups?
Yes. You can use an equal amount of frozen berries to make syrup. It is best to allow them to thaw first.
More Blackberry Recipes
Love this Blackberry Syrup recipe? Follow me on Pinterest, Instagram, and Facebook for more!
If you try this recipe, I would really appreciate it if you would please leave a comment and star rating. Thanks!