This Blackberry Salad has everything a good salad should! It has blackberries for sweetness, feta for creaminess, and walnuts for texture. It's finished with an incredibly delicious, easy-to-make blackberry vinaigrette. This is an impressive salad that presents beautifully, yet takes very little effort to prepare.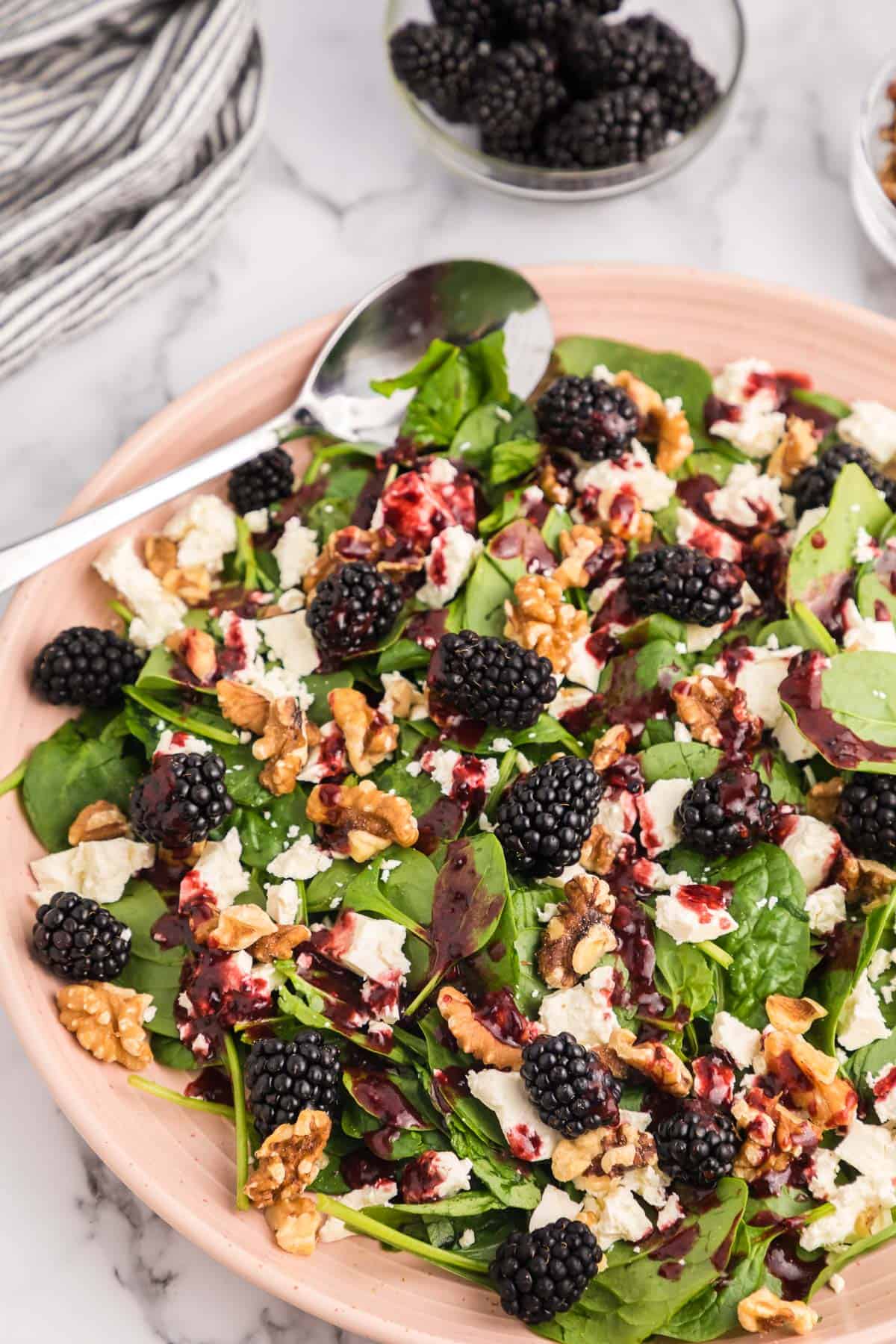 This post contains affiliate links. See our Disclosure Statement for more information.
This spinach blackberry salad has all the flavors and textures that make a great salad. The salad itself is a tasty combination of crunchy walnuts and creamy feta, which both work so well with the fruity pops of fresh blackberries.
The salad is finished with a delicious, yet incredibly easy, blackberry balsamic dressing that is simply made using a food processor, blender or even a mason jar.
Similar to my Spinach Blueberry Salad, it can be a main meal or served as a starter or side salad. This recipe can make enough for two main dishes or four side salads.
Why This Recipe Works
This sweet and tangy salad is a quick and easy recipe you can throw together in just minutes.
Filled with fresh blackberries and walnuts, it's a healthy and flavorful meal.
It's also extremely versatile. There are a lot of substitutions you can make. Add chicken to make it heartier. Or use strawberries or blueberries instead of blackberries.
Step-By-Step Instructions
Ingredients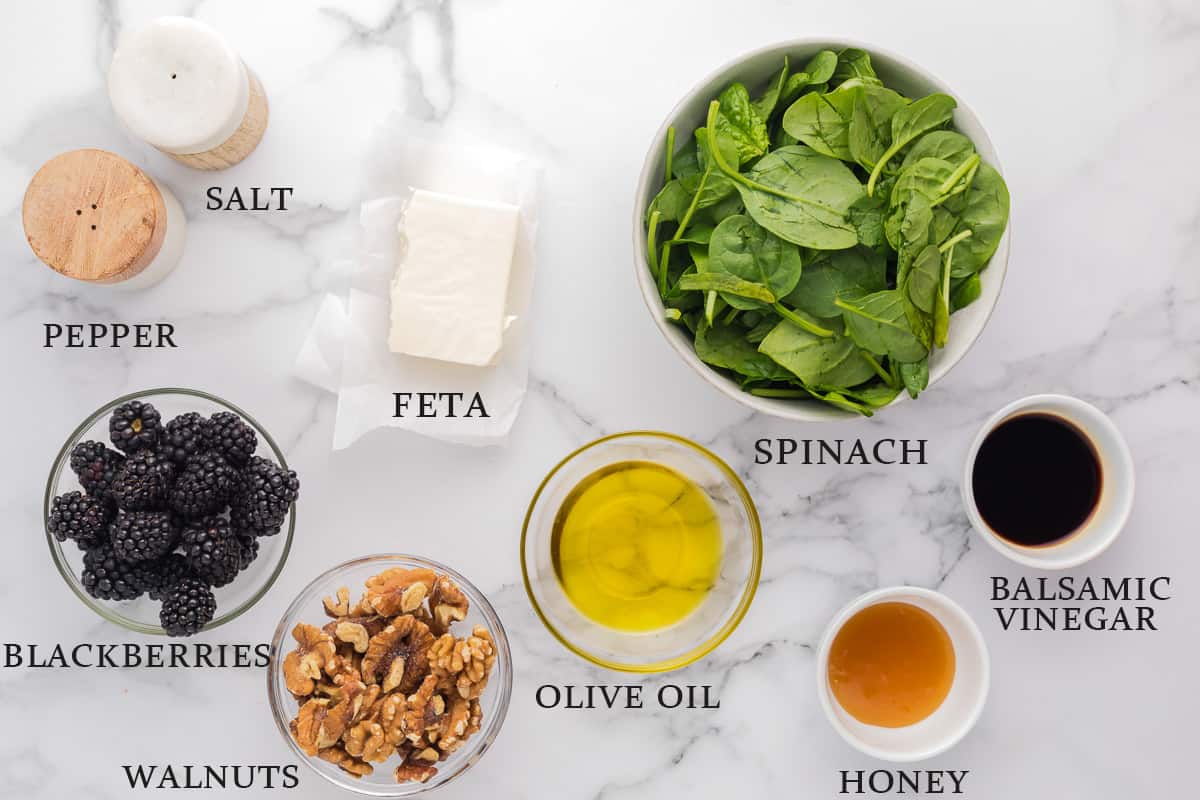 Blackberry Salad
4 cups baby spinach (lightly packed): use fresh spinach or substitute with mixed lettuce leaves or arugula.
1 cup blackberries: fresh is best for this salad.
1/2 cup feta cheese (crumbled): or try this salad with goat cheese.
1/4 cup walnuts (roughly chopped): you can swap out walnuts for other nuts like pecans or almonds.
Blackberry Vinaigrette
1/2 cup blackberries (chopped)
1/4 cup extra virgin olive oil
2 tablespoons balsamic vinegar: you can use apple cider or white wine vinegar instead, if preferred.
2 teaspoons honey: or maple syrup can be used.
Salt and pepper (to taste)
The entire recipe and instructions can be found in the recipe card at the bottom of this post. You can print the recipe from the card, if needed.
Prep!
Crumble the feta cheese, roughly chop the walnuts, and chop the blackberries for the salad dressing.
Create!
Place the baby spinach leaves on a large serving plate or in a salad bowl. Top with the chopped walnuts, crumbled feta, and the blackberries.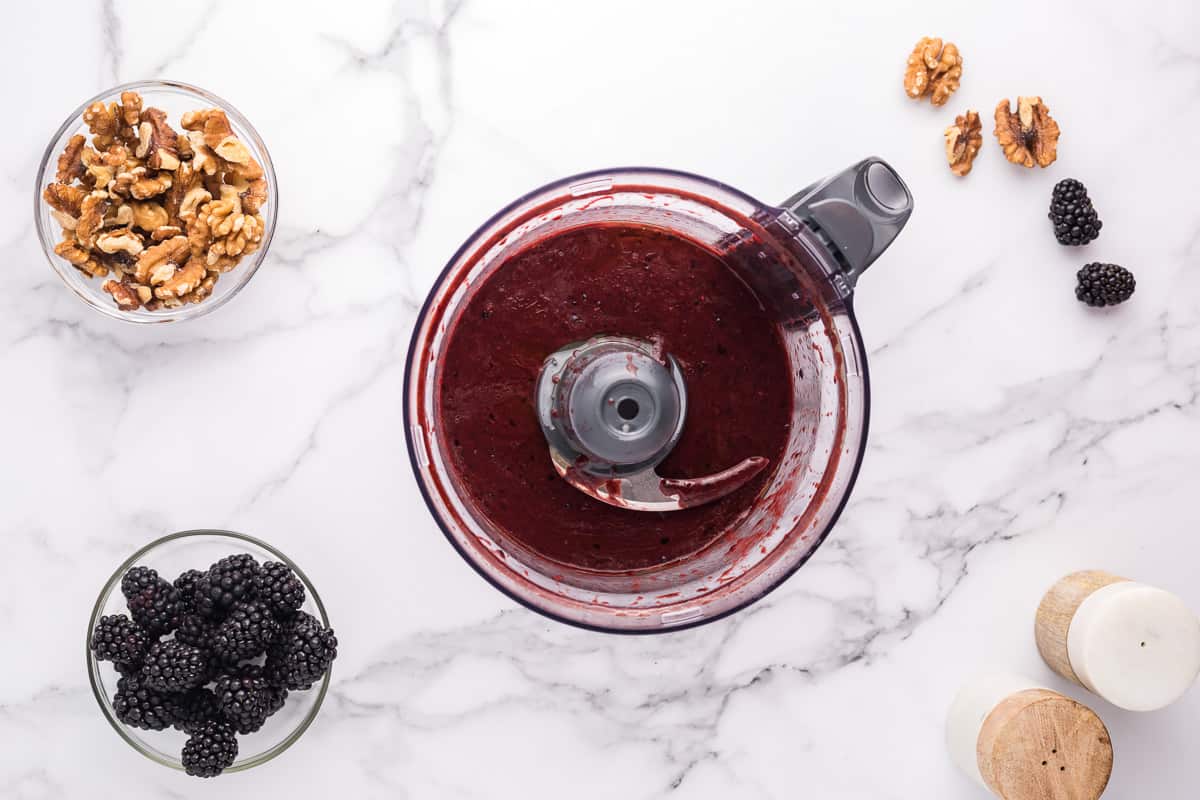 To make the blackberry salad dressing, add the chopped blackberries, olive oil, balsamic vinegar and honey to a small blender or food processor. Process until well combined.
Chef's Tip: you can make the salad dressing by adding all of the ingredients to a mason jar with a lid and shaking vigorously. If you decide to use this method, be sure to finely chop the blackberries as the dressing won't be as smooth.
Present!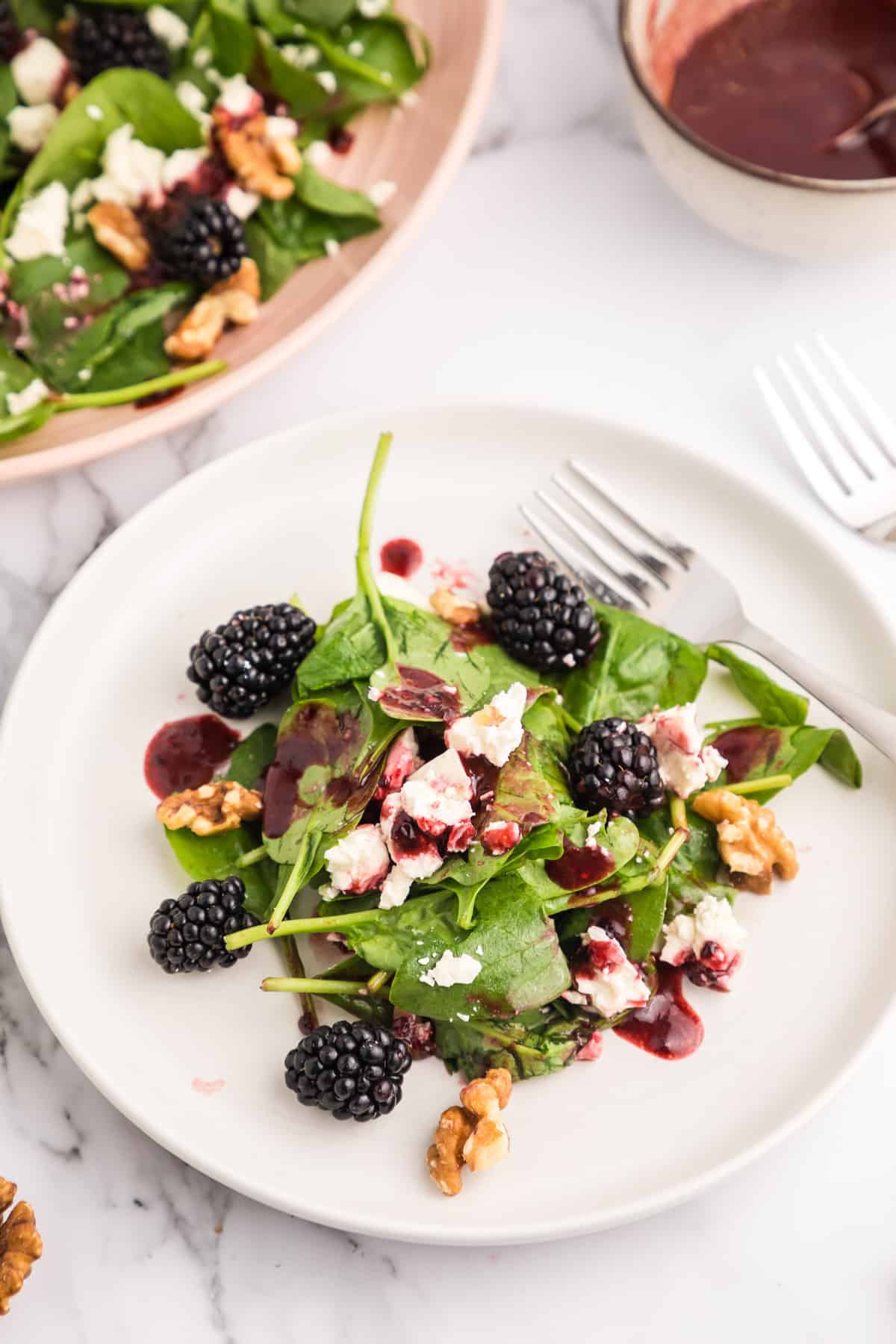 Drizzle the vinaigrette over the blackberry salad and serve.
You can add a garnish of fresh mint or basil for a little added flavor, as well.
Tips and Techniques
This salad is very versatile. Any type of lettuce or arugula can be used in place of the spinach, other types of berries can be substituted for the blackberries, and pecans or almonds can be used instead of walnuts. You can also add a protein like grilled chicken to make it a heartier meal.
The dressing can be made in a mason jar instead of a blender. Simply add all of the ingredients for the dressing to a mason jar with a tight fitting lid. Shake until well combined.
The undressed salad can be stored in an airtight container for up to 2 days. Store the vinaigrette in a separate sealed container or jar in the refrigerator for up to 3 days.
FAQ's
What Are The Health Benefits Of Spinach?
Spinach is a good source of vitamin A, iron, and folic acid. This is a leafy green is nutrient-dense and a good source of dietary fiber. It is also low in carbohydrates.
What Are The Health Benefits Of Blackberries?
Blackberries are high in antioxidants and fiber. They are also high in vitamin C which may help to boost the immune system.
More Blackberry Recipes
Love this Blackberry Salad recipe? Follow me on Pinterest, Instagram, and Facebook for more.
If you try this recipe, I would really appreciate it if you would please leave a comment and star rating. Thanks!