Banana Nut Bread Banana Toast combines all the flavors of this popular bread recipe into a delicious 5-minute breakfast!
This is actually my second banana toast recipe! Last week I shared a Honey Cinnamon Peanut Butter Banana Toast recipe that's based off of one of my favorite flavor combinations – peanut butter and bananas!  This week, it's all about the banana bread!
I actually thought for a really long time that I didn't like banana bread. I don't remember ever trying it, but I think one too many artificially flavored banana foods made me extremely leery of all things banana for awhile! I do, in fact, enjoy banana bread! It's just one of those foods that I have to be in the mood for. Luckily, this Banana Nut Bread Banana Toast recipe comes together super fast for whenever the craving hits!
For this recipe I simply combine the flavors you commonly find in banana bread, like brown sugar and cinnamon, with banana. Spread it on toast, top with nuts and breakfast is done! I don't know about you, but I am all about quick and easy breakfasts!
I prefer to use grainy breads with visible nuts and seeds, but you can use anything you like. I also strongly prefer to warm the banana mixture right before spreading it on the toast, but again, if room temperature banana works for you, go for it!
Banana Nut Bread Banana Toast
Prep!
Toast your bread and have all of your other ingredients out and ready to go!
Create!
Smash together the banana, brown sugar, and cinnamon in a microwave-safe bowl.  Microwave the banana mixture for 15-30 seconds just to warm through, if desired.
Spread the banana onto the toast and top with chopped nuts of your choice. I used pecans!
Enjoy!
If you liked this recipe for Banana Nut Bread Banana Toast, you may also like:
Love this recipe? Follow us on Pinterest, Instagram, and Facebook for more!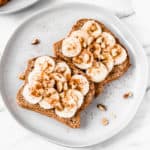 Print
Banana Toast with Brown Sugar, Cinnamon & Walnuts
Ingredients
2

slices

bread

1

banana

(cut into 18 thin slices)

1/2

teaspoon

brown sugar

1/4

teaspoon

cinnamon

1

tablespoon

walnuts

(or pecans, chopped)
Instructions
Top each slice of toast with 9 banana slices.

Sprinkle on the brown sugar and cinnamon.

Top with chopped walnuts.
Notes
Tips and Techniques
You can mash the banana, if preferred, to allow for the toppings to adhere better.
It is not recommended to make this recipe ahead of time or to save leftovers as the toast will soften.
** Nutritional information is an estimate and may vary. Whole wheat bread was used to calculate nutritional facts.
Nutrition
Serving:
1
serving
|
Calories:
318
kcal
|
Carbohydrates:
54
g
|
Protein:
10
g
|
Fat:
9
g
|
Saturated Fat:
1
g
|
Sodium:
226
mg
|
Potassium:
610
mg
|
Fiber:
8
g
|
Sugar:
20
g
|
Vitamin A:
81
IU
|
Vitamin C:
10
mg
|
Calcium:
82
mg
|
Iron:
2
mg