This simple recipe for an Apricot Tart is the perfect solution to your need for quick, summertime desserts. Delicious dried apricots fill a sweet, buttery tart dough; you can even top if all off with whipped cream or ice cream!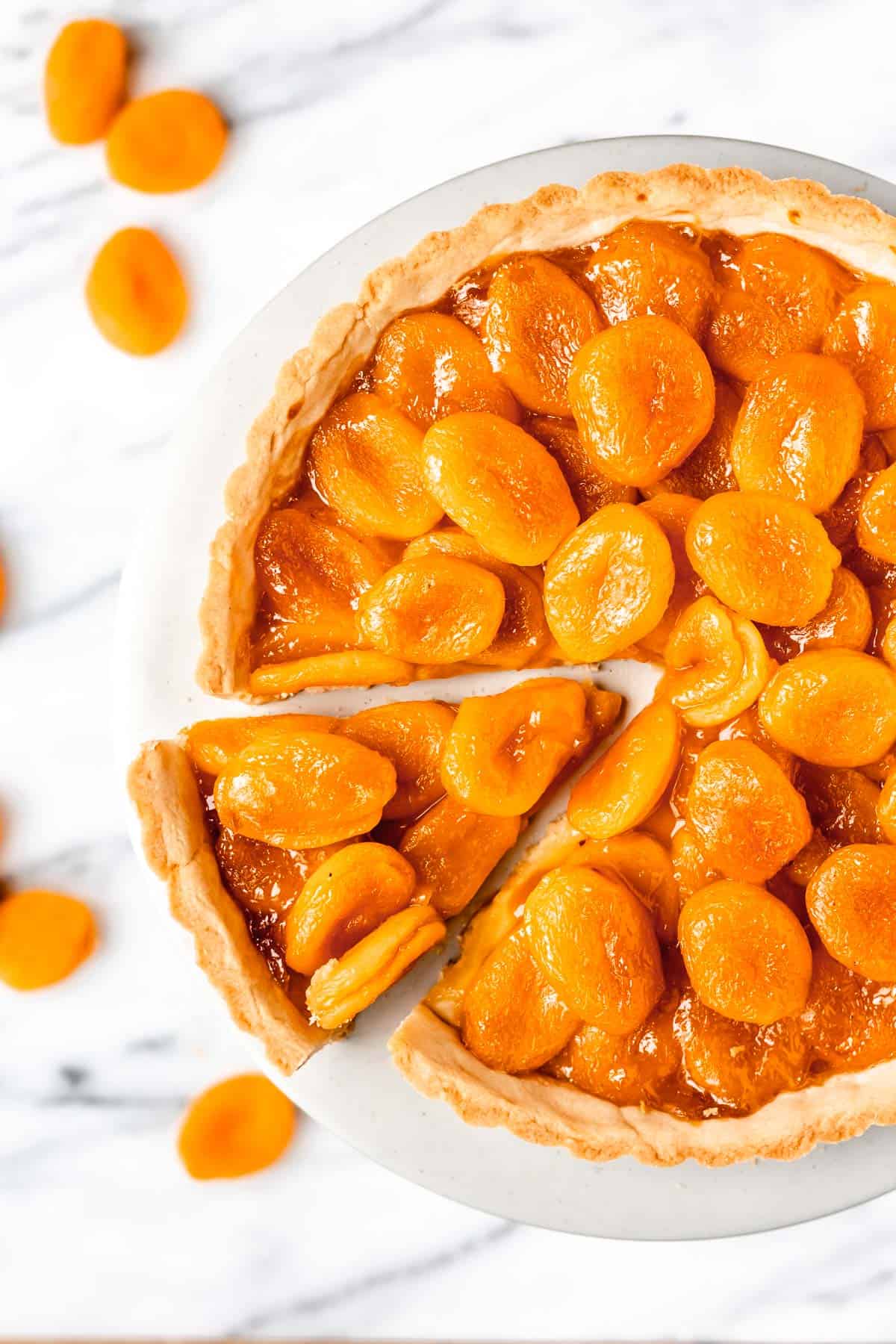 This post contains affiliate links. See our Disclosure Statement for more information.
Apricots are a fruit that can be a bit more elusive than others. You will commonly see them sold dried or made into jams and preserves. They don't often make an appearance in the fresh produce department, and when they do, it's not for long. Apricots are only in season from May to July. While they are sometimes imported, they are delicate and can be damaged easily.
This Apricot Tart is made with dried apricots that are quickly reconstituted with hot water. The dough is a sweet tart dough, also known by its French name Pâte Sucrée, which comes together quickly, using a few pantry staples. An Apricot Tart is the perfect dessert to make anytime of year because it's easy to make, but also tastes great after any meal.
If you enjoy this recipe and would like to try more recipes using apricots, check out this easy dessert recipe for Apricot Cobbler or this Rosemary Apricot Glazed Turkey.
Why This Recipe Works
An Apricot Tart is very easy to make. Just make a dough, mix the filling, assemble, and bake!
This recipe comes together somewhat quickly. The dough does need time to chill, but it can also be made ahead of time and left to rest in the refrigerator for up to 3 days.
Fruit tarts are a delicious summertime dessert. Serve your tart with whipped cream or ice cream to make it extra special.
Step-By-Step Instructions
Ingredients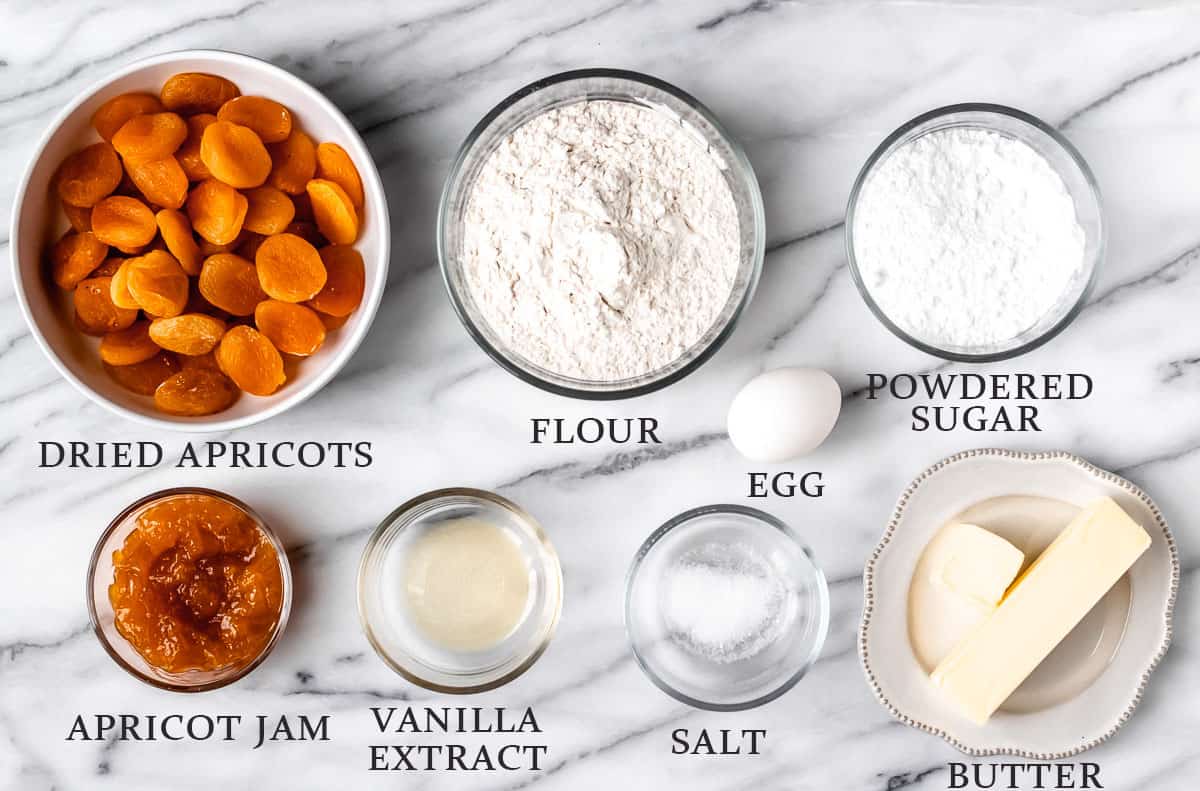 2 cups dried apricots: this recipe calls for dried apricots. If you are able to find fresh apricots, and prefer to use those, you absolutely can.
1/2 cup apricot jam (or preserves)
2 cups all purpose flour
3/4 cup powdered sugar
1/2 teaspoon salt
1 egg
10 tablespoons unsalted butter
1/2 teaspoon vanilla extract
You will also need a round 9-inch tart pan.
The entire recipe and instructions can also be found in the recipe card at the bottom of this post. You can also print the recipe from the card, if needed.
Prep!
Set the butter and egg out about an hour before you begin to allow them enough time to come to room temperature.
Once the tart dough is made, it will need to be chilled for about an hour. Do not preheat your oven until the dough is chilled and ready to be rolled out.
Create!
Cream together the butter and sugar in the bowl of an electric mixer fitted with a paddle on high speed until light and fluffy, about 3-5 minutes.
Lower the speed and add the egg, then the vanilla.
Mix together the flour and salt and gradually add to the bowl until just combined.
Wrap the dough in plastic wrap and place in the refrigerator to chill for at least an hour.
Just before removing the dough from the refrigerator, place the dried apricots in a bowl and cover with boiling (or very hot) water. Allow to sit and reconstitute for about 20 minutes.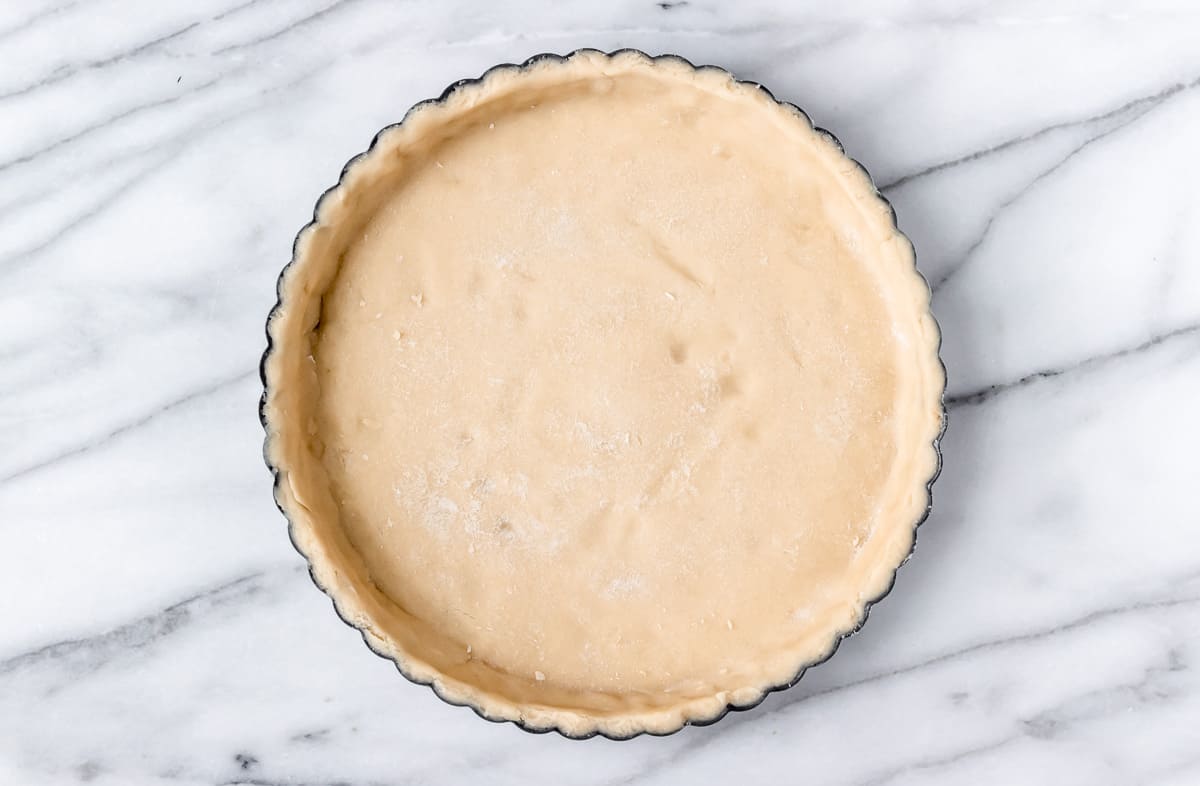 Preheat oven to 350ºF.
After the dough has chilled, roll it out to about 1/4-inch thick on a lightly floured surface. The dough will need to be rolled out slightly larger than the tart pan that you are using. It's okay if the dough cracks around the edges. You can pinch it back together with your fingers, if needed.
Once rolled out, roll the dough up around the rolling pin, then carefully unroll it over the tart pan. Press the dough evenly into the pan so that the entire interior is covered in dough. Trim the excess from the edges.
Drain the water from the apricots and mix in the jam. Fill the tart pan evenly with the apricot and jam mixture.
Bake for 15-20 minutes or until the apricots are hot and bubbly and the tart dough is lightly browned. Allow to cool.
Present!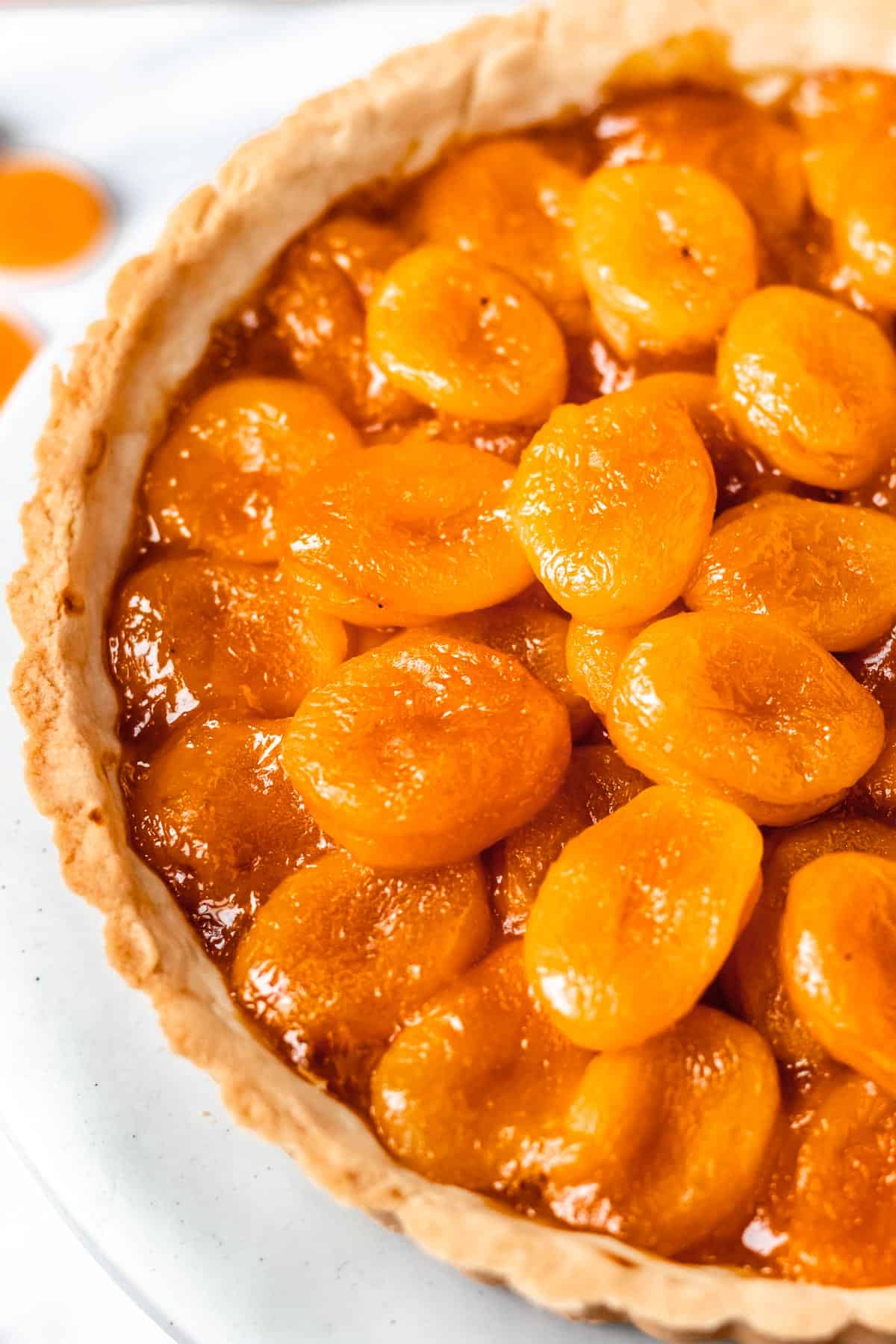 Once cool, carefully remove the tart from the tart pan.
Serve as is or with a dollop of fresh whipped cream or vanilla ice cream.
Tips and Techniques
While this recipe is written with dried apricots, you can absolutely use fresh apricots, if in season.
It's okay if the edges of the dough crack as you are rolling it out or placing it into the tart pan. It can be pressed back together with your fingers, as needed.
Store leftovers tightly wrapped in plastic or in an airtight container at room temperature. Consume within 2-3 days.
FAQ's
Can You Freeze An Apricot Tart?
Yes. Wrap the cooled tart tightly in plastic wrap, then foil. Store up to 2 months in the freezer.
More Dessert Recipes
Love this Apricot Tart recipe? Follow me on Pinterest, Instagram, and Facebook for more!
If you try this recipe, I would really appreciate it if you would please leave a comment and star rating. Thanks!
This recipe was originally published on April 24, 2017. It was updated with an improved recipe, new images, step-by-step instructions, tips, techniques and FAQ's in March 2022.