These delicious Roasted Chili Spiced Carrots pair amazingly with simple seared chicken breasts, steak, turkey, or even pork!
This post contains affiliate links. See our Disclosure Statement for more information.
I am always trying to come up with new side dishes to serve my family. We tend to get in a routine when it comes to vegetables, especially when the kids will only eat a handful of different veggies!
While side dishes should be simple, that doesn't have to mean they have to lack flavor! These Roasted Chili Spiced Carrots are full of warm, spice flavors!
This recipe is totally suitable for kids who like a little flavor! Carrots are my oldest son's favorite vegetable. While he usually prefers them raw, he will eat roasted carrots without too much complaining. In this recipe, the chili and cumin spices add a nice flavor to the carrots, but not a burn-your-mouth type of spiciness.
This carrots side dish recipe can be displayed on a simple serving dish with herbs to make a really beautiful presentation when entertaining guests! It's definitely a recipe that anyone can appreciate! It's vegetarian and gluten free as well!
Roasted Chili Spiced Carrots
Prep!
All you need to make these Roasted Chili Spiced Carrots is your ingredients, a vegetable peeler, cutting board, knife, and baking sheet. You may need to prepare the carrots and get them roasting in the oven before working on the rest of your meal. They will take around 25-30 minutes to cook.
Create!
Peel and trim the ends off the carrots and lay them on a baking pan. I like to line my pan with a Silpat mat, or you can use foil, if you want.
Drizzle on the olive oil and toss the carrots until coated.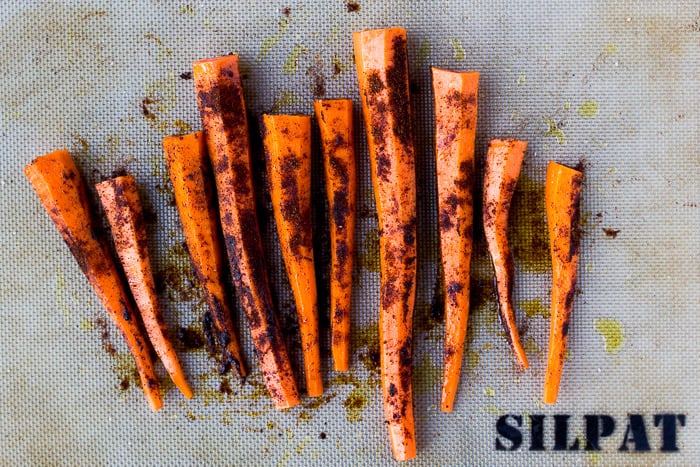 Sprinkle on the spices and pop them in the oven.
They will need 25-30 minutes to roast, depending on the size. I like to check on them and stir them around a bit a few times during cooking.
Present!
You can place the Roasted Chili Spiced Carrots on a serving dish and top with parsley or cilantro for a more formal presentation.
When vegetable side dishes steal the show, like these carrots, they tend to pair really well with simple meats. Serve them alongside chicken seasoned with salt and pepper and seared in olive oil for a simple, yet scrumptious dinner! They also go especially great with steak, turkey, and pork.
Enjoy!
Love this recipe? Follow us on Pinterest, Instagram, and Facebook for more!
Print
Spiced Roasted Carrots
These delicious Spiced Roasted Carrots are seasoned with a blend of warm spices, then roasted until sweet and tender. They pair amazingly with just about every type of protein and are a tasty addition to veggie or grain bowls, as well.
Instructions
Add the carrots, olive oil, chili powder, cumin, paprika and salt to a large bowl. Toss gently until the carrots are evenly coated in the spices. Spread out into a single layer on a baking sheet.

1 pound carrots,

1 tablespoon extra virgin olive oil,

1 teaspoon chili powder,

1/2 teaspoon ground cumin,

1/2 teaspoon paprika,

1/4 teaspoon salt

Roast the carrots for 15-20 minutes, tossing halfway, or until fork-tender and lightly browned and caramelized.

Garnish with fresh, minced cilantro, if desired.
Notes
Tips and Techniques
Mix the carrots, oil and spices in a bowl before spreading out onto a sheet pan for more even distribution of the spices and to reduce the chance of extra spices sticking to the sheet pan and burning while roasting.
Try smoked paprika in place of regular paprika for a smokier flavor that pairs great with barbecue dishes.
Store leftovers in an airtight container in the refrigerator. Consume within 3-5 days.
** Nutritional information is an estimate and may vary.
Nutrition
Serving:
1
serving
|
Calories:
80
kcal
|
Carbohydrates:
11
g
|
Protein:
1
g
|
Fat:
4
g
|
Saturated Fat:
1
g
|
Polyunsaturated Fat:
1
g
|
Monounsaturated Fat:
3
g
|
Sodium:
232
mg
|
Potassium:
383
mg
|
Fiber:
3
g
|
Sugar:
5
g
|
Vitamin A:
19219
IU
|
Vitamin C:
7
mg
|
Calcium:
42
mg
|
Iron:
1
mg