These delicious Spiced Roasted Carrots are seasoned with a blend of warm spices, then roasted until sweet and tender. They pair amazingly with just about every type of protein and are a tasty addition to veggie or grain bowls, as well.
This post contains affiliate links. See our Disclosure Statement for more information.
If you think glazed carrots are too sweet, then I am thrilled to share this recipe for savory, earthy, spicy roasted carrots. The combination of cumin, chili powder, and paprika accentuates the natural sweetness in the carrots. In fact, you can use this combination of spices on any your favorite root vegetables, like potatoes , parsnips or turnips.
This showy side dish can be served year-round. It's perfect on Thanksgiving or even as an Easter or Christmas side dish. The bright orange colors make it a lovely fall or Halloween recipe too.
Why This Recipe Works
This is a quick and easy side dish to prepare. It's as simple as peeling and slicing the carrots and adding some olive oil and dry spices.
These carrots are super flavorful. Cumin, chili powder and smoked paprika are a delicious combination of flavors, reminiscent of Moroccan seasonings.
It's a naturally gluten free, vegetarian recipe.
Step-By-Step Instructions
Ingredients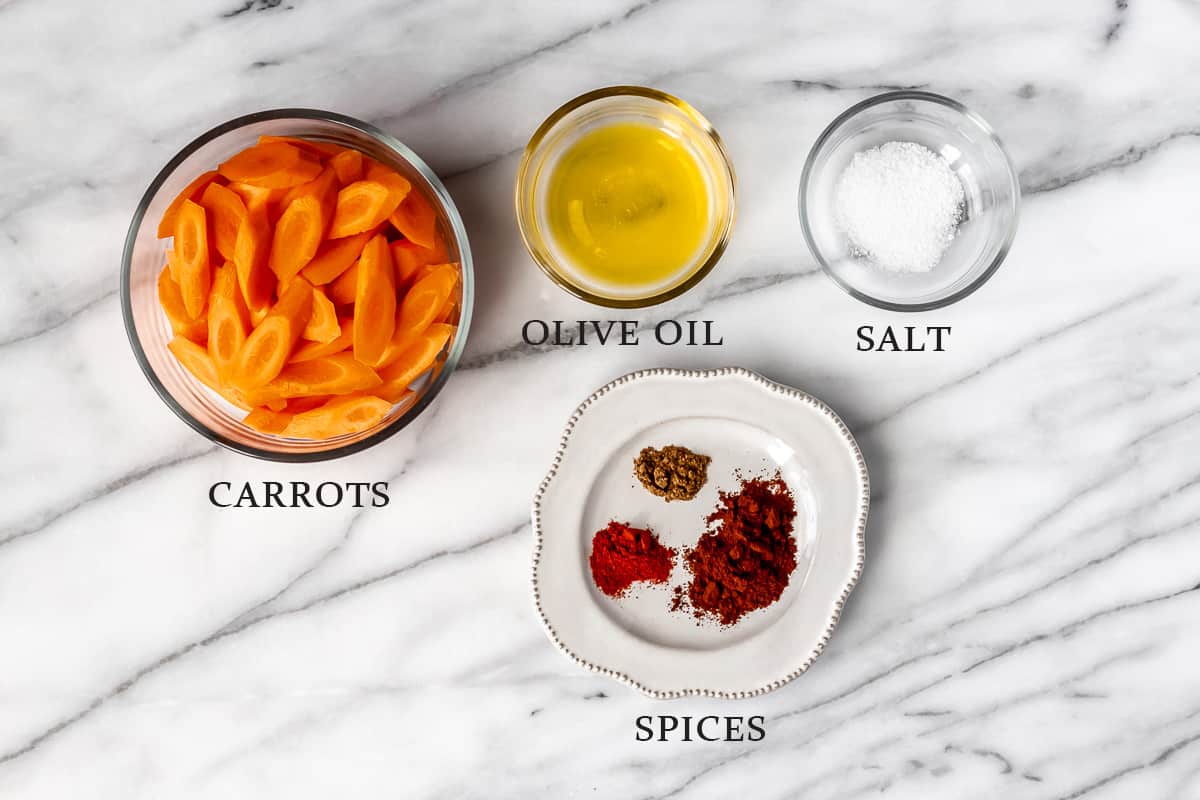 1 pound carrots (peeled, trimmed and cut into 1/4-inch thick slices)
1 tablespoon extra virgin olive oil
1 teaspoon chili powder
1/2 teaspoon ground cumin
1/2 teaspoon paprika (can used smoked paprika for a smokier flavor, if preferred)
1/4 teaspoon salt
fresh cilantro (optional garnish)
The entire recipe and instructions can also be found in the recipe card at the bottom of this post. You can also print the recipe from the card, if needed.
Prep!
Preheat your oven to 400°F.
Peel the carrots, trim the ends off and cut into 1/4-inch thick slices or matchsticks.
Create!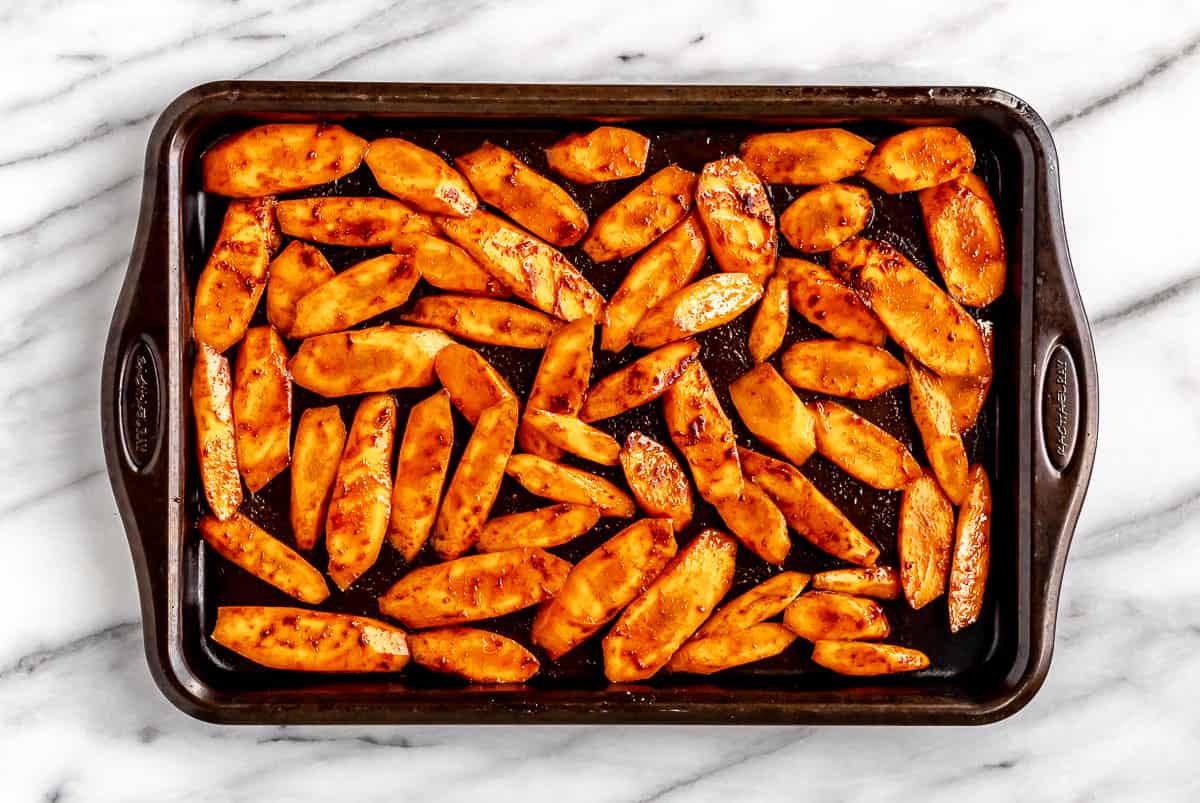 Add the carrots, olive oil, chili powder, cumin, paprika and salt to a large bowl. Toss gently until the carrots are evenly coated in the spices.
Spread out into a single layer on a baking sheet.
Chef's Tip: you can do all the mixing on a sheet pan to not dirty as many dishes, but I find that more of the spices stick to the pan and can burn when roasted, so I prefer to mix in a bowl first instead.
Roast the carrots for 15-20 minutes, tossing halfway, or until fork-tender and lightly browned and caramelized.
Present!
Garnish with fresh, minced cilantro, if desired.
Tips and Techniques
Mix the carrots, oil and spices in a bowl before spreading out onto a sheet pan for more even distribution of the spices and to reduce the chance of extra spices sticking to the sheet pan and burning while roasting.
Try smoked paprika in place of regular paprika for a smokier flavor that pairs great with barbecue dishes.
Store leftovers in an airtight container in the refrigerator. Consume within 3-5 days.
FAQ's
What Do You Serve With Spiced Roasted Carrots?
This is the best thing about this roasted carrots recipe – you can serve almost anything with them! The flavors play well with Creamy Lemon Chicken. Or you can go extra-fancy and make Garlic Butter Short Ribs and enjoy the carrots on the side. The cumin and chili powder will also taste incredible with Pork Piccata.
Should I Peel Carrots Before Roasting?
It's simply a matter of preference. You don't need to peel carrots before roasting them, but if you choose not to, be sure to scrub them really well.
Why Are My Roasted Carrots Tough?
The most common reason for tough or crunchy carrots is that you didn't cook them long enough. Keep baking them until you can easily piece them with a fork.
More Carrot Side Dish Recipes
Love this Spiced Roasted Carrots recipe? Follow us on Pinterest, Instagram, and Facebook for more!
If you try this recipe, I would really appreciate it if you would please leave a comment and star rating. Thanks!
This recipe was originally published on June 18, 2018. It was updated with new images, step-by-step instructions, tips, techniques and FAQ's in October 2022.