This is a simple introductory recipe to try if you've never had roasted parsnips. It's a quick, easy, and healthy recipe, which you're sure to enjoy if you like sweet roasted vegetables. Roasted Carrots and Parsnips is a great side dish to serve during the cold season and is perfect for holidays as it pairs well with many entrees.
This post contains affiliate links. See our Disclosure Statement for more information.
A while back I decided to try a few new vegetables. Parsnips and rutabaga were the two that I enjoyed the most of the handful that I tried.
While I did experiment a little more with rutabaga, creating recipes like Roasted Rutabaga, Mashed Rutabaga, Rutabaga Au Gratin and Rutabaga Fries, I didn't do much else with parsnips.
Parsnips are yet another often overlooked and underutilized vegetable. Many people have no idea what they are and assume they are simply a white carrot, while others may be unsure about what a parsnip may taste like and hesitant to try them.
Before I get into this recipe for Roasted Carrots and Parsnips, I want to briefly include a little more information about parsnips.
What Are Parsnips?
Parsnips are root vegetables. They are closely related to carrots, especially in appearance, and parsley, which both have somewhat similar names.
Parsnips provide a good source of fiber, Vitamin C and potassium, as well as many other vitamins and nutrients. They may help with heart and gut health, as well as help regulate blood pressure and lower the risk of kidney stones.
1 cup of parsnips contains 100 calories, less than 1 gram of fat, 17 net carbohydrates, 6 grams of sugar and about 1.5 grams of protein.
That's all great information, but what do parsnips taste like?
Parsnips are somewhat sweet, but less so than carrots, and are often described as having a nuttier flavor and bit of bitterness. Terms like earthy and starchy are often used to described them, as well.
They can be enjoyed raw or cooked in a variety of ways. It's important to note that the shoots of parsnips should be avoided as the sap can cause blisters on the skin. Thankfully, parsnips are typically sold without the shoots attached.
Obviously, describing the exact flavor of parsnips is a bit difficult. It's definitely one of those vegetables that you have to try for yourself and this recipe for roasted parsnips with carrots is the perfect way to do just that!
Why This Recipe Works
This recipe is quick and easy. The preparation is straightforward, and it takes less than 30 minutes to roast. It's a simple side dish which pairs well with most main dishes.
Root vegetables are great for serving at holidays like Thanksgiving and Christmas. Roasted vegetables are seasonally appropriate during the fall and winter. Plus, the colors of orange carrots and white parsnips contrast beautifully making this dish visually appealing as well.
The sweet flavor of carrots compliments the nutty flavor of parsnips. Together this combination tastes delicious. Once roasted, parsnips become a bit sweeter and are similar to carrots in this way.
How To Make Roasted Carrots and Parsnips
Ingredients
Carrots
Parsnips
Shallots: or you can use a small red onion.
Olive oil, salt and pepper
Fresh Thyme: optional.
The entire recipe and instructions can also be found in the recipe card at the bottom of this post. You can also print the recipe from the card, if needed.
Prep!
Preheat oven to 425°F.
Peel the carrots and parsnips. Trip the ends, then cut into either 1/2-inch thick diagonal slices, or evenly sized pieces. Cut the ends off the shallots, slice in half lengthwise and peel the outer skin off.
Chef's Tip: I like to cut the vegetables into diagonal slices because it makes it easier to keep them pretty even in thickness and also looks nicer when plated. You want to try to keep the vegetables approximately the same size so that they cook evenly.
Create!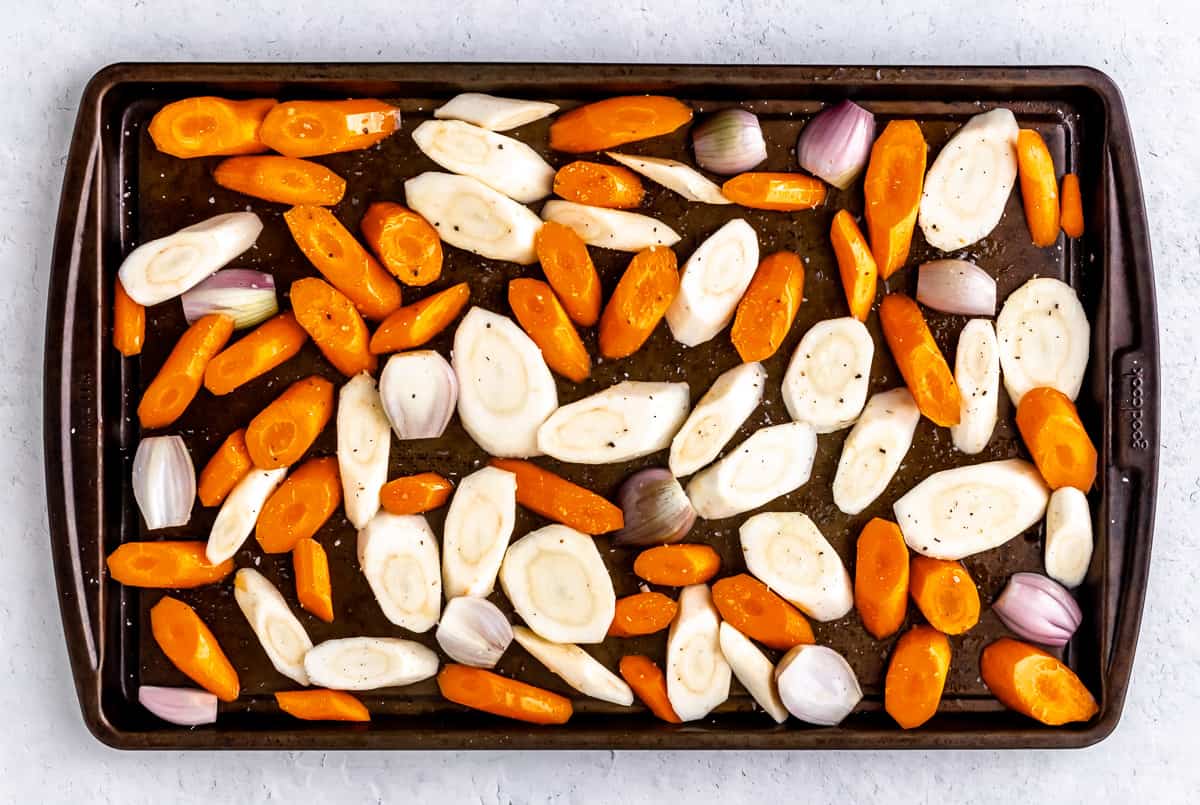 Spread the carrots, parsnips and shallots out on a baking sheet. Drizzle with olive oil and season with salt and pepper.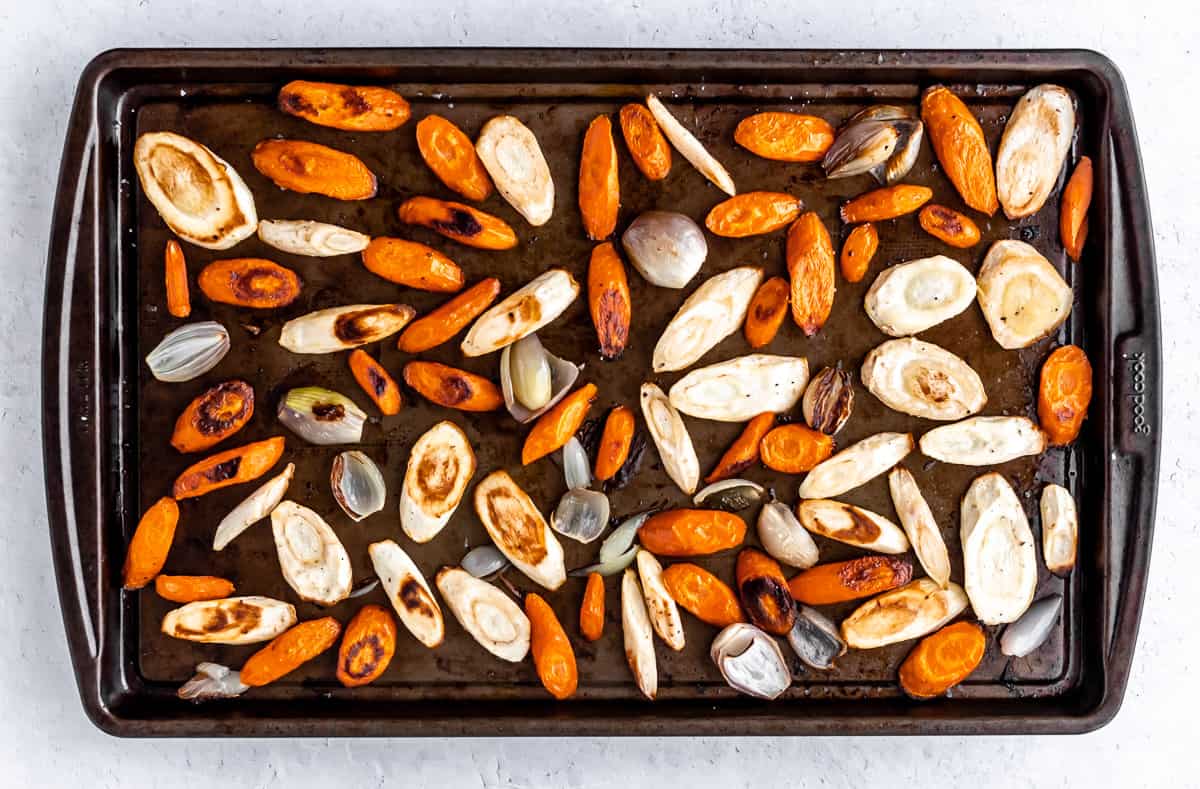 Roast for 20-30 minutes, tossing halfway, until fork tender and starting to brown or caramelize.
Present!
Transfer to a serving dish and garnish with fresh thyme leaves, if desired.
Tips and Techniques
Cut the carrots and parsnips approximately the same size so that they cook evenly.
Store leftovers in an airtight container in the refrigerator. Consume within 2-3 days.
FAQ's
Can You Eat Parsnips Raw?
Yes, parsnips can be eaten raw.
Are Parsnips Low Carb?
Though parsnips are not very low in carbohydrates, a small portion could fit into a low carb or keto diet. There are approximately 8.5 grams of net carbs in a half a cup of parsnips, as well as 3 grams of sugar.
More Roasted Vegetable Recipes
Love this Roasted Carrots and Parsnips recipe? Follow me on Pinterest, Instagram, and Facebook for more!
If you try this recipe, please leave a comment and star rating. I would really appreciate it!