This is the perfect recipe for a quick lunch or easy side dish, especially since it's vegetarian and gluten free too. Carrot Noodles with Pesto pairs well with other Italian dishes and is something both kids and adults enjoy. If you already love spiralized zucchini, be sure to try this simple, flavorful recipe!
This post contains affiliate links. See our Disclosure Statement for more information.
Carrot Noodles with Pesto is one of those dishes that can't be beat. It checks all the boxes: kid friendly, vegetarian, light, satiating, easy, quick and gluten free. Not to mention, it's also delicious since each noodle is coated in herbaceous, flavorful pesto.
You may choose to make your homemade noodles by using a spiralizer to make spiralized carrots, or you could even substitute zucchini since it's one of the most commonly spiralized vegetables. If you don't own a spiralizer, no worries, you can just as well use a Y-shaped peeler, julienne peeler, or knife to make carrot noodles.
Homemade Carrot Noodles with Pesto is the perfect quick lunch or side dish. This simple dish would taste wonderfully served alongside Italian Meatballs, Chicken Piccata, or Tomato Basil Salad for a full meal, or family dinner.
If you enjoy this vegetable based, gluten free noodle, I suggest trying my recipes for Zucchini Pesto Pasta Salad, Keto Pasta Salad with Balsamic Vinaigrette, and Keto Shrimp Scampi.
Why This Recipe Works
Carrot Noodles with Pesto is a quick and easy dish to make. These noodles cook even faster than traditional pasta.
This recipe is vegetarian since the only ingredients are carrots, pesto, and olive oil. It's a really light, flavorsome dish.
This dish is kid friendly and gluten free too. Kids love pasta and they'll enjoy these carrot noodles just the same. Serve it to the entire family and I'm sure everyone will like it.
How To Make Carrot Noodles (3 Methods)
With A Spiralizer
You can use a manual or electric spiralizer. Large carrots are the easiest to work with. Be sure to peel your carrots first and trim the end.
With A Manual Peeler
Use a Y-shaped peeler for larger, thinner, flatter noodles or a julienne peeler for smaller, more rounded noodles.
With A Knife
Cut thin strips of carrots into your desired thickness.
Step-By-Step Instructions
Ingredients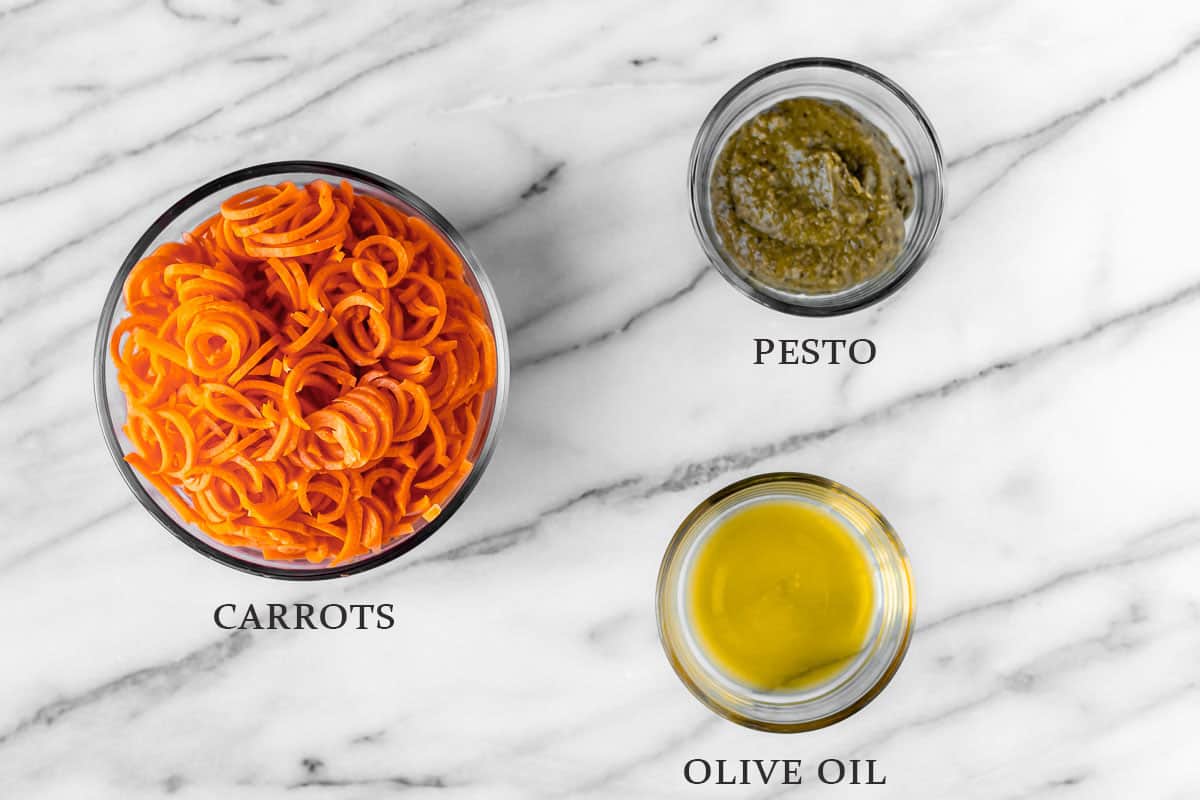 1 tablespoon extra virgin olive oil
3 large carrots: the larger the carrot, the easier it is to spiralized. This will give you about 4 cups of spiralized carrots.
1/4 cup pesto: you can use store bought or homemade. There is a recipe for pesto in this recipe for Baked Pesto Salmon if you'd like to make your own.
Optional: Parmesan cheese and basil.
The entire recipe and instructions can be found in the recipe card at the bottom of this post. You can also print the recipe from the card, if needed.
Prep!
Spiralize your carrots using one of the methods listed above.
Prepare the pesto, if not using store bought.
Create!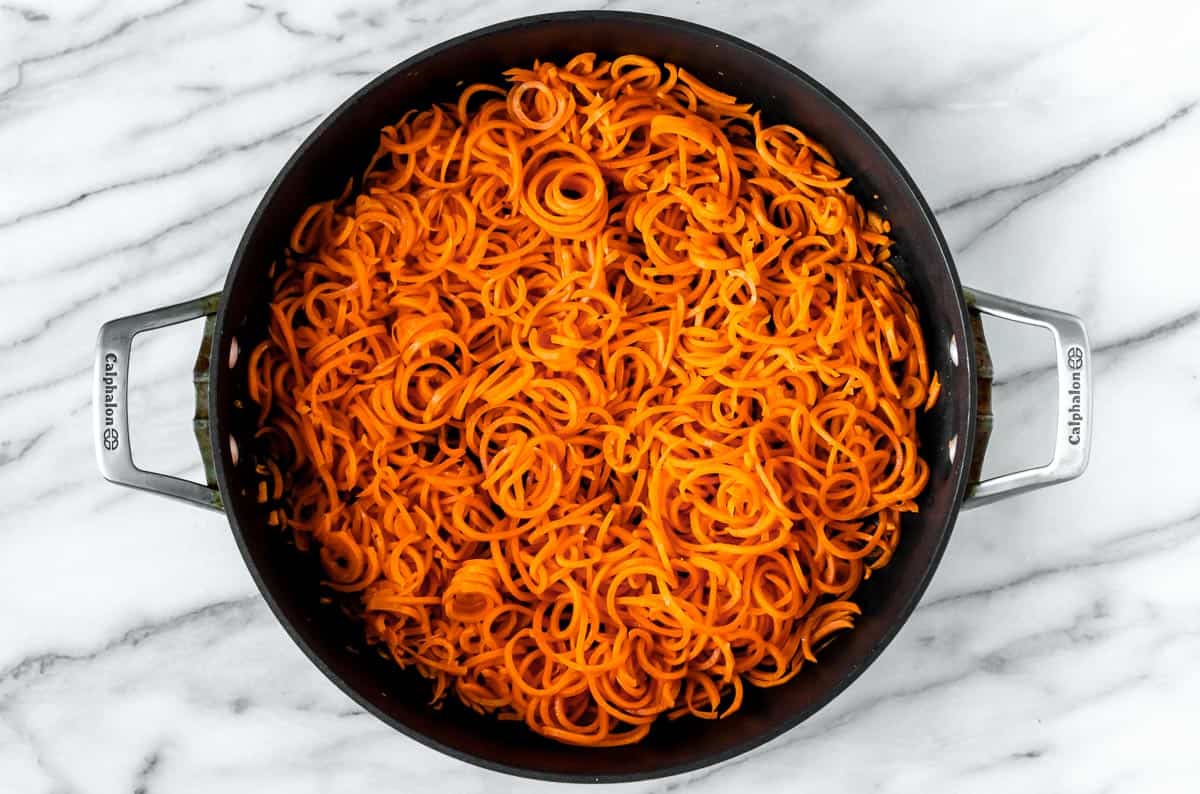 Heat a large skillet over medium-high heat. Once the pan is hot, add the olive oil and carrots. Season with salt and pepper.
Sauté, stirring often, until just tender, about 3-5 minutes.
Gently stir in the pesto until the carrot noodles are evenly coated.
Present!
Serve with Parmesan cheese and basil garnish, if desired.
Tips and Techniques
Make carrot noodles with a spiralizer, a Y-shaped or julienne peeler, or with a knife.
Store-bought pesto works great in this recipe, or you can make your own.
Store leftovers in an airtight container in the refrigerator. Use within 3-5 days.
More Vegetarian Recipes
Love this Carrot Noodles with Pesto recipe? Follow me on Pinterest, Instagram, and Facebook for more!
If you try this recipe, I would really appreciate it if you would please leave a comment and star rating. Thanks!
This recipe was originally published on March 1, 2018. It was updated with new images, step-by-step instructions, tips and techniques in March 2022.